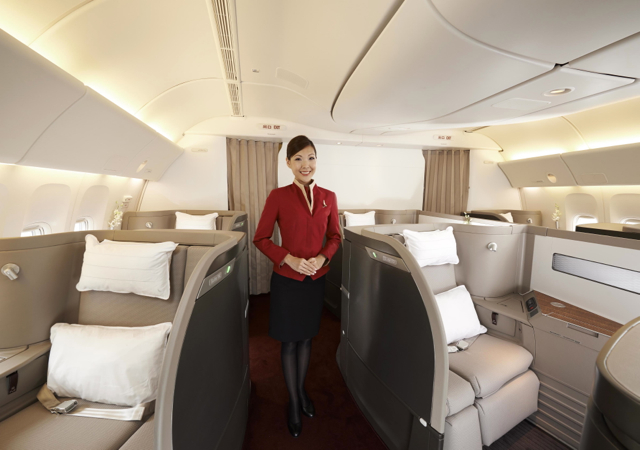 Cathay Pacific First Class awards are available on its new Boston to Hong Kong route. Previously, I wrote that Cathay Pacific would launch its Boston to Hong Kong flights starting May 1, 2015. At the time, only paid flights were available, and no award space was released at all to Cathay's oneworld partners, such as American AAdvantage and British Airways Avios.
Awards are now available, although first class and to a lesser extent business class space is very limited–on many dates, there are no first class and business class award seats, or just 1 first class and/or 1 business class award seat is available. This should be helpful to those traveling on business or vacation between Boston and Asia, as well as students at any of the many universities in the Boston area that either want to go to Asia or have family from Asia visiting them.
Here are examples of dates where a first class award seat is available:
Boston to Hong Kong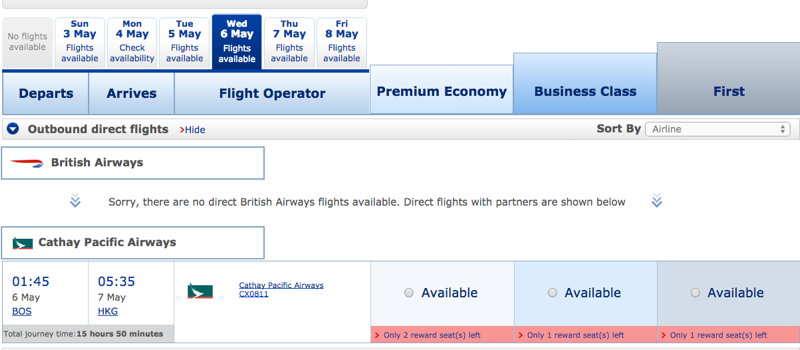 Here's a day when 2 business class awards are available: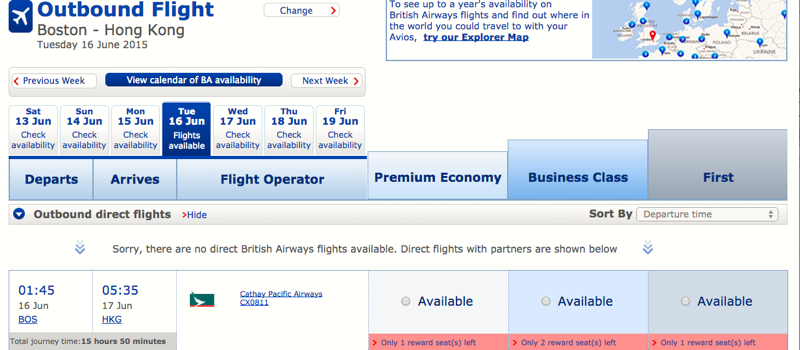 Hong Kong to Boston: 3 First Class Award Seats!
If you're willing to use Avios points (see below) you could even score 3 first class award seats Hong Kong to Boston after New Year's: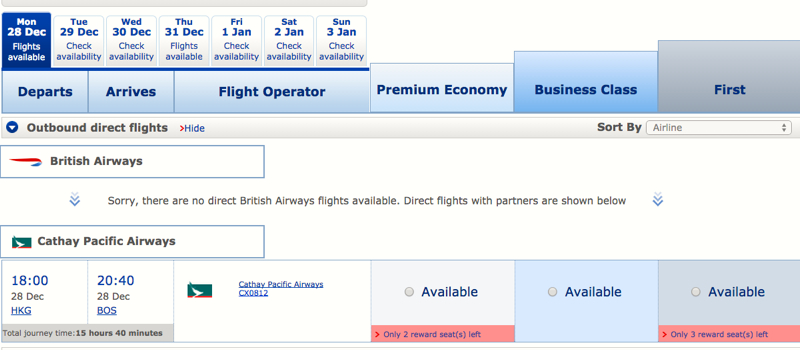 How to Get 2 Cathay Pacific First Class Awards
While American AAdvantage and US Airways Dividend miles offer the best deal for booking Cathay Pacific awards from the U.S to Hong Kong, at just 67,500 miles each way for Cathay Pacific First Class with AAdvantage miles and 120,000 miles roundtrip with US Air Dividend Miles, the problem is you don't get access to Cathay awards as early as Cathay's own Asia Miles frequent flyer members. That gives you a couple options to try to secure 2 Cathay Pacific First Class awards:
Option 1: Book with Cathay Pacific Asia Miles or with British Airways Avios When Award Calandar Opens
If you have Asia Miles or Avios points, you have a head start in booking awards, although you will pay more for them. For example, British Airways charges 150,000 Avios + tax each way between Boston and Hong Kong for Cathay Pacific First Class, or 100,000 + tax for Cathay Business Class. That's over double what AAdvantage charges for first class, and almost twice as much for business class. If you find award availablity for two, however, it is a way to guarantee you'll both be flying in first class, as chances are that at least one if not both of those first class award seats will disappear by the time AAdvantage and Dividend Miles are able to book them.
Option 2: Book 1 First Class Award and 1 Business Class Award with AAdvantage miles and Monitor for Space
Cathay usually releases most of its award space far out and then again in the week or two prior to departure. So if you can only see 1 first class award and 1 business class award on the flight you want, you may want to book that, then monitor closely in the 2 weeks prior to departure to try to upgrade the business class seat. AAdvantage allows you to do this for just the difference in miles, as long as you're changing to a higher cabin class (although if you want to downgrade a first class seat to business, you will typically be charged the redeposit fee).
Do you plan to fly Cathay Pacific First Class or Business Class on the new route between Boston and Hong Kong?
Related Posts