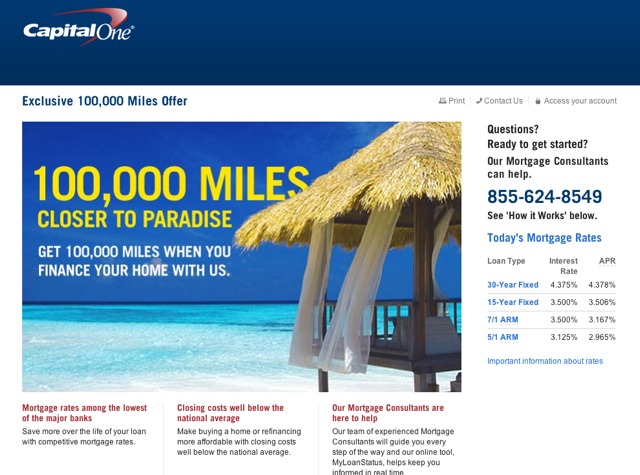 Capital One is offering 100,000 miles for a new home mortgage or mortgage refinancing. While 100,000 sounds like a nice big number, keep in mind that Capital One "miles" are fixed value, so this is only worth $1000 off travel–hardly much of an incentive for most, in the context of shopping around for a home mortgage.
Still, here are the details, followed by my advice on how to do much better.
Must be a current Capital One miles cardholder to be eligible for bonus miles
Offer is for both new home purchases and mortgage refinancing
Must begin your application process by dialing 855-624-8549 and apply between 1/20/14 and 2/28/14.
When you call, please state your intention for receiving bonus miles, in order to be eligible.
Loan must close by May 15, 2014 to be eligible for bonus
No doubling up: The 100,000 bonus miles promotion cannot be combined with any other Capital One home loans promotion.
100,000 bonus miles will be added to your Capital One card account no later than June 30, 2014.
You Can Do Better Than Capital One
Unless you're extremely well off or are buying in a market where the house or apartment price isn't a huge chunk of your savings, chances are that your home mortgage or refinancing is one of the most significant financial purchases you'll make in your life. It's worth doing your utmost to get the best possible interest rate. Something from a lender such as Capital One worth ~$1000 shouldn't influence your decision unless it truly is the best offer compared to other options.
Check Your Credit Score and Credit Report
Well before you're seeking a home mortgage or refinancing, it's a good idea to check your credit score to ensure it's in the range needed to secure a good interest rate (mid-700s and above) and credit report to ensure there are no errors that you need to get corrected. Remember to get your FICO score. You can get your TransUnion FICO for free if you have the Barclaycard Arrival World MasterCard and you can now buy your Experian FICO via MyFICO, as well as Equifax FICO. Don't bother with FAKO scores; see Credit Score: FICO or FAKO?
Lay Off the Credit and Loan Applications for About 1 Year Prior to Your Loan
While the hard credit inquiries when applying for a new credit card only take a few points off your credit score, and typically your score recovers in 6 months-1 year after the inquiries, you want your score to be as high as possible when banks are constructing your home mortgage interest offer.
Note that the Capital One offer above requires you to be a Capital One cardholder, and Capital One pulls from all 3 credit bureaus (Experian, Equifax and Transunion) so this is the last thing you'd want to do if you're not already a cardholder.
Leverage the Banking Relationships You Already Have
The best home mortgage offers often aren't published publicly on any Web sites; they involve keeping a certain amount, say $100,000 or more, in a bank account with your mortgage issuer. So if you've been banking a long time with your bank, definitely ask about the possibility of a better rate by doing more business with it.
Get a Second Appraisal and Mortgage or Refinancing Offer
This can be a controversial topic, and won't make sense for everyone. But if you're looking at a big mortgage, either due to the property in question, the market (NYC, San Francisco, etc.) then strongly consider going through the whole appraisal process twice with two different issuers to see if you can obtain a better offer. Even if you have a strong preference for staying with your own bank, you may be able to leverage a better interest offer from another bank to get a similar offer from your preferred issuer.
What's your experience with Capital One, Chase, Citibank, Bank of America, First Republic, or other banks' home mortgage and refinancing loans?
Related Posts
Mortgage, Credit Score and Credit Card Churning Question
How Many Credit Inquiries or Hard Pulls is Too Many?
Need Award Booking Help? Our fee is as low as $75 per ticket if you book your hotel through us.
If you enjoyed this, join 90,000+ readers: please follow TravelSort on Twitter or like us on Facebook to be alerted to new posts.
Become a TravelSort Client and Book Your Hotel with Virtuoso or Four Seasons Preferred VIP Amenities!
HT: Gary