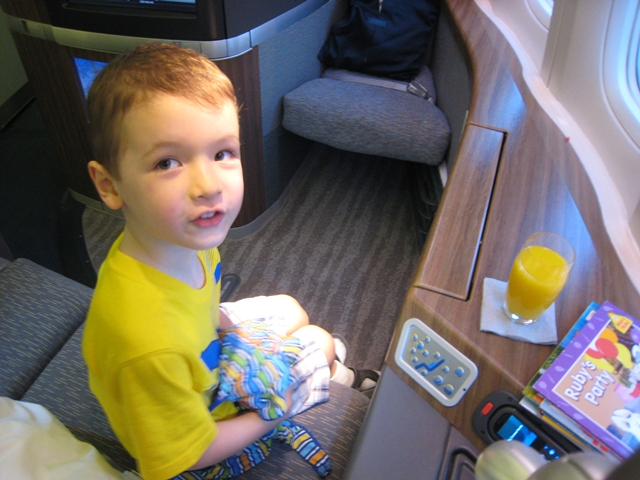 Can kids fly in a different cabin than parents on a flight? A TravelSort reader writes "It's hard to find 4 business class award seats for my wife, two kids and me for travel to Europe. But we've found several dates with 2 award seats in economy and 2 in business, or even 1 in first class, 2 in business and 1 in economy. What are the rules for kids traveling in a different cabin or class of service from their parents?"
Kids traveling in a different cabin or class of service from parents can be a contentious topic, at least with young kids, but let's start with the fact that airlines vary in their policies, so I'll aim to summarize the policies of a few of the major international carriers.
Most Airlines Don't Allow Very Young Kids to Fly in a Different Class of Service from Parents, Period.
As you'd expect, airlines expect young kids to fly in the same cabin of service as their parent or guardian. Here's United Airlines' contract of carriage terms: "Children under the age of five (5) must be accompanied by an Adult Passenger or the child's Parent/Legal Guardian on the same flight and in the same compartment."
Young Kids Traveling in a Different Class of Service on the Same Flight as Parents Usually Considered Unaccompanied Minors
Even if you're on the same flight as your child, most airlines will consider him or her an unaccompanied minor if you're seated in different cabins, for example if your child is in Business Class and you're in First Class. For example, here's Qantas' terms (bolding mine):
"Qantas considers a child is travelling alone as an unaccompanied minor where the child is traveling without the supervision of a sibling 15 years or older or a parent or guardian or in a different class or cabin to the sibling, parent or guardian."
Read Policies Carefully: Some Require Booking Unaccompanied Minor Service at the Same Time as the Ticket
While many airlines simply require the Unaccompanied Minor documentation and fee to be paid prior to departure, some airlines, such as British Airlines, are quite strict and require that its Skyflyer Solo service be booked and paid for through the BA call center or a travel agent at the time of booking the ticket:
"You will need to pay the Skyflyer Solo fee at the same time you make your flight booking. If this is not done together you will be charged a fee to cancel your flight and reissue your ticket."
Consider Letting Your Child Have the Upgrade
It's of course tempting to take the first class seat yourself, since after all, your kid is smaller and will probably be just as comfortable in the business class or even economy seat. But if your child is still fairly young, I would recommend giving him or her the business class or first class seat:
Better Availability of Lavatories: Kids sometimes get so caught up in a film, book or game that they find they *suddenly* need to go to the bathroom. Much better for your child if s/he doesn't have an agonizingly long wait for a lavatory. First class in particular rarely has a wait for the lavatory, and business class is still better than economy
Easily Able to Come Back and Visit You: Flight crews aren't keen on having passengers from Economy visit Business Class or First Class passengers, but it's no problem for a passenger in a first class cabin to visit Business Class or Economy. If you seat your child upfront, it will be no problem for him or her to come back and visit you.
Less Likely to Disturb Anyone: In first class or business class there's more personal space, so your child is less likely to bother a fellow passenger, either by seatback kicking, armrest space, etc.
More Attention From the In-Flight Crew: If your child hasn't traveled extensively, it's nice to know that s/he'll be well looked after in first class or business class.
Unaccompanied Minor Policies
American Airlines
Unaccompanied Minor service NOT provided for children traveling on the same flight but in a different cabin as parents or guardians
British Airways
Under 5 years old: Not allowed
Kids 5-12 are permitted to be booked into a different cabin / class of service than parents. If booking via British Airways, you should phone BA's call center to book your child's ticket after you book your own. See Booking a Child Into a Different Cabin to Yourself
For True Unaccompanied Minor Service see below:
5-6 years: Must book Skyflyer Solo for British Airways nonstop direct flights only
6-12 years: Must book Skyflyer Solo, and BA flight allowed
12-18 years: Child may travel alone or Skyflyer Solo may be booked
No transfers among Heathrow, Gatwick, London City airports
No Skyflyer Solo transfer/connecting service through London Gatwick
Cannot accept children on flights with a night stop or stopover of >6 hours
International flights: $100
Shorthaul or UK domestic: $75
Must be booked via British Airways Call Center or travel agent
Lufthansa
Under 5 years old: Not allowed
5-11 years: Must use Lufthansa's unaccompanied minor service or travel with someone at least 12 years old
12-17: May use Lufthansa's unaccompanied minor service
EUR 84 ($60) for flights within Germany or Europe
EUR 80 ($120) for intercontinental flights
Must be booked via Lufthansa Service Center or travel agent or at the Lufthansa ticket desk at the airport
United Airlines
Under 5 years old: Not allowed
5-11 years: Must use United's unaccompanied minor service or travel with someone at least 18 years old
Unaccompanied minors may only travel on United nonstop flights (effective for tickets bought on or after December 5, 2013)
$150 each way
Have you ever flown (or been tempted to fly) in a different cabin or class of service from your kids?
Related Posts