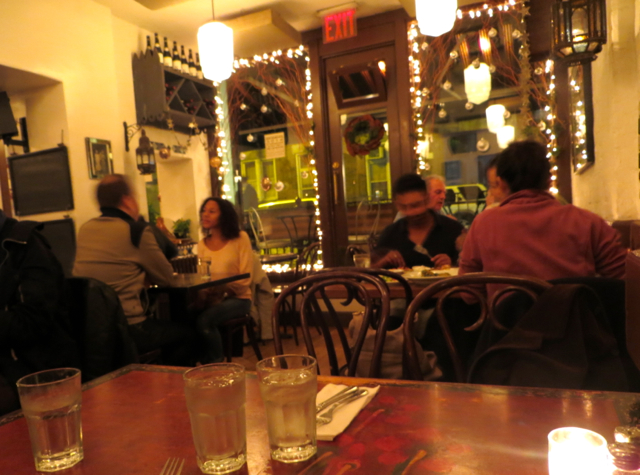 This Cafe Mogador Restaurant Review is one of our many NYC Restaurant Reviews. Visiting New York? See all of our posts tagged NYC.
The other night we were craving Moroccan food, which is one of those cuisines that's incredibly time consuming to prepare–I know, since I've made bastilla and tagine from scratch for the occasional dinner party. So we decided to try Cafe Mogador, which I'd known about for awhile but never gotten around to trying. Initially I searched for my former favorite Moroccan restaurant, Chez es Saada, which had an incredibly romantic atmosphere with a staircase scattered with rose petals and illuminated by candlelight leading down to a sultry lounge. But sadly, it's been closed for years. So I made a quick call to Cafe Mogador and was able to make a reservation for an early Sunday night dinner (no reservations are taken for Friday or Saturday nights or the popular weekend brunches) and off we went.
Getting There
Cafe Mogador has two locations, one in Williamsburg, Brooklyn, and the other in the East Village, at 101 Saint Marks Place, between 1st Avenue and Avenue A. We visited the East Village location, and took the 15 Select (Express) Bus, which stops at 14th Street both on its downtown run on 2nd Avenue, and its uptown run on 1st Avenue. If coming by subway, take the 6 train to Astor Place and 3rd Avenue, and walk east.
The Scene
As with many haunts in NYC's East Village, Cafe Mogador attracts mostly couples in the late 20s and 30s. The munchkin was the only kid in the place, although given the music and fairly noisy atmosphere, I wouldn't hesitate to bring even talkative kids here, as long as they can sit at the table for awhile. Tables are close together, so there's no place for them to get up and walk around without seriously getting into the way of the servers.
Cafe Mogador Menu
Cafe Mogador bills itself as a Moroccan and Mediterranean restaurant, but the real reason to come is the Moroccan food. Here's the appetizer menu: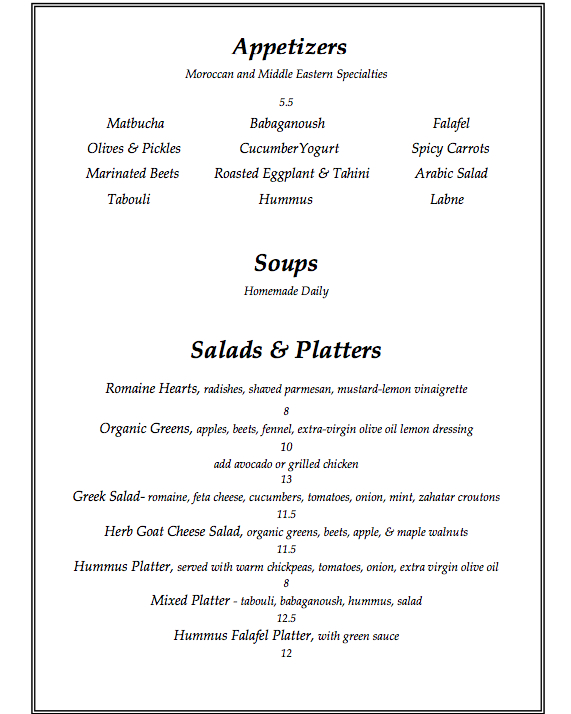 And the menu of Moroccan main dishes: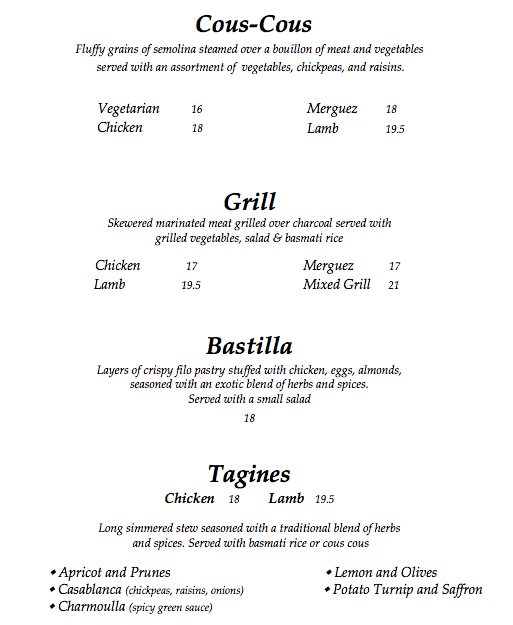 We decided to start off with Hummus and Matbucha, a tomato eggplant dip, which was brought with 3 warm thick pita-like breads: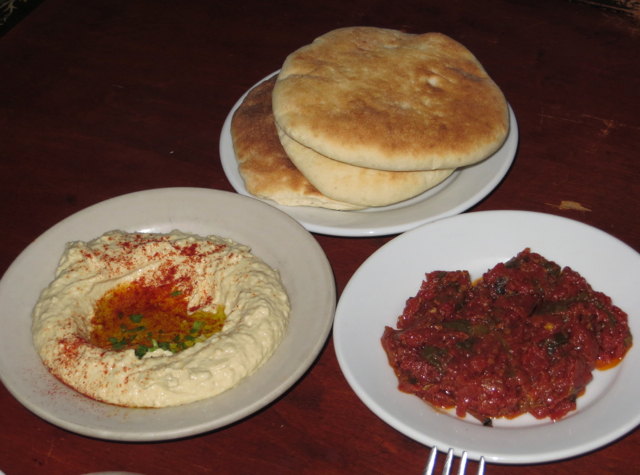 I enjoyed the Matbucha, which had a nice spicy kick to it, although that ruled it out for the munchkin.
The highlight, however, was the hummus, a wonderfully rich and creamy version that all of us, including the munchkin, enjoyed immensely.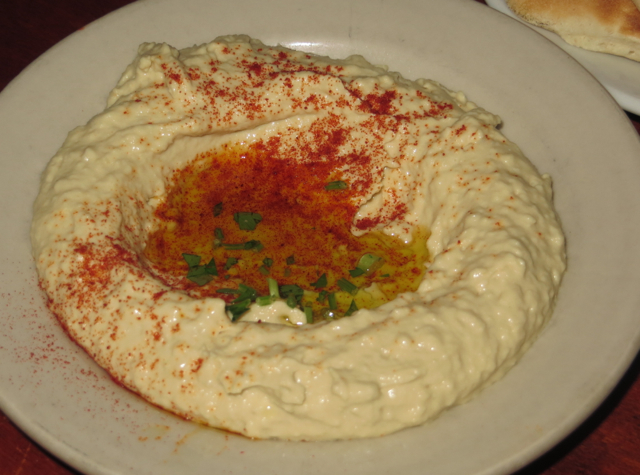 We ordered family style, sharing two mains. The Bastilla is quintessentially Moroccan: a flaky filo pastry stuffed with an aromatic mixture of shredded chicken, eggs, almonds and spices topped with powdered sugar and cinnamon. While decent, my husband's first comment was "your bastilla is much better than this." I would have to agree that I've had much better bastilla, not just mine, but also at the former Chez es Saada and also at El Mansour and Aziza in San Francisco. Cafe Mogador's version was too dry and just not that flavorful.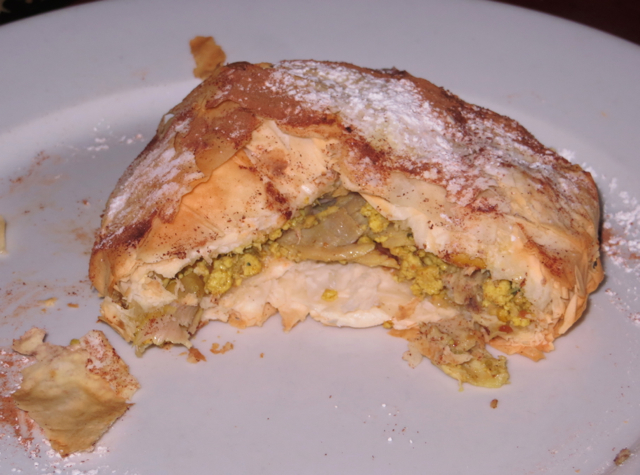 That said, the side salad that came with the Bastilla was a slight cut above most side salads at similar priced restaurants, with some nice beet cubes and sliced fennel: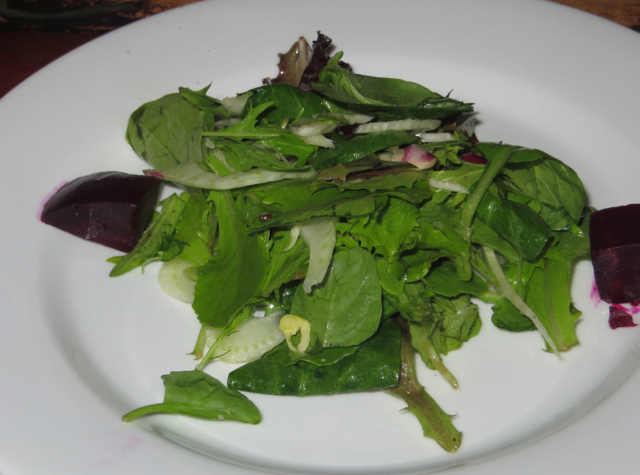 The best dish by far was the Lamb Tagine with Apricots and Prunes, served with a side of rice or couscous (we chose couscous, which is the traditional accompaniment). The meat was very tender, even if not quite falling off the bone, the prunes and apricots added the perfect sweet tart counterpoint, and the sauce merited soaking up every last bit with the couscous.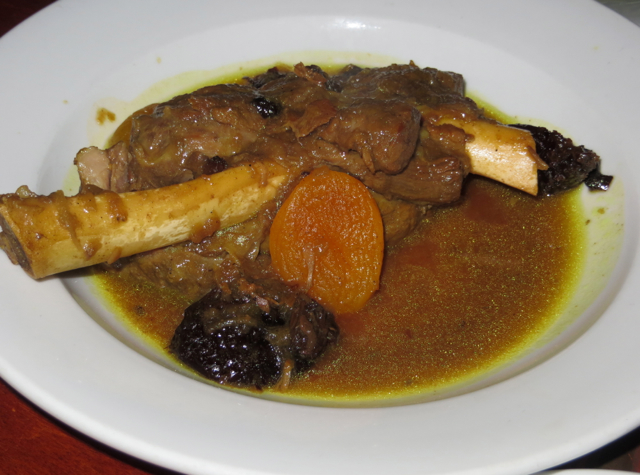 Although baklava was offered as a dessert, we chose non-Moroccan desserts: a Pear Cranberry Tart, and a Strawberry Rhubarb Crisp. Both were surprisingly good, and according to the server are made in-house. They would have been a lot better if we could have enjoyed them at leisure at the restaurant, but we ended up leaving in a hurry, as I'll explain in the Service section below.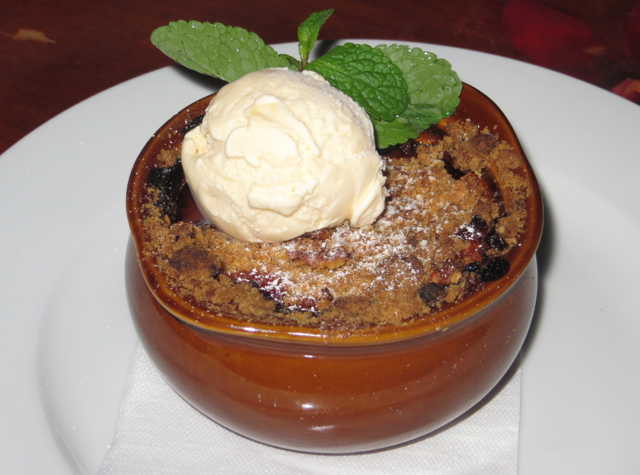 The Service
Clearly Cafe Mogador is not Eleven Madison Park, Per Se, or Gramercy Tavern, but I've had much better service at cheaper East Village spots such as Zabb Elee. And while I must give praise to the industrious bussers, who were very good at keeping our water glasses refilled, we were not impressed by our server. It took a long time just to get our order taken, long after we'd closed our menus and were trying to get someone's attention.
My husband again had to spend some time trying to flag down a server to order another glass of wine, long after he'd finished his first glass.
It took quite awhile for our mains to arrive, although I don't fault our server for that–it's a busy restaurant, so understandably it can take awhile between appetizers and mains. Still, a more proactive server might have at least come by at some point to say something along the lines of "It will just be about X minutes more for your main courses."
What really made me upset, however, is that we explicitly mentioned a severe food allergy, and had already asked her to check whether our mains contained it (they didn't). We (incorrectly, as it turned out) assumed that now that she was aware of this allergy, she would alert us if we ordered a dessert that contained it. We double checked after the desserts arrived and she went to go check, then came back and told us they did! Obviously that prompted us to have to leave in a hurry, since we didn't want one of us to go into anaphylactic shock there.
As it turned out, there was a miscommunication and the desserts ended up not having the allergen, but it pretty much ruined the end of our dinner given all the stress. To be fair, while our server was defensive, didn't care, and probably shouldn't be working as a server or in the service industry generally, a manager was very apologetic, to the point where I would give the restaurant another chance.
The Verdict
Cafe Mogador has some good dishes, notably the hummus (and likely some of the other dips, although we didn't try them), the lamb tagine with couscous, and even desserts. The bastilla was decidedly mediocre, so I can't recommend it, and we also didn't care for the loud (and non-Moroccan) music and poor service. But if you can look past those aspects, the food is decent value and good for a casual dinner with friends or family.
Related Posts
Oda House NYC Restaurant Review
Zabb Elee NYC Restaurant Review (East Village Location)
ABC Kitchen NYC Restaurant Review
Where to Eat in NYC: The Best Places New York Restaurants Right Now
Need Award Booking Help? Our fee is as low as $75 per ticket if you book your hotel through us.
If you enjoyed this, join 90,000+ readers: please follow TravelSort on Twitter or like us on Facebook to be alerted to new posts.
Become a TravelSort Client and Book Your Hotel with Virtuoso or Four Seasons Preferred VIP Amenities!