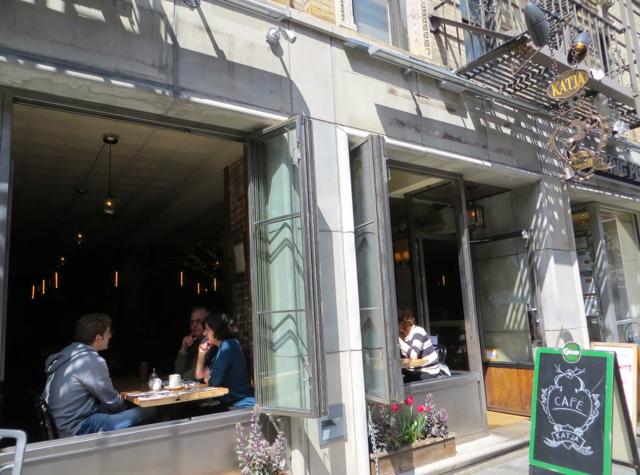 Cafe Katja in NYC surprised me for brunch a couple weekends ago: the tiny, shoebox restaurant has expanded, taking over the store next to it. It's literally a breath of fresh air, with large open windows letting the sunlight stream in and no longer a need to hold your breath as you attempt to narrow your body and squeeze by packed tables.
As Cafe Katja doesn't take reservations, the munchkin and I took the precaution of showing up just minutes after 11am. Amazed to see the place deserted apart from the servers, I double checked if they were open. "Oh yes," responded a server cheerily. "Where would you like to be seated?" We chose a table just one over from the window and ensconced ourselves, as our server gave us menus and inquired about drinks.
Here's the brunch drink menu: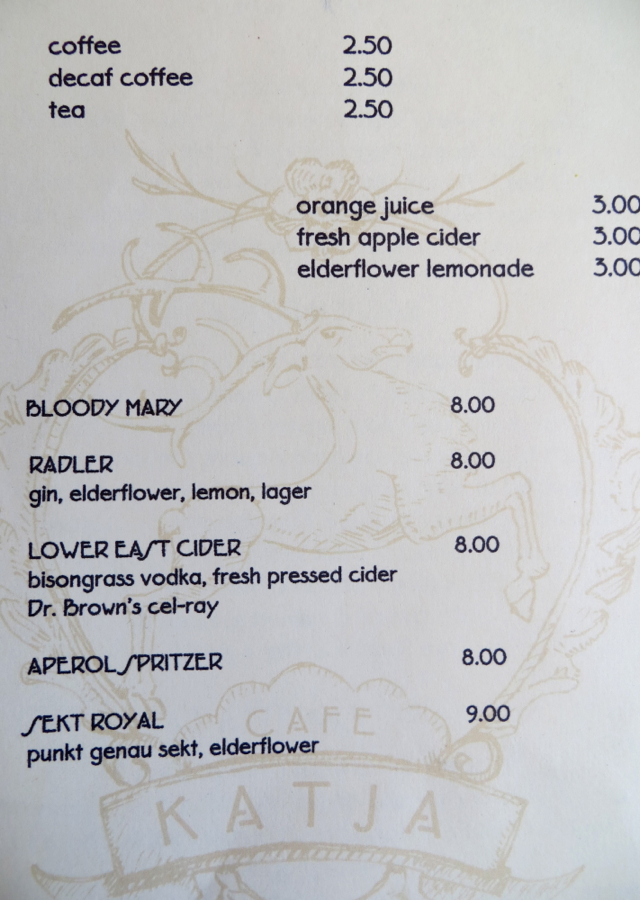 And here's the brunch menu, served Wednesday-Saturday 11:30am – 3:30pm and Sunday 11am – 3:30pm: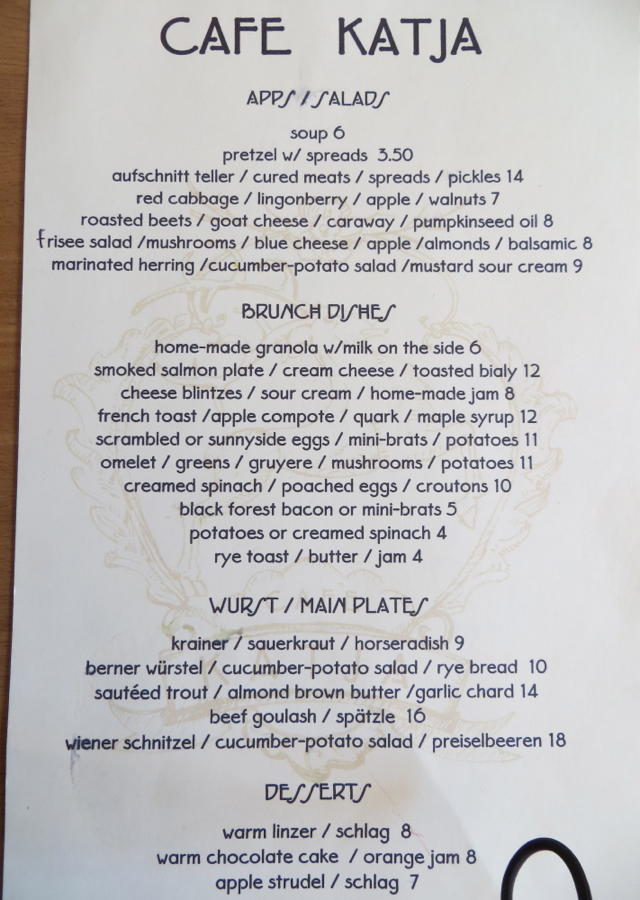 Cafe Katja Atmosphere
We'd previously been to the old and tiny Cafe Katja for dinner, when it was dark and cramped, so the atmosphere was the main strike against it. The expanded restaurant, on the other hand, was revelatory, especially for brunch with all the natural light showing off the handsome wood planked floors, U-shaped bar, with a basket of fresh pastries, and some fresh flower accents.
While food is the main reason to come to Cafe Katja, the atmosphere is more welcoming now that it's less cramped.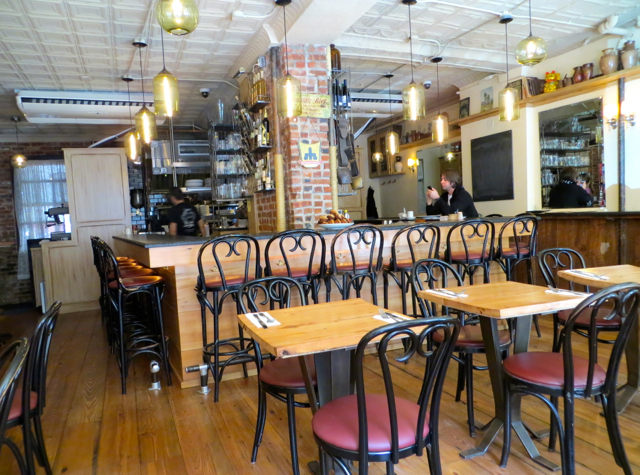 Cafe Katja Food
Cafe Katja was opened and continues to be run by Erwin Schrottner (together with partner Andrew Chase) and Schrottner hails from Austria–so the food is authentic Austrian, not an American take on Austrian cuisine, even though there are a few American favorites on the menu, such as smoked salmon with cream cheese and a toasted bialy. Even the french toast with apple compote does nod to Austria and Germany, with its quark garnish. I love that Cafe Katja is named after Schrottner's daughter Katja–when you name a restaurant after your child, there's that much more pressure for it to be good, as there's no distancing yourself from its namesake!
We first ordered a fresh squeezed orange juice, which came quickly and was delicious.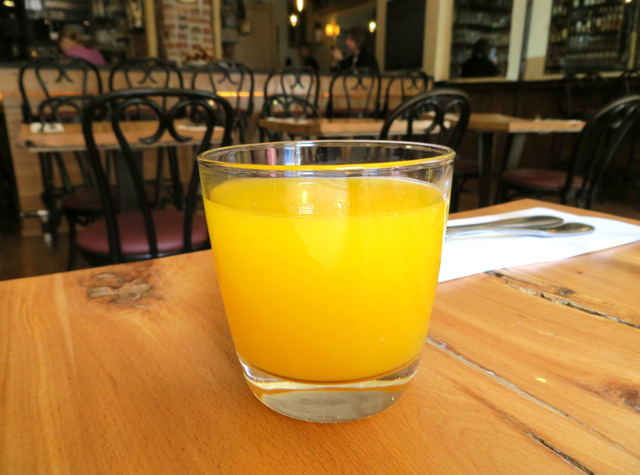 I ordered my favorite, the beef goulash with homemade spaetzle. Now, this is more appropriate in winter, but the silky Hungarian paprika laced sauce and fork tender meat accompanied with buttery homemade spaetzle was irresistable even on a Spring day.
The munchkin couldn't resist it either–he easily polished off half of the spaetzle in addition to most of his own dish.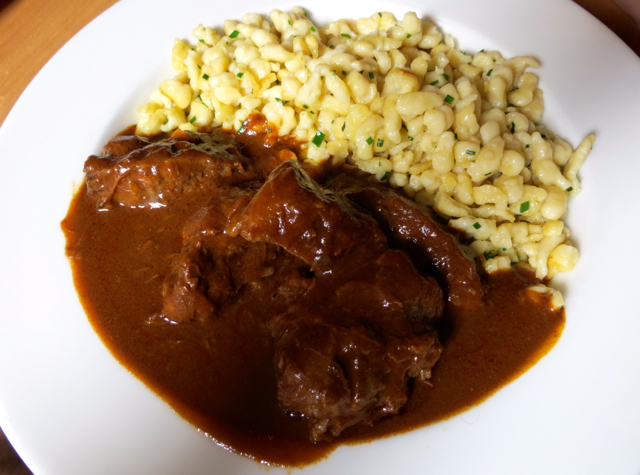 Cafe Katja used to offer quark filled crepes for dessert, but since that was no longer a choice the cheese blintzes were the closest approximation, which the munchkin chose for his brunch entree. They are currently my favorite blintzes in NYC. Unlike some places, these are not cloyingly sweet, and the homemade strawberry jam and sour cream were the perfect accompaniments. These will be a must order whenever we go back to Cafe Katja for brunch.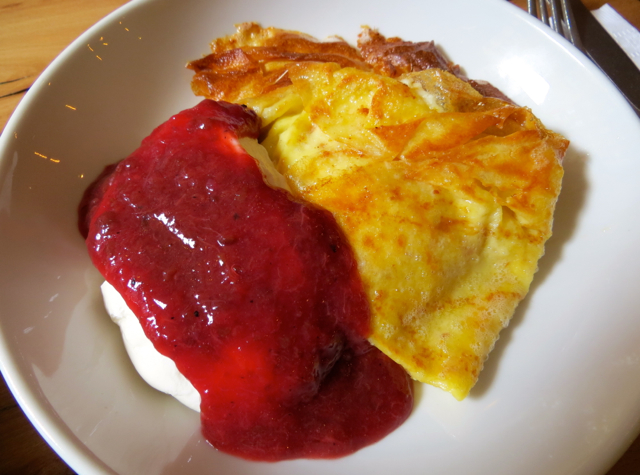 Cafe Katja Service
From cheerfully welcoming us and allowing us to choose our own seat to helping with our order selections and refilling water, our server was top-notch. There was also what looked to be the brunch service manager helping to serve tables, and as soon as he noticed that my son was having a bit of trouble with his fork and the blintzes, due to the strawberry sauce, he brought a spoon. Sometimes brunch service at other places in NYC can be rather hit or miss, especially if servers seem a bit bleary eyed, as though they've been out until the wee hours, but that wasn't the case at all at Cafe Katja.
As you can see, we were very happy campers after a great brunch and excellent service: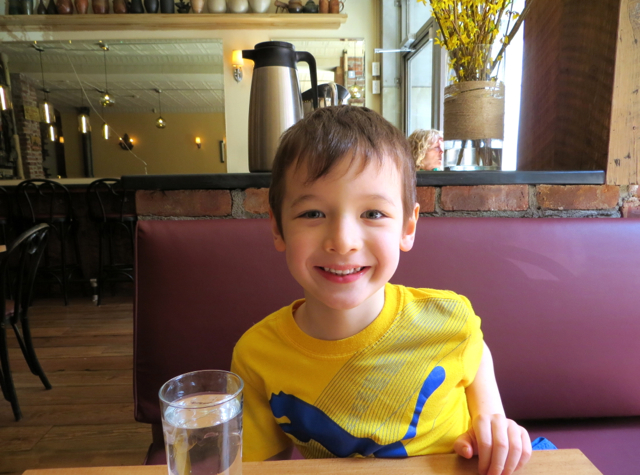 The Verdict: This is simple, hearty, unfussy Austrian comfort food at its finest. While you could be boring and order french toast or the smoked salmon plate, I encourage you to order one of the Austrian specialties, especially the goulash with spaetzle, perhaps splitting the cheese blintzes for dessert. Service is friendly and prices are reasonable given the quality of the food and service.
Have you tried Cafe Katja in NYC?
Related Posts
Review: Clinton Street Baking Company, NYC
Where to Eat in NYC: Best New York Restaurants
Oriental Garden Dim Sum, NYC Restaurant Review
Earn Miles and Points for Dining
Need Award Booking Help? Our fee is as low as $75 per ticket if you book your hotel through us.
If you enjoyed this, join 200,000+ readers: please follow TravelSort on Twitter or like us on Facebook to be alerted to new posts.
Become a TravelSort Client and Book 5-Star Hotels with Virtuoso or Four Seasons Preferred Partner Amenities!