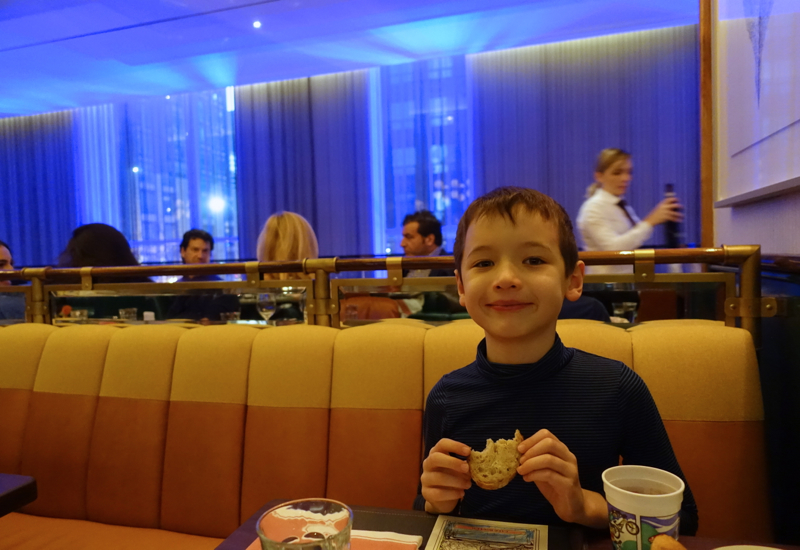 This Cafe Boulud, Toronto Review is part of a Toronto trip report on Toronto luxury hotels and dining. For the prior posts, please see:
TAM Business Class Review JFK-Toronto
Beast Restaurant Toronto Review
Review: LiveToronto Walking Tour and Photo Shoot
TravelSort Clients enjoy complimentary full breakfast for two daily at Cafe Boulud in addition to a $100 food and beverage credit once during their stay, as well as other Four Seasons Preferred Partner benefits at Four Seasons Toronto.
Cafe Boulud Toronto Location and Hours
Cafe Boulud is located on the second floor of Four Seasons Toronto, at 60 Yorkville Avenue. Breakfast is served 7-11am daily, lunch from 12noon to 3pm Monday to Saturday, Sunday brunch from 11am-3pm, and dinner from 5:30-10:30pm nightly.
The Scene
We were able to experience Cafe Boulud for both dinner on the day we arrived and breakfast the next morning. At breakfast, Cafe Boulud was light-filled and peaceful, just what you want when you're still waking up and haven't yet had your coffee or tea. It was a mixture of hotel guests, with a few business breakfasts also taking place.
At dinner, there was mood lighting and a hum of activity–it's clearly a local favorite, and reservations are recommended. There were primarily couples dining, though we did see one other family. If you can't snag a table or if you just want a drink, there's also bar seating.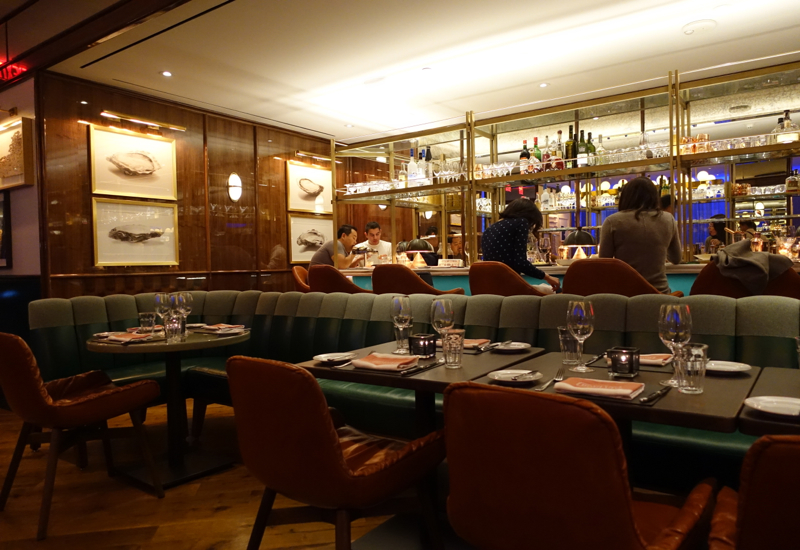 Cafe Boulud Breakfast Menu and Food
There are certain things I can't do without at breakfast, such as yogurt, fresh squeezed juice or a smoothie, and pancakes, and fortunately Cafe Boulud's breakfast menu included all my favorites: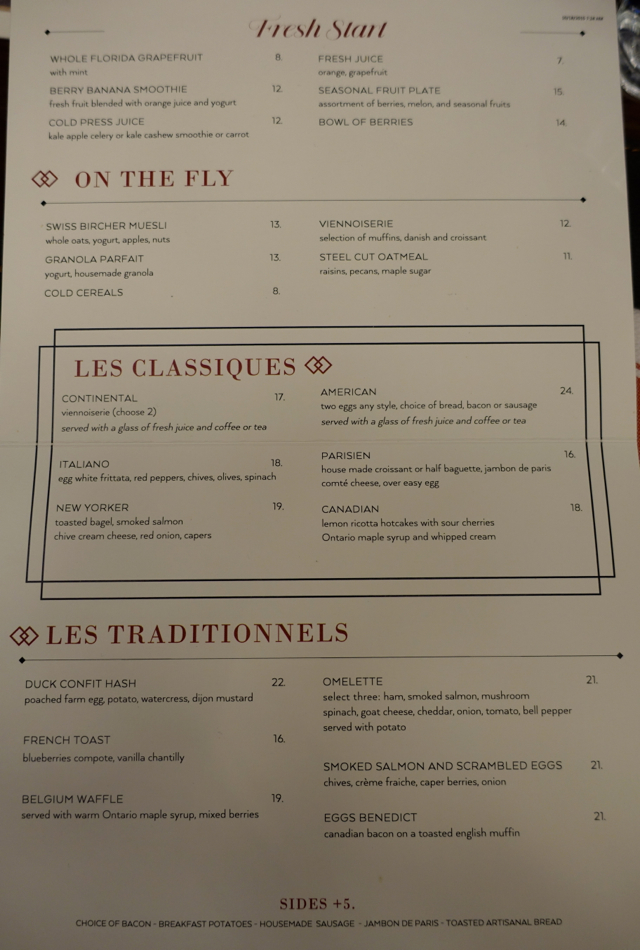 The kids' menu isn't large, but it knows kids well, since it had my son's favorites too: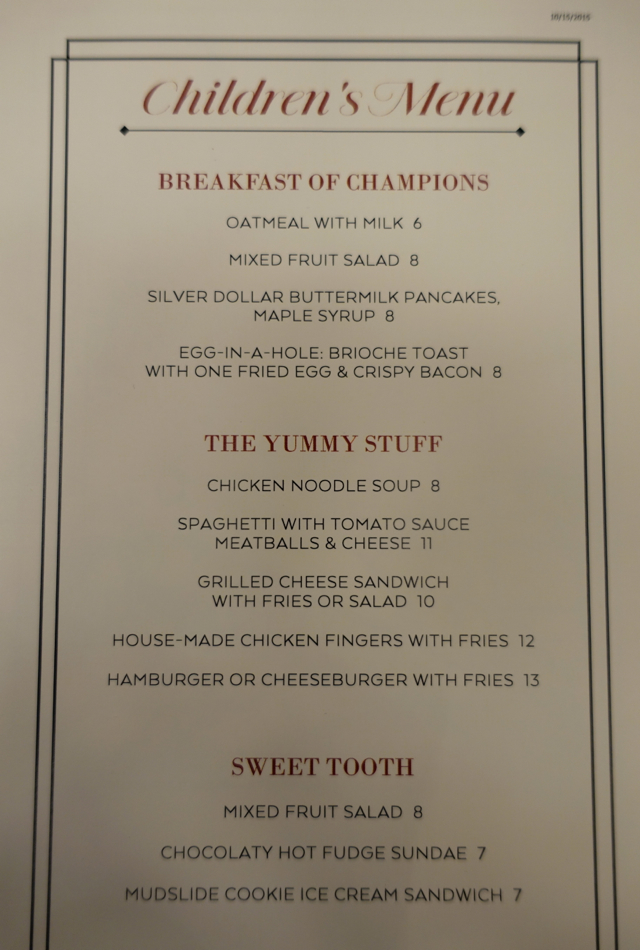 We started off with a delicious banana berry smoothie, that was actually better than the ones we make at home, which isn't all that common.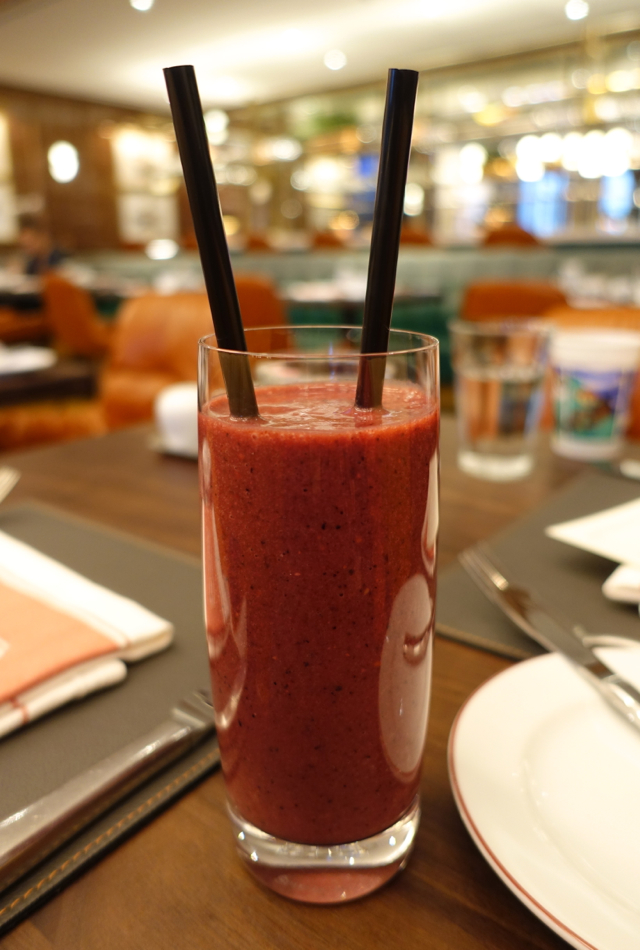 My son ordered the egg in a hole brioche toast with crispy bacon, a great French twist on eggs with toast, and the bacon was perfectly crispy.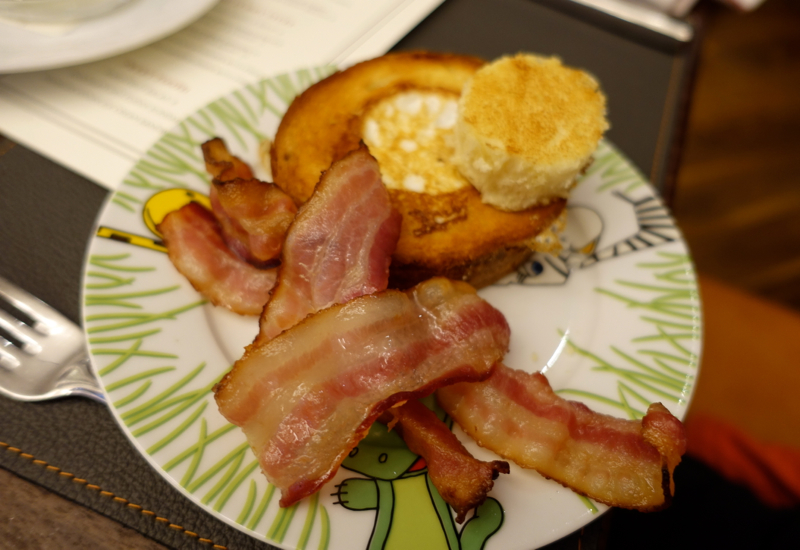 We shared my order of lemon ricotta pancakes with sour cherries and maple syrup. While these were thinner than the ricotta pancakes we like to make at home, they were just as tasty, and I loved the sour cherries that came with it–they really made the dish.
We also shared a berry yogurt granola parfait, made with thick and creamy plain Greek yogurt. I liked that it wasn't too sweet, though it was a bit on the tart side for my son.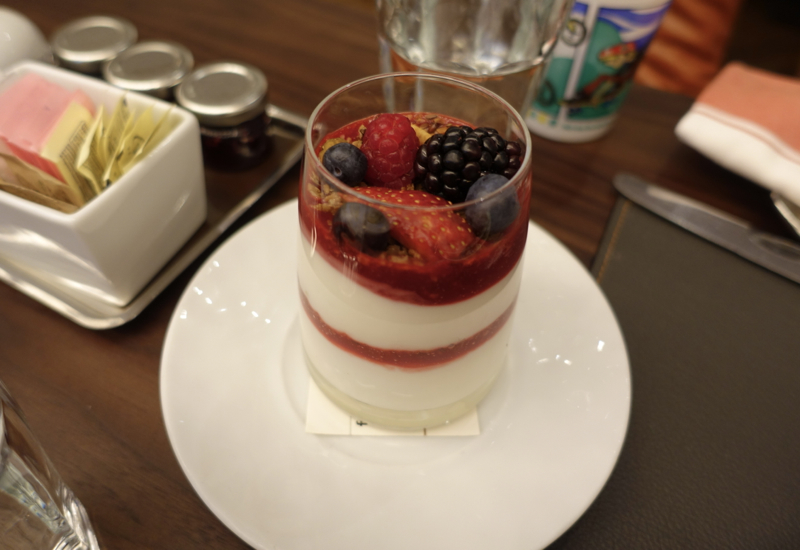 I capped it all off with a cappuccino, which was beautifully foamed, with elegant cappuccino art: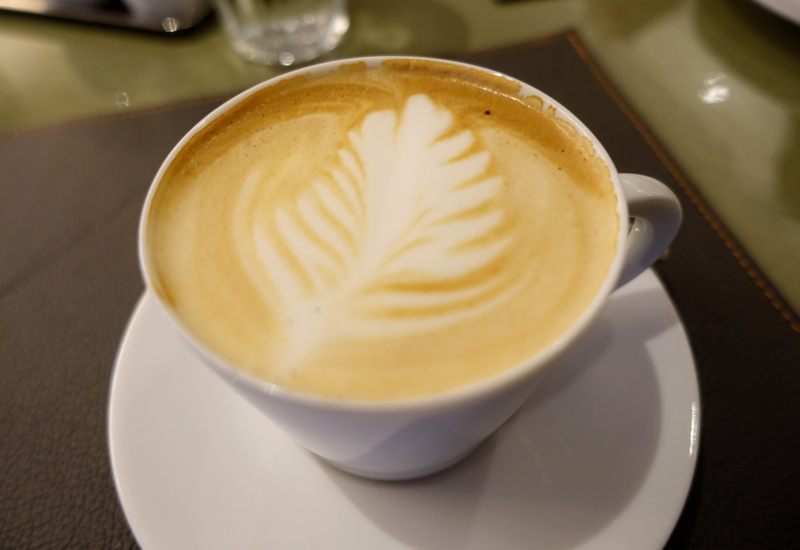 Cafe Boulud Dinner Menu and Food
Four Seasons Toronto knew what they were doing when they collaborated with Daniel Boulud on his namesake Cafe Boulud, a brasserie-style restaurant with updated French classics from his native Lyon. With the mood lighting and the palpable buzz, it's already a fast favorite of locals, which is essential in a business city such as Toronto.
I liked that the menu was fairly concise, since I'm always a bit suspicious of restaurants that have so many choices that it's hard to imagine all of them being executed well.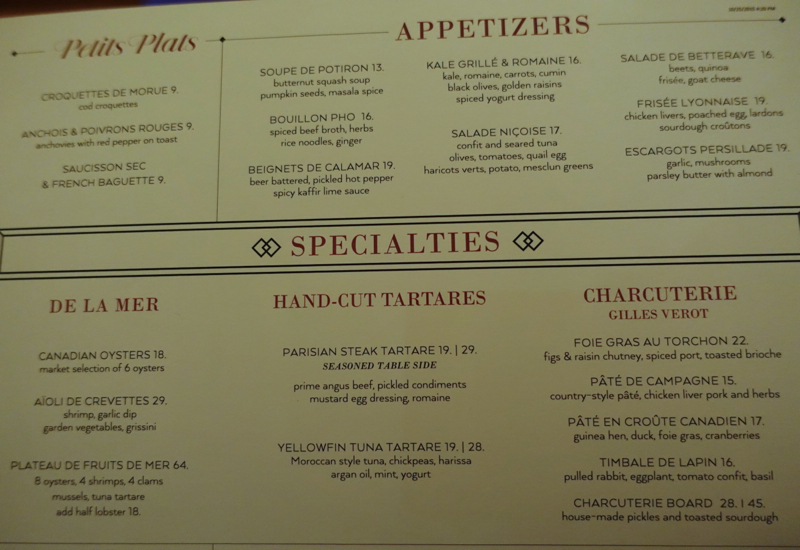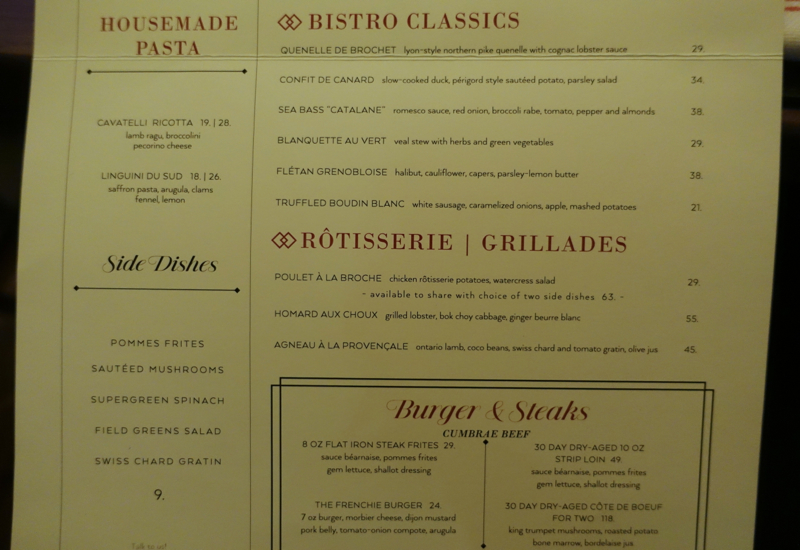 After being warmly greeted by our server and quickly placing my son's order for a cheeseburger it did take awhile to catch his attention again to place my own order due to how busy the restaurant was, so I flagged the nearest staff, who turned out to be a friendly manager, who was happy to help me decide between a couple dishes.
He also brought us some fresh bread and garlicky butter, which started us off nicely.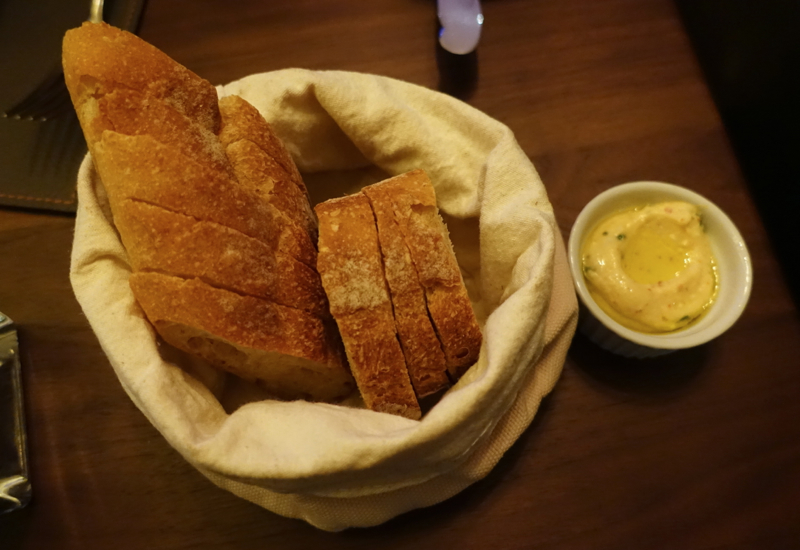 Since we'd placed it so early my son's cheeseburger came out fairly quickly, which I was appreciative of (as is any parent with a ravenous kid). You know it's delicious when your kid says nothing for awhile and just focuses on eating, which is what my son did. It looked to be the same size as an adult cheeseburger, but apart from my tasting of it, somehow the munchkin polished the whole thing off.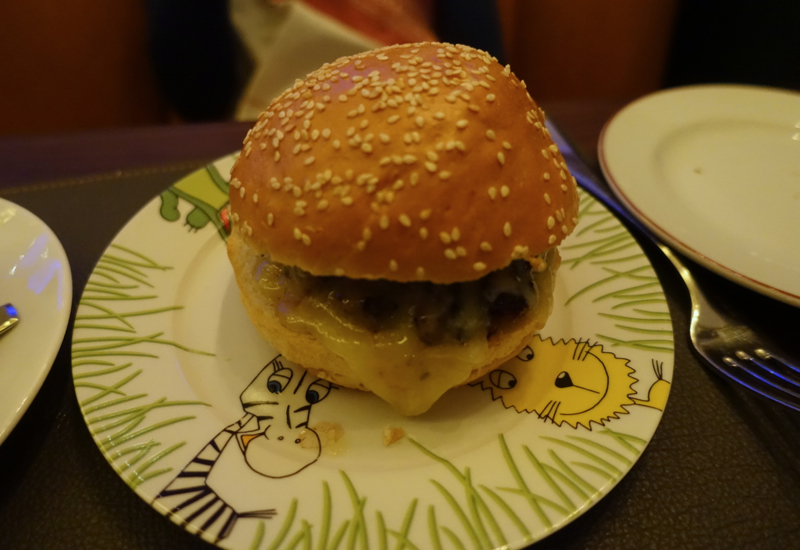 My duck confit was a generous portion and textbook perfect, with crispy skin and meltingly tender meat. I liked but didn't love the parsley salad; it did provide some needed fresh acidity as a counterpoint to the rich meat, but personally I would have preferred an accompanying salad of arugula, perhaps with some pomegranate seeds, pomegranate balsamic glaze and goat cheese, or a bed of Puy lentils flecked with the green parsley and perhaps some cubes of roasted butternut squash. But again, the confit itself ws perfect, so my minor quibble is with the accompaniment.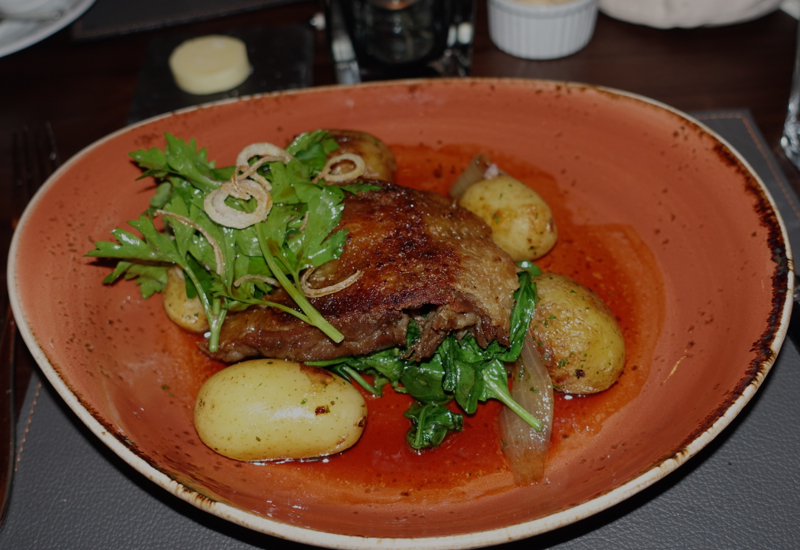 The Verdict
We enjoyed our dinner and breakfast at Cafe Boulud, both the excellent food and professional yet friendly service. Completely unprompted, at dinner my son, who is learning French in school, asked me how to say "cozy" in French. I was strangely stumped, thinking immediately of how to say cozy in Russian and Norwegian, but couldn't recall it in French. We asked our server, and while he was a native English speaker as well, he brought over a French speaking colleague, who suggested "genial." In any case, that was my 7-year old's take on Cafe Boulud, and I'd have to agree.
Related Posts
Review: LiveToronto Walking Tour and Photo Shoot
TAM Business Class Review JFK-Toronto
Beast Restaurant Toronto Review
How to Make a Four Seasons Bed
Disclosure: We received a complimentary stay and breakfast at Four Seasons Toronto, but we paid for our own dinner at Cafe Boulud. The views expressed in this post are mine.
Need Award Booking Help? Our fee is as low as $75 per ticket if you book your hotel through us.
If you enjoyed this, join 200,000+ readers: please follow TravelSort on Twitter or like us on Facebook to be alerted to new posts.
Become a TravelSort Client and Book Your Hotel with Virtuoso or Four Seasons Preferred VIP Amenities!