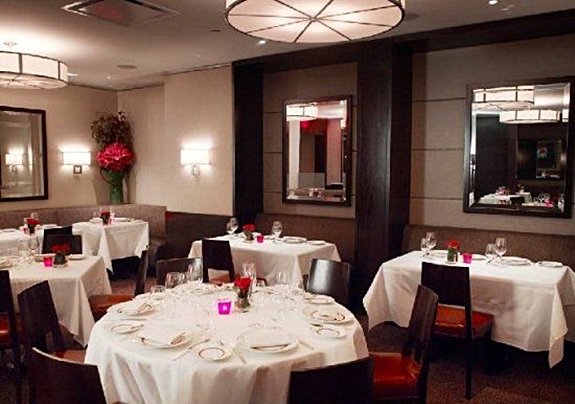 Cafe Boulud is the fourth of several reviews of restaurants that we recommended booking in our NYC Restaurant Week Summer 2011: Where to Go post. Previously we reviewed Quality Meats, in Midtown West, Tom Colicchio's Riverpark, by the East River, and the Carlyle Restaurant, on the Upper East Side.
You might assume from the name that Cafe Boulud is casual. You would be wrong. True, it is less formal than the three Michelin star DANIEL, the eponymous flagship restaurant of Daniel Boulud; however, Cafe Boulud is itself a one Michelin star restaurant, elegant and more formal, say, then DB Bistro Moderne, Bar Boulud and DBGB Kitchen and Bar. It's ensconced in the Surrey Hotel, together with the adjacent stylish Bar Pleiades. Cafe Boulud also has a sister Cafe Boulud Restaurant in Palm Beach, Florida.
All well and good, but who really is running the kitchen, since it's not Daniel Boulud himself at the stove? That would be 29 year old Gavin Kaysen, a Minnesota native whose stints include Napa's Domaine Chandon, Switzerland's Auberge de Lavaux and London's L'Escargot, as well as competing in the prestigious international Bocuse d'Or competition. Under Kaysen, Cafe Boulud offers four different menus: La Tradition with French classics; La Saison showcasing seasonal offerings; Le Potager inspired by what's fresh at the market; and Le Voyage, which injects ethnic and international flavors.
Cafe Boulud's typical prices for lunch entrees are in the $33-38 range, so we were keen to sample its 3-course Restaurant Week lunch menu for $24.07, which has even been extended through September 5 (weekdays only).
We entered the Surrey Hotel and found Cafe Boulud immediately on the right. There were two other couples waiting to be seated, but the hostess greeted us warmly, even with a 3-year old in tow, which we certainly appreciated. We were soon ushered to our seat, a nice table for 4 with a banquette and a lovely protea arrangement as the centerpiece.
We were offered the Restaurant Week and a la carte lunch menus, but not a wine list, which I had to request. We chose a Viognier to share, and made our menu selections. Water was poured and a bread basket brought. Again, the bread was of course excellent, crusty and fresh, but not warm or otherwise remarkable.
A nice touch, however, were the arancini (fried risotto balls,) that were brought as an amuse bouche: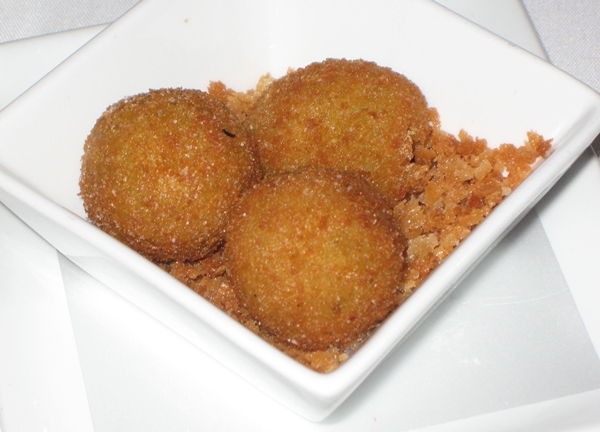 For an appetizer, my husband chose the Pate de Campagne with Brandy Soaked Cherries. It was delicious, although quite a small serving: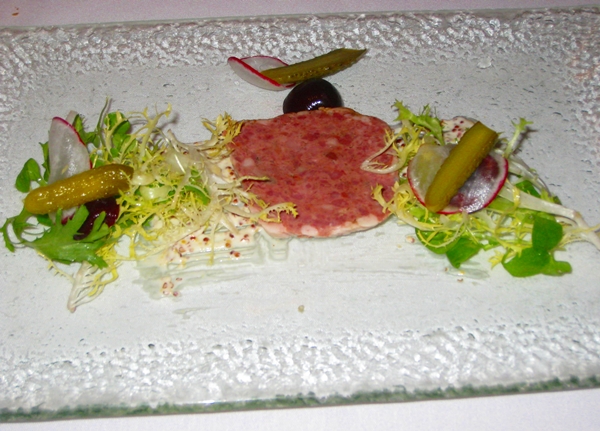 I was less impressed with my Red Bell Pepper Gazpacho with Poached Maine Shrimp, Mango and Basil. If I had been blindfolded, I likely would have guessed tomato juice–it really didn't taste that different from canned tomato juice, although the mango did enliven it somewhat. There were also only two pieces of shrimp.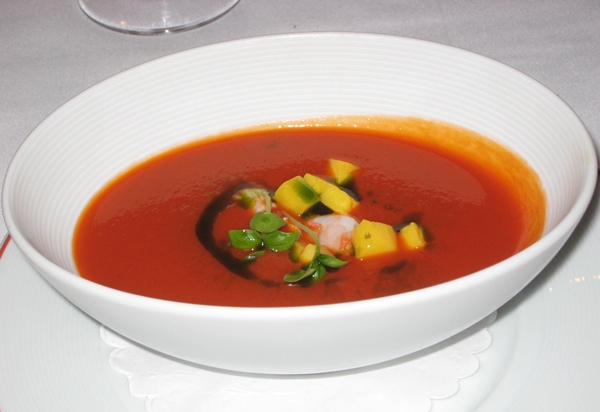 We had both ordered the Poussin, and this was the most satisfying aspect of the meal. Even if you don't normally order chicken at restaurants because "hey, I can make that at home"–trust me, unless you are a culinary school grad or a semi-pro home chef, it won't turn out the way this did (especially if you don't have access to poussin). I don't even like cranberry beans, but these were wonderfully flavorful, mingled with the jus, and every last bit was spoken for (much of it by the 3-year old, for whom we in retrospect should have ordered his own meal).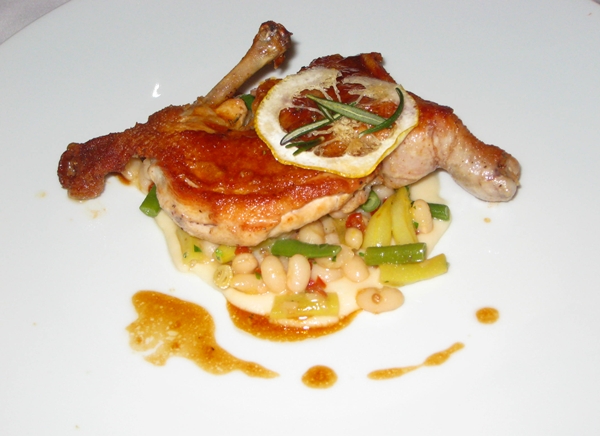 On to dessert: I finally had restaurant week desserts that I didn't feel that I could have made better myself at home. Clearly a pastry chef is at work, these were beautiful to look at as well as to eat, and we could easily have polished off another one or two of each. The Chocolate Mousee with Nougat Ice Cream disappeared first: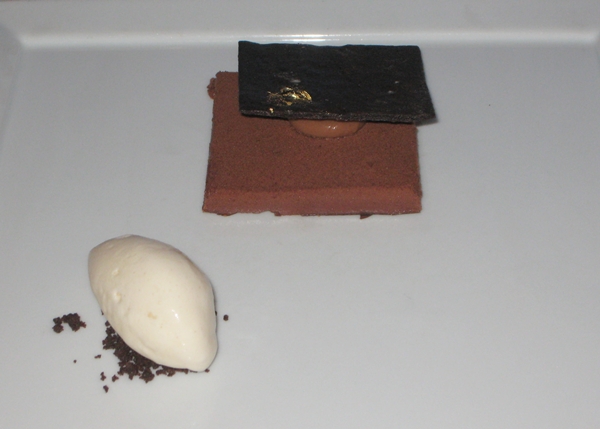 And the Caramel Gateaux with Toasted Hazelnut Ice Cream also didn't last long: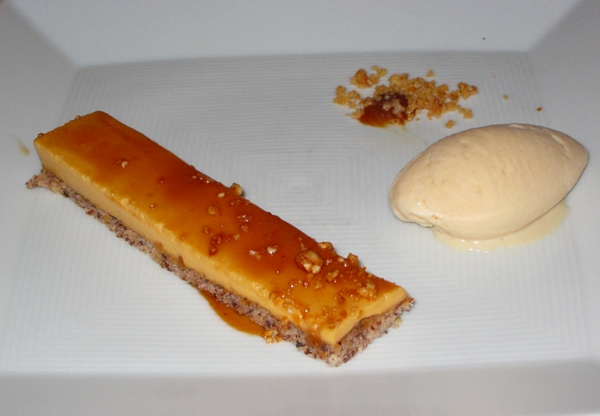 The final touch was perfect: warm buttery mini madeleines dusted with sugar, nestled in a napkin. They thoughtfully included 6, so that everyone, even the 3-year old, had two.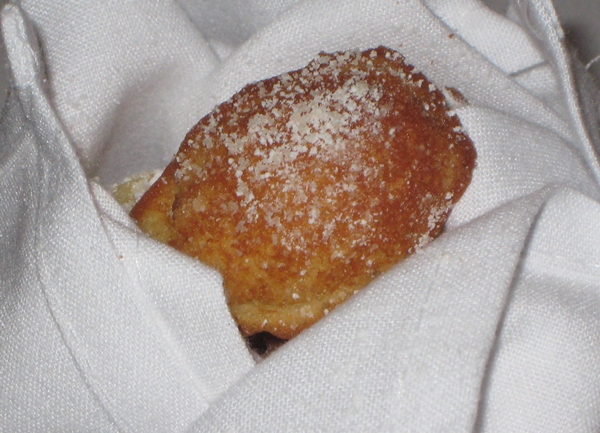 The Verdict
Apart from the lackluster red bell pepper gazpacho, Cafe Boulud was a winner. Could the portions be more generous? Yes, so don't come here ravenous or with a sumo wrestler. Would we dine here on the regular menu? Probably not, as I think there's better value to be had elsewhere. Also wasn't thrilled that some diners were very dressed down, in t-shirts and sneakers, when it's really not that kind of place–but it's not the restaurant's fault when people underdress. But service was impeccable, friendly and professional. So for an otherwise elegant and lovely Restaurant Week lunch, it made the grade.
Food: 4.5/5
Service: 4.5/5
Ambience: 4.5/5
Need Award Booking Help? Our fee is as low as $75 per ticket if you book your hotel through us.
If you enjoyed this, join 200,000+ readers: please follow TravelSort on Twitter or like us on Facebook to be alerted to new posts.
Become a TravelSort Client and Book Your Hotel with Virtuoso or Four Seasons Preferred VIP Amenities!