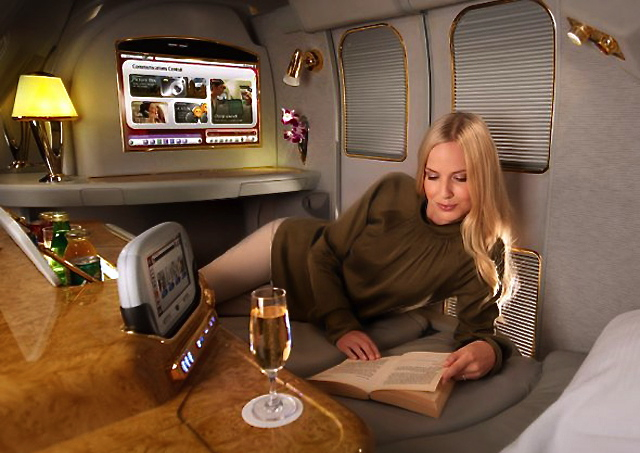 Is buying Alaska Airlines miles with the 40% bonus worth it? What are the best award redemptions for 100K Alaska miles?
First, the details:
Offer valid until March 15, 2014
Buy 5000 – 19,000 Alaska miles, get a 20% bonus
Buy 20,000 – 34,000 Alaska miles, get a 30% bonus
Buy 35,000 – 40,000 Alaska miles, get a 40% bonus
While not in the terms, unfortunately seems that only U.S. and Canadian credit cards are being allowed to buy miles.
So if you purchase the maximum 40,000 Alaska miles + 16,000 miles bonus, you'd have 56,000 Alaska miles for $1182.50, a cost of 2.11 cents per mile.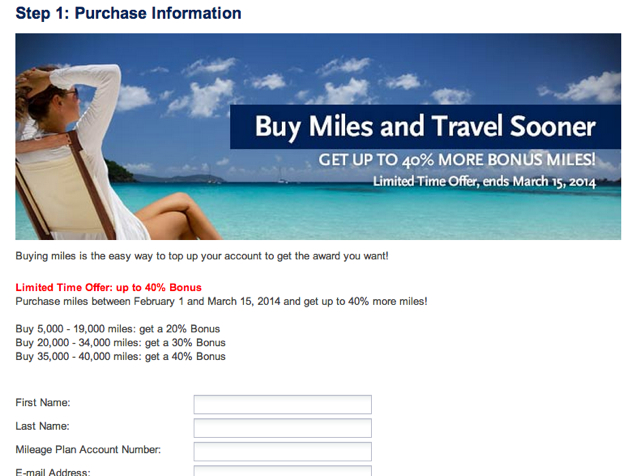 Is Buying Alaska Miles Worth It? That's Over 2 Cents a Mile….
As always, it depends on your valuation of the miles and how you plan to use them. I would never recommend this purchase for purposes of flying Alaska Airlines, but to fly Cathay Pacific First Class, Cathay Pacific Business Class, Emirates First Class, and Qantas First Class it can make a lot of sense, especially if you don't earn any or many Alaska miles from flying and don't have plenty of SPG points that you can transfer to Alaska.

Do I Earn Airline Category Bonuses for Buying Alaska Miles?
No–as usual, the transaction is processed by Points.com so you don't earn 3X with your AMEX Premier Rewards Gold card or any other airline or travel category bonus.
If you can manage the $10K minimum spend over three months, yes–although keep in mind that Emirates is not an AAdvantage partner, and with AAdvantage all partner awards you're not able to include a free stopover internationally, even on a roundtrip. Alaska awards allow you to include a stopover even on a one way award, which is a great benefit.
You might want to take advantage of both offers, they're not mutually exclusive and could even be complementary, since you could help meet $10K minimum spend on the Citi Executive AAdvantage by purchasing Alaska miles with a 40% bonus, especially as you can't earn any type of category bonus anyway for the miles purchase, as noted above.
Is There a Limit to the Number of Alaska Miles I Can Buy?
You can buy a maximum of 40,000 + 16,000 bonus miles per transaction, but Alaska Airlines doesn't limit how many purchases you make per year, so you could make multiple purchases in order to earn the number of miles you need for an award.
Top 5 Awards for 100K Alaska Miles
1. Emirates First Class NYC to Johannesburg via Dubai for 100,000 Miles
Keep in mind this is not an easy redemption to find, since there is very limited Emirates first class award availability, but if you manage to book this, that's over 20 hours in first class cabins, at a retail value of $11,000-$16,000.
2. Emirates First Class from the U.S. to the Maldives via Dubai for 90,000 Miles
Emirates is the only airline to fly first class into the Maldives, so this can be a great choice if you don't want to settle for business class on the slightly over 4 hour flight from the Middle East to Male.
3. SF or LA to Johannesburg with a Stopover in Hong Kong on Cathay Pacific Business Class for 62,500 Miles
Cathay Pacific First Class from the U.S. to South Africa via Hong Kong used to be by far the best value, but unfortunately Cathay's 747s on this route are being replaced by 777s with no first class, only business class. Still, flat bed business class for this much flying is a good deal for 62,500 miles, especially since you can break up the journey with a free stopover in Hong Kong, even on a one way award.
4. Cathay Business Class from the U.S. to Australia via Hong Kong for 60,000 Miles
It can be very tough finding award flights from the U.S. to and from Australia, so being willing to route through Asia helps your chances of finding availability. Cathay Pacific flies Business Class between Hong Kong and Australia, so unless you don't mind paying the 80,000 miles for a mixed award of first class from the U.S. to Hong Kong and business class from Hong Kong to Australia, you may as well select a business class award.
5. Emirates First Class U.S. to Europe via Dubai for 100,000 Miles
This definitely isn't a cheap (or easy to find) award, but if you want to stop in Dubai anyway, this lets you do that for no extra cost, say en route to Paris. I recommend seeking out Emirates First Class, since their Business Class is nothing special and even rather cramped compared to others.
Do you plan to buy Alaska miles with a 40% bonus? Which award flights do you plan to redeem for?