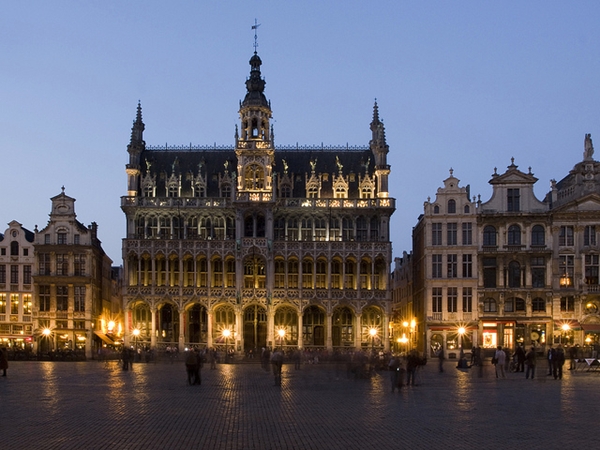 Why go
Quite frankly, the food is what drives most travelers to make plans for a couple days in Brussels instead of heading somewhere else for an extra week. Even if you don't usually go on vacation with the game plan to eat your way through a given city, you're going to find yourself experiencing Brussels on a gastronomic level. This is, after all, the home of some of the world's best beer, not to mention the tastiest waffles, finest chocolate, freshest mussels, and crispiest french fries. A true vegan will find no solace here, except in the meshing of impressive historic buildings and squares standing against the shadow of the large sky-rises that have gone up around the city.
After all, Brussels is a patchwork city in a country that is constantly arguing about what its official language should actually be. A short train ride from Amsterdam and Paris, it's been the seat of European politics unofficially and officially throughout history, with various United Nations and European Union meetings taking place seemingly year-round. Most of the time, those officials don't bother to stray from their favorite watering holes and paint-by-the-numbers upscale restaurants, leaving foreigners who aren't dignitaries to fend for themselves for food and culture outside of the new chic and the old standby options surrounding the Grand Place.
Travelers shouldn't miss the chance to explore some of the city's historic icons: go to the chocolate museum, don't miss the beer store of a thousand beers, and absolutely explore at least one museum or brewery dedicated to explaining the art of why the beer is so darn delicious. However, there's more to the Grand Place than just famous architecture and numerous museums. Stop by during the market day, and be amazed at the variety of different flowers and cheeses for sale. Head around the corner to the city's new hip neighborhood and listen to some dub (translation note: subgenre of reggae music—see http://en.wikipedia.org/wiki/Dub_music) while you nurse a beverage and watch Europeans flirt or write in their journals. With a little work, Brussels might just become a more well-rounded city: in the meantime, it's great for a couple of days, especially if you're feeling hungry.
Insider tips
Beer-lovers should browse the fancy beer shops, then head to the grocery store. If you're traveling on a budget (and really lately, who isn't in some way or another?), a lot of the same beers packaged in cute but pricey variety packs in the boutique beer stores can be found on the supermarket shelves for amazingly reasonable prices. Especially the creme de la creme of Trappist beer and one of the few that's made it States-side outside of fancy urban beer gardens: Chimay. You'll find all four colors, distinctive for their different alcohol contents, at most grocery stores for a fraction of the price.
Extra napkins are a must. It may sound a little bit dorky, but if you're going to be snacking on street food all of the time, you're going to do a terrible job if that waffle is smothered in the tastiest melted chocolate in the world and you're trying to balance your plate and not smear chocolate all over your face. Grab some napkins and avoid public embarrassment.
Head to the museums early. Especially in winter, opening and closing hours are shortened, meaning that if you want to learn the history of beer or chocolate, you're going to have to get in there by the early afternoon at the latest. Weekends are generally a lot more packed, too, so if you can plan your visit to museums for weekdays, definitely do it.
You may feel as though you are not having an "authentic" visit if you spend most of your time in the Grand Place and surrounding neighborhood. Resist the urge to explore further. I'm not saying there's nothing worth seeing outside of these parts of town, I'm only pointing out that, unlike other European cities that don't need to introduce themselves, Brussels is very much a place of business and politics. Most of the newer downtown areas are pretty deserted after business hours, and while it's not as dangerous as most places, wandering around the business district downtown at night looking for "authentic" culture at best will find you nothing and at worst might have you a little more prone to getting mugged.
Looking for that one cool neighborhood to hang out in, with great restaurants and cafes, not to mention hole-in-the-wall bars that are just enough downtown chic? It's Saint-Gery, where cobblestone streets and little white Christmas lights lead the way to the city's best cafes, restaurants, and haunts of well-coiffed locals and travelers.
Where to stay
I chose the NH Atlanta (7 Boulevard Adolphe Max 1000) during a cross-continental European trip because, quite frankly, I was tired of roughing it in budget hotels and hostels. For a reasonable rate that I picked up through the official NH Web site, a small single was mine, though I am sure travelers who are booking regular-sized rooms will find things spacious. The bed was plush and comfortable, the bathroom perfectly clean and with a number of complimentary toiletries, as is the custom with NH hotels. Located right around the corner from the Grand Place, the hotel was only a short walk from both the train and the non-businessy part of downtown, where all of the museums and some of the better nightlife was located. The location was excellent, and I had a great view out my window of one of the main shopping streets. An excellent choice for affordable pampering and the usual high-standard of NH style and amenities.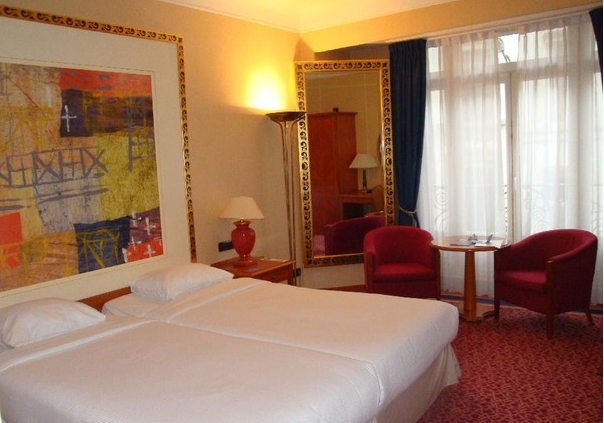 For actually not that much more though, you can stay in one of Brussels' best 5-star hotels. The Sofitel Brussels Le Louise is well located in the stylish Avenue Louise district, with its chic boutiques and cafes. The Palais Royale is just a half mile from the hotel, and the Grand Place about a 15-20 minute walk away. Rooms are modern yet comfortable, and service very polished.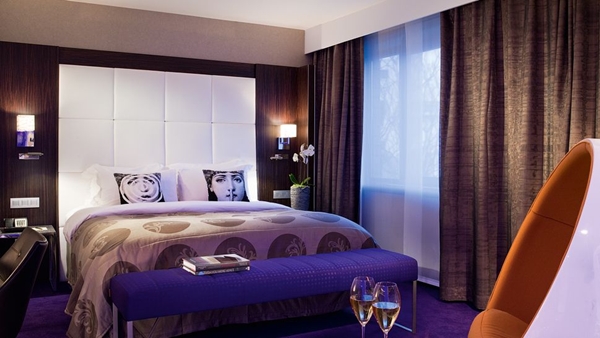 What to eat
For probably the best meal in Brussels, get off the beaten path and head to Le Bouchery, at an unassuming address in Alsemberg. Here, sample innovative and delicious creations such as Scottish Salmon marinated with wild fennel, delicately poached Gillardeau oysters, Iberian pork with violet Vitelotte potato puree, and the 6-course Slow Food menu for 75 Euros. If you're on a budget, reserve a table for lunch, when a 2-course menu is offered for 19 Euros, and a 3-course seasonal menu is 35 Euros.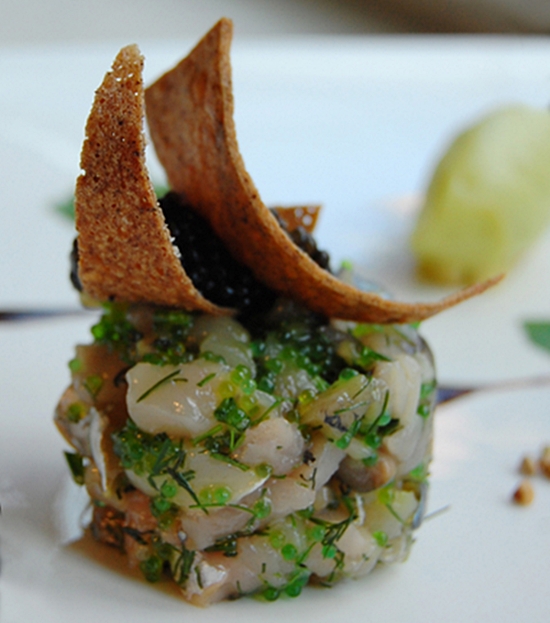 Take a break from the world of bankers and suits and check out Zebra Bar and Cafe (31 Place St. Gery), located in one of the city's up-and-coming arty neighborhoods. Or, judging by the concentration of locals and Europeans who had good haircuts and fashion sense, the single-most arty neighborhood in town. By day, the coffeeshop serves food, including deliciously cheese-laden sandwiches and nachos, and by night, it's packed with people ordering fancy drinks just as much as they're going for the delicious selection of beers. I was here in fall and the staff was keeping customers warm by serving coffee and high-alcohol content beer while blasting dub and reggae CDs. DJs also play here at night, when things get going.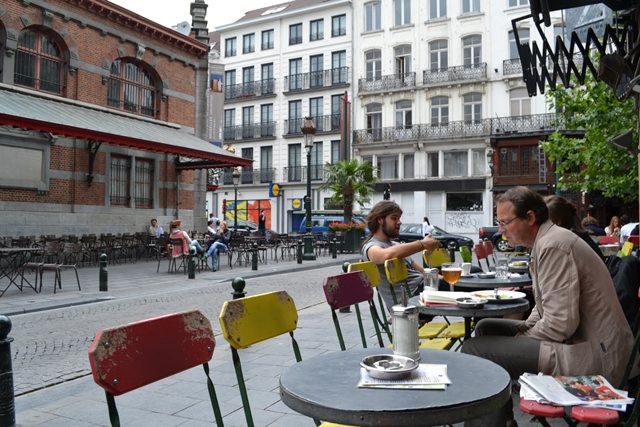 Get ready to sit awhile at Le Roi des Belges (33 Rue Jules van Praet) with its serious brasserie feel. For those who are used to service best described as leisurely and secretly relieved to not be rushed off while attractive servers try to turn tables with a quickness, this is a perfect spot for lunch, though it might not be ideal for a dinner. Sandwiches, Belgian takes on cafe staples, and a wide variety of pastry items are available from the afternoon until late at night, when most of the patrons have switched from coffee to cocktails or beers. Outside tables, if it's not freezing, make for excellent people-watching. It's the kind of bar where you'll hear English spoken, but by people who are speaking it quietly in a corner who are the exception, not the rule. A nice place for solo travelers in their 20s to get chatted up by university-age Belgians.
If the main point of your visit to Brussels is beer, don't miss Moeder Lambic, which offers an incredible selection of craft beers, paired with hearty cheeses and cold cuts from local producers. There are two locations, the original one in Saint-Gilles, and the newer location, Moeder Lambic Fontainas, which is a 10 minute walk from the Grand Place, which is larger. Note that on weekend evenings both locations can get really crowded, so if you can, visit during the week.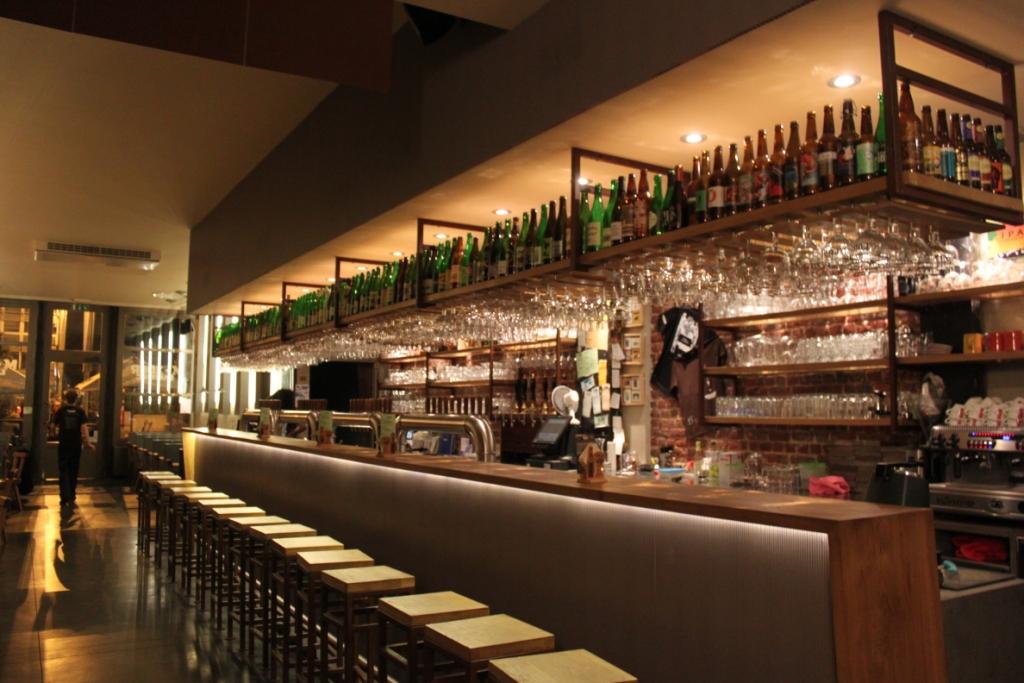 For an obvious but defendable "classic" Belgian dining experience, Taverne du Passage (Galerie de la Reine 30) is a veritable institution and is practically as good as it gets. We're talking all male waiters in formalwear and some of the best takes on traditional dishes at high-profile tourist restaurants. Yes, there are going to be a fair share of tourists, so if you're not into that sort of scene, you might want to find something further off the beaten path. I found that this place was worth it just for a chance to try the sit-down meals that everyone comes back from Brussels raving about. Every imaginable take on seafood is present, and if it's possible, don't miss a chance to try the mussels. The wine list was absolutely epic, so for those who have had their fill of beer while in Belgium, this might be an excellent spot to take a break and enjoy some fine European wine instead.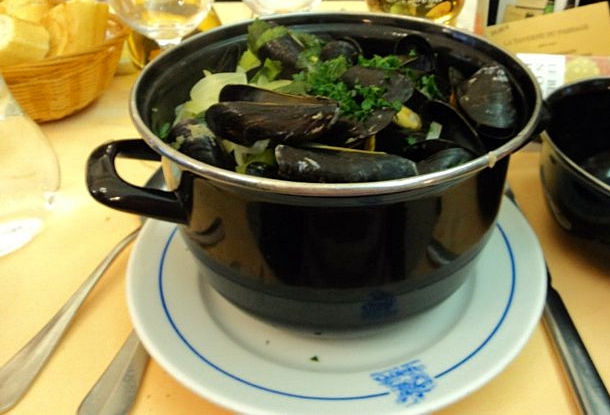 Yes, there may be a lot of places where you can get a cone of frites on the street in Brussels, especially right around the corner from the Grand Place. However, there's a reason that people line up at Fritland (Henri Mausstraat 49). Made the old-fashioned way, the fries here are the right ratio of crispy to soft and are freshly made throughout the course of the day. Take them with just salt, or try the garlic-mayo dipping sauce, which you don't dip so much as squirt on top of your cone and try not to drop on your feet. Service is fast, friendly, and efficient, and the fries won't set you back too many Euros, making them a great snack. I recall eating and walking because there wasn't space to sit down, but as far as take-away goes, it doesn't get any better.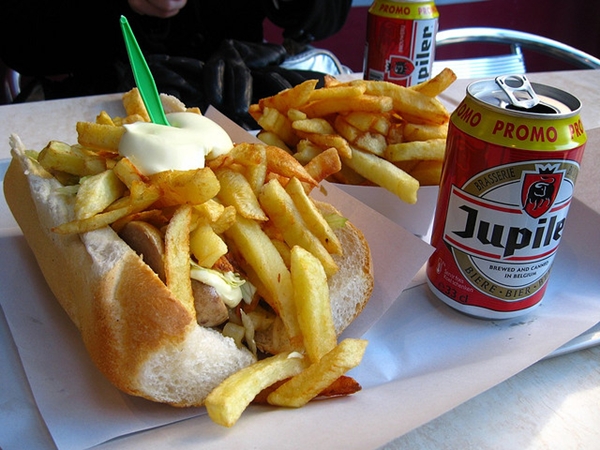 What so see and do
While beer might be fun to learn about in a museum where a guide explains the process of production, it's equally exciting to spend some time at Delirium Café. You know those bottles of alcohol at trendy bars in New York and other big U.S. cities with the pink elephants? Those are the people behind the cafe, which offers a surprisingly vast selection of some of the best beer that Belgium has to offer, as well as other brews from all over the world. By vast, I mean literally thousands of different beers. You'll want to Google Maps the exact location, because it's in the old historic part of town on a side street that is, unfortunately, easy to miss. And if you're imbibing, you're really going to need a map to find your way home.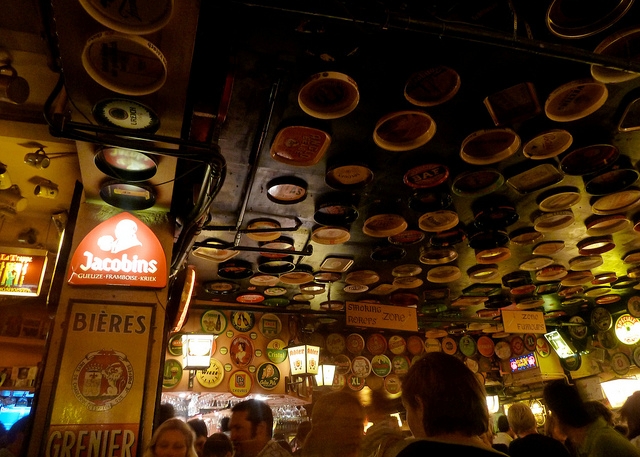 Sometimes, guide books just get it right. Any book you pick up will tell you to head to the Grand Place, the historic square in Brussels, housing some of the city's best architecture, its most regal royal residence, and a number of popular museums. In other cities, that might be a formula for disaster, but to be frank, Brussels doesn't have the same wide-ranging attractions that other European cities do, on account of its sometimes-early bedtime and ambassador/banker vibe. So, if you're visiting, this is an excellent place to start out. Browse the market, if you're there on one of those days, or just go to any food vendor in the immediate vicinity and get yourself a waffle or some french fries (pommes frites, if you want to embrace the local culture). They're all good, I promise, and make for a good snack while you wander around the square taking in the buildings and the people.
A film-buff friend from Amsterdam told me about Cinema Nova, an independent cinema in Brussels and said that no matter what they were showing while I was there, it was worth it. For anyone remotely interested in film, I offer the same recommendation. A tiny, one-screen theatre run by knowledgeable film enthusiasts, Cinema Nova also has live music, art-related events, and special midnight screenings. Whether it's a one-off showing of some obscure South American documentary or an ongoing series featuring a particular director or style of film, Cinema Nova is an excellent spot to check if you're in town looking for some fresh culture.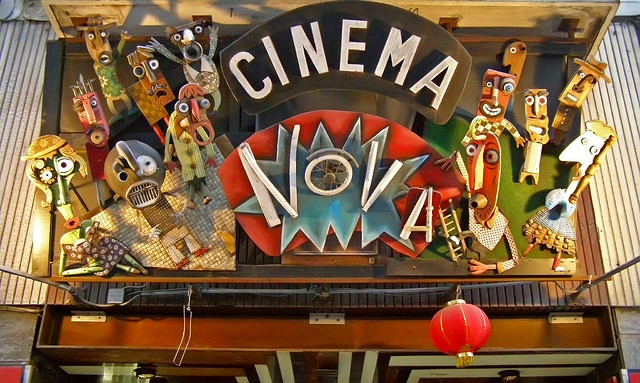 If you remotely enjoy cars, then a visit to Autoworld is in order for your time in Brussels. After being disappointed by the Comic Strip Museum and its lackluster displays, I was thrilled to find that seeing cars throughout the ages was, in fact, exciting. There is a special section for weird or specialty cars, so you can check out what the auto world's craziest visionaries have built as concept cars over the years. The museum is organized by decade, which makes it easy for those who have particular favorite times in automobiles to find their most beloved car models.
If you enjoyed this, please follow TravelSort on Twitter, like us on Facebook or become a Member to be alerted to new posts.
Photos: Whitney Weiss, moarplease, Simon Aughton, DaveKav