Link: British Airways Visa with 100,000 Bonus Avios [Expired] Please see Best Travel Credit Cards for the current best offers.
British Airways Visa offered $100 off (a $50 statement credit for each of 2 dines) at any Michelin-starred restaurant in NYC last year, which was a huge hit for BA Visa carrying foodies. Thanks to this deal, my husband and I enjoyed a free lunch at Jean-Georges, and $100 off a very decadent lunch at Eleven Madison Park (see Eleven Madison Park, NYC Restaurant Review).
Imagine my delight to discover that British Airways is again offering $100 off 2 Michelin-starred New York restaurants, through July 31, 2012! This means another $200 in statement credit, since both my husband and I have the British Airways Visa. I doubt this is a coincidence–no doubt many other cardholders, similarly to us, got the BA Visa last spring and are soon due for renewal. British Airways is probably hoping to get cardholders to  pay the renewal fee and keep the card for another year.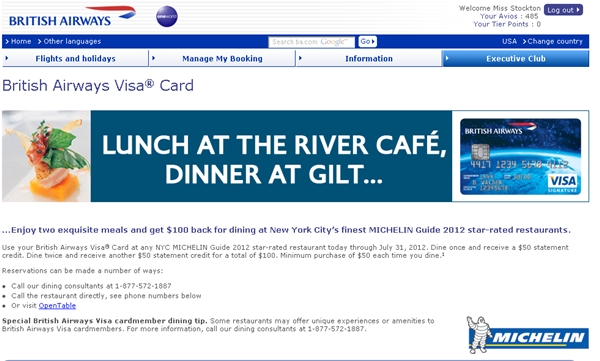 In any case, where to dine? Personally, while I like to try new places, it's very hard to not have one of our dines be at Eleven Madison Park, which in my view offers the best fine dining in New York, rivalled only by Per Se (which is much pricier). As I look down the list, I find myself making objections, real or feigned, to many of the other options:
Chef's Table at Brooklyn Fare: Do I really want to spend my Monday morning trying to get through on the phone and pay $200+ per person to trek out to Brooklyn and perch on a stool for amazing food but zero ambience?
Daniel: Possible, but a number of reviewers prefer Eleven Madison Park…
Jean Georges: Went there last time, and while very good, not blown away
Le Bernardin: Was there years ago and not that impressed…somewhat mixed recent reviews
Masa: Maybe, but I've had amazing food while living in Japan, so not sure it will measure up
Per Se: Would love to try it at some point, but hard to swallow the price tag: $295 per person
Even with the 1 Michelin Star restaurants, the ones I've been to, such as annisa, Aureole, Cafe Boulud, Dovetail, Gotham Bar and Grill, Gramercy Tavern, Jewel Bako, The Modern, Public, Sushi of Gari, Veritas–all excellent in their own way, but would want to either try something new or go back to Eleven Madison, especially for their incredible honey lavender duck duck that's carved tableside.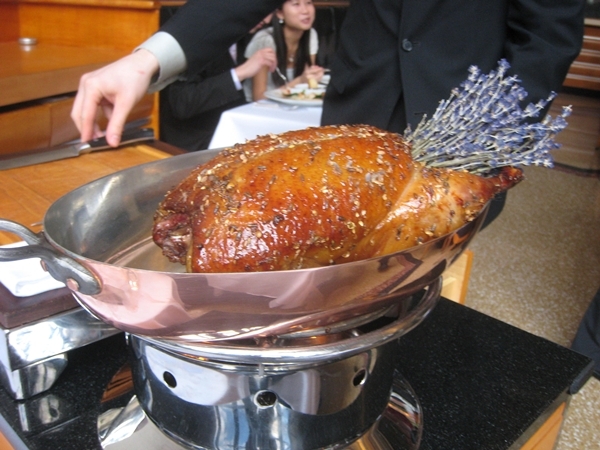 Of course, as in any relationship, it's not just about me 🙂 So I'll need to consult with my partner in crime and see which places pique his interest. Since he enjoys sushi, I may suggest he check out Sushi Azabu, a tiny TriBeCa joint that gets strong reviews for its traditional, ultra-fresh sushi. I've heard that cherry picking favorite pieces there is the way to go, rather than the omakase, which can be overpriced, so we may do that and even get close to a free dinner if we manage to keep our sushi ordering to about $50/person.
Will you be taking advantage of the British Airways Michelin dining deal? Share your top NYC Michelin restaurant choices in the comments!
Apply for the Best Travel Credit Cards.
If you enjoyed this, please follow TravelSort on Twitter or  like us on Facebook to be alerted to new posts. 
Become a Member to find your perfect luxury or boutique hotel at up to 50% off: TravelSort Hotels