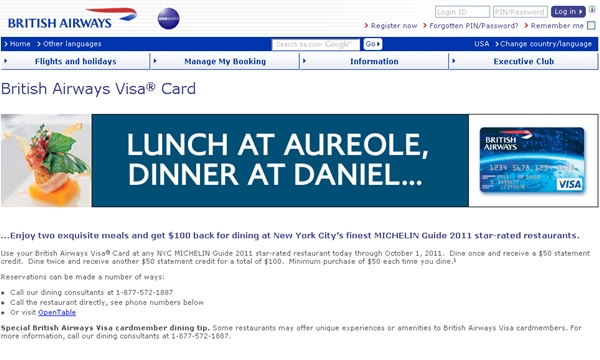 While logging into British Airways the other day to analyze their 50% Off Award Flights I was thrilled to see the new British Airways dining promotion: a $50 statement credit after dining at ANY Michelin-starred restaurant in New York City, through October 1, 2011. The promotion is good for up to two statement credits, so you can get a total of $100 back. Since my husband and I each hold this card, that's $200 back. For foodies, this deal is better than restaurant week, since you get to choose wherever you want to dine from some of the top New York restaurants and order exactly what you like.
All well and good, but given that there are 53 choices–not counting Peter Luger, the Brooklyn steakhouse, which apparently does not accept credit cards (!)–where should you go? You may already have your favorites, but if you don't, here are a few of our recommendations:
Romantic lunch that won't break the bank: Jean-Georges
While two plates are now $32, this is still a great deal for a leisurely, romantic lunch with the perfect service and little touches (amuse bouches, post-meal sweets) that one would expect of a 3-Michelin star restaurant and the flagship of restauranteur Jean-Georges Vongerichten. From the current menu, try the softshell crab, tuna ribbons, foie gras terrine (worth the $5 supplement), sweetbreads and black sea bass.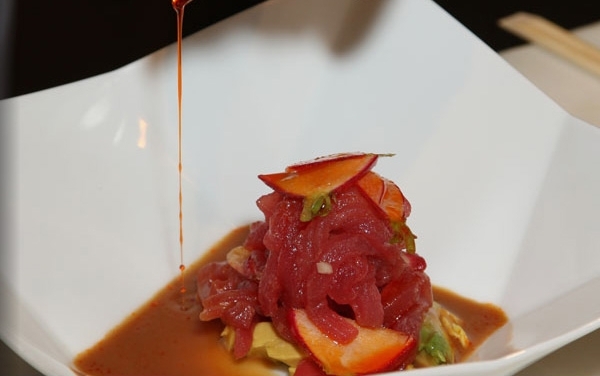 Price is no object, pull out all the stops dinner: Per Se
We originally covered Per Se in our post "Splurging on New York's Best Special Occasion Restaurants" and since then, prices have gone up by $20 to $295, for both the omnivore and vegetarian menus. It's a little strange to me that the vegetarian menu is the same price as the regular menu, which for August 5 featured the signature "Oysters and Pearls," Osetra Caviar, foie gras, lobster, quail, beef, etc., but perhaps the labor involved in making vegetable dishes at Thomas Keller caliber makes up for the presumably lower cost in ingredients. In any case, vegetarian or not, this is a once in a lifetime experience to savor. If you're NYC-based foodies, consider going here instead of taking a long weekend vacation.
Also keep in mind that Per Se now offers an a la carte "Salon Menu" from which you can order select small plates and mains for $28-46 per plate. Personally though, I think it's worth saving up to do the Per Se experience properly.
Superb fine dining in a beautiful setting for about half of Per Se: Eleven Madison Park
There's a reason (or rather several) why Elevan Madison is our go-to restaurant for special occasions, and it seems the critics agree–it's garnered 4 stars from the New York Times, been included for both 2010 and 2011 in Pellegrino's "The World's 50 Best Restaurants" and received the James Beard Foundation award Outstanding Restaurant Award in 2011 and Best Chef New York City Award for Chef Daniel Humm in 2010. If you don't like surprises, you may not be a fan of the new minimalist menu, which simply lists the main ingredient, e.g. "Black Truffle" or "Lobster" without any other description, but you can always ask your server for more details before making your selection.
And If you're not up for $125 for a 4-course dinner (more, with the addictive mini cheese gougeres, various amuse bouches and sweets at the end) go for a decadent lunch: three courses are $56, and four are $74.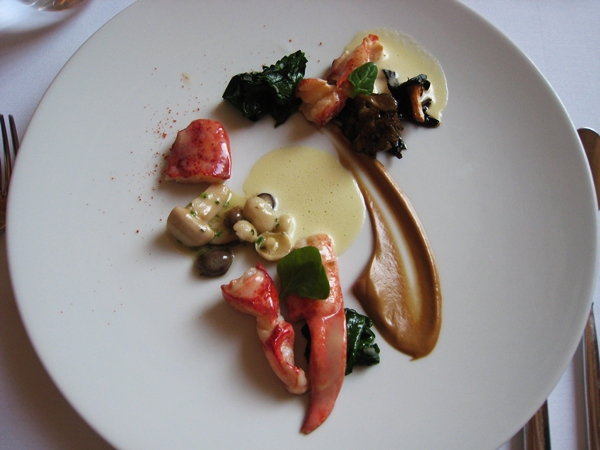 Midtown business lunch: Aureole or Seasonal
Midtown is notoriously hard to get a good quality business lunch that isn't overpriced. If you're on the West side near Columbus Circle, Jean-Georges is perfect, if you have the time to actually enjoy it. But if you're nearer to 42nd and the Bryant Park area, I'd recommend Aureole. The best deal is during Restaurant Week, when a 3-course lunch is $24.07; current lunch prix fixe is $34. Another option is to opt for the burger, which is excellent.
For fans of Austrian cuisine, Seasonal is a great choice. From the current lunch prix fixe, which is a good deal for $27, my picks would be Pochiertes Ei (soft poached egg, lobster, hen of the woods mushrooms) for starter, Wiener Schnitzel for main (or Skate, if you prefer fish); and Apfelstrudel for dessert.
Brunch in SoHo: Public
Just tried this today, review coming soon! This airy space fills up quickly and there are no reservations, so get here by 11:15am to be assured of a spot. While there were a few minor missteps, we enjoyed the complimentary mini scones, served warm; tea-smoked salmon with poached eggs and yuzu hollandaise; grilled venison burger; and coconut pancakes with fresh ricotta, mango and ginger lime syrup.
Apply for the Best Travel Credit Cards
If you enjoyed this, please follow TravelSort on Twitter, like us on Facebook or become a Member to be alerted to new posts.