As we wrote in British Airways Offers $100 Off 2 NYC Michelin Restaurants…Again! there's a great current dining offer if you have the British Airways Visa and are in (or will be visiting) New York City: a $50 statement credit for dining at any Michelin-starred restaurant in NYC, up to twice. That's $100 back, and if your spouse or friend has the card and you split the bill, that's $100 off dinner for two! Perfect for date night, or catching up with a foodie friend.
Last year, my husband and I put our credits to good use at a lunch at Jean-Georges (see our review, Free Lunch at Jean-Georges from British Airways Visa), and an anniversary lunch at Eleven Madison Park which even included a kitchen tour and the fanciest cocktail I've ever had the pleasure of enjoying.
While it was tough not to go back to Eleven Madison Park, this year we tried Thomas Keller's Per Se and most recently, we celebrated a birthday at Sushi Azabu.
Why Sushi Azabu? Well, even apart from its one Michelin star, I'd seen good reviews for it since opening in 2008. And although we certainly haven't tried all the big name sushi places in NYC, we've tried a few, and I haven't been blown away–unless you count the astonishing sky-high prices. We both do really enjoy sushi, and I'll admit my standards are pretty high, having lived in Japan, and had a host family at the beginning of my stay whose grandfather was a sushi chef. So although we'll occasionally go to our favorite midtown haunt for reasonably priced, middle-of-the-road sushi, we almost never splurge on the "top" NYC places because, well, I just haven't had stellar experiences there.
I made a reservation a week in advance, and there was space for the two of us at the sushi bar, which we both prefer. The reservationist mentioned that there's a 2 hour limit, and that was fine by us, since we'd have a babysitter and didn't want her to have to stay too late.
One thing that intrigued me was Sushi Azabu's hidden location–it's literally tucked away beneath the Greenwich Grill in TriBeCa. When we arrived, the hostess greeted us, then spoke Japanese into her headset to confirm they were ready for us, before leading us through the Greenwich Grill, past a velvet curtain and down a narrow flight of stairs.
We were graciously greeted, and led to our seats at the sushi bar, with the sushi chefs welcoming us with a chorus of "Irashaimase!" Warm moist towels soon followed, to cleanse our hands, and we were offered menus.
Omakase (chef's tasting menu) starts at $100, so we decided instead to share one Koi Course, which consists of a starter, 10 nigiri and miso soup, and order a number of individual pieces that we were craving, such as chu-toro (medium fatty blue fin tuna), o-toro (fatty blue fin tuna), uni (sea urchin, flown in from Japan), wagyu-aburi (roasted wagyu-beef), chawan-mushi (steamed egg custard), unagi (eel) and kanpachi kama (grilled amberjack collar). The sushi chefs prepare each piece with a bit of soy sauce and wasabi, so there is no need to add anything yourself. In fact, I even asked our sushi chef if he could use a light touch on the wasabi, since with seafood this fresh, I want to enjoy very close to its natural state.
The chef was generous enough to give us both a starter, even though we only ordered one Koi Course. It was monkfish liver, served in a beautiful little red dish. Not something I would ever have ordered on my own, but delicious.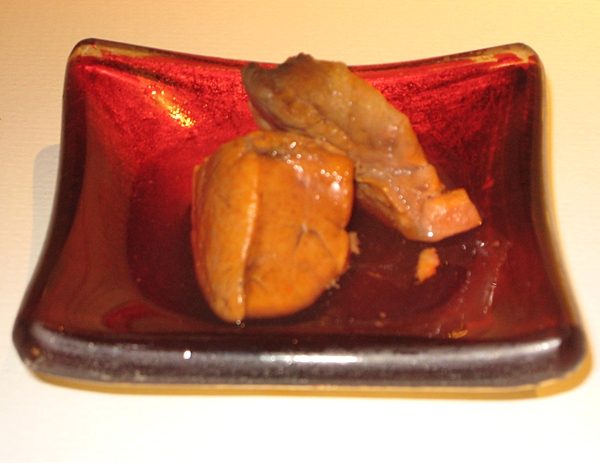 Next, we enjoyed sharing each of the Koi Course nigiri, starting with the blue fish tuna and salmon: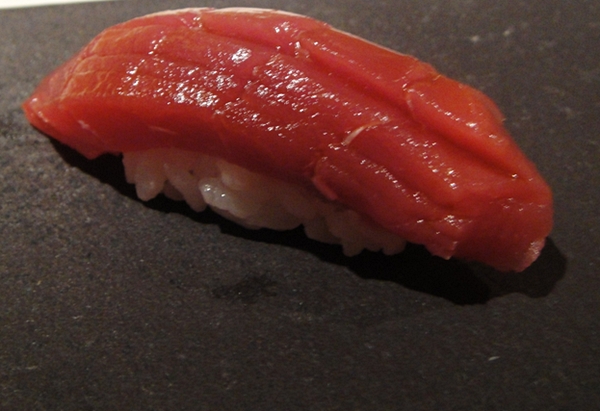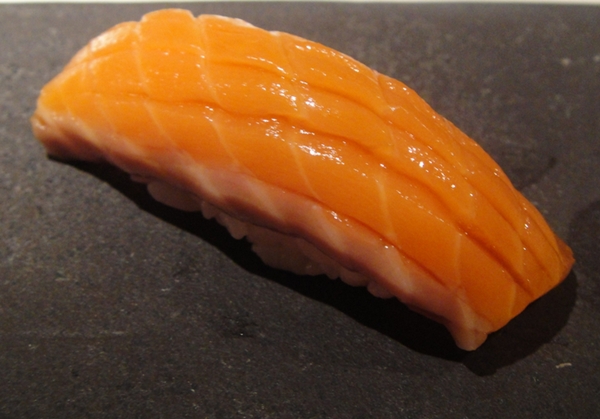 Next we were brought the chawan-mushi, a steamed egg custard with mushroom, ginko nut and herbs. I must say, I was pretty disappointed by Sushi Azabu's version. I've had many, many better versions of this in Japan, and I have to imagine there are also better versions of this here in NYC. I found this one a bit watery and not flavorful enough.
Then, we were brought our "kama" courses: striped bass collar first, then kampachi kama (amberjack collar). Now, hamachi kama is one of my favorite cooked Japanese foods (highlighted in Must-Try Foods From Around the World) but Sushi Azabu, at least when we went, didn't have hamachi on the menu at all. so I asked which fish was closest in flavor, and the answer was kampachi. While the striped bass collar was ok, the kampachi collar was exquisite–the better than any hamachi kama I've had to date, perhaps because it was simply so fresh. We could probably happily have made a meal of 2-3 more of those.
We went back to sushi though, and enjoyed raw kampachi as sushi, fluke (forgot to take a picture), some wonderfully fresh and some sweet scallops, perfectly set off by a touch of salt: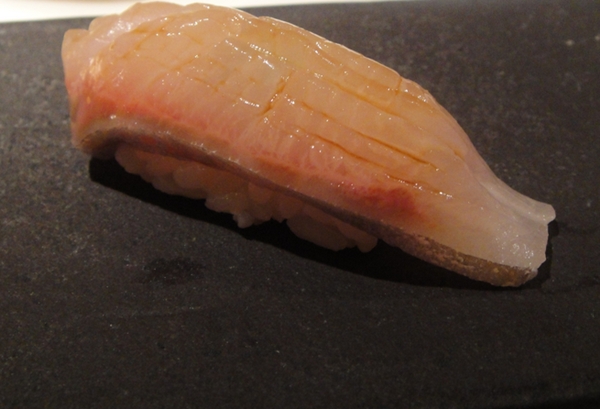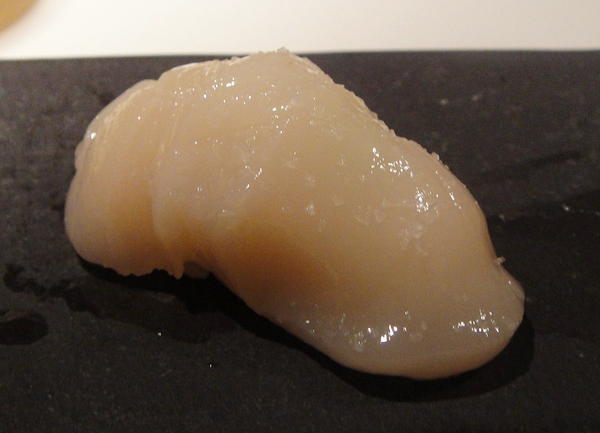 The grilled salmon was finished by blowtorch in front of our eyes, and was one of my favorite pieces, even though normally I avoid cooked sushi (apart from unagi):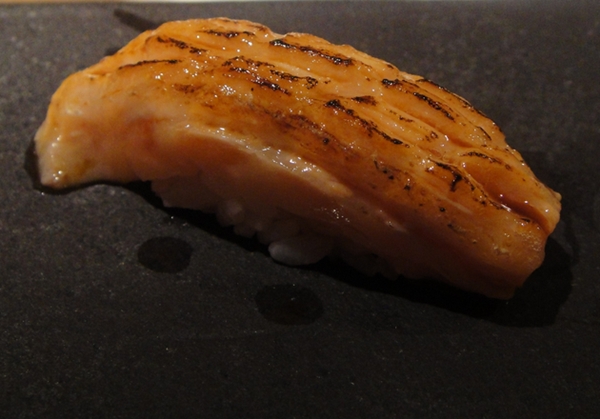 Then it was time for some of the special pieces we had ordered, such as the chu-toro, o-toro and wagyu-aburi. The latter were so good that I neglected to take photos.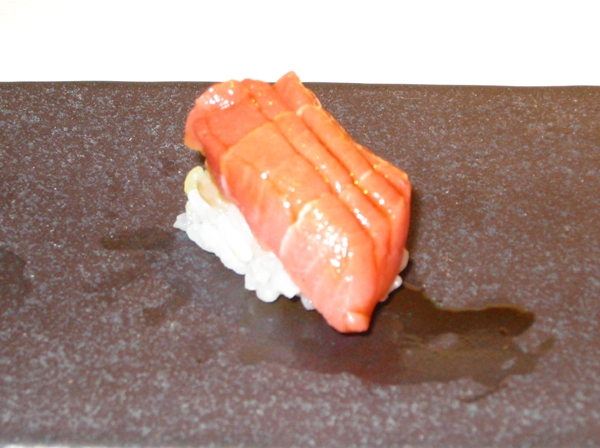 And the Pacific oysters with ponzu, which really wowed my husband–tied for his favorite dish of the night: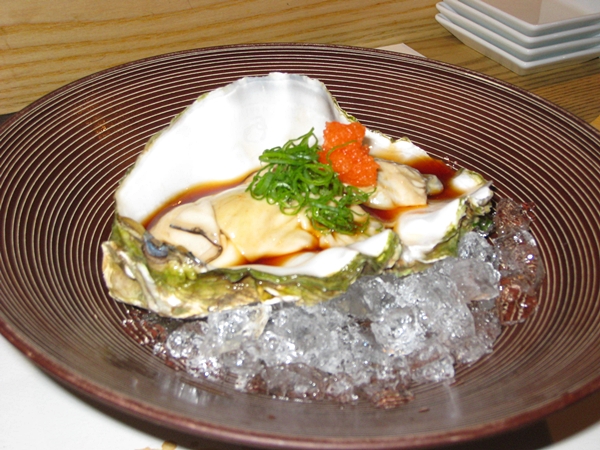 As for me, my favorite sushi of the night was the uni. While I've had uni several times before, this was the best I've ever had; it was so fresh and sweet, you could close your eyes and imagine yourself right there at the seashore. As we neared the end of our meal, our sushi chef generously offered each of us a piece of sushi on the house–you can guess what we chose: Japanese uni!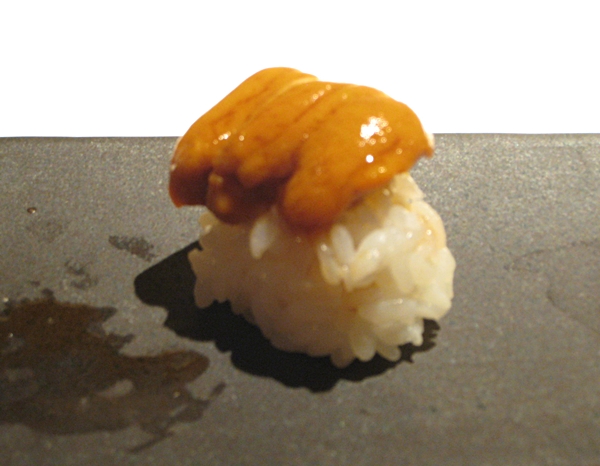 We finished off with a dessert of Mont Blanc from the Greenwich Grill. I've always enjoyed chestnuts and chestnut desserts, and this was a very good rendition–not Pierre Herme of course, but for a non-French restaurant or bakery, very satisfying: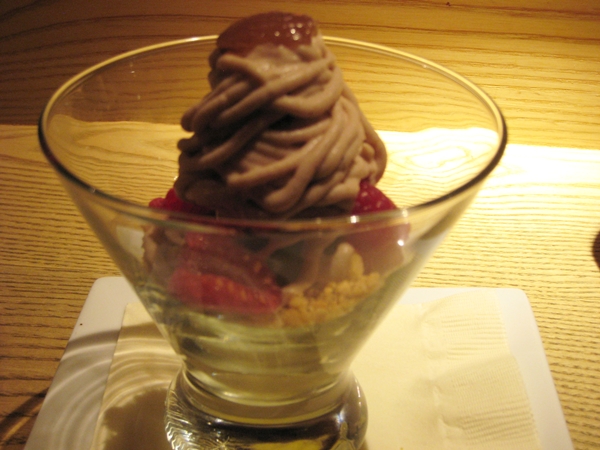 Even with the $100 Michelin credit, we still paid close to $100 including tax and tip, so this wasn't a free dinner by any means–but it was, with a couple exceptions, a great one. If you're perfectly happy with supermarket or food court sushi though, or are on a tight budget, this isn't the place for you.
Our top recommendations are: kampachi kama (if available), uni sushi, oysters with ponzu, grilled salmon sushi, wagyu-aburi sushi. I wouldn't recommend the chawan-mushi.
Will you be taking advantage of the British Airways Michelin dining deal? Share your top NYC Michelin restaurant choices in the comments!
Need Award Booking Help? Our fee is as low as $75 per ticket if you book your hotel through us.
If you enjoyed this, join 200,000+ readers: please follow TravelSort on Twitter or like us on Facebook to be alerted to new posts.
Become a TravelSort Client and Book Your Hotel with Virtuoso or Four Seasons Preferred VIP Amenities!