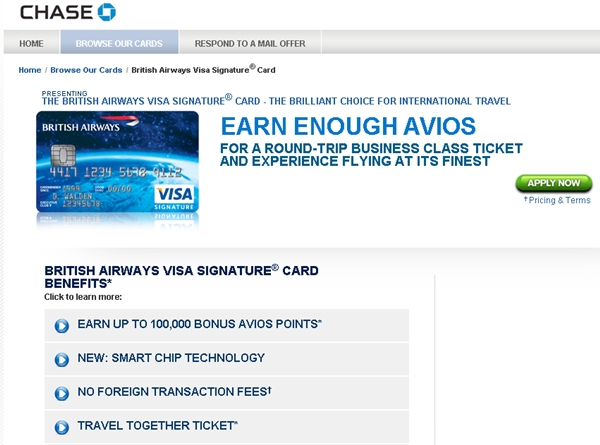 British Airways has quietly been offering 100,000 points for its British Airways Visa as part of the checkout process to certain customers purchasing British Airways tickets, but the publicly available British Airways Visa with 100,000 Bonus Avios is now back as well. It's now harder to get the full bonus, however. Here are the key details:
50,000 Avios points with first purchase
25,000 Avios points after $10,000 in spend within first 12 months
25,000 Avios points after an additional $10,000 (total of $20,000) in spend within first 12 months
Earn 1.25 Avios points for each $1 spend
Earn 2.5 Avios for each $1 of British Airways spend
Earn a Travel Together Ticket after spending $30,000 in purchases in a single calendar year (i.e. by end of 2012) good for a companion ticket in conjunction with the Cardmember's reward ticket
$95 annual fee is not waived
There are two major changes from when this was offered last year:
1. Last year, the full 100,000 bonus was earned after $2000 in spend within the first 3 months (50,000 bonus after first purchase, same as above, and the other 50,000 bonus after $2000 in spend).
2. British Airways devalued their award chart last November, making many longhaul premium class partner flights, such as Cathay Pacific, much more expensive. See British Airways Avios: Goodbye First Class on Cathay, Hello Coach on American
So, is the new British Airways Visa 100,000 Bonus Avios worth it?
The first consideration is whether you're eligible: if you've gotten this card in the past, you're not eligible for the bonus. If you've somehow managed to get this bonus twice, please comment, but I haven't heard of anyone getting it again.
Worth It for 50,000 Bonus
Assuming you've never had this card and are eligible, the 50,000 Avios bonus points with first use are worthwhile for pretty much everyone who does some flying. Yes, you pay the $95 fee for the card, but that still gives you 0.19 cent per Avios point, so pretty hard to argue with that
Even with the devalued award chart, there are some good deals: short nonstop flights on AA, such as NYC-Montreal for 9000 Avios in coach roundtrip, or even West Coast-Hawaii for 25,000 roundtrip, have low taxes, as do flights on LAN to South America.

Worth It for 100,000 Bonus
Getting each additional tranche of 25,000 bonus Avios points requires $10,000 spend, so whether it's worth it to you depends on four things:
1) BA Companion Ticket: Whether you planned to spend $30K anyway to get the BA Companion Ticket
2) Mimimum spend opportunity cost: what card bonuses would you forego by having to meet BA spend, instead of applying for and meeting minimum spend on those cards
3) Spend opportunity cost: what cards would you otherwise put spend on, and at what bonus level;
4) How you value Avios points
BA Companion Ticket
This is probably the easiest one: if you have substantial annual spend and were planning to earn a companion ticket anyway, then the $20,000 spend to earn the other 50,000 Avios bonus points is already included in what you were going to spend anyway. Just keep in mind that you'll need to get in $30,000 in spend by the end of 2012, not just 12 months from account opening, to qualify for the companion ticket.
Minimum Spend Opportunity Cost
Again, if you have very high annual spend, this isn't an issue, because your meeting the $20,000 minimum spend for the 50,000 bonus won't interfere with meeting minimum spend on other credit cards you may apply for, especially since you have an entire 12 months (or almost 9 months, if going for the companion ticket) to make the spend.
On the other hand, if you spend a total of $30K a year on your credit cards and were planning to earn a number of signup bonuses, it's probably not worth it. Most 50,000 bonuses require $2500 to $5000 in spend (the United MileagePlus Explorer is a nice exception).
Spend Opportunity Cost
How much do you currently spend, and at what level of bonus? For example, let's say that the $20,000 that you would have to spend for the 50,000 Avios points you would normally spend as:
$5000 Airline tickets: 3x using AMEX Premier Rewards Gold
$3000 Groceries: Of which, $1500 at 5x using Chase Freedom Q2 Bonus and $1500 2x using AMEX Premier Rewards Gold
$1500 Dining in Q3: 5x using Chase Freedom Q3 Bonus
$5000 Other dining/Other non-airfare travel: 2x using Chase Sapphire Preferred
$5500: Other misc. spend, averaging 1.8x since some receives rewards mall bonus, etc.
Now, of course we're mixing up MR and UR points, which most would value a bit differently, but for the sake of simplicity let's just combine them and say this results in ~53,000 points.
For the $20,000 in spend on the British Airways Visa, meanwhile, you would have 25,000 Avios points from the spend itself (let's assume no BA Visa spend, so 1.25 Avios per $1) + 50,000 Avios bonus points, so 75,000 Avios points. So on a pure number of points level, you'd do better with the British Airways Visa.
Of course, Avios points aren't worth as much as Ultimate Rewards or even Membership Rewards points, due to the devalued award chart and high fuel surcharges when flying on British Airways. If you value the combined 53,000 of Ultimate Rewards and Membership Rewards points at ~2 cents each, it would equate to $1060. The 75,000 British Airways Avios would be about the same value if you value each Avios at 1.4 cents each, so it comes down to if your valuation of Avios is higher or lower than that, in this example.
How You Value Avios Points
Valuation will really be driven by what you plan to redeem your Avios points for. Your valuation of these points will be different if you're using them for short domestic trips, vs. you have a preference for British Airways' long-haul premium products and would pay a premium to fly them.
I'm probably in the minority in that I do very little domestic travel, but do place a premium on being able to fly business or first class internationally with my family. And we have to plan this travel, which means awards on Lufthansa and Swiss are basically out, so Avios points, even with the high fuel surcharges these awards incur, have become relatively more valuable, especially combined with the companion ticket. I'm not eligible this year since my husband and I got the BA Visa last year, but I would actually get the BA Visa this year if I was eligible, even with the less attractive bonus structure. I can also understand though why for many folks, this might essentially be a 50,000 bonus for $95 (again, if you're in NYC, you make this back in dining).
Apply: British Airways Visa – Up to 100,000 Avios
Apply for the Best Travel Credit Cards.
If you enjoyed this, please follow TravelSort on Twitter or like us on Facebook to be alerted to new posts.
Become a Member to find your perfect luxury or boutique hotel at up to 50% off: TravelSort Hotels