Given the British Airways Executive Club Changes and the fact that British Airways is Not Releasing Its Single Partner Award Chart Until November 16, when it actually goes into effect, my family decided to redeem British Airways miles for Cathay Pacific flights to Bali next year. While I had already booked my husband's and son's tickets in first class, I finally got around to booking my own ticket, using existing British Airways miles, plus some converted from some AMEX Membership Rewards Points that had recently posted (too late, unfortunately, to take advantage of this summer's deal to transfer Membership Rewards Points to BA Miles at a 50% bonus).
Anyway, as usual I mentioned upfront that since I was booking a partner award with stopovers that wasn't bookable online, I'd appreciate it if they'd waive the phone ticketing fee. This time, I was told by the agent that this phone booking fee couldn't be waived. I asked when this new policy had taken effect, but she demurred, and simply said that they weren't waiving phone booking fees now. So I thanked her and ended the call. An hour later I called back and got a different agent, but the same response–phone ticketing fees can't be waived, even for itineraries that can't be booked on ba.com. Thanked and ended call. I called back a third time, got a different agent, and was disappointed but not surprised to get the same response. After first telling me stopovers could be booked online, then correcting himself when he learned I was booking a partner award, he asserted that "6-7 months ago" they'd stopped waiving phone booking fees, even for itineraries that can't be booked online.
Since I didn't pay phone ticketing fees when booking the first class tickets on Cathay in September, I can only assume they've gotten more rigorous and consistent about enforcing the phone booking fee. I didn't see any point to trying a fourth or fifth agent, so I just bit the bullet and paid the $20 fee (after all, a small amount given the overall ~$400 in fees for the award). Still, thought it worth mentioning.
One fee I'm glad we didn't have to pay are the assigned seating fees that you have to pay on British Airways flights, unless you're willing to take your chances at check-in, 24 hours before the flight. Incredibly, these pre-assigned seating fees apply even to Business Class seats, unless you have at least Silver Status, are on a fully flexible ticket, are traveling with an infant under 2 years, or are disabled. So if you're on a British Airways Business Class international award ticket, be prepared to pay $90 or more to secure the upper deck or wherever your preferred seat is.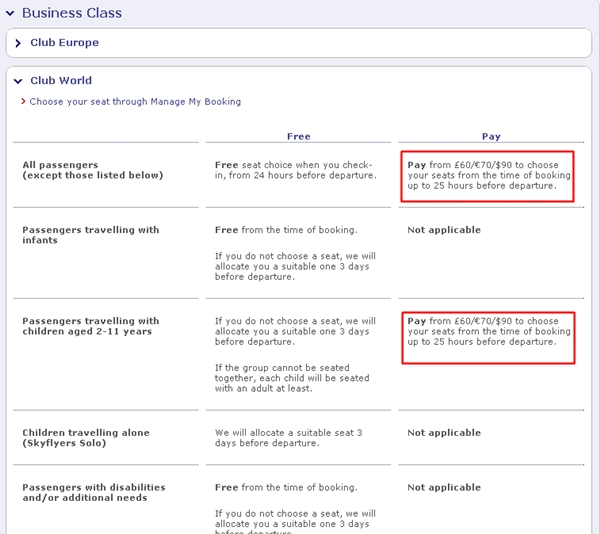 It goes without saying that the same holds true for Economy (World Traveller) and Premium Economy (World Traveller Plus) although the fee starts at $38 for Economy and $45 for Premium Economy, or from $75 if you want an exit row seat (which can only be booked 4-14 days before departure):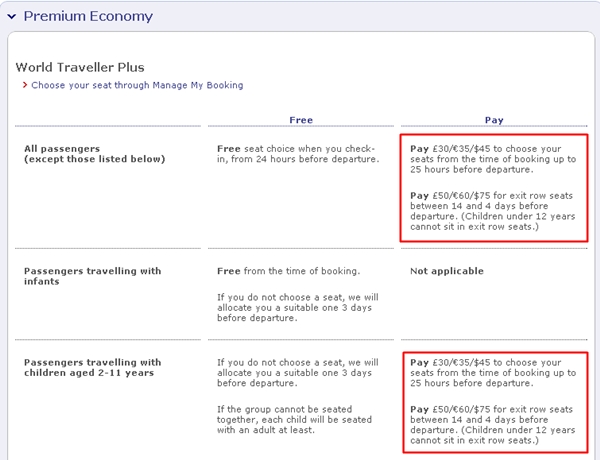 Only if you pay for or have an award booking in first class are exempt from pre-assigned seating fees:

It's been so long since I've booked and flown on BA that these assigned seating fees are a rude shock, but no doubt readers who fly BA regularly or at least more recently than I are used to them. Just something else though that makes me glad to be using BA Miles on Cathay at a good price, while it's still possible.
Related Posts