British Airways' New First Class is in the process of being rolled out, but how do you know if your flight will have the New First Class? TravelSort reader Thomas recently asked about whether a given British Airways flight would have New First, and I was wondering this myself for a British Airways flight later this year.
Don't forget that today, January 14, is the last day of the 30% AMEX Membership Rewards transfer bonus to British Airways Avios. It's not as good as prior 40% and 50% transfer bonuses, but if you plan to book using Avios in the next couple months, I'd recommend transferring. If you need more Membership Rewards points, see our AMEX Membership Rewards Points Advance Tips
Luckily, there's a British Airways New First routes tracker that displays all routes to and from London Heathrow, along with the percentage that have been converted to New First, based on data from flights of the past 2 weeks.
Now, it's a bit of an eye chart, so I suggest that you do a "Find on page" and input the relevant airport code or flight number so you can zero in on the flight you're interested in.
For example, let's say we want to find out our likelihood of flying New First from Dallas (DFW) on Flight 192. I do a "Find on page" search for BA192 and get this: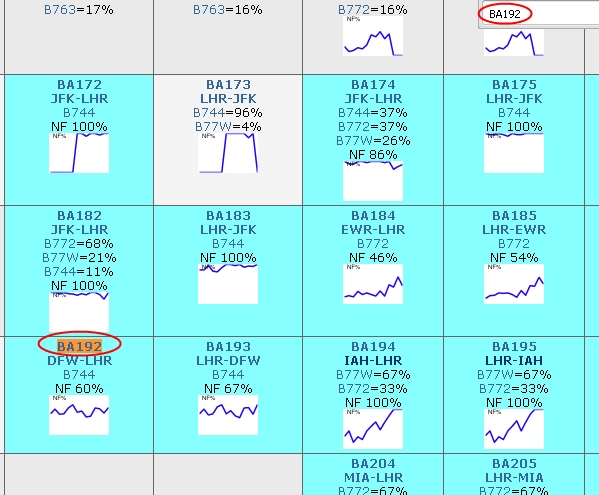 As you can see, there's New First (NF) on 60% of the flights on this route, based on data from the last 2 weeks of flights. You can keep checking back to see how the percentage changes as you get closer to your departure date, and what the probability of your flight having New First is.
You can also click on DFW-LHR to view the flight data day by day since June 2012: New First is highlighted in blue, while grey indicates Old First. The date on the left is in the format YYYYMMDD: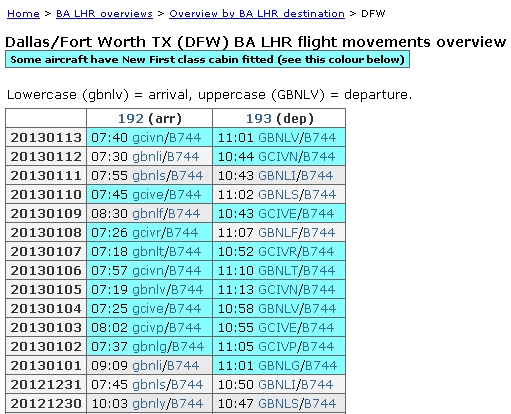 Note of course that even if you're flying a route which has been fully converted to New First, such as JFK-LHR, there's always the chance of an aircraft equipment swap–nothing is completely guaranteed, but at least you can know the probability of flying British Airways New First and set your expectations.
Hope this is helpful to some, and I'll leave you with the British Airways video of New First Class:
If you've flown British Airways New First Class, what was your experience?
Related Posts
How to Maximize the British Airways Companion Certificate on Award Tickets
British Airways Visa 100,000 Bonus Avios Points Back But Worth It?
British Airways Avios: Goodbye First Class on Cathay, Hello Coach on American
Need Award Booking Help? Our fee is as low as $75 per ticket if you book your hotel through us.
If you enjoyed this, please follow TravelSort on Twitter or like us on Facebook to be alerted to new posts.
Become a Member to find your perfect luxury or boutique hotel at up to 50% off: TravelSort Hotels