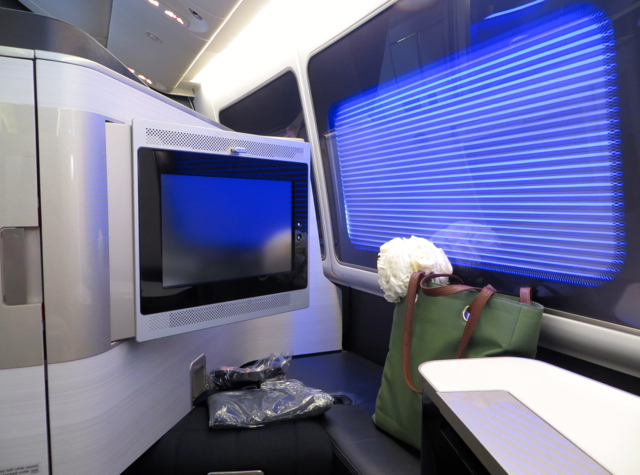 Can the British Airways Companion Ticket Be Booked One Way? And can it be booked online?
The answer is yes: it is possible to use the British Airways Companion Ticket voucher for one way award travel, and it can be booked online. I'll illustrate with screenshots below how to do this, but first a note on the official terms of the voucher.
British Airways Companion Ticket Voucher Rules for Chase Cardholders
Earning the British Airways Companion Voucher for the Travel Together Ticket
Must spend $30,000 on the BA Visa in a calendar year
Companion Voucher will appear in your online British Airways Executive Club account 4-6 weeks after the billing cycle your Travel Together Ticket is issued (sometimes you'll see it in your account sooner, but allow time for it to appear)
Redeeming the British Airways Companion Voucher for the Travel Together Ticket
Once the Companion Ticket Voucher appears in your British Airways Executive Club online account, you can select it prior to searching for flights
Companion Ticket voucher valid for flights taken within 2 years from date of issue
Companion Ticket offer valid on British Airways flights only (no partners, no codeshares)
Main Cardmember must travel on the booking
Companion must travel with the Cardmember on both the outbound and return flight and be booked at the same time for both directions
All travel must originate in and return to the U.S. (no avoiding fuel surcharges by first flying to Brazil to begin your BA flight)
The Problem: Selecting the Companion Voucher Forces You to Book Roundtrip Travel
Once you log into your British Airways account to search for flights, if you have a British Airways Companion Ticket voucher and select it, you're forced to search for roundtrip flights; no one way options are available.
Here's what to do instead:
1. Don't Select the Companion Voucher, and Do a Regular One Way Award Search
Instead of selecting the companion voucher, start by doing a simple one way award search.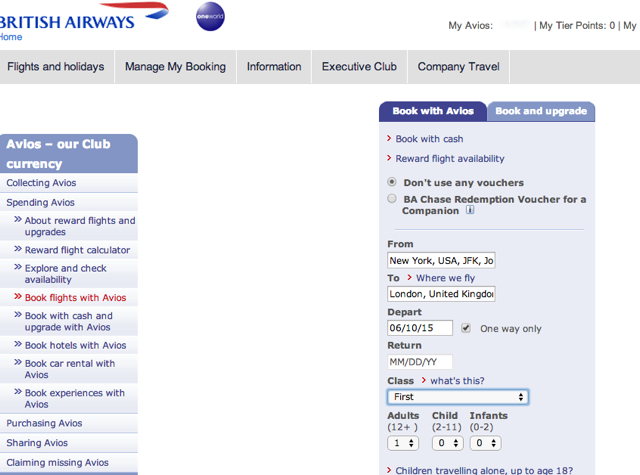 2. On the Results Page, Select "View Calendar"
Select "no stopover" on the next screen, and when you arrive at the results page, select the "View Calendar" button towards the top.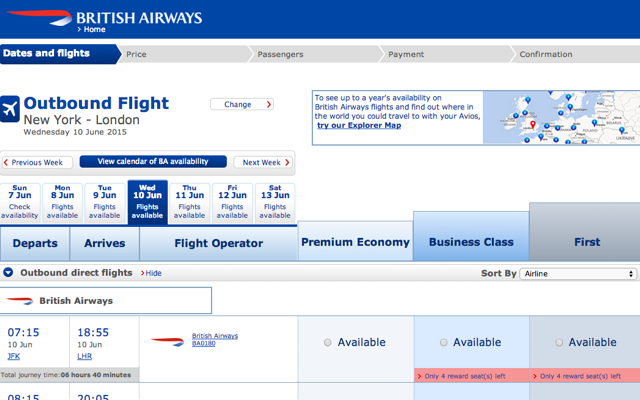 3. In the Left Hand Column, Now Select the British Airways Companion Voucher and Search Again
Next, on the calendar view page, select your British Airways Companion Voucher. If you have multiple vouchers, make sure you select one that is valid for the flight you've selected. Selecting the Companion Voucher should also automatically make the search for 2 passengers. Redo your search using the Companion Voucher.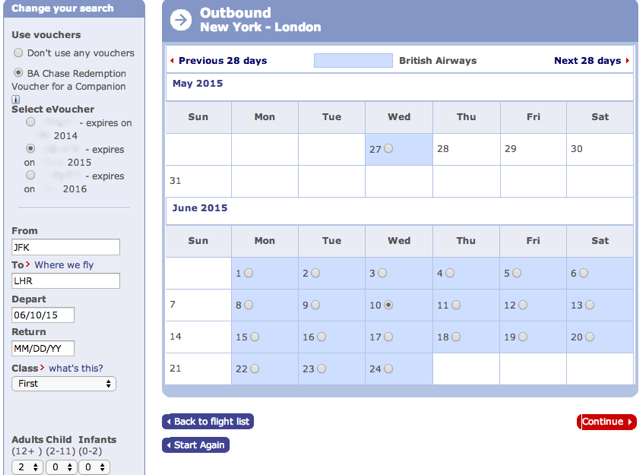 4. Select Your Flights
Next, select your one way flight from the search results. The Avios amount you see should be the amount required for one person; in this case, for an New York JFK to London LHR flight, it's 60,000 Avios for first class for the first passenger. Taxes and fuel surcharges are charged on both tickets, so expect that to be double the amount you'd pay for one passenger.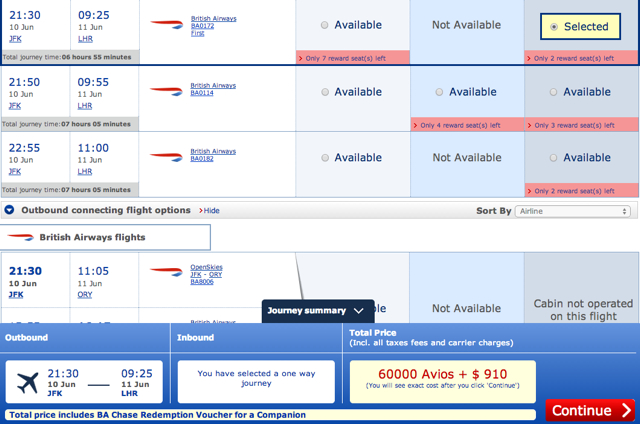 FAQ
Is the British Airways Companion Ticket Even Worth Earning?
It depends what your travel goals are. It's not worth it for economy awards, due to the high fuel surcharges charged on all British Airways flights. I'd even argue it's not worth it for Business Class, due to British Airways' antiquated product. BA was first to introduce fully lie flat business class seats on all its planes, but with the advent of reverse herringbone business class, such as in Cathay Pacific Business Class, and staggered business class such as SWISS Business Class, BA's product has not aged well. I can't tell you how many people gripe to me about the "jump" that window passengers (who do have more privacy) have to do to get over their seat mate in the aisle seat, when both seats are fully flat beds.
So I'd mainly recommend using the travel together ticket for British Airways First Class, given those high fuel surcharges. It remains one of the few ways to get 2 or more people to Europe in first class, booked in advance.
Help! I Made a Mistake. Can I Change It Without Penalty?
Yes, if you booked within the past 24 hours, you can correct your mistake without penalty. You can usually change the date and time of your award online (if there's availability for your new date/time) but if you need to change anything else, such as the route or class of service, you'll need to call the British Airways Call Center. You should not be charged, as long as you booked a ticket from the U.S. within the past 24 hours.
Why Is There Such a Long Wait for the British Airways U.S. Call Center?
It's chronically short staffed, much like US Airways. If at all possible, call the UK Call Center instead–just note that it closes at 8pm UK time.
Can I Change or Cancel My Award Within 24 Hours of the Flight's Departure?
Unfortunately, no. Make sure you make any changes or cancellations more than 24 hours prior the flight's departure, or you will forfeit your Avios, no redeposits or refunds.
Have you booked a British Airways Companion Ticket One Way Award?
Related Posts
How to Maximize the British Airways Companion Ticket on Award Travel
British Airways Companion Ticket Worth It for Europe and Israel Award Travel?
Maximizing British Airways Avios: Fly Aer Lingus to Europe and Avoid Fuel Surcharges
British Airways New First Class Review
British Airways New First Class Routes Tracker
Need Award Booking Help? Our fee is as low as $75 per ticket if you book your hotel through us.
If you enjoyed this, join 100,000+ readers: please follow TravelSort on Twitter or like us on Facebook to be alerted to new posts.
Become a TravelSort Client and Book Your Hotel with Virtuoso or Four Seasons Preferred VIP Amenities!