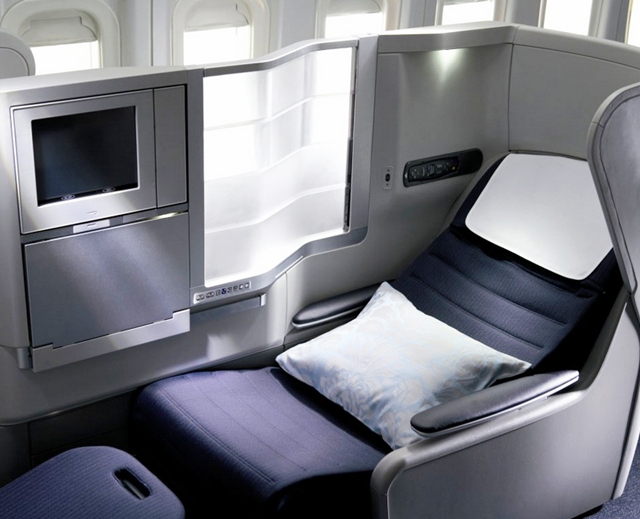 Today's the last day for the 40% AMEX Membership Rewards Transfer Bonus to British Airways Avios, so I wanted to quickly answer a reader question from Sara: "If I want to fly British Airways Club World to Europe from San Francisco, is it a better deal to pay cash and upgrade with miles, or to book an award ticket?"
Usually award tickets are better deals than upgrades, but let's run the numbers to see if it holds true for British Airways business class U.S.-London.
First, it's important to remember that if you're upgrading to British Airways Club World (Business Class) you need to purchase Premium Economy *not* Economy. If you purchased Economy you'd only be able to upgrade to Premium Economy, which isn't worth it. Business Class has flat bed seats and better food and service, so that's what you'd want to upgrade to.
After logging into British Airways, simply select the Book and upgrade tab: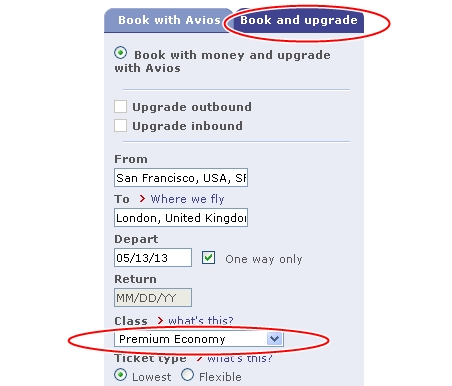 Upgrade
For San Francisco (SFO) to London (LHR), Premium Economy is $2356 + $475.70 in taxes and fees, which you could upgrade to Business Class for 12,500 Avios.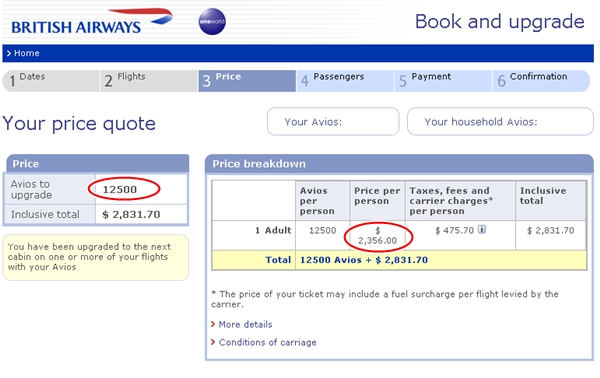 Award
Booking Business Class outright, you'd redeem 50,000 Avios and still pay the $475.70 in taxes and fees.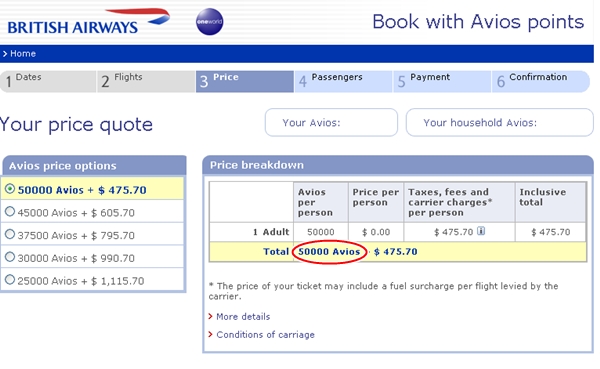 Upgrade vs. Award
Since you pay the same $475.70 in taxes and fees for both the upgrade and award, we'll compare the $2356 you pay for the upgrade to the incremental 37,500 Avios required (50,000 Avios for the award less the 12,500 required to upgrade). It works out to 6.28 cents per Avios, which is a very good redemption value. And if you used AMEX Membership Rewards points with the 40% transfer bonus to get those incremental 37,500 Avios, that would be 8.72 cents per Membership Rewards point. That's 8X the value you get compared to AMEX Pay with Points (which is why we never recommend Pay with Points).
Sara's question was about San Francisco to London, but what about NYC to London? The value isn't quite as high, but you'd still do better with an outright Business Class award ticket, instead of an upgrade. Premium Economy is $1634 + 10,000 Avios, while a Business Class award ticket is 40,000 Avios. So comparing $1634 to the 30,000 difference in Avios gives us 5.45 cents per Avios, or 7.43 cents per Membership Rewards point for the incremental 30,000 Avios using the 40% transfer bonus–not bad at all.
I'd go so far as to say that even if you don't have dates in mind yet but think you'll have a need for Avios sometime in the next year, it's worth taking advantage of this transfer bonus, especially if you have a lot of Membership Rewards points. Sure, it's not as good as the prior 50% bonus British Airways ran earlier, but there are plenty of uses for Avios, not just on British Airways. You can travel on LAN to South America, Cathay to Vancouver, AA for domestic flights including Hawaii and the Caribbean, and Europe with low taxes and fees on Aer Lingus, Iberia (you'll need to have an account open for 3 months to transfer BA Avios to Iberia, although you can transfer AMEX points directly to Iberia without the 40% bonus). Check out our Avios Best Deals.
Related Posts
40% AMEX Membership Rewards Transfer Bonus to British Airways Avios
50 Percent AMEX Transfer Bonus to British Airways Avios Best Deals
How to Maximize the British Airways Companion Certificate on Award Tickets
How to Find Oneworld Award Space
Check out and apply for the Best Travel Credit Cards.
If you enjoyed this, please follow TravelSort on Twitter or like us on Facebook to be alerted to new posts.
Become a Member to find your perfect luxury or boutique hotel at up to 50% off: TravelSort Hotels