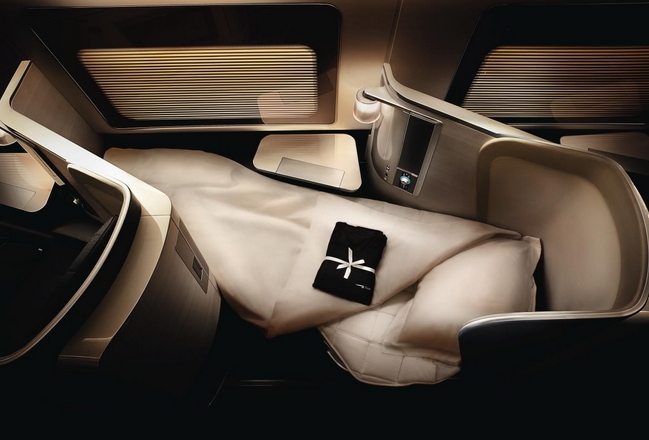 Booking British Airways Avios awards has its pros and cons–it can be great in some respects, and awful in others. Certainly British Airways Executive Club was harshly criticized by many U.S. flyers with its 2011 devaluation, in which it only provided a few examples of future awards and the claim that "Most routes (97%) will require fewer Avios points for an award than the BA Miles currently required"–of course, without specifying that those were for routes from London only (see British Airways Avios: Goodbye First Class on Cathay, Hello Coach on American).
Although the devaluation and new distance based award chart made many long haul first class and business class awards to and from the U.S., for example Cathay Pacific First Class and Qantas First Class, much more expensive when booked with Avios instead of American AAdvantage miles. That said, it did open up some very good deals for shorter intra-regional flights.
For example, just recently, we needed last minute tickets for an upcoming visit to relatives. Roundtrip flights for our desired times were well over $300 per person, so we instead used 13,500 Avios for 3 one way outbound tickets, and only booked a paid return. While not an amazing redemption, it was just over 3 cents per Avios point, so not a bad use either given that we wanted to save some cash on this particular trip.
Here are the top pros and cons as I see them of British Airways Avios Awards:
Pros of British Airways Avios Awards
1. Good Value for Short Economy Intra-Regional Flights
As I noted above, while the British Airways Executive Club changes and creation of Avios devalued the award chart for many U.S. fliers seeking to use their British Airways miles for international first class and business class long haul awards, it did create some good values for short economy intra-regional flights, for example:
Domestic economy U.S. flights and short haul economy U.S.-Canada and U.S.-Caribbean flights on American
Short haul economy intra-South American flights on LAN or TAM
Short haul economy intra-Asia flights on Cathay Pacific/Dragonair
Short haul economy intra-Australian flights on Qantas
2. Low Change / Cancellation Fee
While the date/time change fee and cancellation/Avios redeposit fee has gone up to $55 from $40, it's still much better than the major U.S. airlines, which now charge $150 to $200 to cancel/redeposit. American AAdvantage charges $150 to cancel/redeposit miles, but United charges $200 for non-elite members to redeposit miles when cancelling an award ticket (see United Increases Award Ticket Change and Cancellation Fees for Non Elites).
3. No Close-In Ticketing Fee
Another great benefit of Avios is that, unlike the major US Airlines' frequent flyer programs, which charge non-elites a $75 close-in ticketing fee when booking an award fewer than 21 days prior to departure, British Airways does not charge a close-in ticketing fee, so you can book last minute awards at no extra fee.
4. One Way Awards
Most decent frequent flyer programs offer one way awards now (although so far, not US Airways, and not Delta) so this isn't a major pro vis-a-vis other programs, but one way awards are an important feature for my clients' and my own travel. I almost never use the same miles for the outbound and return.
Cons of British Airways Avios Awards
1. Distance Based Award Chart
I've covered this in the intro to this post, so I won't belabor it, but it's just harder to get outsized value when booking awards using a distance based chart. You pay more for longer flights, so while you can to some extent use Avios to replicate the now extinct AAdvantage Explorer Award (see Bye Bye AAdvantage Explorer Awards), you'll pay handsomely for the privilege.
2. First Class Awards Are Triple the Cost of Economy Awards
Another thing I dislike about British Airways awards is that first class awards are triple the points cost of economy awards. Contrast that with AAdvantage, where a first class award from the U.S. to Asia Zone 2 is less than double the economy award cost.
3. High Fuel Surcharges on British Airways Flights
It's no secret that British Airways charges high fuel surcharges for award on its own British Airways flights. For awhile, right after US Airways joined Oneworld, it was possible to avoid these fuel surcharges on British Airways awards booked with US Air Dividend miles, but US Air now passes along these same fuel surcharges, so that loophole is gone.
To get to Europe in business class while avoiding or minimizing fuel surcharges, book Aer Lingus (see Book Aer Lingus Business Class to Avoid Fuel Surcharges), Air Berlin Business Class, or Iberia Business Class (see How to Transfer British Airways Avios to Iberia Plus to Avoid High Fuel Surcharges).
4. Long Call Center Hold Times
The U.S. Call Center hold times are so atrocious that I usually call one of British Airways' international call centers. Even the UK Call Center is swamped at times, so I've spoken to plenty of non-UK call centers as well.
5. No Changes or Mileage Redeposit Within 24 Hours of Departure
This is a pretty annoying aspect of the British Airways Executive Club: you can't change or redeposit the Avios miles for an Avios award ticket within 24 hours of the flight's departure time. You can cancel the award ticket of course (which you need to do if, for example, you're rebooking yourself on the same flight in a different class of service, so that the airline won't cancel your ticket) but you won't receive any Avios back if you cancel within 24 hours of departure.
6. Must Pay for Even Business Class Seat Assignments on British Airways
Ok, admittedly this criticism is not of all British Airways awards in general, but specifically of British Airways flights. Most folks are used to the idea of paying for preferred seats in economy, or even paying for an economy seat assignment if it's a low cost carrier. But having to pay for ALL Premium Economy and Business Class seat assignments, as well as Economy seat assignments on British Airways, does just seem wrong. Only British Airways first class passengers can select their own seat at no extra charge, so if you have the miles and there's the award availability, you may as well book a first class award.
7. Inability to Cancel Some Awards Online
For whatever reason, I've noticed that several of my clients' Avios award tickets haven't had the ability to cancel or change them online. And as I mentioned above, that means usually having to call an international call center, when it's open, in order to process the necessary change or cancellation.
What do you view as the pros and cons of British Airways Avios awards?
Related Posts
British Airways New First Class Review
How to Maximize the British Airways Companion Ticket
British Airways Concorde Room and Cabana Review, London Heathrow
British Airways Companion Ticket Worth It for Europe and Israel Travel?
Which Travel Credit Cards for Family Award Travel to Europe?
Need Award Booking Help? Our fee is as low as $75 per ticket if you book your hotel through us.
If you enjoyed this, join 100,000+ readers: please follow TravelSort on Twitter or like us on Facebook to be alerted to new posts.
Become a TravelSort Client and Book 5-Star Hotels with Virtuoso or Four Seasons Preferred Partner Amenities!