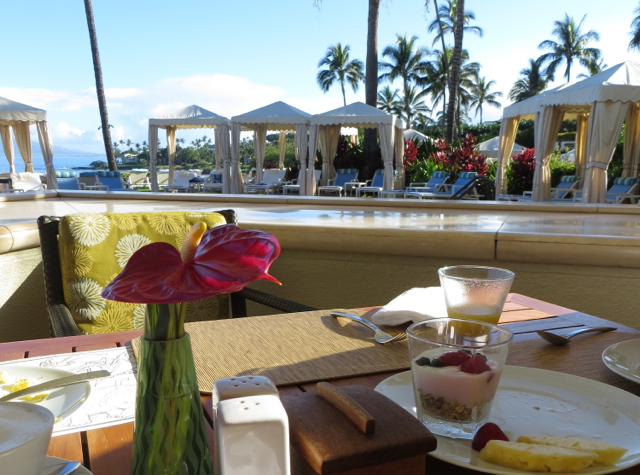 This DUO at Four Seasons Maui at Wailea Review is from a recent Maui and Hawaii trip.
For prior Hawaii-related posts in this trip report, please see:
Alaska Airlines First Class Review
Alaska Airlines Board Room Seattle Lounge Review
Alaska Airlines First Class to Hawaii
Hyatt Place Waikiki Beach Review
Andaz Maui at Wailea Suite Review
Ka'ana Kitchen Review and Andaz Maui at Wailea Dining
Mama's Fish House Review in Paia, Maui
Four Seasons Resort Maui at Wailea Review
Daily breakfast at DUO is complimentary to all TravelSort Clients who book Four Seasons Resort Maui at Wailea with Four Seasons Preferred Partner (FSPP) benefits. I always recommend that when booking a Four Seasons property, you book with preferred partner amenities, since FSPP upgrades are prioritized ahead of all other upgrades, such as Virtuoso, AMEX Fine Hotels and Resorts, etc. Amenities include:
Upgrade of one category, based on availability at time of check-in (excluding signature suites and villas)
Daily full American breakfast for two people per bedroom, served through In-Room Dining or at DUO (including the breakfast buffet)
Food and beverage credit of USD100
Complimentary basic Internet access for up to two devices
DUO Steak and Seafood
DUO is Four Seasons Maui at Wailea's main restaurant, serving a la carte breakfast daily, 6am-11:30am and a breakfast buffet 6:30am-11am Monday to Saturday (6:30am-12noon Sundays) and dinner daily from 5:30pm-9pm. If you enjoy a nice view, ask to be seated on the outdoor lanai closest to the pools, with a view of the ocean. Do note, however, that the best views for lunch or dinner are at Ferraro's Bar e Ristorante.
Outside the entrance to DUO was a complimentary coffee station, convenient for anyone who needed an immediate caffeine fix, although there was absolutely no wait to be seated.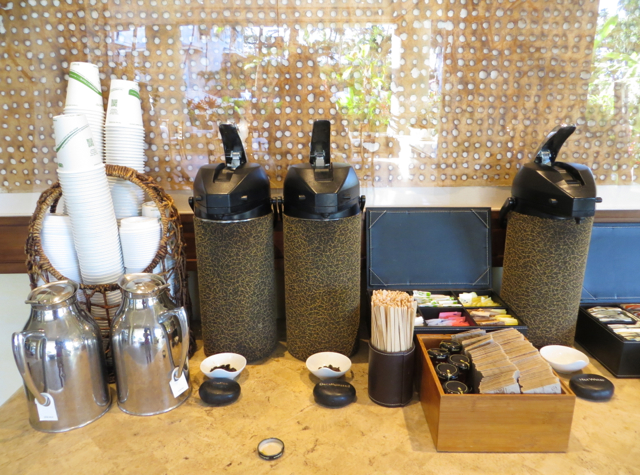 We asked for a spot outside close to the pool, which was available (this wasn't the case at Ka'ana Kitchen at the Andaz, where the outside seats were all already taken when we arrived).
A nice boon for parents is that kids are given a coloring placemat and crayons, so that even if you order a la carte and have to wait for food, or if your kid finishes before you do, s/he can keep busy coloring.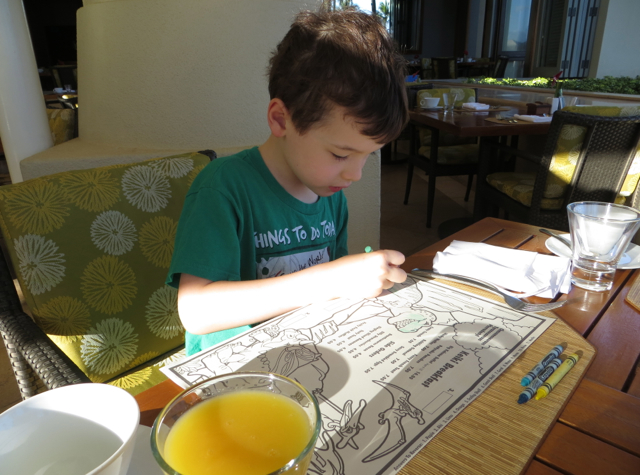 We were all hungry and decide to all order the Full Island Buffet Breakfast (normally $37 per person, although complimentary as a Four Seasons Preferred Partner benefit), although there are a la carte options as well, ranging from Crab Eggs Benedict to Grilled Sirloin Steak with 2 Eggs and Chimichuri Sauce. These a la carte options could be selected instead, as the FSPP complimentary breakfast benefit.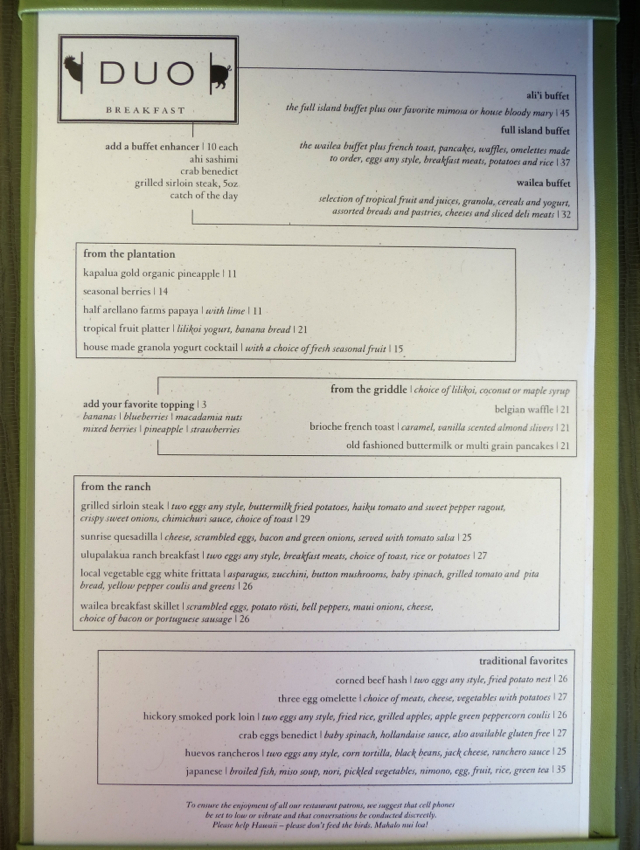 Here were my favorite items from our breakfast at DUO, along with some features that we didn't try but I could see appealing to some of my clients and readers.
Breakfast at DUO
1. Sticky Bun
If you enjoy breakfast pastries, don't miss the sticky bun–it was fantastic, with a nice balance of gooey sweetness and crunchy walnuts. Both my husband and I agreed this was our absolute favorite of the breakfast pastries.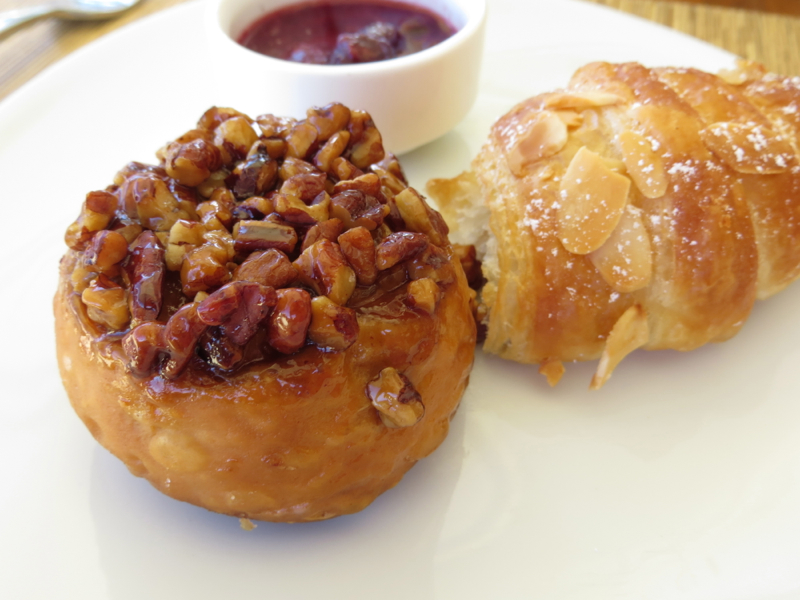 2. Eggs, Omelets, Pancakes and Waffles Made to Order
The full Island Buffet includes eggs, omelets, pancakes and waffles made to order. There was even a special waffle that sounded delicious, at least if you enjoy pina colada flavors, but that I didn't try. I did enjoy my omelet, and my husband enjoyed his blueberry pancakes.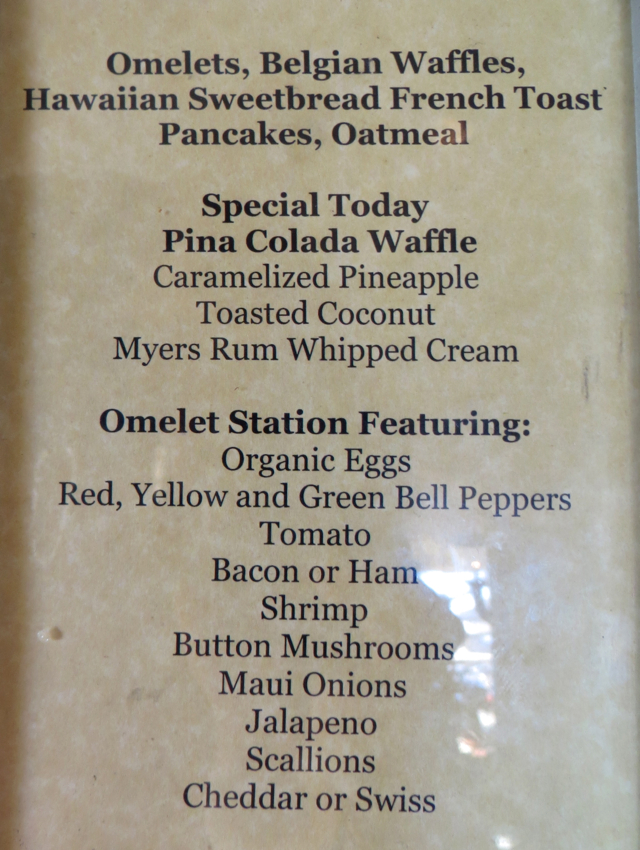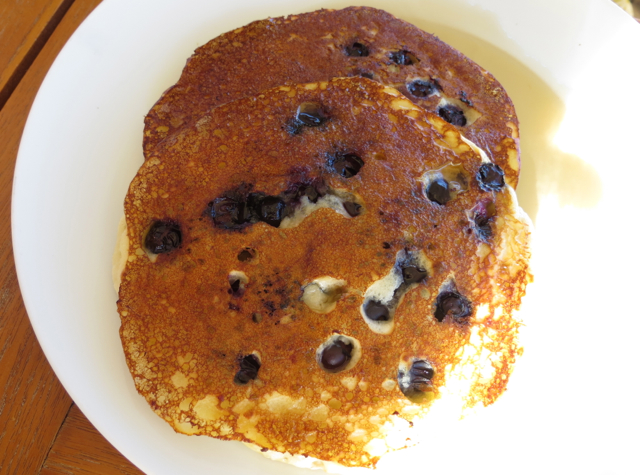 3. Almond Croissants
While I still prefer the almond croissants from Maison Kayser, these almond croissants were fresh and had great almond flavor, even though I would have preferred a bit more frangipane almond filling. They were especially good dipped in a bit of the mixed berry compote, available by the made to order station.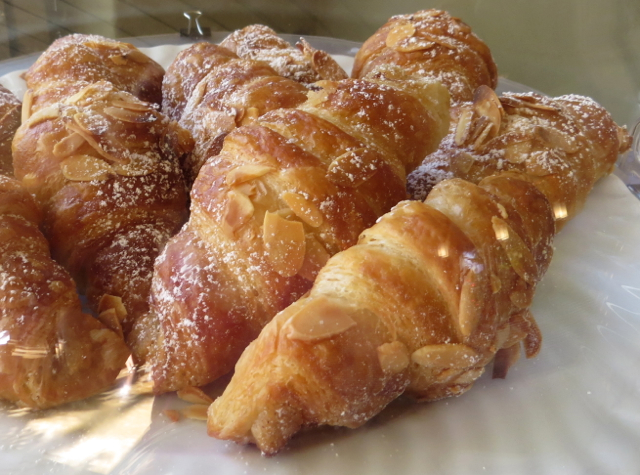 4. Smoked Salmon
I love smoked salmon for breakfast, and I was happy both with the quality and the fact that the plate was well stocked. At the Ka'ana Kitchen at the Andaz Maui, there were so few pieces of smoked salmon (and this seemed to be true of a number of other items as well) that I worried about making a sizable dent when helping myself.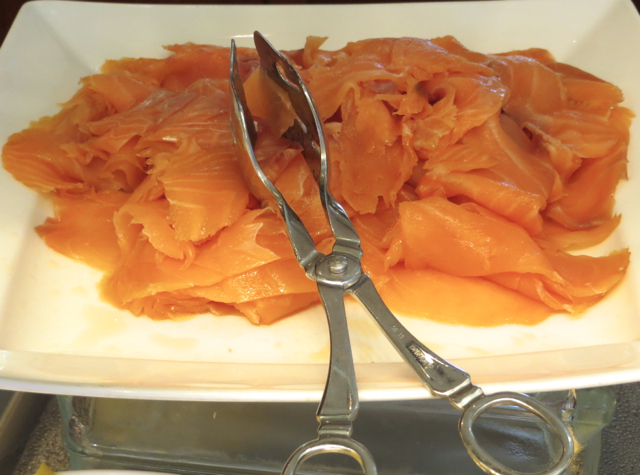 5. Yogurt Parfaits
In a similar vein, I was happy that the breakfast buffet included some delicious berry yogurt parfaits, which I had been missing at Ka'ana Kitchen.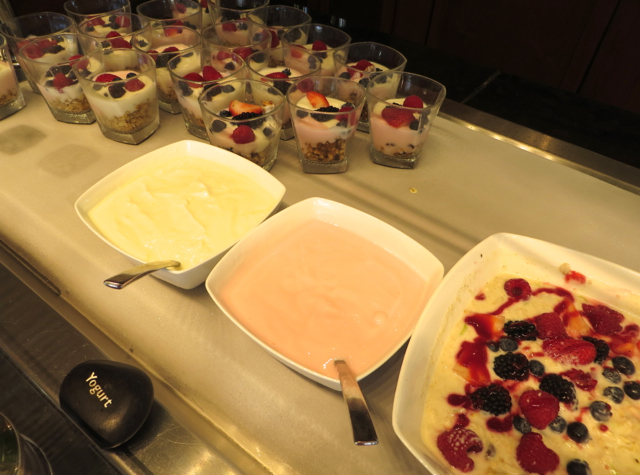 6. Smoothie Bar
The Smoothie Bar struck me as rather pricey, at $10, but at least you did have the freedom to customize it exactly how you wanted, and the ingredients looked impeccably fresh.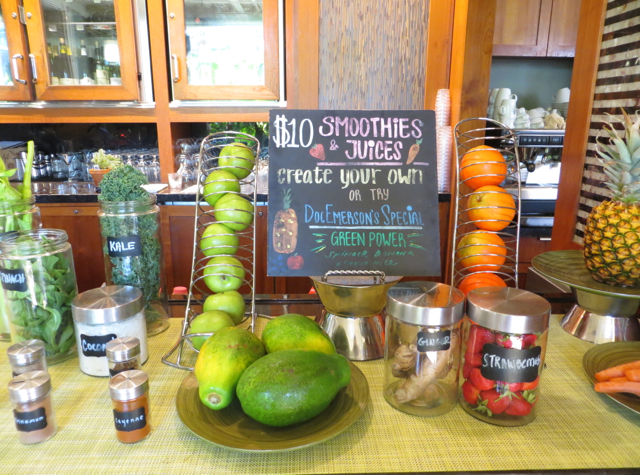 7. Kids' Corner
Although my son already eats adult sized portions, for the younger set, there's a really cute Kids' Corner set up at the perfect height for little ones to help themselves.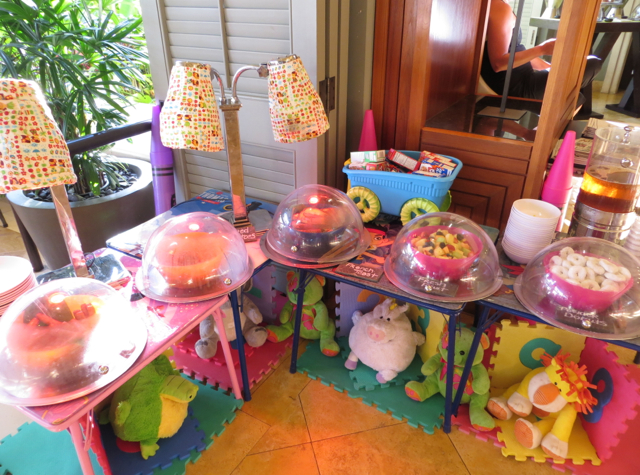 8. Gluten Free Corner
The Four Seasons is also a good place if you happen to be gluten free, since there's not only gluten free bread and a separate toaster for it; you can also request made-to-order gluten free pancakes and waffles.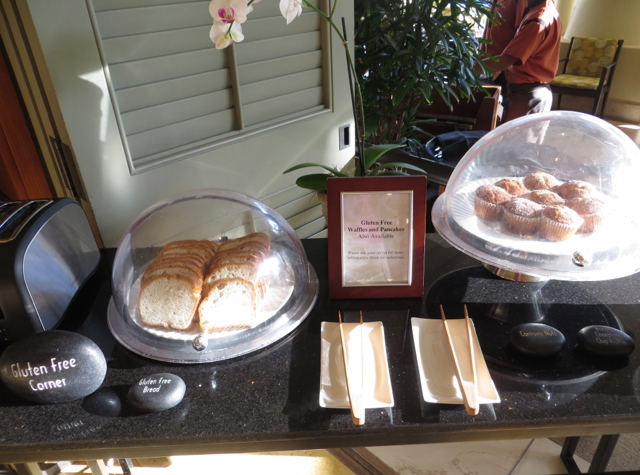 Verdict: We enjoyed the full buffet breakfast at DUO, and it's a fantastic complimentary benefit available to everyone booking with Four Seasons Preferred Partner (note that the Virtuoso benefit is continental breakfast, not the full breakfast buffet). It would be easy to enjoy the buffet on the later side, making it a brunch that tides you over until dinner. While the omelet I had was excellent and the smoked salmon was great, the standout was the sticky bun. I also liked that the munchkin was given a coloring placemat to keep him busy even after he was finished eating, while my husband and I enjoyed a more leisurely breakfast.
If I had to nitpick, I would have liked to see more fresh squeezed juices and/or a less expensive smoothie option, as well as more creative savory option similar to steamed pork buns with scrambled eggs that we enjoyed at Ka'ana Kitchen.
If you've dined at DUO for breakfast or dinner, what was your experience?