Breads Bakery is the first U.S Bakery for Uri Scheft, born to Israeli parents and raised in Denmark. His Lehamim Bakery in Tel Aviv has begome legendary since opening in 2001, and one of his most ardent supporters, Gadi Peleg, convinced him to open Breads Bakery earlier this year, at 18 16th Street near Union Square. I stopped by earlier this year, and again just yesterday, during our first real snow here in NYC–it's a great place to duck in from the cold and wet to warm up with a hot drink and a pastry.
As you enter, there's a bread and pastry order counter to your left. You can order drinks here as well, but you need to pick them up in the back, where they are made and where there's a second order area with more savory options such as salads and sandwiches.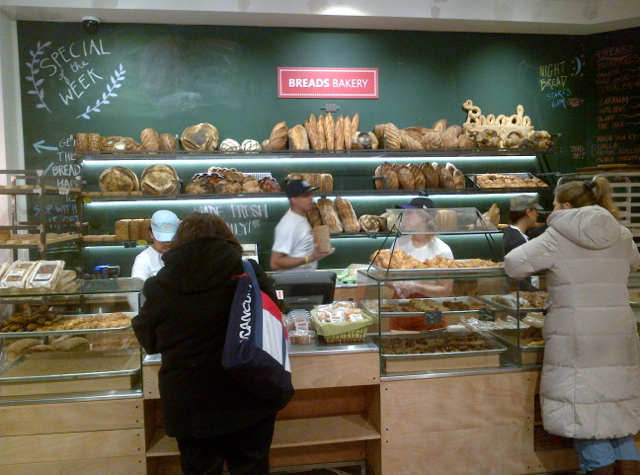 Here's a close up of the pastry case: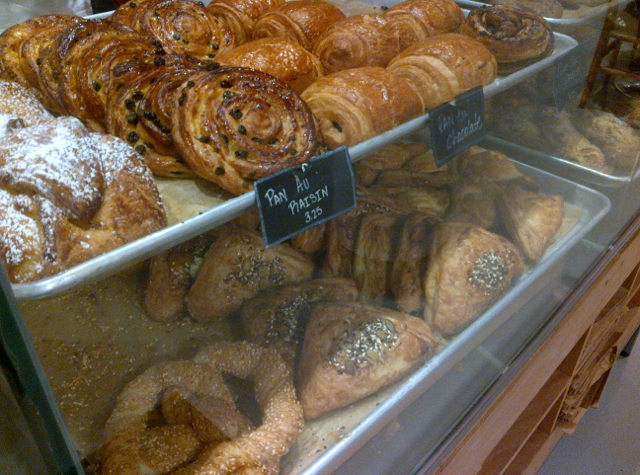 There's seating for 20-25, mostly at two-top tables but also at a communal table towards the front.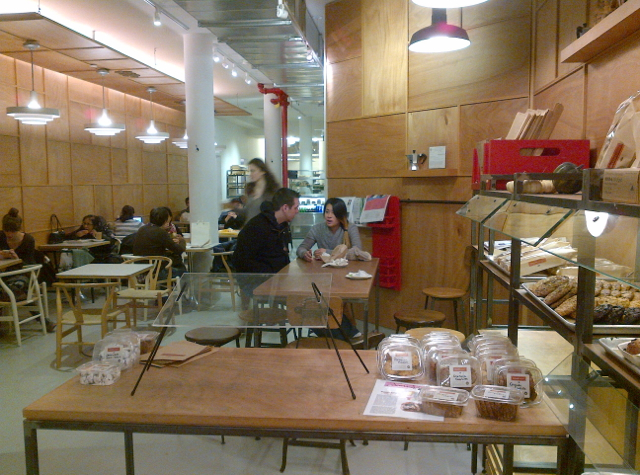 Based on what I've tried so far, here's my ranking. I'll be adding more to this page as we try more breads and pastries!
1. Chocolate Babka
The first ever babka I tried was from quintessentially New York food store Zabar's, on the Upper West Side, and I remember trying to make a stop to get some on most visits to NYC. Well, if you like Zabar's version, the Chocolate Babka at Breads Bakery is about 10X better, with tender, buttery brioche layers layered with gooey chocolate, and a glistening, syrup brushed top. The only improvement would be to use a better quality chocolate hazelnut spread than Nutella, such as Rigoni Di Asiago Nocciolata Organic Hazelnut Spread with Cocoa and Milk, but of course that would probably triple the price of the Chocolate Babka.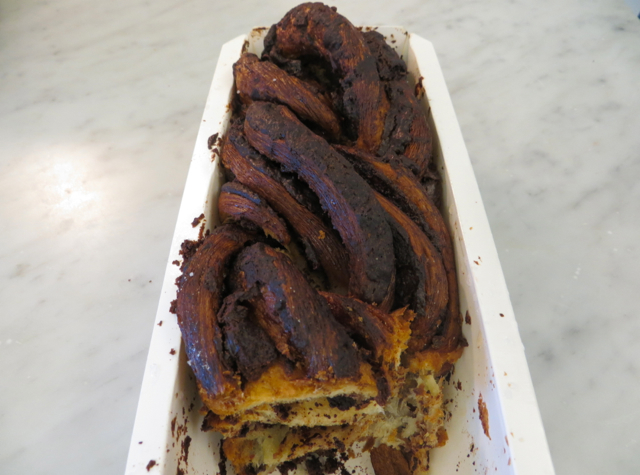 2. Chocolate Rugelach
If you're not up for buying an entire Chocolate Babka loaf for $9.95, Chocolate Rugelach is the bite sized version. By virtue of its shape, it has more flakiness to it, whereas the Chocolate Babka has more of a tender, moist interior. Pick up a couple for $3 to enjoy with a cappuccino or latte.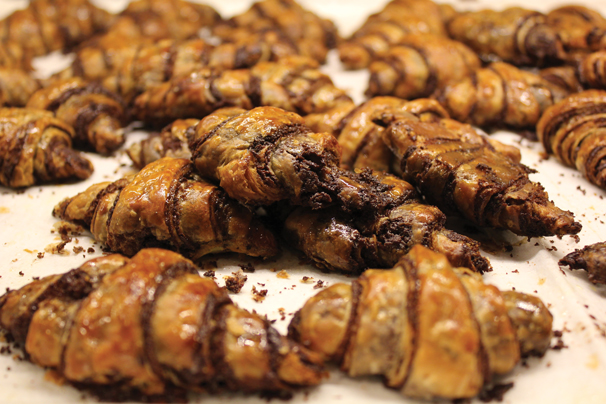 3. Cheese Straw
If you're not a sweets person or simply crave something savory, Breads Bakery cheese straws are the perfect choice, especially if you manage to get one fresh out of the oven. Twisted with gouda cheese, with a flaky exterior and tender, buttery interior, the munchkin managed to polish his off even before I could snap a photo, so the one below is courtesy of Breads Bakery.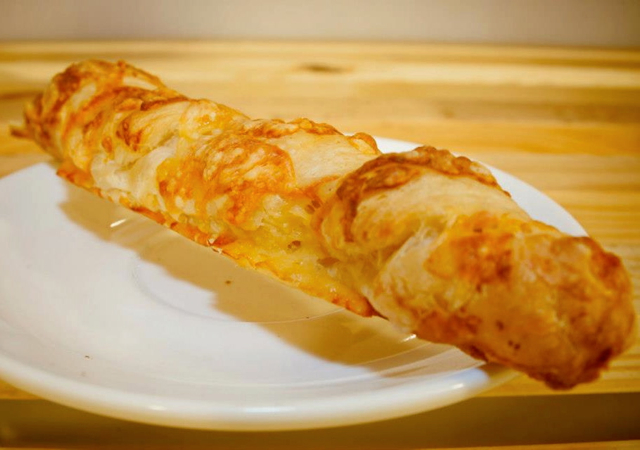 4. Quiche
The $7.50 price tag may give you pause, but the mushroom quiche I tried was eminently satisfying, and classically French. This would be my first choice for a savory lunch at Breads Bakery.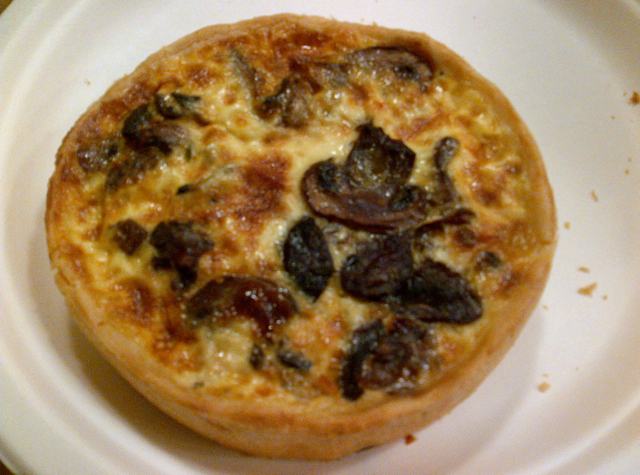 5. Smoked Salmon Sandwich
If you want something less rich than quiche, the smoked salmon sandwich is a good bet. You can choose either a roll or whole wheat bread. It definitely beats any of the premade sandwiches you'd pick up at Whole Foods, although it's not as distinctive an offering as the chocolate babka or cheese straws.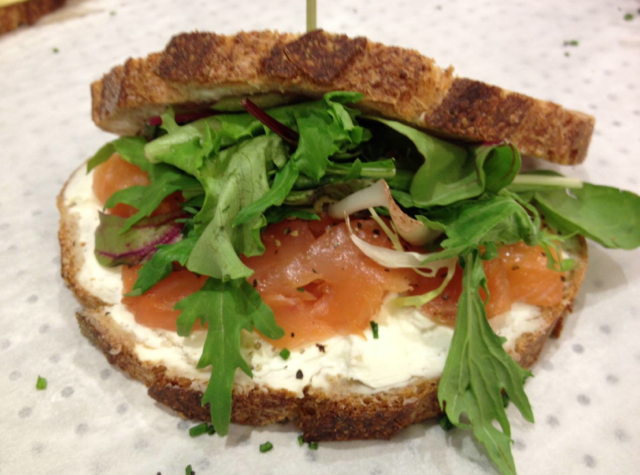 6. Almond Croissant
The almond croissant was solid, although I must say that in NYC, I slightly prefer the versions from Maison Kayser (even though smaller in size) and also from La Bergamote.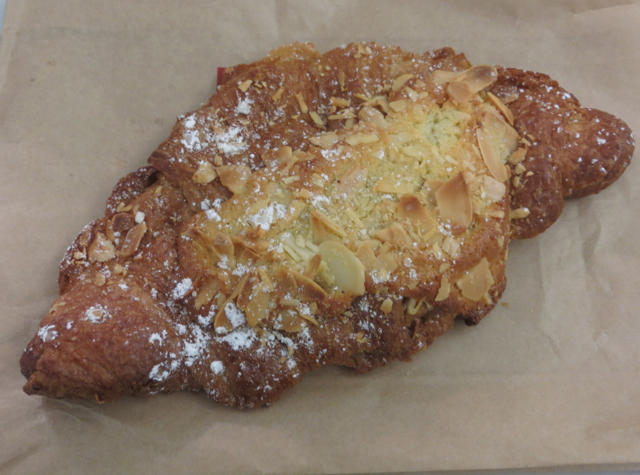 The next items I most want to try are the Walnut Loaf (incredibly hard to find a walnut-only loaf to go with cheese); Cinnamon Roll (I've heard it's about as close as you can find in NYC to approximate the delectable Morning Bun from Tartine Bakery, San Francisco); and a seasonal fruit tart.
The Verdict: Breads Bakery in NYC is a must-try for anyone who enjoys chocolate babka, chocolate rugelach and cheese straws, and is a satisfying option for a quick lunch or meeting for coffee near Union Square. Prices are fair for the quality and the convenient location–expect to pay $7.50 for a sandwich or quiche, $4.50 for an espresso drink, and $3-$5 for a pastry.
Have you tried the chocolate babka or other breads or pastries at Breads Bakery in NYC?
Related Posts
Maison Kayser NYC Review: Eric Kayser Opens NYC's Best Bakery
Can't Miss Best Dark Chocolate Desserts in NYC
Tartine Bakery, San Francisco Review
Need Award Booking Help? Our fee is as low as $75 per ticket if you book your hotel through us.
If you enjoyed this, join 90,000+ readers: please follow TravelSort on Twitter or like us on Facebook to be alerted to new posts.
Become a TravelSort Client and Book 5-Star Hotels with Upgrades, Complimentary Breakfast and Other VIP Amenities!