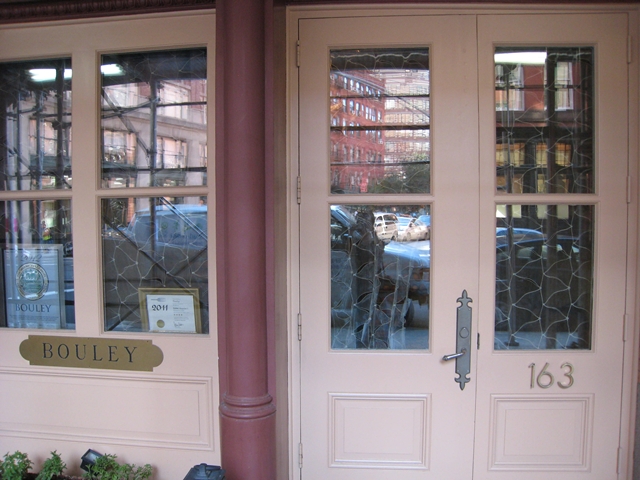 Bouley has gone through several incarnations and locations in the same area of Tribeca since opening in 1987, and is now ensconced on an unassuming corner at 163 Duane Street. You could easily miss it, but you'd be missing out on one of the better fine dining lunch deals in New York. Wait a minute, you might say–what about the $38 lunch prix fixe at Jean-Georges? Well, that's for just two courses-add a third course and it's $50. And Eleven Madison Park? Well, although there used to be a 4-course lunch menu for $75, now there are just tasting menus offered for both lunch and dinner, at a pricey $195. And Bouley? The lunch tasting menu is $55, and includes 4 courses plus a palate cleanser, amuse-bouche, and mignardises.
We arrived slightly late and breathless, but were still impressed by the tall vestibule, with literally hundreds of apples: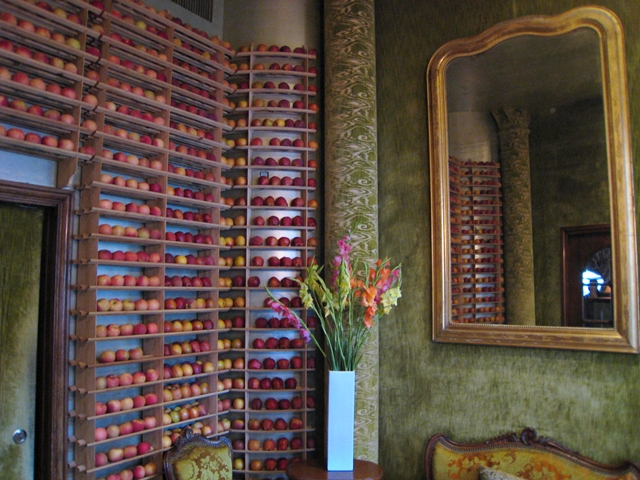 We then ventured inside to check in, and were shown to our table. The dining room was much smaller and romantic than I expected, although the table we were led to was at the far end, in a rather gloomy area near the door to the kitchen, so I asked if we could be moved. Our server initially apologetically noted that the dining room was full apart from a couple tables they were expecting shortly, but when I managed to speak with the Maitre'D, he graciously agreed to move us to a much nicer booth, where we could sit side by side and see the grand French hearth at the opposite side of the room. There are striking floral displays, paintings in purple velvet frames, and vaulted ceilings. It is a bit dim, and I missed the large windows, wonderful natural light and park views at Eleven Madison Park.
After receiving the wine list but before receiving the menu, we were served not one, but two amuse-bouches: a tomato soup accented with generous dollops of creme fraiche and black truffle, and a wafer with silky potato puree and black truffle. Some might call it overkill to have black truffle on both, but as both my husband and I are huge fans of black truffle, we enjoyed both. I wouldn't say tomato and black truffle are my favorite combination, but black truffle and creme fraiche or black truffle and potato? Absolutely.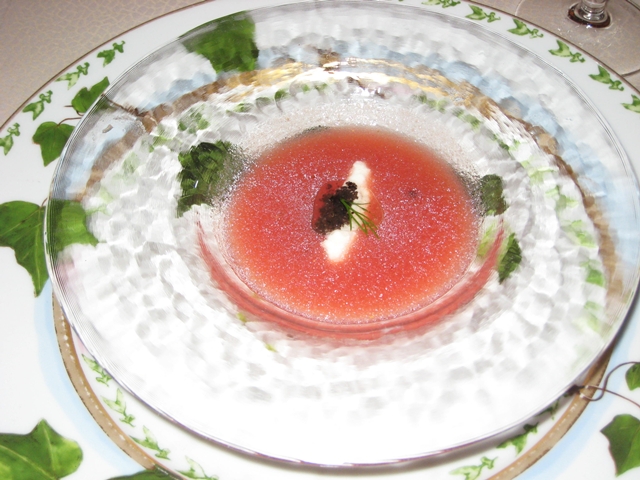 We then perused the menu; there are a la carte selections on the left, but we focused on the right prix fixe menu, which is definitely the best deal and offers plenty of choices.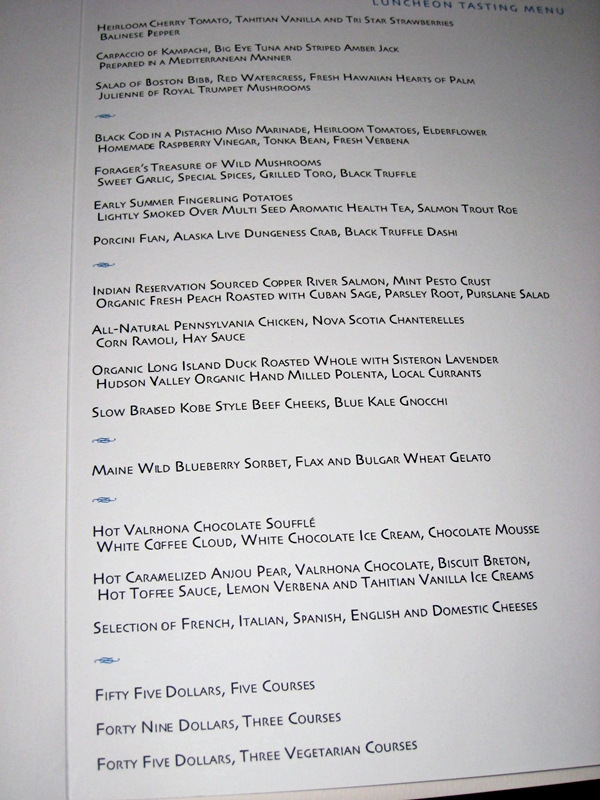 We were served two rolls each, a seeded roll and raisin roll. Both were delicious, plus, there was later a bread cart with no less than 8 kinds of artisanal breads, such as hazelnut pistachio, apricot, saffron, etc. I've never experienced a bread cart in a fine dining restaurant before, and loved it.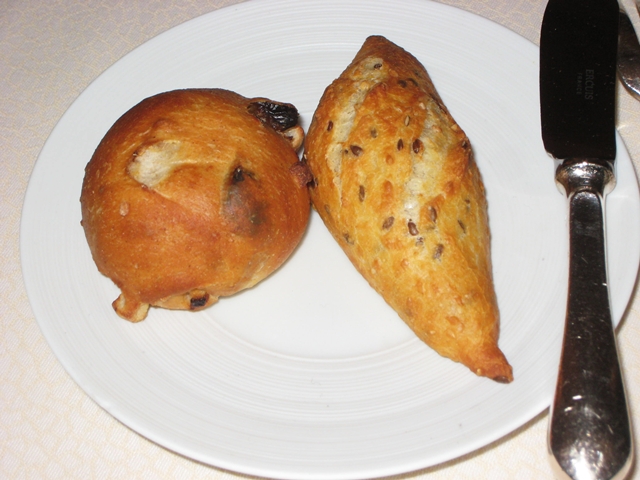 For the first course, we both chose the Carpaccio of Kampachi, Big Eye Tuna and Striped Amber Jack. It was beautifully presented–I could imagine this same dish at Eleven Madison Park–exquisitely fresh, and delicious. Definitely the one to choose for the first course.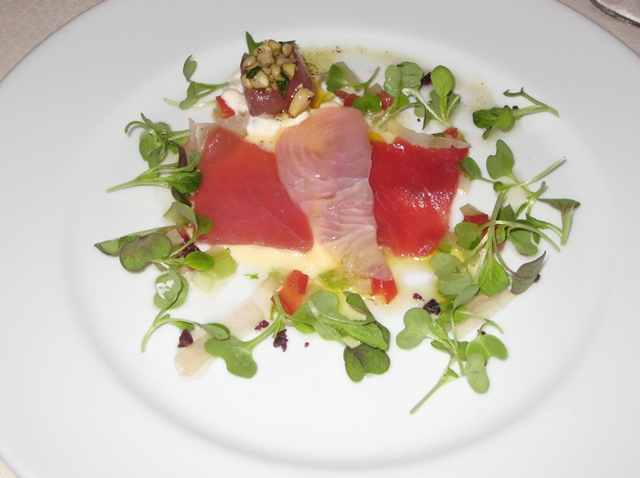 For the second course, my husband chose the Black Cod in a Pistachio Miso Marinade with Heirloom Tomatoes, Elderflower Raspberry Vinegar, Tonka Bean and Fresh Verbena. It seemed slightly overengineered in terms of accompanying ingredients, but the black cod itself was succulent and the slightly carmelized marinade complemented it well.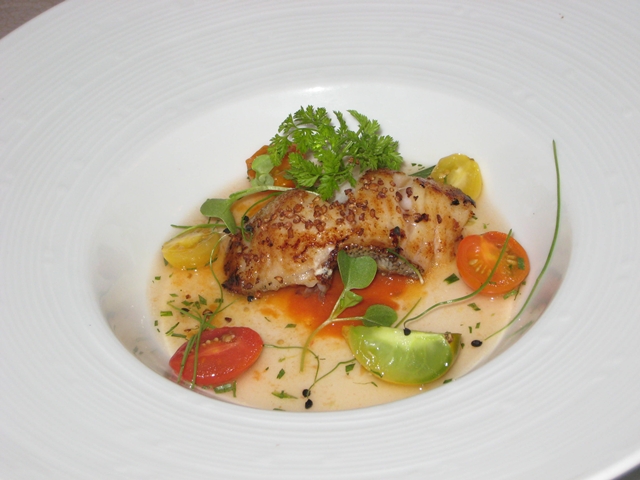 I'd heard good things about the Porcini Flan with Alaska Dungeness Crab and Black Truffle Dashi, but was surprised when it arrived to find it more like a soup in consistency. Never mind, it was fantastic and unique. I wouldn't have thought to pair porcini, black truffle and fresh crab, but my husband and I savored every last bite.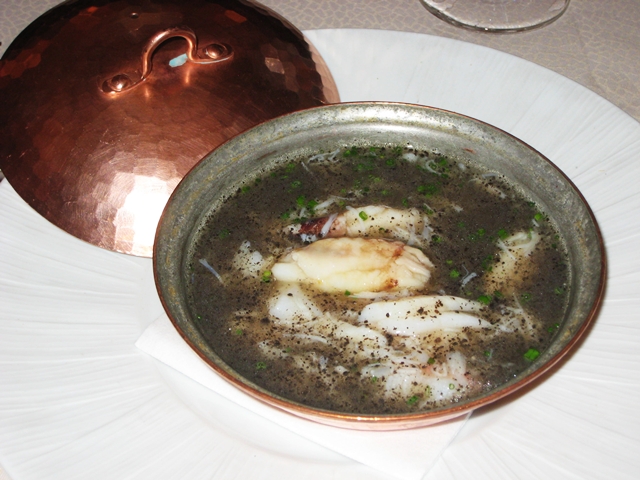 At this point we indulged in some hazelnut pistachio bread from the bread cart, wishing that we could buy it, but tried to save room for the next course, Long Island Duck with lavender, Polenta, and Local Currants. While not as distinctive as the duck with honey, fennel and lavender at Eleven Madison Park, it was perfectly executed and I liked the pairing with the bright tartness of the currants and silky polenta.
Perhaps my favorite taste of the lunch, apart from the Porcini Flan with Crab and Black Truffle, was the palate cleanser: Maine Wild Blueberry Sorbet and Flax and Bulgar Wheat Gelato. My husband wasn't a huge fan of the flax and bulgar wheat gelato, but I enjoyed the nutty flavor. Still, the standout was the wild blueberry sorbert–as good as from famous French glacier Berthillon.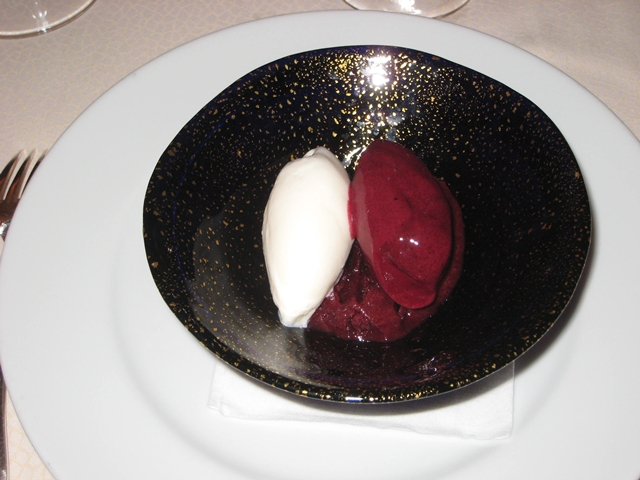 Bouley shines especially brightly for dessert, and loved both our choices. Although at lunch there's no cheese cart, my husband's cheese plate was beautifully presented and much better, in my view, than the cheese selection we had at Eleven Madison Park. We were especially thrilled to see a couple of our favorites, Pyrenees Brebis and Tete de Moine (traditionally shaved to look like a blossom) on the plate, in addition to more usual choices. It was served with more slices of artisan bread, toasted.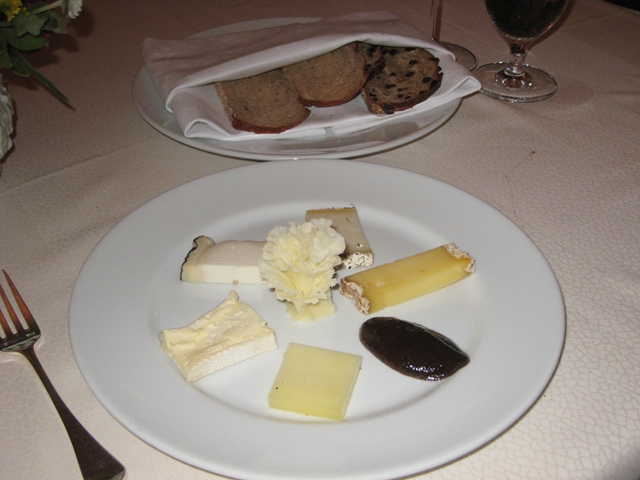 My Hot Valrhona Chocolate Souffle was as rich and decadent as hoped for, especially given its plating on a "White Coffee Cloud" and accompanying quenelles of White Chocolate Ice Cream and Chocolate Mousse. A must-order for any chocoholics.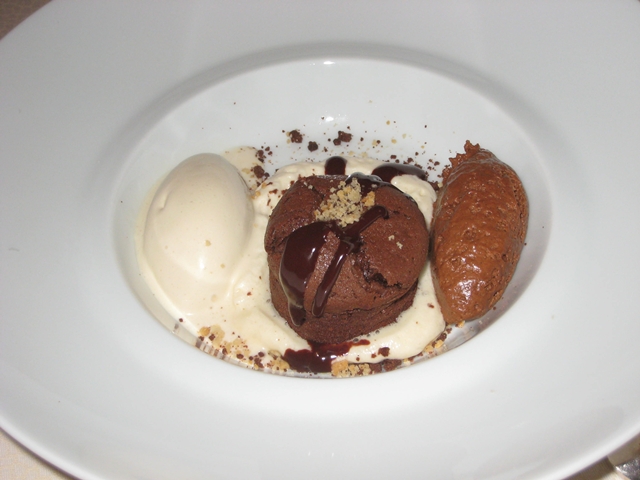 The cappuccino I ordered was fine, but no cappuccino art. And at this point, we could just admire the lovely mignardises, but opted to take them home to share and enjoy with the munchkin later.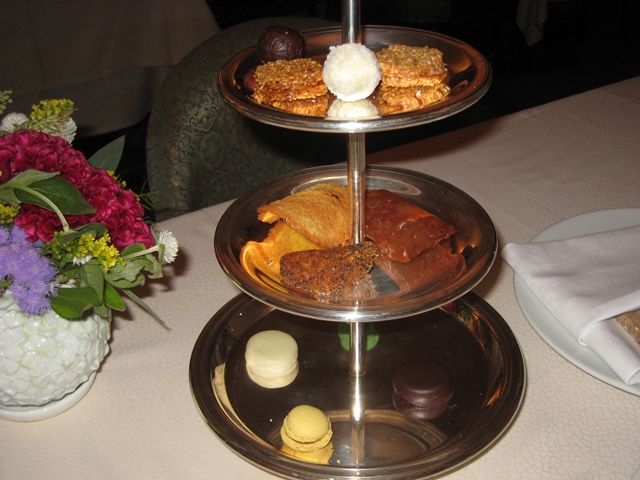 The Verdict: Now that Eleven Madison Park has done away with their four course lunch and gone to a tasting menu just shy of $200 per person, even for lunch, there's no question in my mind that Bouley is the best deal in NYC for an indulgent French lunch. It's not perfect of course–service isn't as polished as Eleven Madison Park, the space not as airy or elegant–but at almost a quarter the price and as a 1 Michelin star (not 3 Michelin star) restaurant, very easily overlooked. We of course took advantage of the 3rd Quarter 5X bonus points on dining with the Chase Freedom Card (good through September 30) and I think I'll purchase a gift certificate so we can enjoy this again and earn 5X points for a future dining experience.
Related Posts
Eleven Madison Park, NYC Restaurant Review
Jean-Georges, NYC Restaurant Review
Tom Colicchio's Riverpark, NYC Restaurant Review
Hip Traif, NYC Restaurant Review
Splurging on New York's Best Special Occasion Restaurants
Romantic Getaway to New York City
Check out and apply for the Best Travel Credit Cards.
If you enjoyed this, please follow TravelSort on Twitter or like us on Facebook to be alerted to new posts.
Become a Member to find your perfect luxury or boutique hotel at up to 50% off: TravelSort Hotels