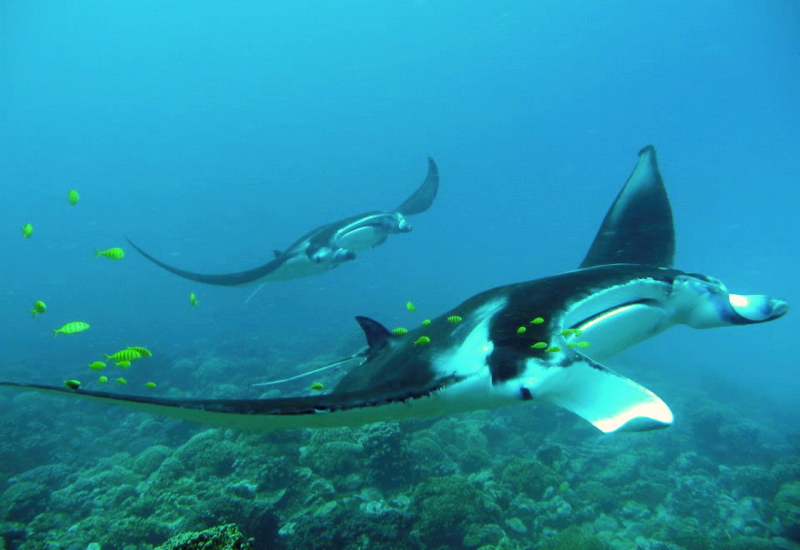 This Bora Bora Pure Snorkeling Review is part of a trip report on Bora Bora and New Zealand luxury resorts, dining and activities. For the prior posts, please see:
Review: American A321 Business Class New York to Los Angeles
Paradise! Can You Guess the Place?
Review: Residence Inn by Marriott LA
Review: Los Angeles International Lounge
Review: Air Tahiti Nui Business Class
A Must in New Zealand: The Farm at Cape Kidnappers, Hawkes Bay
Review: American Airlines A321 First Class JFK to LAX
Four Seasons Bora Bora Restaurant Reviews and Menus
Four Seasons Bora Bora: Top 10 Things to Do
Review: InterContinental Bora Bora Resort Thalasso Spa
Bora Bora Dream Pictures Review
InterContinental Bora Bora Restaurant and Room Service Review and Menus
Pure Snorkeling Tour Options and Costs
Pure Snorkeling's main offering is a Circle Lagoon Snorkeling Tour in the morning that lasts 3.5-4 hours and costs (at time of writing) XPF 11,250 per person, or ~$112 per person, and was half price for my son, age 8.
Another option we considered but didn't do was a private 3 hour snorkeling tour in the afternoon, which would have been XPF 49,000 (~$500) for the three of us. If it had been scheduled in the morning, it would have been XPF 59,000, or ~$600.
Pure Snorkeling also offers a second Ocean Tour which we didn't go on, but which would be ideal if you want to get out of the lagoon and see more of the larger pelagics–reef sharks, turtles, barracuda, etc.
Our Snorkeling Trip with Pure Snorkeling
We were picked up at the Four Seasons Bora Bora a bit after 8:30am, and our group was entirely from the Four Seasons so we didn't stop at any other resorts. Our guides were Quentin, on the left, and Guillaume, who was quite new to Pure Snorkeling, but had been doing similar snorkeling trips with visitors to St. Barts prior to this.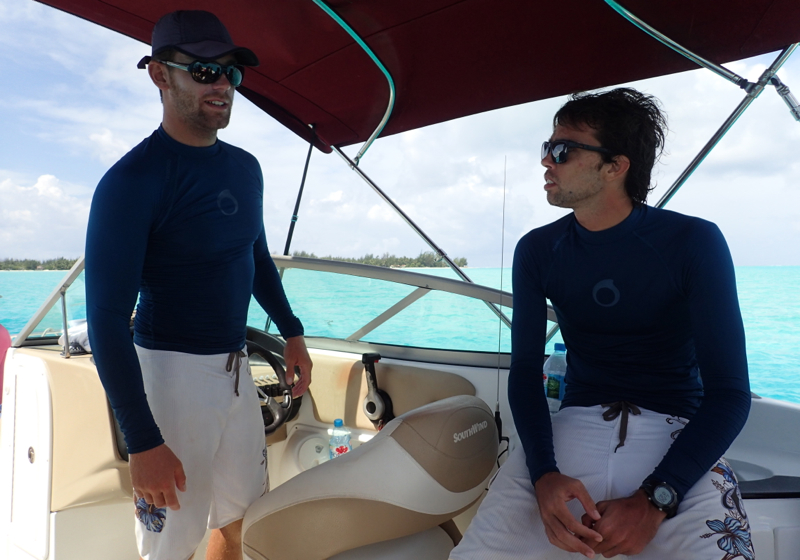 It was a beautiful day, and the lagoon is super calm (no seasickness!) so we enjoyed the boat trip out: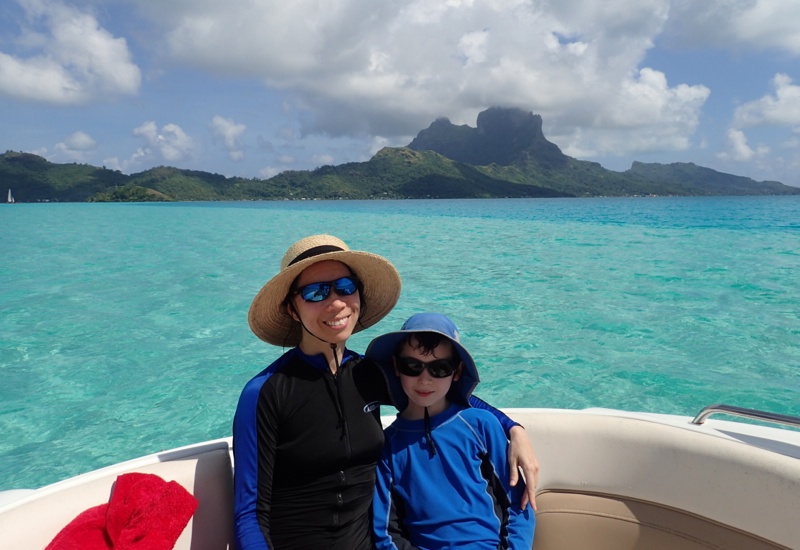 Our first stop was to try to find manta rays, and our guides coordinated with another tour's guides to look in different areas, then wave once they were spotted.
In about 15 minutes the mantas had been found, so we went to the place they'd been spotted and saw a number of huge manta rays–perhaps 7 or 8 in all. They seemed even larger than the manta rays I saw during my night dive with Kona Diving Company in Hawaii, although perhaps they were similar in size–it was hard to tell since I was snorkeling this time vs. looking up at them on the night dive. I didn't have my underwater camera with me since I was busy making sure my son was ok in the water, but here's a photo from a prior Pure Snorkeling trip: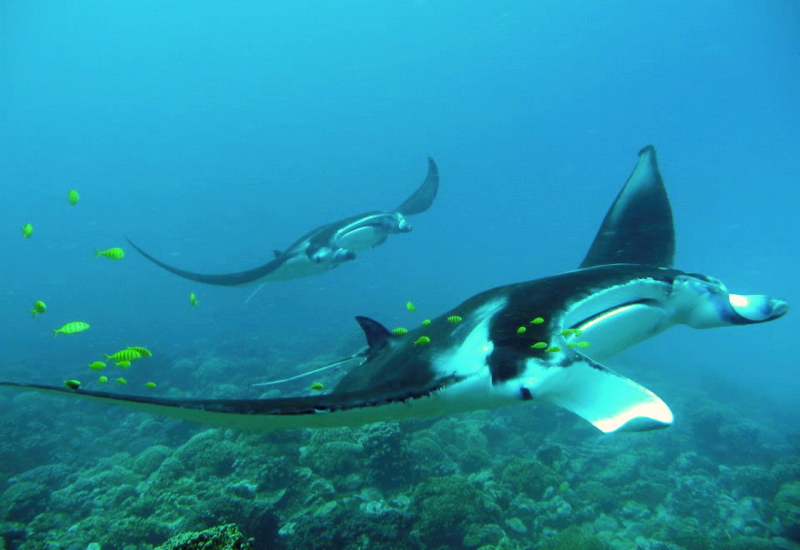 Next we visited a place where we could see the smaller Eagle Rays; my son got to feed an Eagle Ray at Four Seasons Hualalai on the Big Island of Hawaii, but neither of us had ever seen them in the wild before.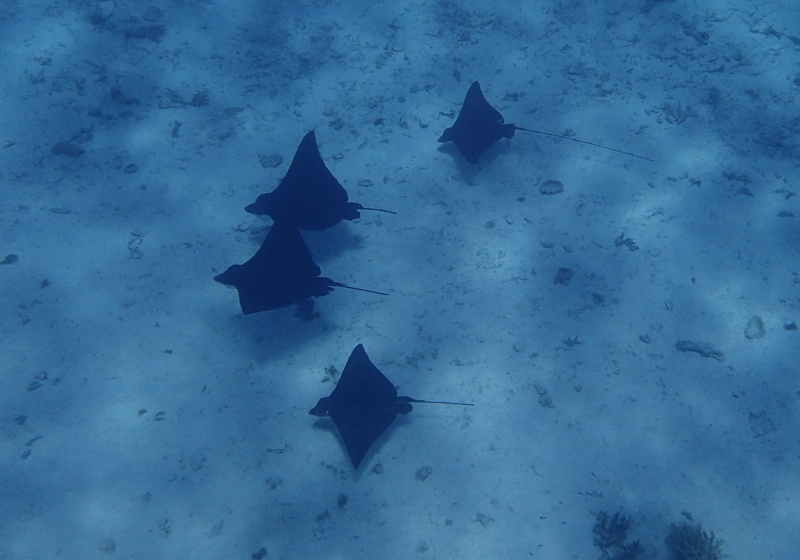 We also did some reef snorkeling and saw these lovely Teardrop Butterfly Fish: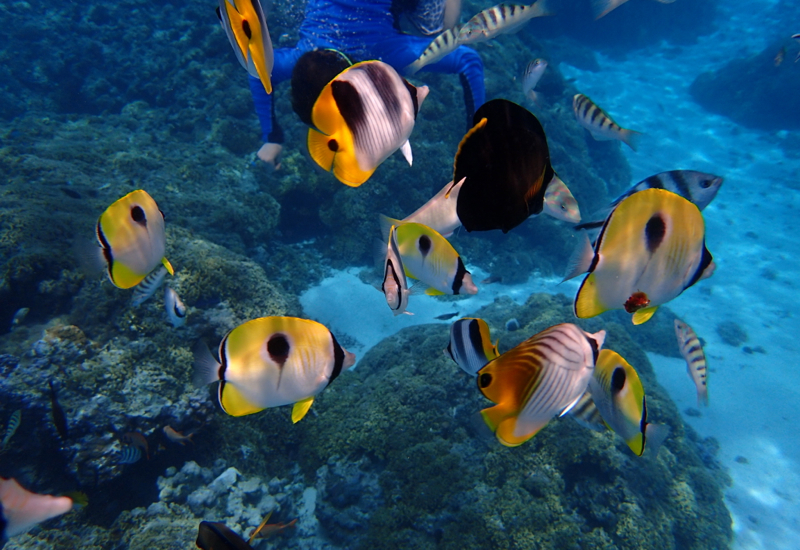 At some point, it may have been after this stop, our boat had problems and had to be towed by another Pure Snorkeling boat, where we got into a different boat to complete our snorkeling trip. I felt worse for the other boat, since they had to take time out of their tour to tow us. Everyone in our group was pretty laid back, and I used the impromptu stop to use a restroom, since the boat is too small to have a toilet on board.
At one of our stops we also noticed a heart in the sand, and "I Love Bora" in the sand: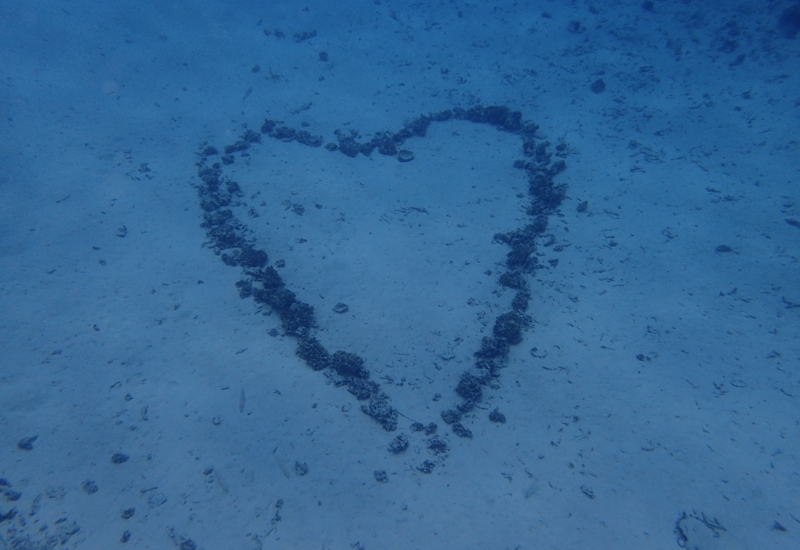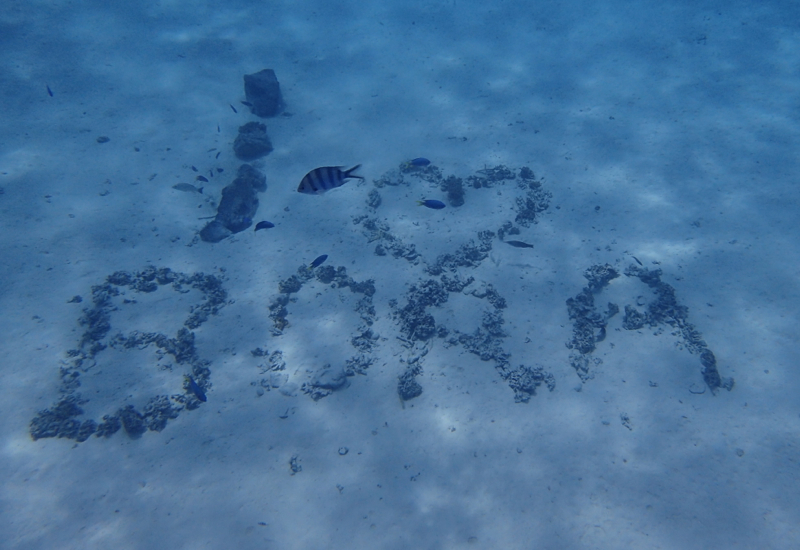 The Coral Garden was our next to last stop, and I enjoyed seeing more colorful corals than you typically see in the Maldives, due to the unfortunate coral bleaching there. There were some iridescent mini Giant Clams that you can see in this photo, although not as large as the ones we saw at Soneva Fushi in the Maldives.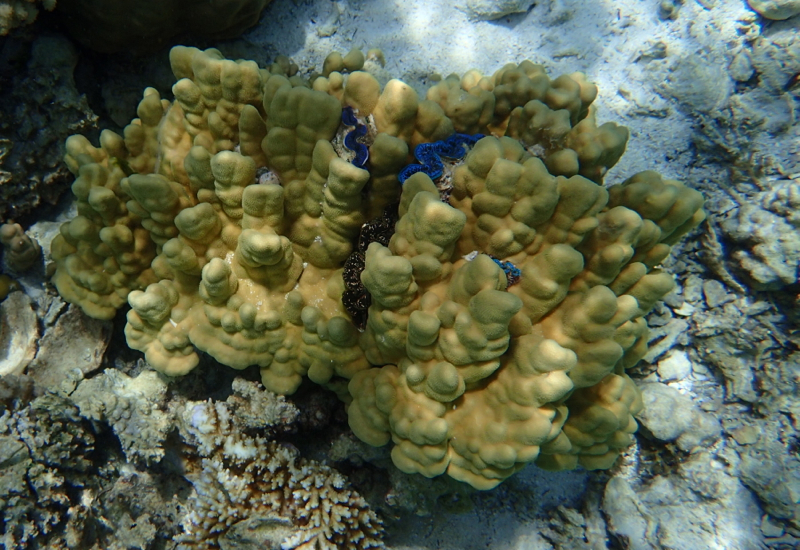 Here's a Pure Snorkeling Video that also was shot at the Coral Garden:
My Husband's Snorkeling Trip with Pure Snorkeling
Since we went on our trip the morning my husband was due to arrive in Bora Bora, I signed him up for his own Pure Snorkeling trip a few days later. While my husband also saw the huge manta rays, tropical fish and coral that we saw at the Coral Garden, his boat was lucky enough to also see dolphins. My husband jumped in and snorkeled with them a bit, and then the boat followed the dolphins for awhile, enabling fellow guests from Hong Kong to take this mobile phone video, which they were kind enough to share:
The Verdict
We enjoyed both of our trips with Pure Snorkeling, and appreciated the small group size. The guides worked well with other local tour guides to help find the manta rays, and I was glad to see that they treated the marine life with respect and did not encourage us to touch the creatures, or try to attract them with food, as some of the other tour companies do. Manta Rays have a protective mucus coating that helps keep them healthy, and touching them can rub off this coating making them more suceptible to infection and disease. Similarly, they stressed the importance of not touching or breaking the coral, which can take many years to grow. My husband was lucky to see the dolphins, as they can't be predicted.
The boat itself was comfortable, although did not have that much shade, so I was happy we all had sun hats, and that my dive skin kept most of me from getting burned (although even with sunscreen, my hands still got burned). There were plenty of drinks offered, and also some chips as snacks, but since this was a morning excursion and we'd had a good breakfast, I didn't need anything until we got back to the resort.
I was especially grateful that Guillaume was willing to accompany my son on several occasions, pulling him along as he held on to the flotation aid for support. While my son can swim, his strokes aren't great so he does get tired after awhile, so this was a great help that enabled me to see more while snorkeling. Don't forget to tip your guides–the team at Pure Snorkeling is fantastic and deserve it.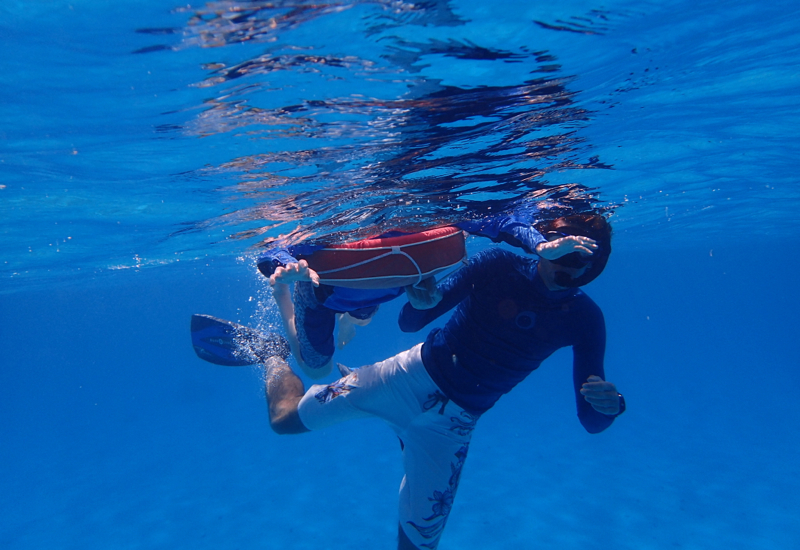 If you've done a Bora Bora snorkeling tour with Pure Snorkeling, what was your experience?
Related Posts
Review: Air Tahiti Nui Business Class
Top Things to Do in Bora Bora if You Don't Scuba Dive
Bora Bora Dream Pictures Review
Disclosure: I paid regular retail rates for our Pure Snorkeling trips.
Need Award Booking Help? Our fee is as low as $75 per ticket if you book your hotel through us.
If you enjoyed this, join 200,000+ readers: please follow TravelSort on Twitter or like us on Facebook to be alerted to new posts.
Become a TravelSort Client and Book Your Hotel with Virtuoso or Four Seasons Preferred Partner Amenities!