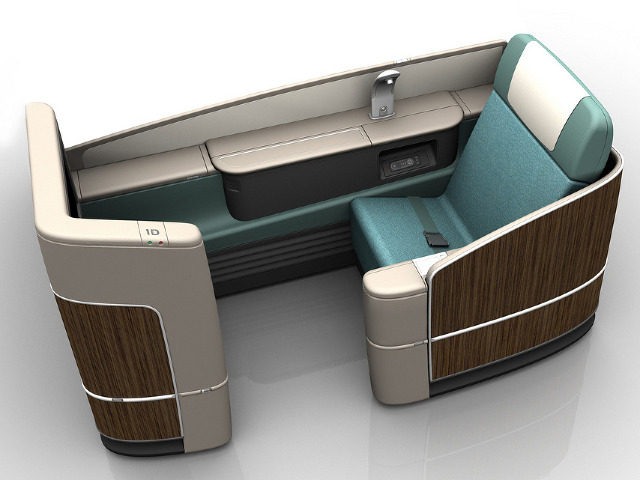 Update: Korean has updated the SkyPass site. See How to Redeem Korean Air SkyPass Miles for Award Travel
——-
Booking Korean Air Skypass Awards can be a hassle, but it doesn't have to be–you can book international Korean Air awards online. For a recent Award Booking for a client I did recently email a scanned form and a copy of my client's passport, but later discovered that I could simply book his international Korean Air first class award online, with no scanning and emailing of forms and passport necessary.
Here's what you need to do:
1. Search for Award Space
Since you need to have sufficient Skypass miles to book the award to search on Korean Air's Web site, you may want to use ExpertFlyer or Award Nexus to search for award space. If you do happen to have enough Korean Air Skypass miles in your account, you can log into Skypass and go to the Korean Air Award Booking page both to search for space and, as I'll describe below, to book online. When constructing your award, note that Korean Air allows one stopover on a one way award (which is generous–most airlines, apart from Alaska Mileage Plan, do not allow a stopover on a one way award) and two stopovers on a roundtrip.
2. Verify the Number of Skypass Miles You'll Need for Your Korean Air Award
Here's the Korean Air Award Chart.
Note that the top award chart is valid for bookings through March 31, 2014, whereas if you scroll down, you'll come to the new Korean Air Award Chart that goes into effect April 1, 2014. All Skypass mileage amounts are for roundtrip, and you can book one way awards for half the amount of a roundtrip.
As you can see, Peak pricing is high, so you'll want to avoid these Korean Air peak travel dates in 2014-2015 in order to avoid Peak award prices and be able to use the Offpeak award prices.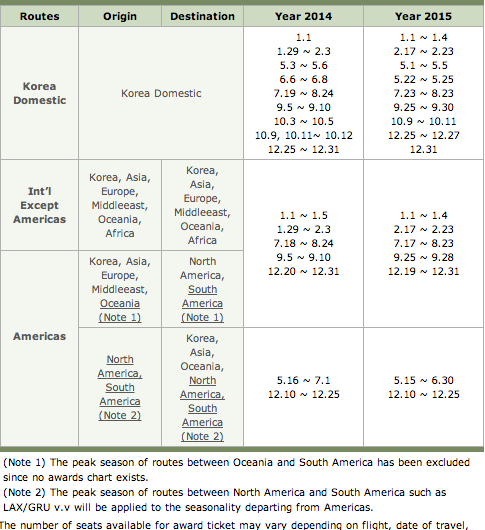 3. Transfer Ultimate Rewards Points to Korean Air Skypass
Assuming you didn't already have Skypass miles, after you've verified that the award space is there, you can transfer Ultimate Rewards points to Skypass. The transfer is instant, although you may need to log out of your Skypass account and log back in to see the miles.
Note that if you're booking for another family member, you'll want to ensure that person has his or her own Skypass account that you transfer Ultimate Rewards points to. In order to avoid scanning and emailing or faxing forms, you want each person who's traveling on a Korean Air Skypass award to book their own award via their own Skypass account (or you can log in as them and do it for them).
4. Book Your Korean Air Award Online
Return to the Korean Air Award Booking page, and under the second bullet point, Redeem Miles for Yourself or Family Members, click on the "International" button.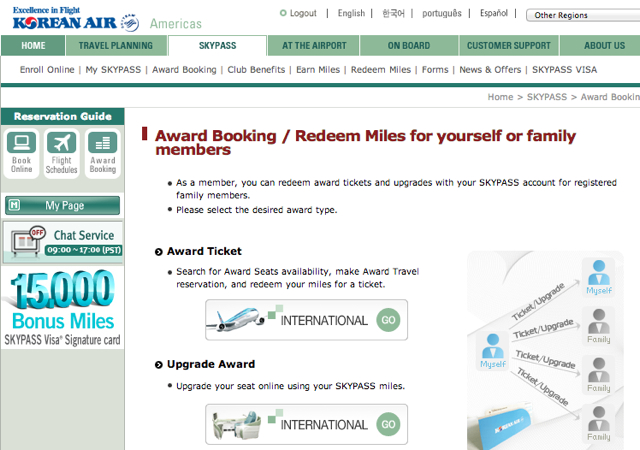 You'll then be able to select your origin, dates, and class of service: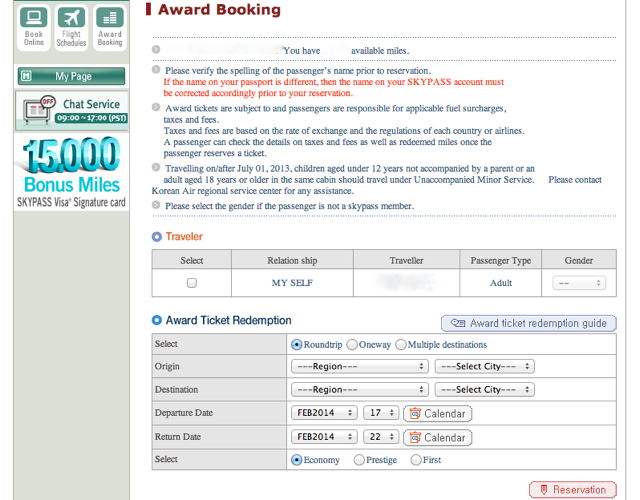 After you click on "Reservation," you'll see flight results, be able to select your preferred flight and even create your own reservation number if you so choose (if you leave it blank, one will autogenerate).
5. Hold Reservation or Book Immediately
At this point, you can either choose to hold your reservation, and ticket later (the screen tells you the deadline date by which you must ticket or it will autocancel) or pay by entering your credit card details, to generate an e-ticket.
Important: When paying the taxes and fees, be sure to use a credit card that you will have at the time of travel. Do NOT use a credit card that you may cancel or misplace before your trip, because you need to bring it with you, along with your passport, when you check-in for your Korean Air flight.
If you've booked Korean Air awards online, what was your experience?
Related Posts
Should You Use Chase Ultimate Rewards Points to Book Korean Air Skypass Awards?
Alaska Airlines: Korean Air Awards Available Online
Soju and Spice in the City of Seoul
Top Tips for Using Delta SkyMiles for Asia Award Tickets
Need Award Booking Help? Our fee is as low as $75 per ticket if you book your hotel through us.
If you enjoyed this, join 90,000+ readers: please follow TravelSort on Twitter or like us on Facebook to be alerted to new posts.
Become a TravelSort Client and Book Your Hotel with Virtuoso or Four Seasons Preferred VIP Amenities!