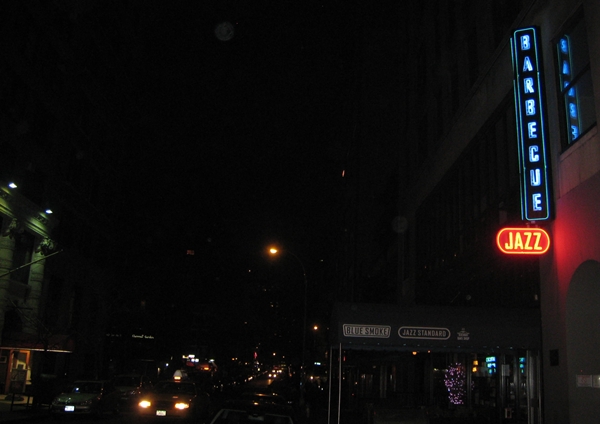 I never had bbq from Blue Smoke or anywhere else growing up, unless you count kalua pork (Hawaiian-style pulled pork)–maybe that's why ever since I discovered the messy meaty goodness of ribs and smoky pulled pork sandwiches I've been a huge fan. And while the annual Big Apple BBQ is fantastic for the chance to sample the work of pitmasters from around the country, the other 363 days of the year we New Yorkers need a reliable bbq haunt.
While Blue Smoke is just one of a number of Manhattan bbq places, it's become one of the most popular, and for good reason. Part of Danny Meyer's Union Square Hospitality Group empire (which includes Union Square Cafe, Gramercy Tavern and Shake Shack, among others, although no longer Eleven Madison Park) it executes all the bbq favorites with aplomb. And it manages to cater to everyone from business folks at lunch to sports fans during games (watched on a huge screen over the bar) to families with young tots.
Hence, for New Year's Eve, my family and I made Open Table reservations for Blue Smoke. Only a 5:45pm slot was available, and that was fine by us, since we had the munchkin in tow. We were warmly greeted and led to our table, a booth as we had requested, and presented with menus. There's a nice kids' menu for $10, but since it includes dessert and we were going to have dessert at home, we decided to order family style and share.
But first, a drink: my husband so glibly ordered a Blood Orange Margarita, without even looking at the drink menu, that I arched an eyebrow. "I've ordered it before and it's my favorite" he explained.
Once it came, I understood why. I only managed to get in 1 small sip of the first, and the dregs of the second!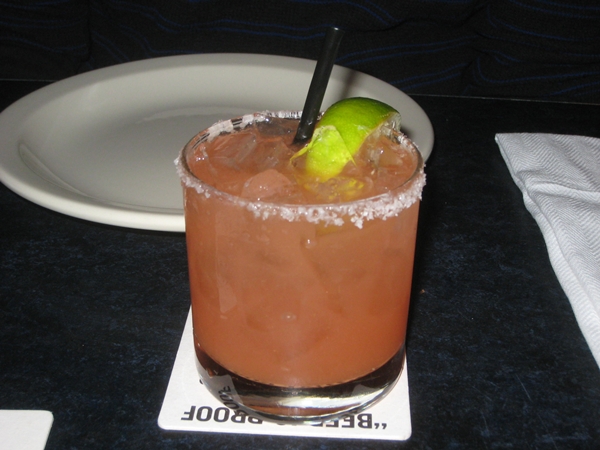 Meanwhile, the munchkin happily busied himself decorating the pig sugar cookie he'd been brought, with festive green and red candies: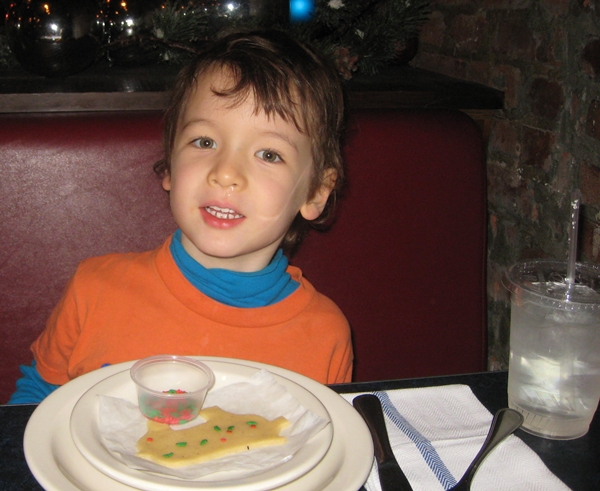 Amazingly quickly, all of our food came. The centerpiece was the full rack of Baby Back Ribs, slathered with "magic dust" and "original sauce." Smoky, meaty, sweet spicy goodness!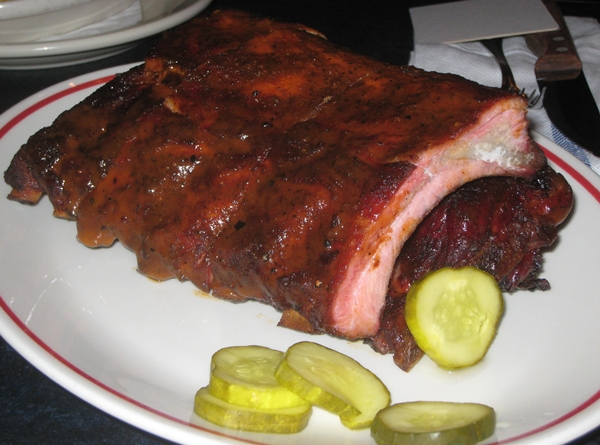 We also ordered a Pulled Pork Platter, which comes atop homemade white bread, with sides of pit beans and crunchy sesame slaw. The pulled pork is so good we've been known to order 8 lbs. of it for takeout, freezing it for a number of subsequent bbq dinners at home.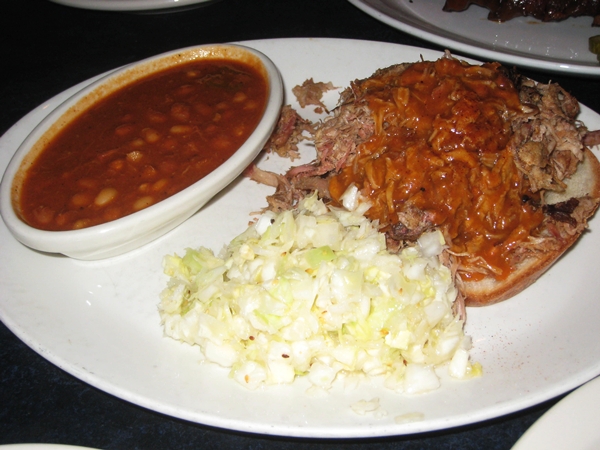 The munchkin insisted on his favorite, Macaroni and Cheese. To be honest, I think this is the weakest link, but of course it's a matter of personal preference. It's a very mild mac and cheese, whereas I prefer sharper cheddar or even a mixture of cheeses–I like Trader Joe's frozen mac and cheese better, in fact. Which was just fine with the munchkin, since he ate enough for himself and me combined.
It would be remiss not to have at least some kind of vegetable, so we ordered Braised Collard Greens with Bacon. No doubt the bacon cancels out the nutrition of the greens, but it didn't stop us from polishing it all off.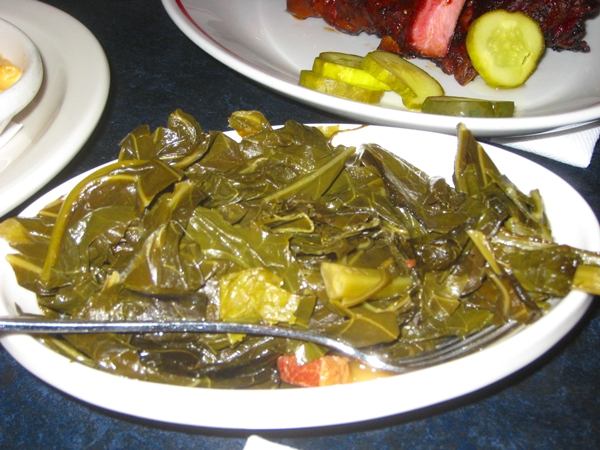 With the amount we ordered, I'd counted on having a good amount of leftovers, but I was mistaken. After our feast, only 3 ribs and some pulled pork remained for us to take home…oh, and the munchkin's pig sugar cookie, which had been thoughtfully packaged with his name on it, and which he enjoyed immensely at home: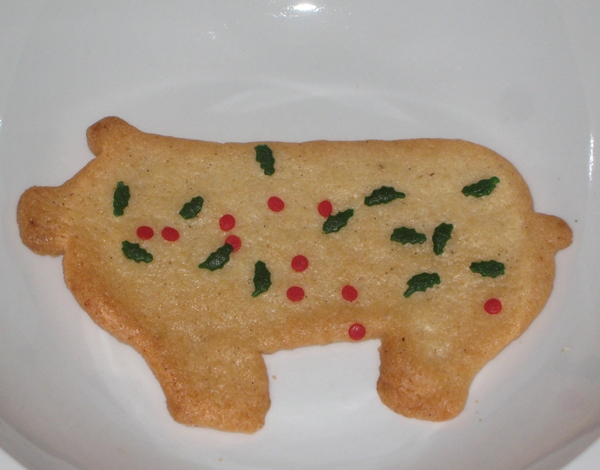 Want to read more yummy NYC restaurant reviews and New York travel tips?
Shake Shack NYC Restaurant Review
Somtum Der NYC Review and Menu
Num Pang Sandwich Shop Review-Cambodian Banh Mi in NYC
Fish Tag NYC Restaurant Review
Need Award Booking Help? Our fee is as low as $75 per ticket if you book your hotel through us.
If you enjoyed this, join 200,000+ readers: please follow TravelSort on Twitter or like us on Facebook to be alerted to new posts.
Become a TravelSort Client and Book 5-Star Hotels with Virtuoso or Four Seasons Preferred Partner Amenities!