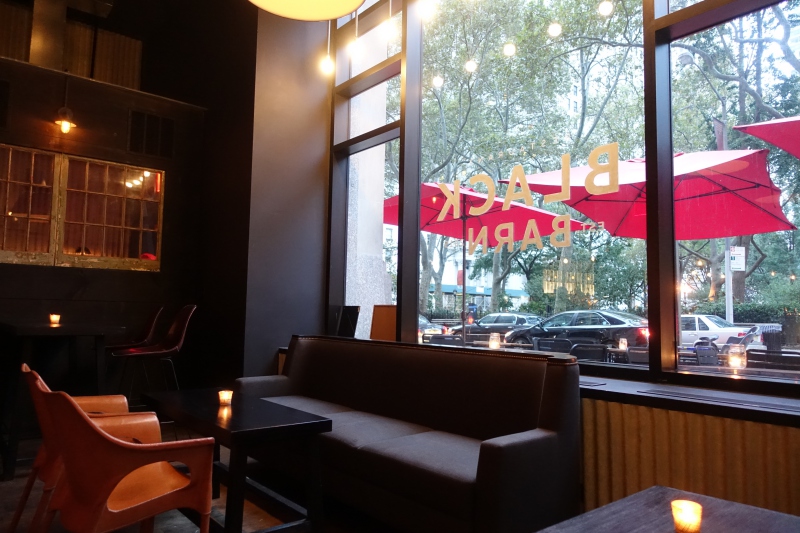 This Black Barn NYC Restaurant Review is one of our many NYC Restaurant Reviews. Visiting New York? See all of our posts tagged NYC. Black Barn is especially convenient for families wanting an early dinner, for example after visiting the next door Museum of Mathematics (MoMath) or Madison Square Park Playground, across the street.
Getting to Black Barn Restaurant
Black Barn Restaurant is located at 19 East 26th Street in New York, across from the northern side of Madison Square Park. If taking the subway, the nearest stations are 28th Street and Park Avenue (6 train) or 28th Street and Broadway (N, Q, R trains).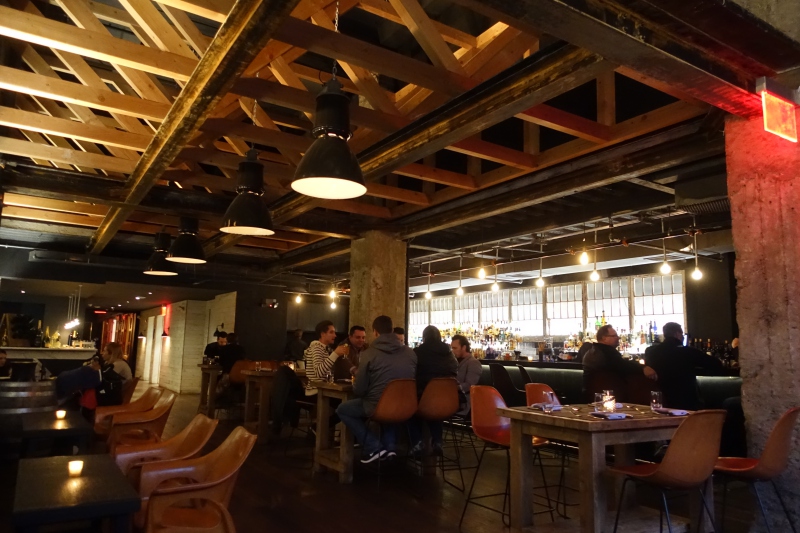 The Scene
Black Barn is one of those places you would walk right past on the street several times without noticing it's there, but once you go inside, your marvel at how large a space it is, from the high loft like ceiling to how far back the restaurant goes. We were there for an early dinner, so there were only a few other guests in the Tavern and Bar area, where we opted to dine, although there were some small groups gathering to have dinners in the restaurant area. There are also several private rooms, perfect for small business dinners, such as one I attended quite recently.
Black Barn Menu and Food
The front part of Black Barn is the Tavern dining room and Bar, with a menu of Small Plates, Large Plates and cheese plates that are perfect for sharing: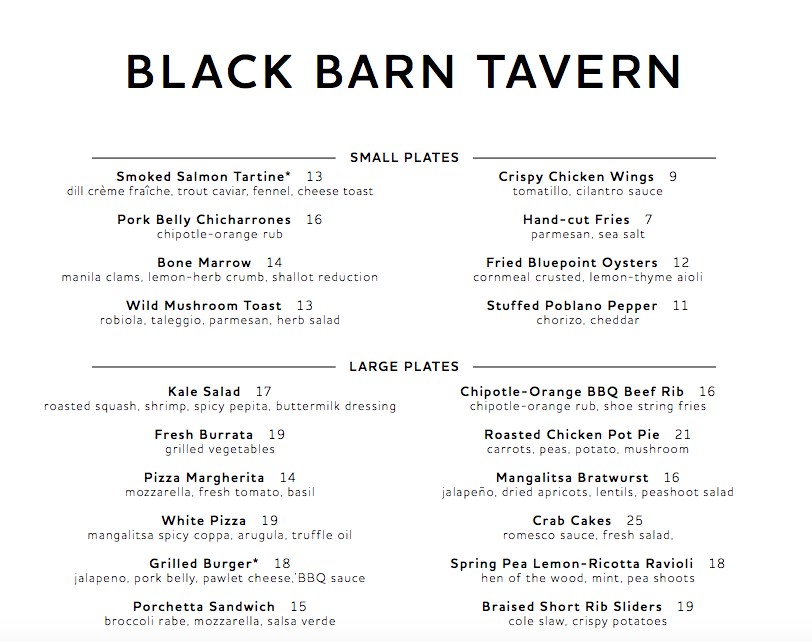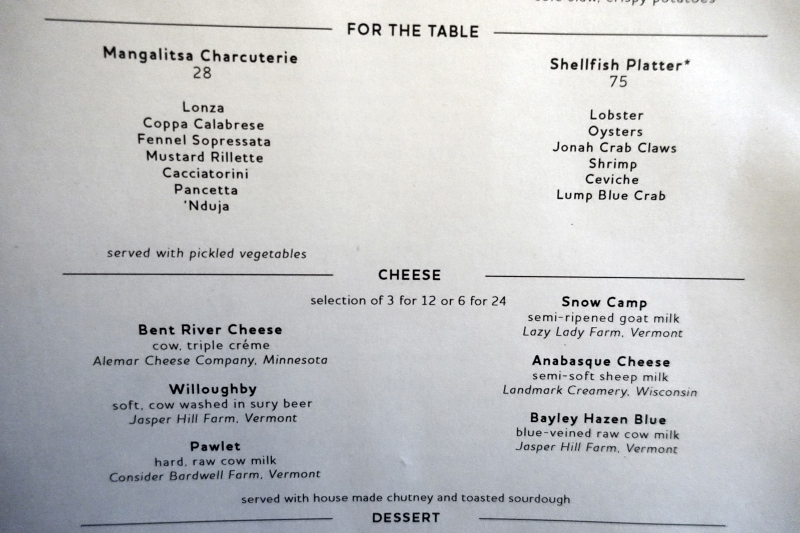 The main restaurant menu is a bit fancier, although has some overlap with the Tavern menu, for example with the White Pizza, gnocchi, and seafood platter.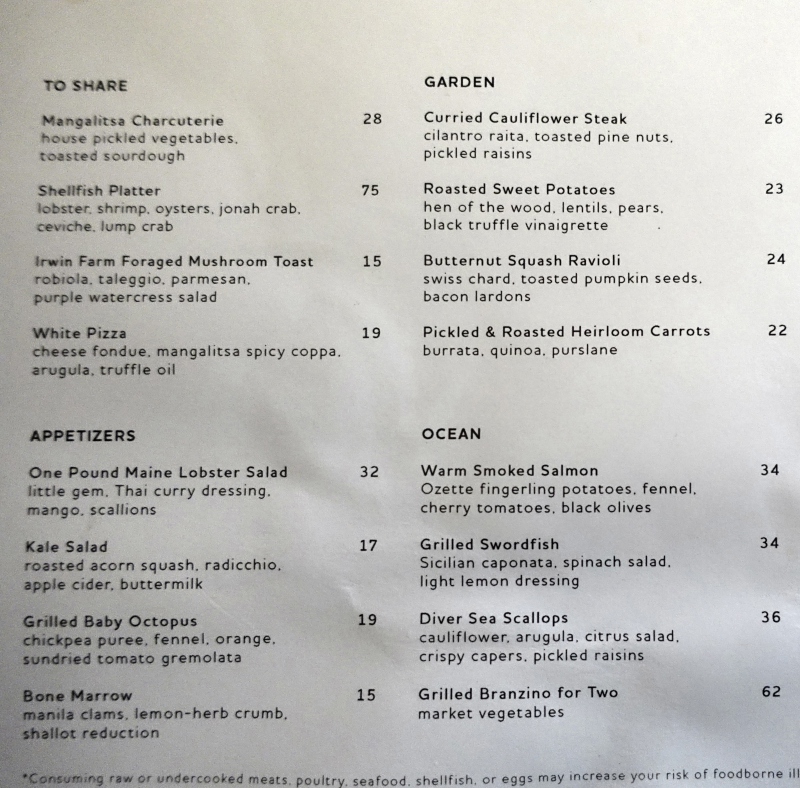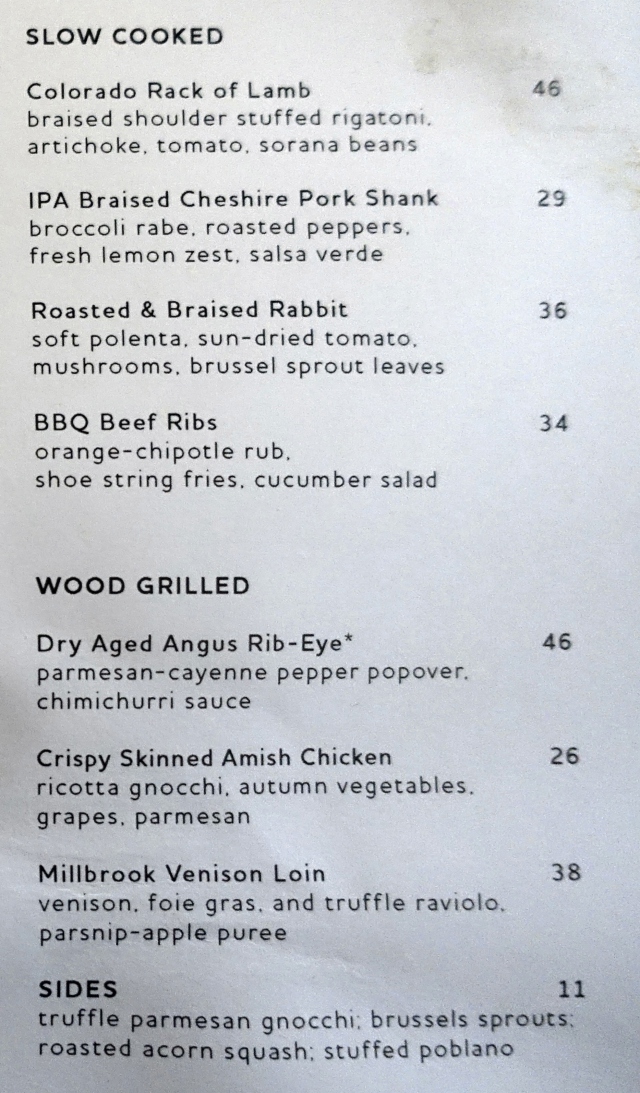 There's no complimentary bread served, which I found a bit odd, so if you're hungry, you'll want to order some kind of appetizer right away. It took about 25 minutes for our food to arrive, so best to plan ahead and not arrive famished.
My son ordered the White Pizza, which does have some spicy coppa on it, but it was easy to pick off for us to eat, since he doesn't like spicy food. The pizza was fairly simple but delicious, especially with the truffle oil adding some nice earthiness, and the abundance of arugula a good foil for the richness of the cheese and coppa.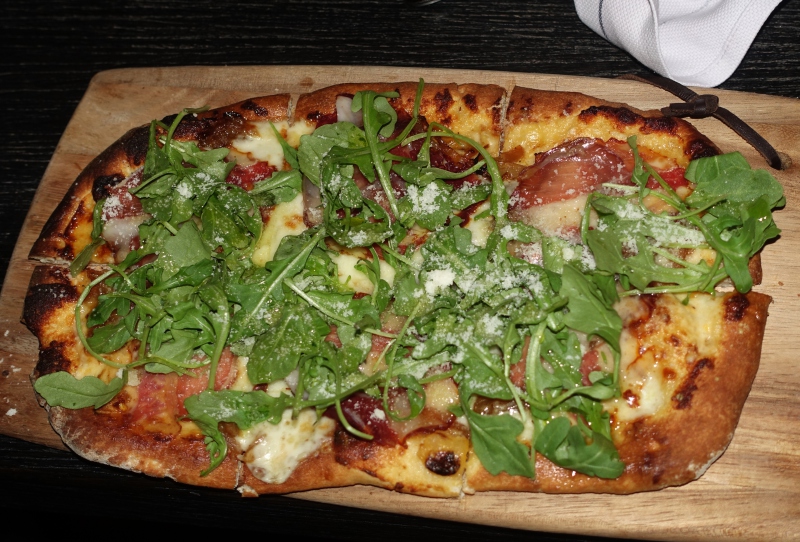 My husband was likewise very happy with his Grilled Burger, which was perfect cooked to his specification, medium, and enhanced with pork belly, Pawlet cheese (made with raw Jersey cow's milk) and BBQ sauce. I sampled it, and had to take another bite later in the meal, it was so good.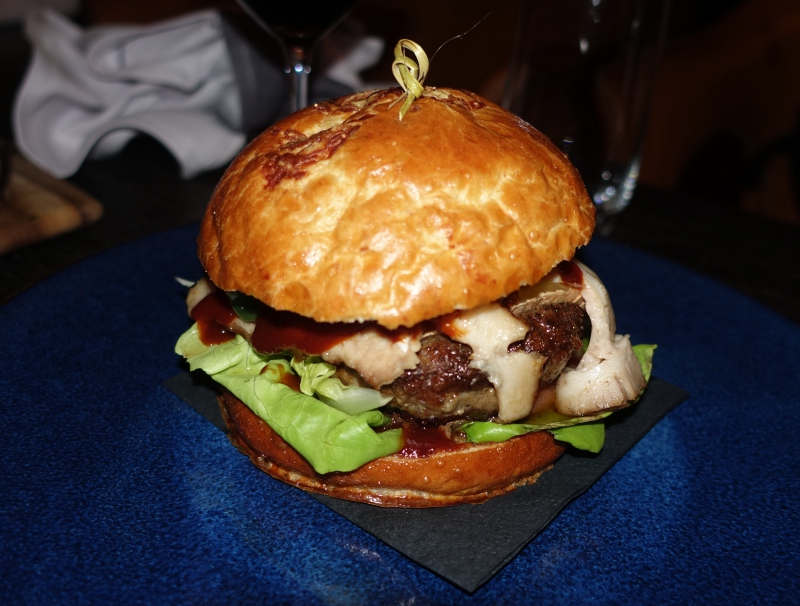 We also split a glass of Finca Decero Malbec, which was pricey at $16 a glass (that's nearly the cost of an entire bottle, retail) but was very smooth and a great pairing for the burger.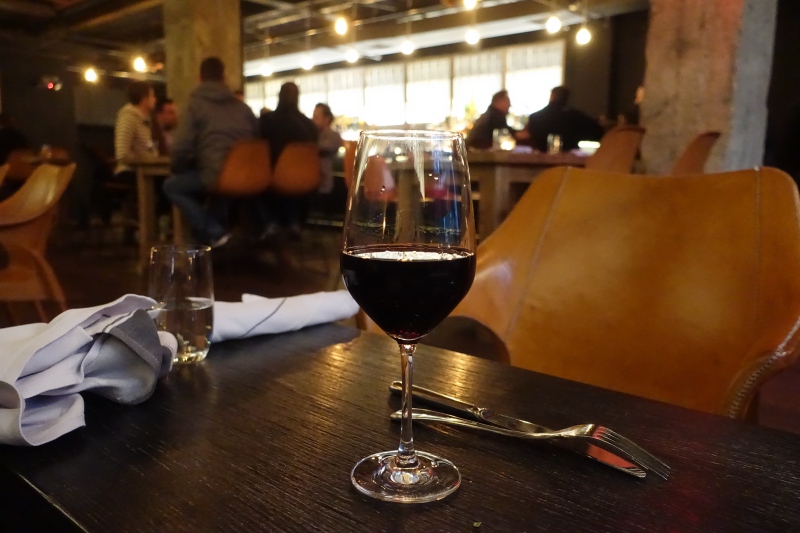 I felt like seafood, so I tried the Lobster Roll, which was actually a couple of large lobster "sliders." While I would have loved the lobster to be a bit more generous, given that it was mixed with cherry tomatoes, the lobster was super fresh and delicious.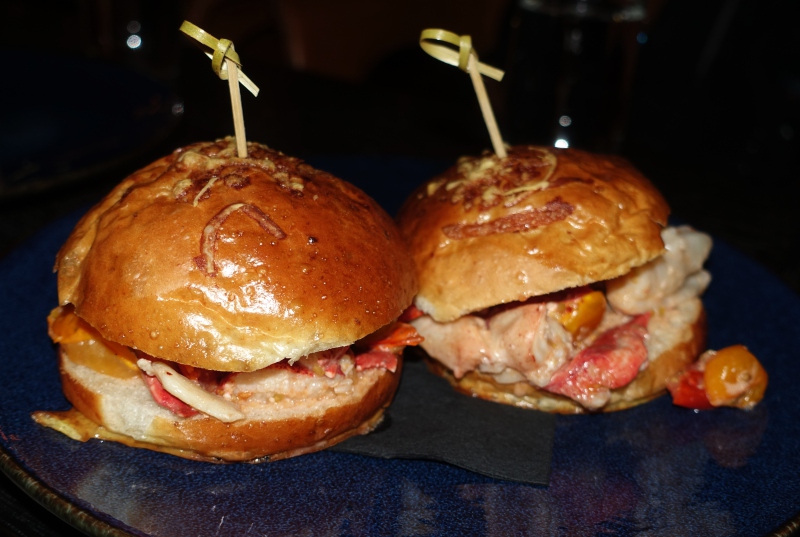 At the work event I went to, which was held in one of the restaurant private rooms, highlights included the Shellfish Platter (lobster, shrimp, oysters, jonah crab, ceviche, lump crab); the Mushroom Toast; Brussels Sprouts; and Truffle Parmesan Gnocchi. I liked but didn't love my Venison dish, although I did really like the truffle raviolo that accompanied it.
The Verdict
With a few tweaks, Black Barn NYC would have the potential to become one of our favorite restaurants for a family weekend dinner out. We liked the spaciousness of the Tavern, with ample space between tables, which can be a real issue at many NYC restaurants. There was no wait for us to have an early 6pm dinner in the Tavern area of the restaurant, on a Saturday night no less. And the food we ordered was also excellent, with the only thing I'd change is to have a bit more lobster in the lobster sliders.
But a few things keep it from earning top marks: the wine markup was steep–I'd expect to pay more in the range of $8-12 a glass for a wine that retails at $16.99 a bottle, rather than $16. There was no bread offered in the Tavern, although we were offered bread in the Restaurant for the work event I attended. It wouldn't be much additional cost to offer Tavern guests some bread, and would be much appreciated by families with kids who are already hungry, or even hungry adult guests wanting something to nibble on with their wine. And finally, the 25 minute wait seemed a bit long given how early on it was, well before the usual dinner rush.
If you've been to Black Barn in NYC, what was your experience?
Related Posts
Morimoto New York Restaurant Review
Review: Casa Mono New York-1 Michelin Star
Need Award Booking Help? Our fee is as low as $75 per ticket if you book your hotel through us.
If you enjoyed this, join 200,000+ readers: please follow TravelSort on Twitter or like us on Facebook to be alerted to new posts.
Become a TravelSort Client and Book 5-Star Hotels with Virtuoso or Four Seasons Preferred Partner Benefits!