This Bishop's Restaurant Review is part of a trip report including Cathay Pacific First Class to Vancouver, plus reviews of luxury hotels, food, and family friendly things to do in Vancouver and Seattle. Prior posts include:
Cathay Pacific First Class NYC to Vancouver
Four Seasons Vancouver Hotel Review
Four Seasons Seattle Hotel Review
Chihuly Garden and Glass: Must-See in Seattle
Toulouse Petit Seattle Restaurant Review
Theo Chocolate Factory Tour in Seattle, Washington
Bishop's is well known as offering some of Vancouver's best fine dining, so I was looking forward to trying it during our brief stay. I was able to make a reservation via OpenTable (sure, it's only 100 points = $1 dining credit, but it does add up) and made it quite early, for 5:30pm, since I was dining with the munchkin and figured he might be pretty tired if we dined too late.
We were able to catch a bus to within a couple short blocks of Bishop's, which is at 2183 West 4th Avenue, quite close to a Whole Foods Market. The restaurant itself has a nice large sign, but otherwise looks almost as though you're entering someone's house: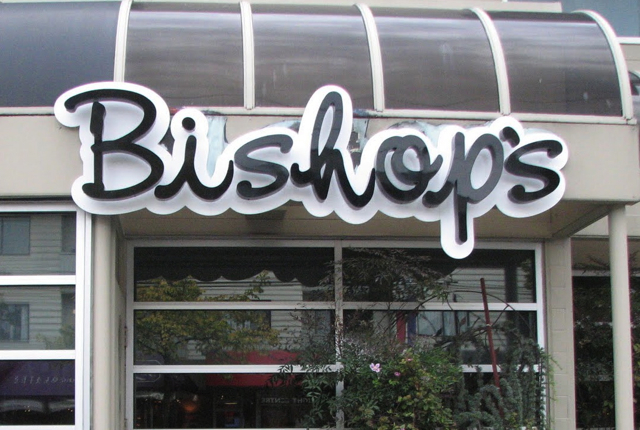 Once inside, we were warmly greeted by the Maitre'D (I'm always especially grateful when a fine dining restaurant welcomes my 5 year old as much as me), and as we were among the very first diners of the evening, they were happy to put two tables together so that we could both sit on the comfortable booth side. This is very handy, since I like to read stories to the munchkin while we wait for our food to arrive.
There's also an upstairs section, but at least when dining early, I enjoyed being in the downstairs area with the window providing great natural light.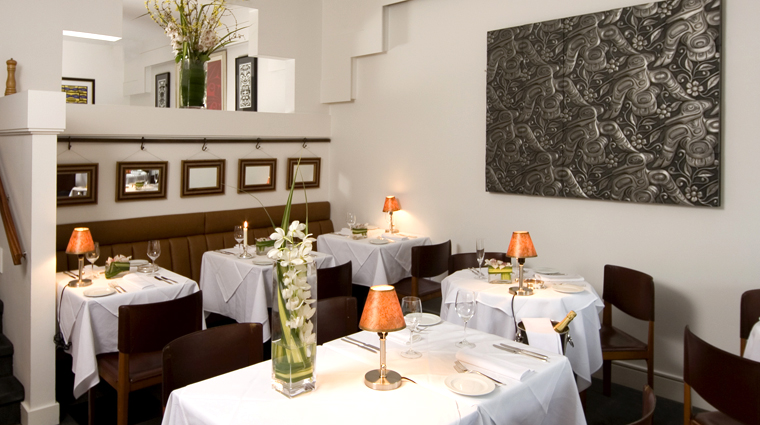 We were asked our water preference and given menus. The appetizers looked fantastic, and if I'd been with my husband, we would have likely ordered the Grilled BC Octopus with chorizo, garden arugala and confit purple potato, and also perhaps the Hazelmere Farms Sunchoke Soup accented with truffle and poached quails egg.
Since I doubted the munchkin would go for either of these, however, we instead focused on the Entrees on Bishop's menu, which for our visit were the following: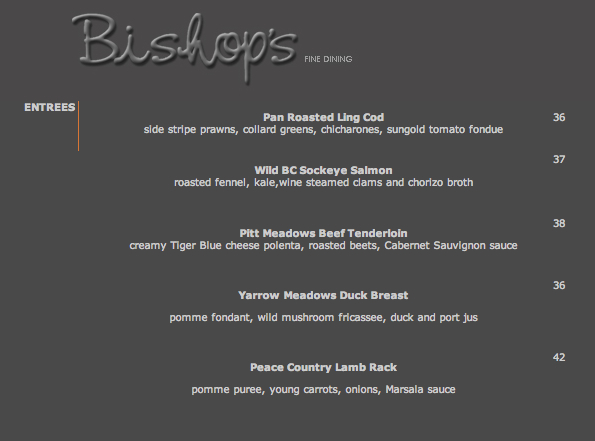 We made our choices, and after we'd gone to the washroom to wash our hands, came back and started to read some stories. Before long, our server placed two types of homemade bread in front of us. Both had a very light texture and crumb, with one a mixture of various grains and the other studded with some apricots and nuts. I love places that offer great housemade bread, so this definitely started us off well. The bread was so delicious, it was all I could do to keep the munchkin from eating all 8 slices placed in front of us.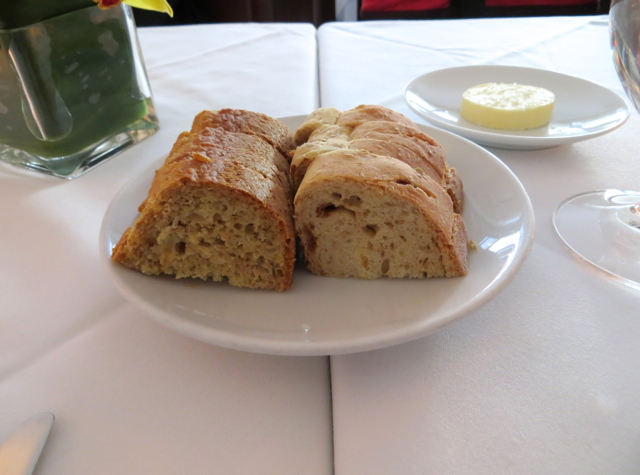 Our server also brought us an amuse bouche, which unfortunately I no longer have a photo of (thanks to some memory card snafus) but it was a silky celery root puree adorned with some very flavorful duck confit. Again, so good I almost wished I could have ordered this as an entree.
For entrees, the munchkin ordered Wild BC Sockeye Salmon with roasted fennel, steamed clams and chorizo broth. He made sure to get my assurance that he didn't need to eat the roasted fennel or steamed clams, so I ate those. While I much prefer Alaskan King Salmon, when in season, to Sockeye Salmon, the fish was cooked perfectly and the munchkin ate all of it. I'm not wholly convinced fennel really goes all that well with salmon, but the clams were pristinely fresh and flavorful, as was the chorizo broth.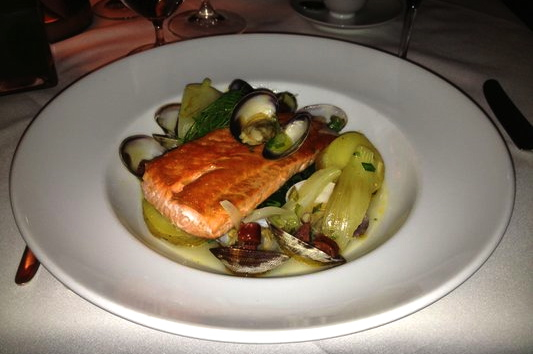 For my main, I'd ordered the Yarrow Meadows Duck Breast with pomme fondant, wild mushroom fricassee and duck and port jus. I cook duck myself at home, so I was a bit disappointed that the skin wasn't crispier. Other than that, it was a solid dish, but not one I'd go out of my way to order again. I did really enjoy the wild mushrooms, and the earthiness of these paired well with the rich duck. I've heard good things about the lamb rack, though wasn't in the mood for red meat that night.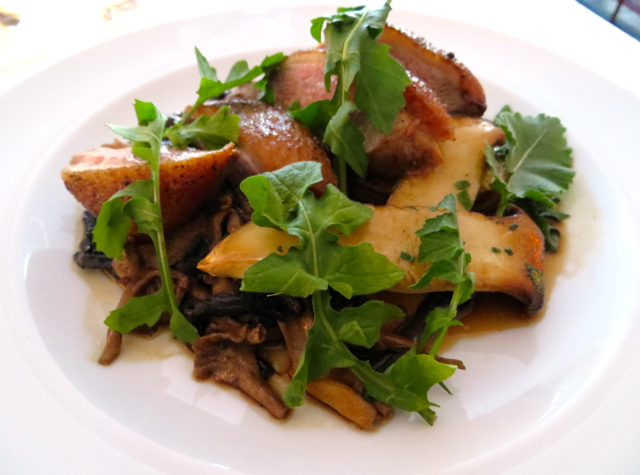 Both entrees were a good size, so although we finished them, we didn't have much room left, as tempting as some of the dessert menu selections looked. If we'd been hungrier, we'd have likely tried the sour cherry cheesecake, or perhaps the chocolate ganache bar with crispy pecan crust and espresso ice cream.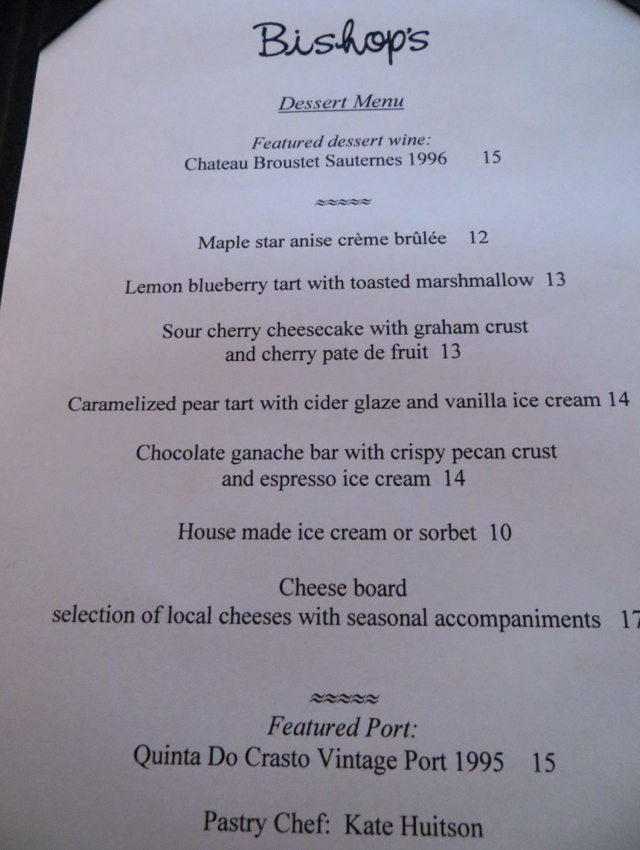 Instead, we decided to split a dish of housemade ice creams, and chose vanilla, cacao nib, and cheesecake for the three flavors. My favorite was the cacao nib, thanks to the chocolate nuttiness that contrasted nicely with the smooth vanilla base, although the cheesecake was also a delicious flavor. While the vanilla had some vanilla bean specks, it wasn't quite pronounced enough for my taste. The presentation, however, was beautiful: the 3 scoops accompanied by a sable cookie, on a plate with a brushstroke of raspberry coulis and a scatter of edible flower petals.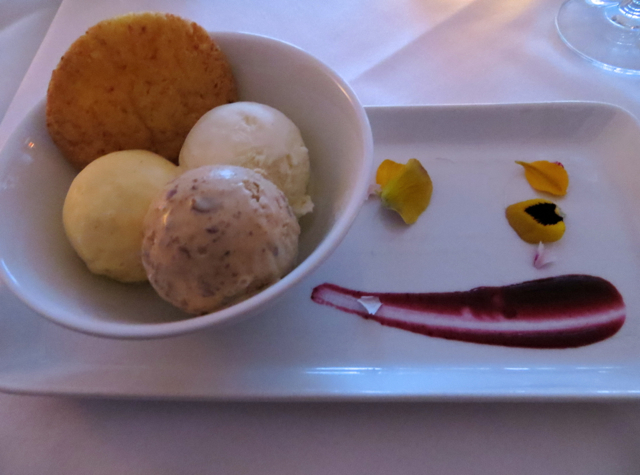 The Verdict: I'd give the food a 4/5, even though I wasn't overly impressed with my entree, because the ingredients were of such high quality and for the fantastic homemade bread, amuse bouche, and unique housemade ice cream flavors. Service for our visit was a strong 5/5, and couldn't have been more friendly, helpful or professional. I'd highly recommend it for a special or romantic occasion. We were also able to use our $20 OpenTable dining cheque here, which was nice–I'd never tried using it at any OpenTable restaurants outside the U.S.
If you've dined at Bishop's Restaurant in Vancouver, what was your experience?