Why Go?
One word: lush. Located in the Southwest region of Bali, Ubud is nothing short of a marvelous jungle filled with more lush green vegetation than I've ever seen in my life. Whether you're seeking outdoor adventures such as elephant riding, hiking, mountain biking, river rafting, bird and monkey watching; or you're lured by the tranquil infinity pools and endless spa services available for unbelievable prices; or you simply want to eat your way through Bali's eclectic cuisine, then Ubud is definitely the place for you.
One of the loveliest aspects of Ubud, which is also home to many artisans and traditional music and dance performances, is that the people are beyond welcoming. If there is anything you need, pretty much anyone on the street or in a shop, art gallery or a restaurant will try and help you find what you're looking for, even if that means figuring out how to get you there! So don't be shy or worrisome about talking to the locals, because their kindness and generosity will amaze you.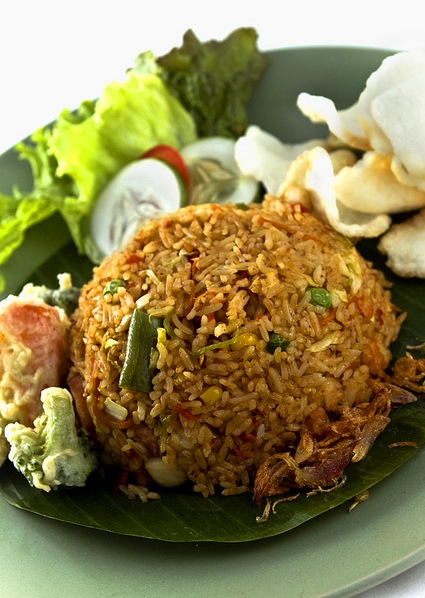 Insider Tips
• The best time to go to Bali is April-July, during the dry season and when it isn't quite as hot as it is in August-September. The monsoon season is November-March, with the rainiest months usually December and January when it can rain for 2-3 hours in the afternoon. Also keep in mind that it is sunnier in the South (Kuta, Seminyak) and drier in the North and East.

• You will need to obtain a visa upon arrival in Indonesia. It costs about 10 USD and the airport immigration officials will issue you one on the spot as you go through customs and security (I waited in line a mere 20 minutes to receive it). As of January 2008 they only accept cash, however there are ATMs and foreign currency exchange counters readily available the moment you step off the plane. Note: you will also have to pay an exit fee in order to leave the country (a little strange, I know), which costs about 10 USD and is also cash only.
• From the airport to your hotel: As the Denpasar airport (one of Bali's main airports and closest to Ubud) is rather small, it's impossible to miss the long line of taxis waiting right out front. However before they may drive you anywhere you must go to the taxi desk inside the airport to purchase your ride. Give them your hotel address and they will calculate the mileage and cost beforehand, that way you know the price of your ride before you get in the cab (this also helps tourists avoid taxicab scams). Some hotels do offer free airport shuttle service, so check with your hotel concierge before your flight departure.
• Be prepared for some crazy taxi drivers. There are no definitive rules of the road in Bali, other than get out of the way when a car is coming from the opposite direction. Many of the roads are not paved, and as motorbike accidents are one of the highest causes of death I highly recommend not renting one during your stay unless you are a highly skilled driver and are absolutely wearing a helmet. Fortunately most of the hotels offer free shuttle service to all guests, so transportation should not be a problem throughout your stay.
• Be prepared for bugs (and plenty of em!), lizards, iguanas, stray dogs, the occasional hog and clucking roosters–everywhere. And although I happen to be one of those unfortunate people whose blood is extremely attractive to mosquitos, with the use of some bug spray I somehow managed to not receive a single bite.
• Bring such items as insect repellant, Band-Aids, antibacterial hand gel, contact solution, face wash, deodorant etc. (and ladies, if you think you will need any: tampons. Women in Ubud do not use them and you will not be able to find them).
• If you're looking for a great way to see what natural beauty Ubud has to offer, I would highly recommend taking a mountain bike tour through the hills and rice paddies. There is practically no better way of capturing the unbelievably lush green beauty of Ubud. However if biking is too physically strenuous there are plenty of walking and hiking tours available. Simply ask your hotel concierge/reception about the touring companies available and they will gladly set you up with one.
• The main food item in Ubud that you absolutely MUST try is the Nasi Goreng. I was not the biggest fan of soups or rice dishes before arriving in Bali, but man did I come to love their Nasi Goreng! To me it is the perfectly balanced meal. You get rice (usually white, sometimes brown), with either a hard boiled or fried egg, cucumbers, tomatoes and grilled prawns, chicken or satay. I tried the traditional Nasi Goreng as well as a soup version, which for me was actually more preferable because the meat and vegetables retained more moisture. You can expect to find Nasi Goreng on the menu in most all Balinese style restaurants in Ubud, so don't miss out!
Where to stay
The Ubud Village Resort (not to be confused with the Ubud Village Hotel) is just a 10 minute walk from Ubud but feels just as secluded from civilization as the other resorts located higher in the hills. Stay in one of the private villas, which come with a king sized bed, private outdoor tub, marble bath, cable TV and DVD player, private pool and veranda with lounge chairs and dining table, all surrounded by a koi fish bond and lush gardens. From the jade infinity pool to the copious complimentary breakfast and afternoon tea service to relaxing full body massages for under $40 for a full hour, what's not to like?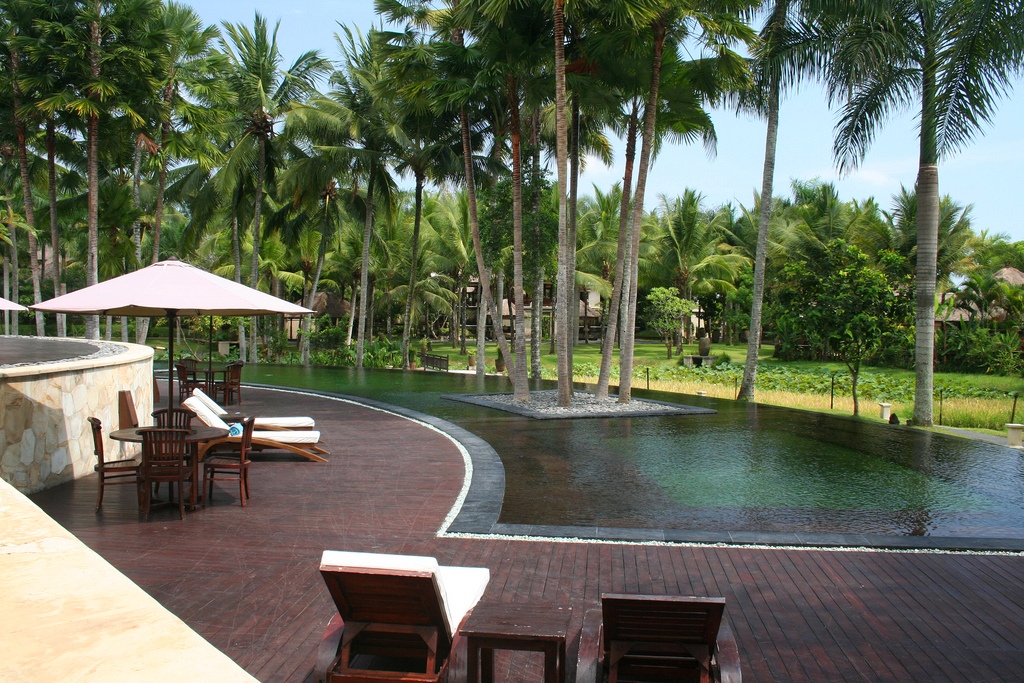 Where to eat
While it may seem odd to recommend a hotel restaurant, Angkul-Angkul at the Ubud Village Resort has an enviable location and ambiance: dinner on an open terrace while you gaze out at nothing but the stars and rice paddies. I've yet to experience anything remotely comparable. And the food certainly catered for a hungry stomach. You get excellent sized portions here; not too big, but definitely enough to satisfy your hunger after a long day of Balinese adventures. The menu consists mostly of traditional Balinese cuisine and ingredients, with menu items available for the less adventurous palette (such as simple grilled chicken and rice). The service is a little slow, but to be honest that simply goes along with the lifestyle in Bali, because nobody is really in a hurry to go anywhere. So if fast-paced service is what you're looking for, you might want to go elsewhere.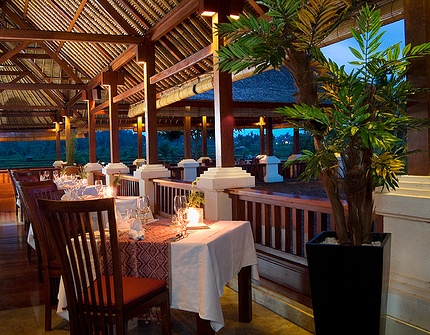 What to do

Our first day in Ubud we opted for a three hour long mountain bike tour with Jegeg Bali Cycling. Our Balinese tour guide was friendly, knowledgeable of the terrain, and brought along plenty of water and fruit to replenish our carbohydrate burning bodies. He was very patient and let us choose when we needed to stop for either a water break, photo-op or bathroom break.
The most fantastic part of our voyage was that we got to see the real Bali; not just the beautiful western resorts we were staying in. The intensely green rice patties scattered with farmers whose faces were covered by straw hats, palm trees and tall grass shooting out from every which direction; the culture (we indeed saw a few 'cockfights' held by villagers); the children running around playing while their parents farmed or tended to the house–we saw it all. We toured historic temples, met with plenty of locals who smiled and waved as we rode by, and even shared some of our fruit packs with a rice farmer taking a break on the side of the bike path. The cost was about $45-$50, and although you will most likely be incredibly sore after your tour, I can assure you you will not be one bit disappointed. This is definitely a "don't miss!"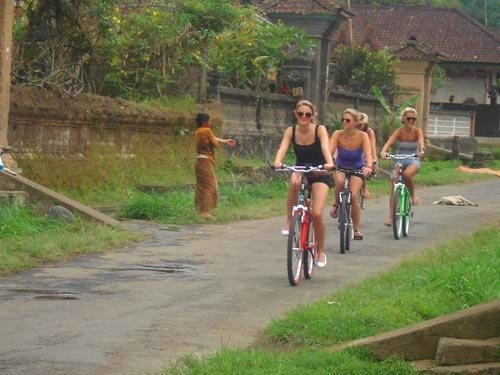 Rafting down the Ayung River was by far my favorite activity in Ubud and will be eternally engraved in my memory. I LOVE white water rafting, and our trip down the Ayung River was nothing but a blast. For anyone concerned about the danger of the Ayung River rapids: don't be. The majority of the river was calm except for one six foot rapid which was quite startling, but nonetheless awesome! The Ayung River is incredible. The water was definitely not warm, but felt wonderful against my hot skin. My sister and I were fully clothed but couldn't resist jumping in. What's even better: the water is immaculately clean!
As we slowly floated down the river between the enormous ravine covered in bright green vegetation, I felt as if I was in a movie. The waterfalls, the birds flying overhead, the little green monkeys that seemed to blend right in with the trees; it seemed surreal. We decided to forego our digital cameras and brought along a disposable instead. Our guide let us keep it inside a water proof bag he had on the raft, but unfortunately our pictures didn't turn out too well because of the water marks. I guess we had too much fun!
At the end of our trip, much to our surprise since we were not told in advance, we received a lunch (nasi goreng soup, chicken and beef skewers with white rice and lemonade) as part of the price we paid for the rafting trip. The cost of our trip was around $40 per person and lasted about half the day. As it's a popular tourist activity you will find many brochures in either your hotel or around town that advertise Ayung River rafting trips at different prices and times, so be sure not to miss it!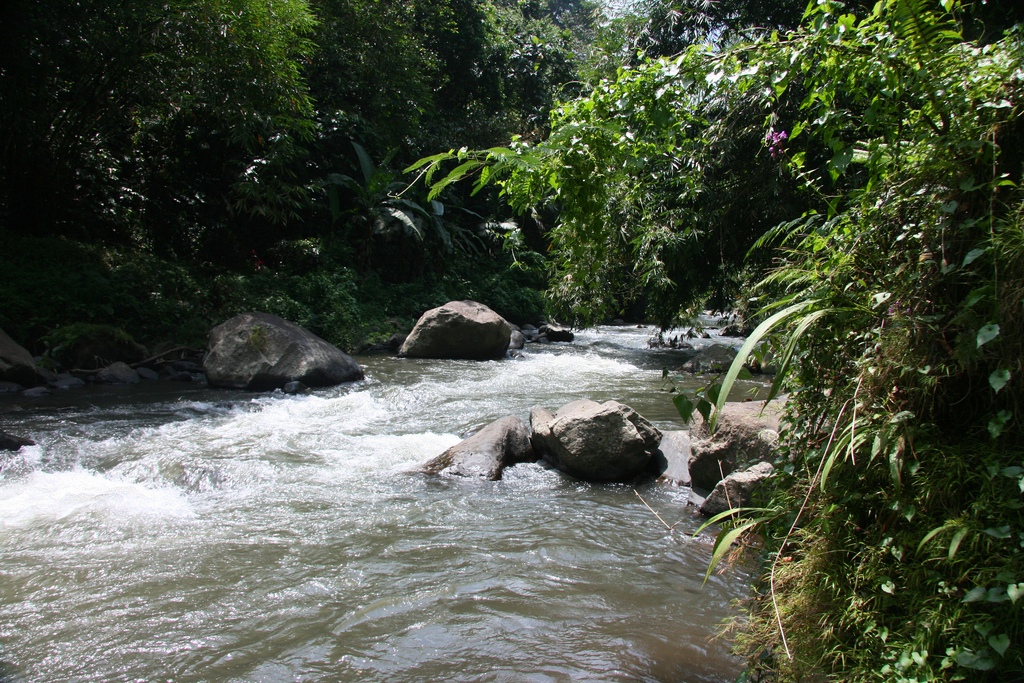 The ride to the Elephant Safari Park takes about forty-five minutes from Ubud, but once you get a whiff of the manure and hear the sounds of elephants snorting out water you'll know you've arrived. The elephant park in Bali is definitely a major tourist attraction. From where the van drops of you off (note: most all guided tours in Bali include shuttle service) you'll walk on a rope guided path to the ticketing office where you can purchase a "safari tour" of the park on foot or on the back of an elephant.
I was pretty excited for the elephant ride but was unaware how bumpy the ride itself would be. As elephants are already such heavy animals, carrying you and your elephant guide is not something they can do gracefully; so don't be surprised if you're a little uncomfortable. As the elephants all have names, I had the pleasure of riding Nophie (she was a girl). It was a pretty short safari ride (about 15 minutes) through the surrounding forests, and then we were brought back to the park where we watched the elephants get bathed and fed. There are plenty of photographers around taking your picture so that you can get them imprinted on tee-shirts as souvenirs. My sister and I were sure not to leave the park without ours (I believe they were around $20 each). It was a short excursion, but a fun one!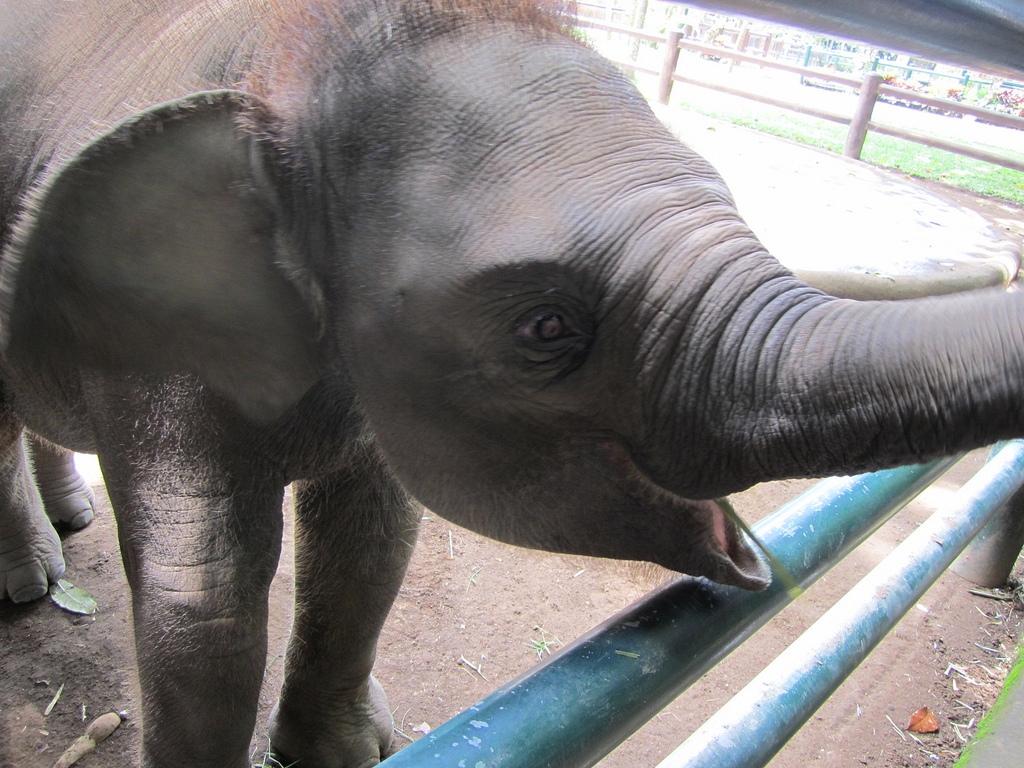 For anyone traveling with small children the Monkey Forest would be a wonderful activity! I felt like a kid myself as I oo-ed and ahh-ed my way through the park, gazing at the incredible plant life and trickling waterfalls. Although it is labeled a forest, I would refer to it as more of a jungle because the vast array of trees, plants and wild life that surrounds you is overwhelming–but in a good way. The scenery here could be straight out of an Indiana Jones movie, especially when we came upon the historic Hindu temples (that's another thing, although Indonesia is one of the largest Muslim countries in the world, on the island of Bali the inhabitants are predominantly Hindu). I suppose what was so striking throughout my tour of the Monkey Forest was the realization of how untouched this part of the world still remains. It's almost as if it's frozen in time, still completely preserved in its original condition. Thus I would highly recommend paying a visit, especially if you're keen on eco-tours.