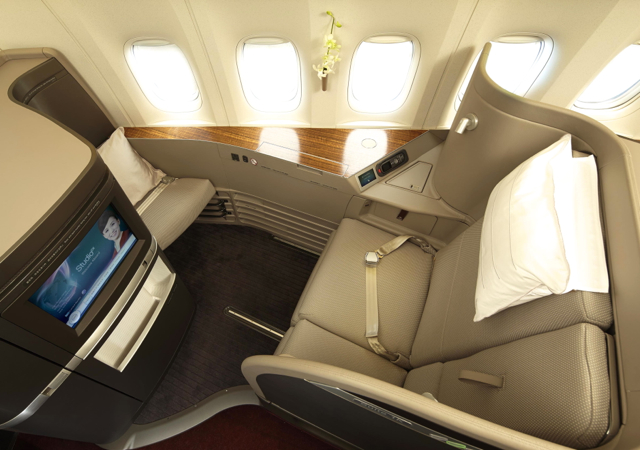 What are the Best Seats in Cathay Pacific First Class? I've just selected Cathay First Class seats for some clients and also for one of my own trips, and given that quite a few readers may also have booked Cathay Pacific First Class prior to the March 22 AAdvantage Award Chart Devaluation it seems a good time for this post.
Cathay Pacific First Class on the 777
Cathay Pacific's First Class cabin isn't the newest, but it's one of the most private and quiet first class cabins, given that there are just 6 first class seats in 2 rows, in a 1-1-1 configuration. This is unusual, since most 777-300ER First Class products have a 1-2-1 configuration, such as JAL 777-300ER First Class, Singapore 777-300ER First Class and Etihad 777-300ER First Class, all of which have 8 seats, 4 per row in 2 rows.
Thanks to having just 6 first class seats, Cathay Pacific First Class does feel more exclusive than most other first class cabins, with the possible exception of Singapore Suites and Etihad First Apartment. The seats are extra wide, at 36 inches, so it's very easy to sit side by side to read a book together if traveling with a child, or if both of you are slender.
Which Cathay Pacific First Class Seats Are Best for a Couple?
Because of the 1-1-1 configuration, there are no couple's seats in the middle as is typical for most 777-300ER first class products. Instead, most couples prefer window seats one behind the other, and my top recommendation is 1A and 2A, because those are the only first class seats that are accessed from that aisle, which tends to make them more private. 1D, 2D, 1K and 2K are all accessed from the right hand side aisle.
There's one problem though: both 2A and 2K are bassinet seats, so if you select one of them, Cathay will warn you that your seat could be moved at any time, with no notice, in favor of a passenger who needs this seat. See Cathay Pacific New Seat Assignment Rules While it may not happen often, it is a risk. For that reason, if you want to be sure of your seat assignments, I would suggest picking the two window seats, 1A and 1K, if you both want windows. Or if one of you doesn't care about a window, then pick 1D and 1K, although note you'll both need to lean forward to be able to see each other at all, since the open suites are still quite private.
Which Cathay Pacific First Class Seat Is Best for a Solo Traveler?
For a solo traveler who wants to be sure his/her seat assignment won't change, I'd recommend 1A, on the left hand side, as it's a bit more private. If you're willing to roll the dice and risk your seat being moved should another passenger need the seat, then pick 2A, which is even more private. That's assuming you want a window. If you don't care about having a window or not, then by all means pick 2D, since it's also less exposed to light and noise from the galley, and you won't run the risk of being moved.
Selecting Cathay Pacific First Class Seats
In order to select your Cathay Pacific First Class seats, here's what you need to do:
1. Make Sure You're Ticketed
If you've used AAdvantage miles to book Cathay Pacific First Class, ticketing isn't instant; instead, your award shows as "On Request" after you book, and goes into a queue for ticketing. Only once you're ticketed will you be able to select a seat, so ensure that after 2-3 days your ticket has issued. If it hasn't, call up AAdvantage and ask nicely to have the ticket issued.
2. Get the Cathay Pacific Record Locator
Even when you're at the stage of holding an award, you can request the Cathay Pacific record locator, so you may as well ask for it. Just remember that if you later split the record, for example because you have two seats but you need to use miles from two AAdvantage accounts, you'll have two different AA record locators and likewise two different Cathay Pacific record locators.
3. Call Cathay Pacific
While you can use Cathay Pacific's "Manage My Booking" function on the Web site to view your reservation, after inputting your first name, last name and Cathay Pacific record locator, there's little point to doing this if your goal is to select a first class seat. That's because the only seat that will show as available for selection is 2D, which is the second worst seat, after 1D. Instead, call Cathay Pacific at 800-233-2742 between 6am-7:30pm PST Monday – Friday or 6am-4pm PST Saturday to select a seat.
What do you consider the best seat in Cathay Pacific First Class?
Related Posts
Best First Class Seats for Couples
Cathay Pacific First Class Awards: Earn Asia Miles or AAdvantage Miles?
Cathay Pacific New First Class Seat
Cathay Pacific First Class Review
Need Award Booking Help? Our fee is as low as $75 per ticket if you book your hotel through us.
If you enjoyed this, join 200,000+ readers: please follow TravelSort on Twitter or like us on Facebook to be alerted to new posts.
Become a TravelSort Client and Book Your Hotel with Virtuoso or Four Seasons Preferred Partner Amenities!