As I wrote about in late 2010, we're seeing a changing landscape in the airline industry whereby airlines are eliminating first class and instead adding a premium economy product. With the recession and continuously improving business class products, how could any executive justify first class nowadays, given that many airlines have flat bed business class products? We're seeing this trend right now with Cathay Pacific and Qantas, whereby just about all of their new aircraft are three cabin planes with coach, premium economy, and business class.
With that in mind, I figured it would make sense to compare the top premium economy products as far as comfort goes. Unfortunately I don't get to fly premium economy all that much, since most US airlines don't have an award chart for premium economy on their partner airlines, while it's often possible to redeem miles for premium economy if booking through the airline operating the flight directly.
It's also worth noting that several US airlines have an "economy plus" product, though that's a bit different than premium economy. Premium economy is typically found on longhaul flights and similar to domestic first class, often with added services, like premium check-in and/or an enhanced food selection. The "economy plus" products found on US airlines, on the other hand, typically only feature a bit of extra legroom. Presently United offers Economy Plus on all of their aircraft, while Delta offers "Economy Comfort" on much of their longhaul fleet, and will soon be expanding it to their domestic fleet. American has also announced that they'll be installing a section with extra legroom on their new 777-300ER aircraft, which they'll be taking delivery of later this year.
While premium economy fares vary greatly based on the route and airline, I'd say as a general rule they're about twice as much as coach fares and half as much as business class fares.
One last thing worth noting is that many airlines with a premium economy product will only let you upgrade a single cabin with miles, meaning if you pay for economy you can only upgrade to premium economy, so you need to pay for premium economy in order to upgrade to business class. Keep that in mind if you're trying to upgrade, because with US airlines we're often used to being able to upgrade to business class on standard coach tickets.
Qantas Premium Economy
Qantas is focusing heavily on the premium economy market as they cut first class out of much of their fleet in lieu of a larger premium economy cabin, where they seem to be see more potential. They have the standard reclining seat, though offer premium economy passengers better food and priority check-in.
Qantas Frequent Flyers can redeem their points for premium economy at a 50% premium over economy.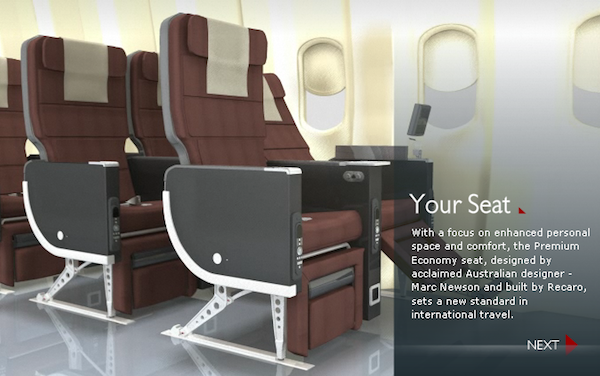 Cathay Pacific Premium Economy
Despite the fact that Cathay Pacific just recently started introducing a premium economy product, it's in no way a cutting edge design, but rather just a traditional reclining premium economy product. Since the product is so new, a lot remains to be seen, including how much they'll be charging for the product in miles.
Air New Zealand Premium Economy
Air New Zealand has a pretty unique premium economy product, especially on their 777-300ER aircraft. It's in a 2-2-2 configuration, with seats angled towards the side of the aircraft. Unlike premium economy on other airlines, which is more like domestic first class, Air New Zealand's premium economy comes in the form of a shell seat with a lot more privacy than most of the competition offers.
As a result of the seat design, some complain that it feels a bit confined, given how much privacy there is with somewhat limited space. Also, as a result of the seat design, legroom is somewhat constrained, since you can only slide your feet so far underneath the seat in front of you.
Air New Zealand lets you redeem Airpoints for premium economy awards, typically at about a 50% premium over economy.

British Airways World Traveler Plus

British Airways has among the more "traditional" premium economy products with their World Traveler Plus cabin, which features roughly 38" of pitch and 18.5" of width. On the 777 and 747, World Traveler Plus is in a 2-4-2 configuration (as opposed to 3-3-3 in coach on the 777 and 3-4-3 in coach on the 747), while on the 767 it's in a 2-2-2 configuration (as opposed to 2-3-2 in coach).
The seat gets pretty good reviews for comfort and sleeping given that the recline is fairly decent. The issue is that when the person in front of you reclines space is very limited, as the seat is really designed to maximize sleep. This is one benefit of Air New Zealand's new premium economy seat, where you can't in any way encroach on the space of the person behind you, given that it's a shell seat.
You can redeem British Airways Avios points for World Traveler Plus at a premium of 50% over World Traveler.
Virgin Atlantic Premium Economy
Virgin Atlantic more or less pioneered premium economy, and their product hasn't changed all that much over the years. The seat itself is very similar to British Airways', in a 2-4-2 configuration in a 2-3-2 configuration on the A340 and 2-4-2 configuration on the 747, though the seat does have a couple of extra inches of width. Much like with British Airways, personal space can be very limited when the person in front of you reclines, so being in premium economy is probably more useful on a flight where you want to sleep, as opposed to a daytime flight.
You can redeem Virgin Atlantic Flying Club miles for Premium Economy at a premium of roughly 50% over economy.
Air France Premium Voyageur Class (Airbus 380)
While Air France's Premium Voyageur Class is a pretty standard premium economy product in the rest of their fleet, on the Airbus 380 they have up to 49" of pitch, which is industry-leading for a premium economy product. It's worth noting that Air France has two versions of the Airbus 380, and only one version features a Premium Voyageur Class, so be sure to look out for that when making a reservation.
This seat really is the best of both worlds, given that it not only has excellent recline, but is also a shell seat, meaning you won't be uncomfortable if the person in front of you reclines.
Air France Flying Blue miles can be redeemed for Premium Voyageur Class, for an approximately 50% premium over economy.
I suspect that over the coming years we'll see premium economy become more relevant for those of us in the US, not just because the product is constantly getting more popular, but also because I suspect it will eventually be introduced as a mileage redemption option for US frequent flyer programs.
In a few years I suspect we'll see a lot more airlines with premium economy cabins than first class cabins, so it will be a serious consideration when booking a flight.
Have you flown premium economy yet? If so, on which airline and how was your experience?
Airline
Seat pitch
Seat width
Food
Check-in
Qantas
38"
19.5"
Quality between economy and business
Premium Economy Check-in
Cathay Pacific
38"
18.5"
Quality between economy and business
Premium Economy Check-in
Air New Zealand 777-200ER (772)
39"
17.8"
Quality between economy and business
Premium Economy Check-in
Air New Zealand

747-400 (744)

38-40"
18.5"
Quality between economy and business
Premium Economy Check-in
British Airways (747, 777)
38"
18.5"
Quality between economy and business
No World Traveller Plus Check-in; only World Traveller (Economy)
Virgin Atlantic (Airbus A340)
38"
21"
Quality between economy and business; not quite as good as Qantas
Premium Economy Check-in
Air France

Airbus A380-800 – Version 2

49.8"
26.6"
Same as Economy
Premium Economy Check-in
Related Posts
United Economy Plus Upgrade Tips
The Changing Airline Industry Landscape: Hello Premium Economy, Bye-Bye First Class
Virgin America Main Cabin Select Review
Need Award Booking Help? Our fee is as low as $75 per ticket if you book your hotel through us.
If you enjoyed this, join 200,000+ readers: please follow TravelSort on Twitter or  like us on Facebook to be alerted to new posts. 
Become a TravelSort Client and Book 5-Star Hotels with Virtuoso or Four Seasons Preferred Partner Amenities!