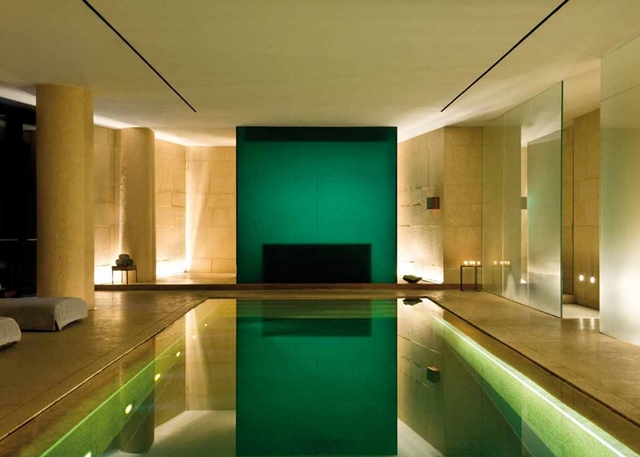 In honor of Milan Fashion Week, September 19-25, we've put together our top Milan luxury hotel picks. Now, unless you're a die-hard fashionista or buyer, we'd actually suggest not visiting Milan during Fashion Week, as prices simply skyrocket. Nor is August much fun, as most Italians (and Europeans, for that matter) are on holiday. Instead, try to time your visit for non fashion week dates in the Spring or Fall. Some may wonder–why Milan? Does it have much to offer other than being Italy's business and fashion capital? Emphatically yes. As chic and stylish as much of the population currently is, Milan is also worth a trip because it is preserving its more traditional side in the most tasteful way possible. From the gorgeous architecture of the Duomo to a view of Leonardo da Vinci's Last Supper, Milan will prove that you don't have to head to Tuscany to have a rich cultural experience that shows off the best of the old Italian masters. And make sure to take an afternoon siesta so you energy for the nightlife. Just don't forget to dress up when you're going out at night if you want to get in–the Milanese pride themselves on being the best dressed in all of Italy.
It's easy to see why the Park Hyatt Milan is a favorite of both business travelers and those visiting Milan on vacation–it's next to the magnificent Galleria Vittorio Emanuele II, right in the city center, just a two minute walk from the Duomo, yet upholds the Park Hyatt ethos of modern, understated elegance. Rooms are very spacious for Milan, at 409 square feet for a Park King, though a bit smaller for a Park Queen, at 377 square feet. We love that WiFi is complimentary–a true rarity in 5-star hotels. The pillowtop bed is as plush and comfortable as you could wish for, and the Italian marble bathroom includes a soaking tub and oversized marble shower, as well as ritzy Laura Tonatto bath amenities. We especially appreciate the great soundproofing, as you'd never know that you're in the center of Milan given how blissfully quiet the rooms are. While TravelSort Hotels offers the best wholesale rates, you could also get two nights at the Park Hyatt Milan free using your signup bonus for the Hyatt Visa. Since regular rates for standard rooms can be almost $1000 during peak times (such as Fashion Week) it can be a great deal.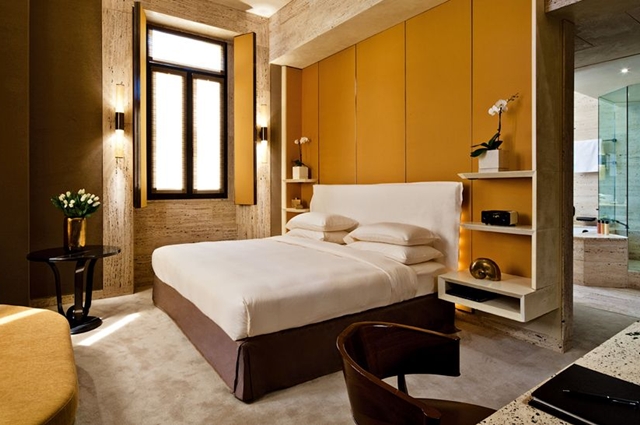 It was inevitable: top fashion houses such as Bulgari and Armani have opened their own chic hotels, and you can bet many a model and fashion executive will be staying at luxurious Bulgari Milano, never mind the equally luxurious rates. As with the Park Hyatt, the design is modern and minimalist, and service is top-notch. There's a more intimate feel, with just 58 guestrooms and suites, and Superior Rooms are the size of Park Queen Rooms at the Park Hyatt, at 377 square feet–spacious for Milan. Oh so comfortable beds, a large bathroom featuring a black granite soaking tub and separate travertine shower, and of course Bulgari bath amenities may have you spending a bit more time in your room than you planned. We also love the in-room Nespresso machine, perfect for making yourself an espresso in the morning, or even before hitting the clubs at night. WiFi alas isn't free, but is almost forgiven thanks to the great people watching on the outside terrace, set in the hotel's lush garden. It's a favorite of Milan's rich and beautiful people, with its casual chic vibe.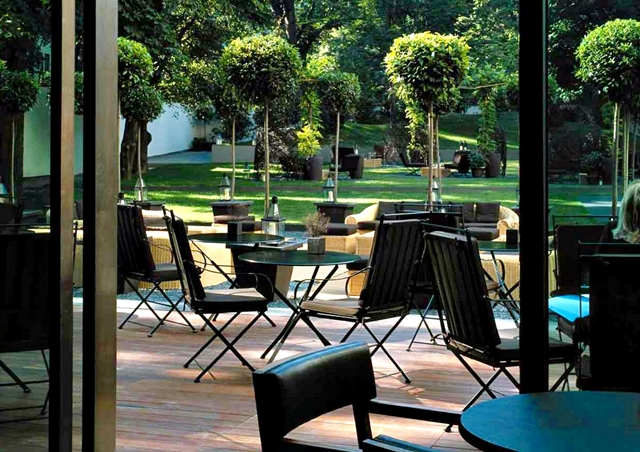 Prefer classical Italian architecture, beautiful antiques, and a greater sense of place? Make the Grand Hotel et de Milan your home away from home–you'll be in the illustrious company of Hemingway, Maria Callas, Rudolf Nureyev, and Giuseppe Verdi, who composed some of his operas during his several year stay there. Opened in 1863, the Grand Hotel et de Milan is just a few more minutes' walk from the Duomo than the Park Hyatt, but still wonderfully central, and the adjacent Metro station makes getting around Milan a breeze. Each room and suite is uniquely adorned with antiques and original artwork in nineteenth century, art nouveau or art deco style. We love the high ceilings, which lend greater spaciousness to rooms that would otherwise seem small by U.S. standards–about 200 square feet for Classic Rooms, and about 275 square feet for Deluxe Rooms. Enjoy a bath in the lovely marble bathroom with Etro amenities. WiFi isn't free, unlike the Park Hyatt, but prices are usually quite a bit more reasonable at the Grand than at either the Park Hyatt or Bulgari Milano.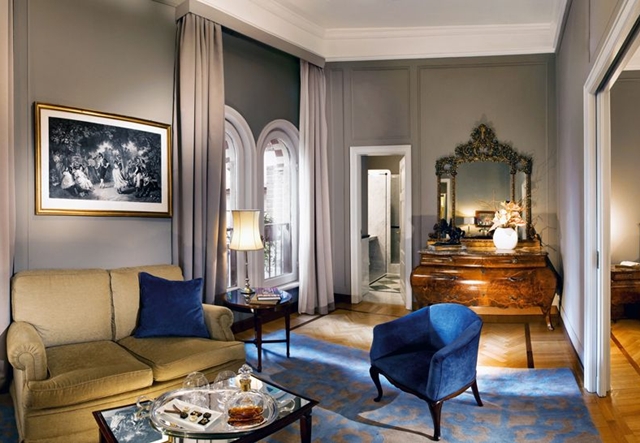 Getting to Milan with miles or points
If you're hoping to fly to Milan first class or business class from the U.S., you can save significantly by using frequent flyer miles. Here are a few of our favorite options, and links to credit cards that enable you to earn the miles:
First Class on Lufthansa (Last Minute): 135,000 United Miles roundtrip, or 67,500 miles one-way
Lufthansa's new First Class offers a fantastic experience. You'll need to book this last minute, as Lufthansa no longer releases first class award space in advance. See How to Deal with No More Lufthansa Advance First Class Availability.
While there Lufthansa does fly nonstop EWR-MXP I haven't seen any first or business class award space recently on that route. Instead, you can transfer in Munich or Dusseldorf, which does often have last minute first class availability on the transatlantic, then business class for the short intra-Europe flight to Milan.
You can earn the miles from either 2 credit card applications plus credit card spend, or from 3 credit card applications. Apply for the Ink Bold or Ink Plus plus either the United MileagePlus Explorer or the Sapphire Preferred, then either earn the additional United miles through spend or by, in about 3 months, applying for the third card (the United MileagePlus Explorer if you already applied for the Sapphire Preferred, or the Sapphire Preferred if you already applied for the MileagePlus Explorer).
A more direct, if less exciting, award would be United BusinessFirst on the EWR-MXP nonstop.
Business Class on Aer Lingus Boston to Dublin: 50,000 British Airways Avios points + cheap flight to Milan
Coach on Aer Lingus to Dublin: 25,000 British Airways Avios points + cheap flight to Milan
Even if you missed getting the British Airways Visa, American Express is currently offering a 40% transfer bonus for AMEX Membership Rewards points to British Airways Avios
Other nonstops from the U.S. include:
American Airlines (codeshare with British Airways and Iberia)
Alitalia (codeshare with Delta): no First Class, but Alitalia's new flat bed business class product is quite good, and service is reportedly better since the airline's new owners took over
Related posts
Milan: Cozy Restaurants, Vibrant Nightlife and Fashion as Entertainment
Finding Lakeside Bliss in Lugano
Airlines and Routes with First and Business Class Award Availability for Europe
Check out and apply for the Best Travel Credit Cards.
If you enjoyed this, please follow TravelSort on Twitter or like us on Facebook to be alerted to new posts.
Become a Member to find your perfect luxury or boutique hotel at up to 50% off: TravelSort Hotels