Athens is sometimes only viewed as a gateway to the admittedly gorgeous Greek islands, but don't shortchange the Greek capital, as busy and bustling as it is. Naturally you'll see the Acropolis and famous Parthenon, but don't forget that your 12 Euro ticket also includes access to the Ancient Agora, Theater of Dionysus, Temple of Olympian Zeus and the Roman Agora, all accessible along a 4 km (about 2.5 miles) pedestrian walkway. Try to visit these architectural wonders early or later in the day, to avoid the heat and crowds. The National Gardens offer a welcome green oasis with shade trees, flowers, duck ponds, and benches to relax on. The Plaka area is quite touristy, so I'd recommend the Anafiotika neighborhood instead for a colorful glimpse of Greek island architecture, nestled at the foot of the Acropolis. There's plenty of reasonably priced dining options in Athens proper, but we'd recommend at least once heading to Vassilenas in the nearby port city of Piraeus–try the tasting menu. And where to stay? Here are our top Athens hotel recommendations:
Hotel Grande Bretagne is arguably Athen's top address when it comes to luxury hotels, and the favorite choice of many visiting celebrities. Delight in gorgeous views of the Acropolis from the GB Rooftop Garden Restaurant, whether for a leisurely lunch or a romantic dinner under the stars, when the ruins are illuminated. Classic Rooms are a bit on the small side, at 290 square feet, but are elegantly appointed with Luxury Collection beds, marble bathrooms with separate glass enclosed shower and soaking tub, and some with private balconies. Upgrade to a 355 square feet Deluxe Room for more space, or one of the beautiful suites. Families are welcomed, with kids receiving their own welcome amenities, children's toiletries and safety bed rails if needed, as well as children's menus in the restaurants. Don't miss a chance to relax in the GB Spa's Thermal Suite and heated indoor swimming pool, complimentary to hotel guests.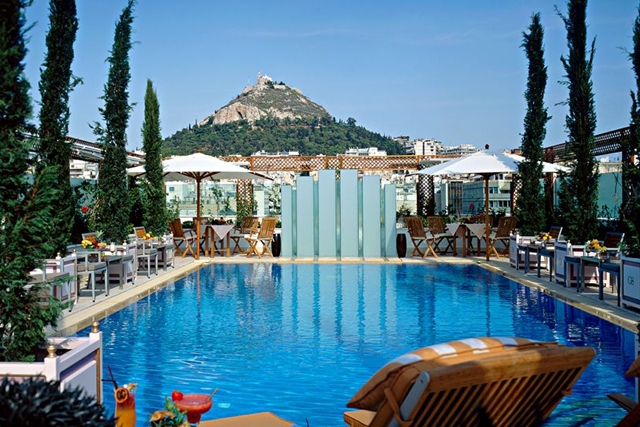 The King George Palace is right next door to the Hotel Grande Bretagne, enjoying a similarly convenient location on Syntagma Square and walking distance to the Acropolis and other major sights. King George Palace is a great boutique hotel choice if Hotel Grande Bretagne is too pricey. Standard Rooms are a bit too small for my taste, at 269 to 300 square feet, so I'd recommend a Deluxe Room, which ranges from 333 to 473 square feet and are on the front side of the hotel with views of Syntagma Square. WiFi is included in the rate, as is a sumptuous breakfast buffet with eggs cooked to order, fresh pastries, fruit and champagne. The Elixir Spa's indoor pool and jacuzzi is fine, although on the small side, compared to Hotel Grande Bretagne. If you're feeling flush, splurge on the two-bedroom Royal Penthouse Suite, with its French antiques, space to host a private cocktail party or dinner, and a stunning terrace with private swimming pool and jacuzzi with a view of the Acropolis.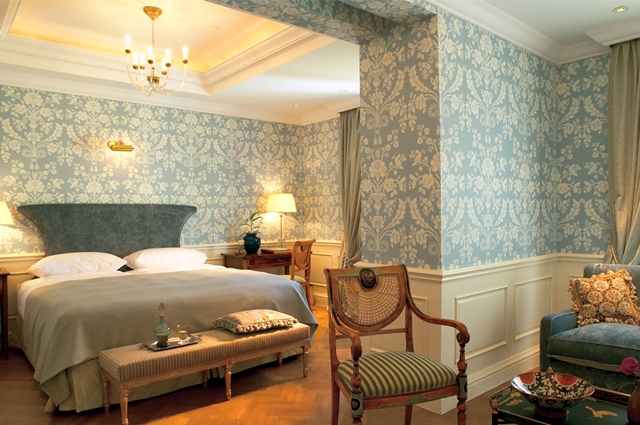 One of Athens' best values in the city center is the Electra Palace Hotel, close to the Hotel Grande Bretagne and King George Palace and the sights. It's located on a quiet side street, which, along with soundproof windows, helps ensure a great night's sleep. Standard rooms are compact, at about 300 square feet, but have everything you need, and some of them offer a view of the Acropolis. The hardwood floor and wood furnishings offer a cozier, boutique hotel feel. Junior Suites are actually almost the same size as Standard Rooms, but do come with a balcony and sitting area, while Suites guarantee you a view of the Acropolis and come with a jacuzzi tub in the bathroom. The highlight of the hotel is the Electra Roof Garden, with its beautiful view of the Acropolis that you can enjoy while dining at the restaurant on modern Greek cuisine. There's also free WiFi here, and even live harp music every Wednesday evening. The hotel has an indoor pool for year round swimming, and an outdoor pool open in warm weather. While we wish WiFi in the rooms was free, the rates do include buffet breakfast, which is very good, if not as lavish as that at the King George Palace. Do note that unfortunately beds here except for in the highest level suites are all singles, so two beds will be pushed together when you book a double room.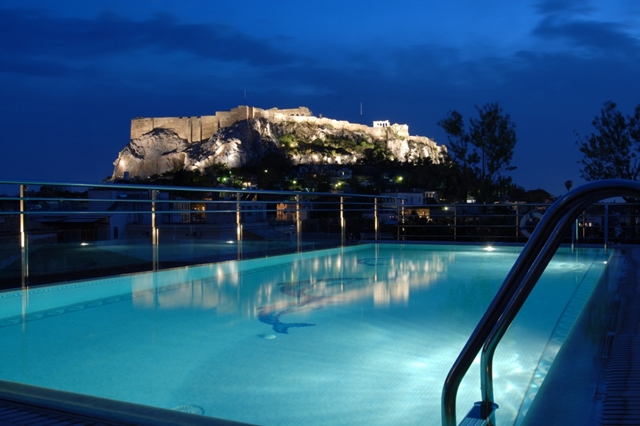 Getting to the Athens with miles or points
Unfortunately, now that Delta ended its last nonstop flights to Athens from the U.S. in late October 2012, there aren't nonstop flights to Athens from the U.S. Here are our picks for at least getting the transatlantic portion in first class or business class. All mileage amounts are one way, simply double them for roundtrip.
1. Lufthansa First Class or New Business Class via Frankfurt or Munich (Note: see United Award Chart Devaluation for details on increased miles needed for these awards)
If you can book Lufthansa First Class 15 days before departure, this is a good option. You could build in enough time to experience the First Class Terminal if you fly via Frankfurt, but even if you fly via Munich, the Lufthansa Munich First Class Lounge is excellent all the same. Check out our recent review of Lufthansa's New First Class.
You can earn the United miles you need with these credit cards with United MileagePlus cards or Chase cards linked to Ultimate Rewards
2. Singapore Suites Class NYC-FRA for 57,375 KrisFlyer miles, then Lufthansa or Aegean to Athens for 12.5K or 20K United miles
This is a pretty short flight and a night one at that to experience Singapore Suites, but the nice thing is that you can book it in advance; see Singapore Airlines Suites Award Tips and FAQ. From Frankfurt, you'll need to fly Lufthansa or Aegean if you want a nonstop, with 12.5K miles for economy and 20K miles for business class each way, plus about $52 in taxes.
3. First Class on British Airways NYC to London for 60,000 Avios, then Aegean to Athens for 12.5K or 20K United miles
There are high fuel surcharges on British Airways, so this option is mainly if you want to visit the UK anyway before or after Athens, or if you have a companion ticker voucher you'ver earned with the British Airways Visa and want to redeem. The British Airways Visa is again offering up to 100,000 Avios points, but see our analysis at British Airways 100K Avios Points Offer Back, But Worth It? You can get a nonstop flight on Aegean from London to Athens for the same number of United miles as from Frankfurt: 12.5K miles for economy and 20K miles for business class each way, plus about $60 in taxes.
If you want to reduce the fuel surcharges, you could use British Airways Avios to fly Iberia Business Class via Barcelona, then use United miles for an award flight on Aegean to Athens.
4. Business Class (Envoy) on US Airways for 30,000 Dividend Miles off-peak to Paris (roundtrip required), then Aegean to Athens
While I'm not really a fan of US Airways, their offpeak business class awards are a good deal, for just 60,000 miles roundtrip from the U.S. to Paris. Keep in mind that US Airways awards are strictly roundtrip, so you won't be able to fly US Airways just one way (or rather, you'd end up paying the roundtrip award price). You can then book an award flight on Aegean to Athens.