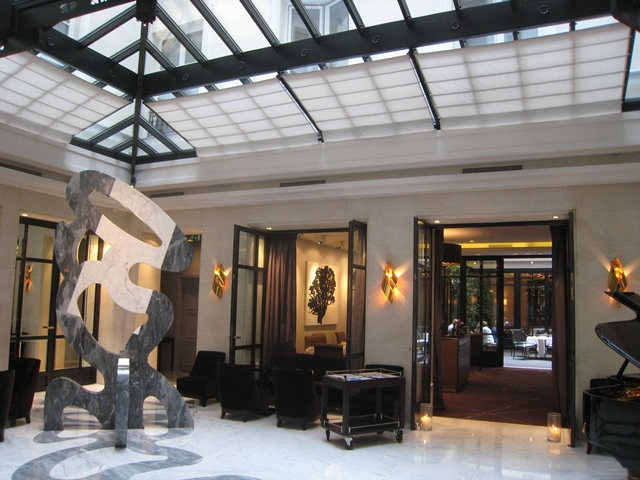 Paris is a city where you can spend days marathon museum going, or marathon shopping, or eating your way from one neighborhood to another, relaxing in the shade of a tree in an urban park lulled by the sounds of a fountain, listening to music in a centuries-old church, or simply wandering around to admire the architecture.  While travelers of all types–families, singles, friends, and couples–will be captivated by everything this city has to offer, Paris remains one of the world's most romantic destinations, so take the time to enjoy a couples trip here at least once in your life. And when it comes time to unwind after a busy day, nothing is more romantic than a quintessentially French room in one of our gorgeous Paris luxury boutique hotels, all at members-only prices:
With its perfect location at Avenue George V and the Champs-Elysees and wonderfully personalized service, it's no wonder that Hotel Fouquet's Barriere's 107 luxury guestrooms and suites are in high demand. Entry level Superior Rooms are spacious for Paris, at 376 square feet, and offer a spa-like bath with double vanities, separate shower and soaking tub, anti-steam television and Hermes bath amenities. If your muscles are aching after a day of sightseeing, relax at the U Spa, with a massage, or avail yourself of the sauna, hammam, and one of the largest indoor pools in Paris. Don't miss a romantic dinner at Michelin-starred Le Diane, helmed by Chef Jean-Yves Leuranguer, where tasting menus feature dishes such as Quail salad with foie gras and almonds, Saddle of Quercy lamb baked in an olive and basil crust, and Breton lobster with lemongrass sauce.
One of only a handful of Paris hotels to hold the "palace" designation, Le Bristol has hosted celebrities and other well-heeled guests since 1925; it was one of the only hotels not requisitioned during the German occupation. Recently renovated Superior Rooms are among the largest in Paris at 430 square feet, and are more classically elegant, with Louis XV and Louis XVI style furniture, compared to the modern style of Hotel Fouquet's Barriere. Superior Rooms are peaceful, opening onto the hotel's flower-filled courtyard. Three Michelin star restaurant Le Bristol also takes full advantage of the serene and lovely courtyard and natural light, the perfect setting for a sumptuous repast of langoustines and caviar, blue lobster smoked and roasted in its shell, and Bresse chicken in vin jaune sauce with morels. Working off gourmet indulgences isn't an issue with the nautically-themed pool and fitness center, and spa-goers will be pampered with exclusive La Prairie treatments and even a banya-style Russian Room with private steam room, Russian aromatherapy massage and body treatments, and Vichy shower.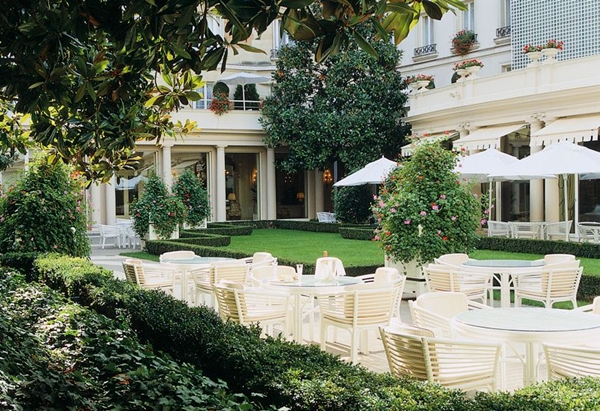 If Hotel Fouquet's Barriere and Le Bristol are a bit out of reach, Le Burgundy is a slightly more reasonable splurge, and even more intimate in feel, with just 59 guestrooms and suites each unique in color scheme, but all with modern, chic design. It's just 5 minutes to the metro, and an easy walk to the Jardin des Tuileries, Place Concorde, and other attractions. WiFi is complimentary, welcome favor includes chocolates and rose marshmellows, and the privacy button ensures you'll never have your nap or bath interrupted by housekeeping. Unusual in Paris, especially for a boutique hotel of this size, Le Burgundy has a fine spa and a lovely indoor pool. Its restaurant is pricey, but does have 1 Michelin star. Read more: Paris Luxury Boutique Hotel Review: Le Burgundy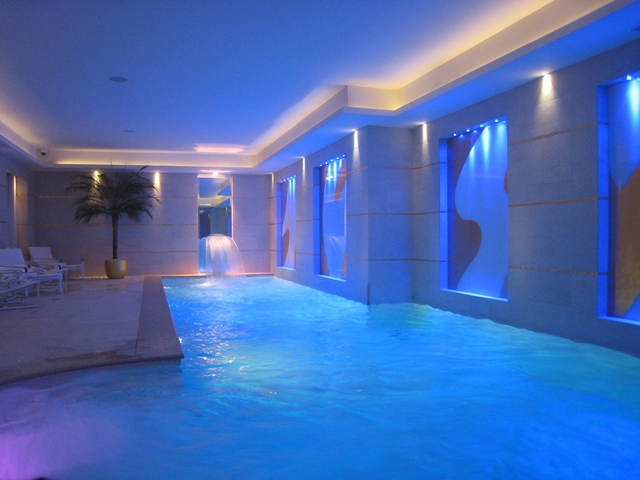 Hotel Lancaster is in a prime position, just barely off the Champs-Elysees on Rue de Berri, yet somehow a bit under the radar, pehaps because it houses only 57 rooms and suites. You'd be hard pressed to find another boutique hotel of this quality with 1 bedroom suites, some with private terraces that enjoy a view of the Eiffel Tower, for about $700 per night. Even the standard Dreamer Rooms, at 270 square feet and around $450-500 including tax and breakfast, are a good deal given the superb 5-star level service and prime location. WiFi is complimentary, and there is a fitness center, although no spa. Don't miss a meal at the Michelin star La Table du Lancaster under the direction of Michel Troisgras. Scallops with caviar, venison with raisins and capers, frogs legs and perfect wine pairings will make for a memorable evening.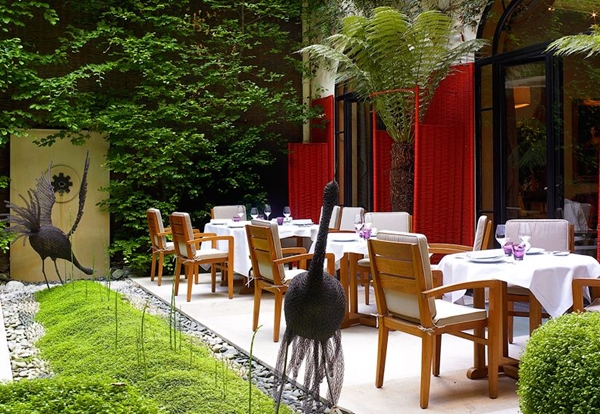 Hotel Keppler is the answer if you want to be near the Champs-Elysees, in the same neighborhood as the Four Seasons Paris George V and Hotel Fouquet's Barriere, but your budget doesn't extend to $1000 per night rooms: at Hotel Keppler you'll pay closer to $350 per night, including tax and a good, although not amazing, breakfast buffet. Relax in the cozy lobby, where in the winter a fireplace warms guests coming in from the cold. Walk to the Arc de Triomphe and Eiffel Tower, enjoy window shopping at the ultra-chic boutiques on and around the Champs-Elysees, or take the metro to other Paris museums and landmarks from the George V station, just a 5 minute walk from the hotel. With just 39 rooms, this intimate 4-star boutique hotel offers great concierge assistance, friendly service and complimentary WiFi, but don't expect the same trappings of the above 5-star hotels. Classic Rooms are *very* small, at just 162 square feet, so we recommend booking an Executive Room, still modestly sized at 270 square feet. On the other hand, who comes to Paris to spend all their time in the hotel room? Rooms are nicely decorated with comfortable beds, and the location on a quiet street helps most to get a good night's sleep.