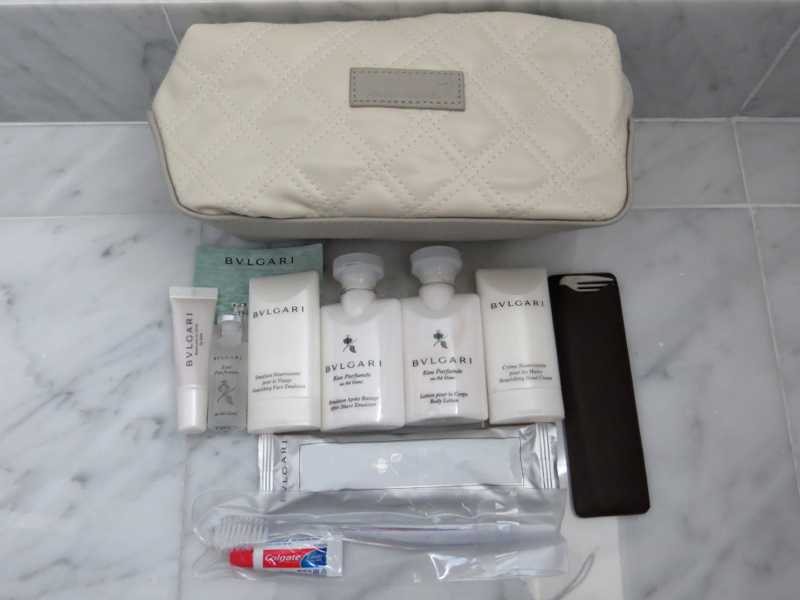 Which airlines offer the best first class amenity kits? The answer is probably even more subjective than the best first class airline pajamas, which I previously posted on. Here's what I would want in the ideal first class amenity kit:
Great skincare products
An attractive amenity kit bag that can be reused
Include other essential items, such as comb, mouthwash, eye mask etc. rather than having them distributed separately (or only available in the lavatory)
1. Singapore Airlines: Kiehl's (No longer available; current line is by Sothys)
Unfortunately, Singapore Airlines has switched to Sothys for its
Singapore Suites
and
Singapore First Class
amenity kit, but personally I much preferred the Kiehl's products that used to be offered. It included a great facial cleanser, toner, ultra moisturizing facial cream, lip balm and hand cream. The black amenity kit bag was also the perfect size, with a small zippered outer pocket that I find convenient for earrings or other small items when traveling.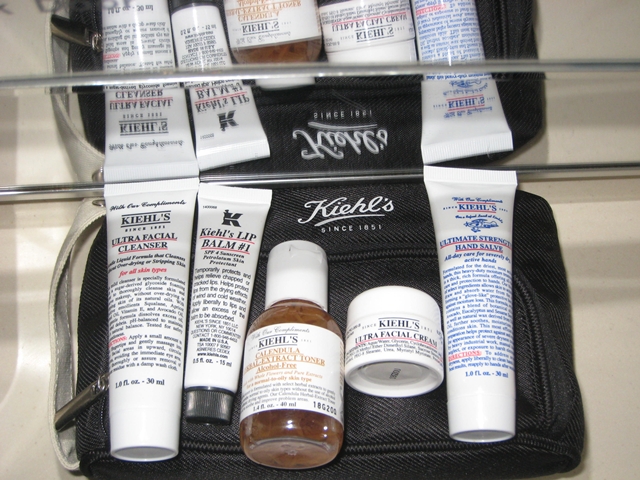 Singapore First Class and Singapore Suites now feature Sothys products, which I don't like nearly as well as Kiehl's, although the grey amenity bag does still have the little zippered outer pocket that I find convenient.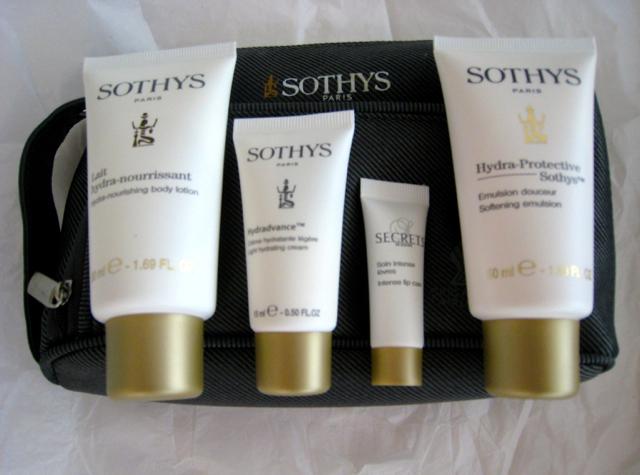 2. Asiana: Bulgari The Blanc (White Tea)
Asiana's first class amenity kit, pictured in the first photo of the post, offers Bulgari The Blanc products, including face cream, hand cream, body cream, after shave cream and perfume, along with a perfumed towelette, comb, and toothbrush with Colgate toothpaste. While the Colgate seems a little out of place against all the high end Bulgari products, that and the fact that it's Bulgari's White Tea line (I prefer Bulgari Green Tea products, which for example the
Four Seasons Paris
provides) are the main nitpicks I have with the amenity kit. Oh, and that when I asked one of the flight attendants where the face mask was, she claimed it was in the amenity kit when it wasn't, but I attribute that to the fact that this was her first time working Asiana's First Class cabin.
3. Cathay Pacific: Aesop
Cathay Pacific First Class
offers a Trussardi bag and Aesop products for its women's amenity kit, and Ermenegildo Zegna bag with Acca Kappa products for its men's amenity kit. While I prefer the actual Kiehl's and Bulgari products to Aesop products, I do love the concept of Aesop skincare products, which is to use top quality ingredients, many of them natural plant extracts with high anti-oxidant properties, for their skincare products. The women's amenity kit features Primrose Facial Hydrating Cream, Geranium Leaf Hand and Body Balm, Rosehip Seed Lip Cream and B & Tea Balancing Toner. There's also a wooden Cathay Pacific brush, toothbrush and toothpaste, mouth wash, earplugs and tissues.
Even though I don't care quite as much for Aesop as a few other brands, I do like that Cathay Pacific includes essentials such as the toothbrush kit, mouth wash, earplugs and tissues in the amenity kit. Extra points for providing a mini brush, not just the standard comb. I don't care for the current women's Trussardi bag, however, which isn't as nice, in my view, as the previous incarnation.
4. Etihad: La Prairie
Etihad First Class
offers a Swarovski Elements amenity bag, with La Prairie skincare products. As with Etihad's First Class women's pajamas, this one would take the prize for the amenity kit you could most easily reuse as a clutch for a soiree, and that's what I like best about it.
La Prairie is one of the most expensive skincare lines and made in Switzerland known for its anti-aging lines, but as with many of these products, its much vaunted "cellular" line creams are not really all that. As most any dermatologist will tell you, the most effective anti-aging or anti-wrinkle cream is preventative: sunscreen (and sun hats). So I wasn't too impressed with the tiny La Prairie tubes in this amenity kit.
I did like the fact that the earplugs come in their own little case, although the earplugs themselves didn't stay in my ears well at all. As with most other first class eye masks, the mask is adjustable, so that was good at least.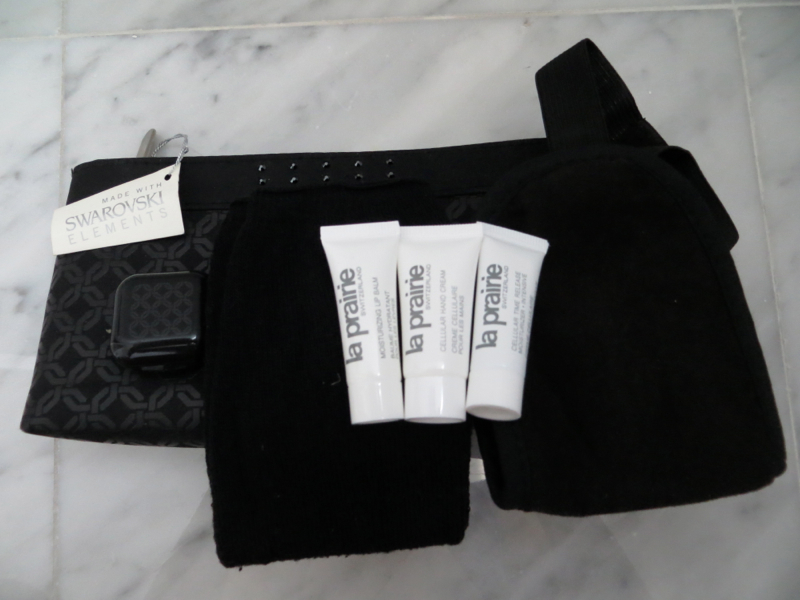 5. British Airways: REN
People seem to really like or hate
British Airways' First Class
Anya Hindmarch amenity bag, which is of stiff grey leather. Great if you want an amenity kit that will always stand up and not fall over, but not great if you want a reusable, more flexible bag that can take up less space when packing.
REN skincare products fall in the middle of the pack for me–good, although not my favorite. REN Hand cream, face cream, eye cream and lip balm are provided, with my favorite being the Vita-Mineral Radiant Day Cream. There's also Dr. Harris mouthwash, toothbrush and Colgate toothpaste, earplugs, socks and a sleep mask.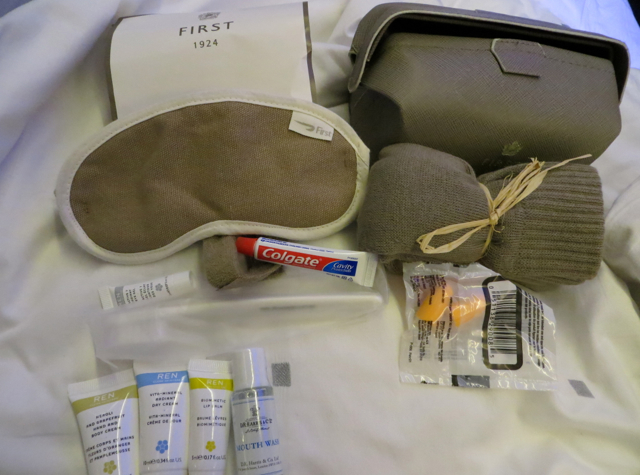 What are your favorite airline first class amenity kits and why?
Related Posts