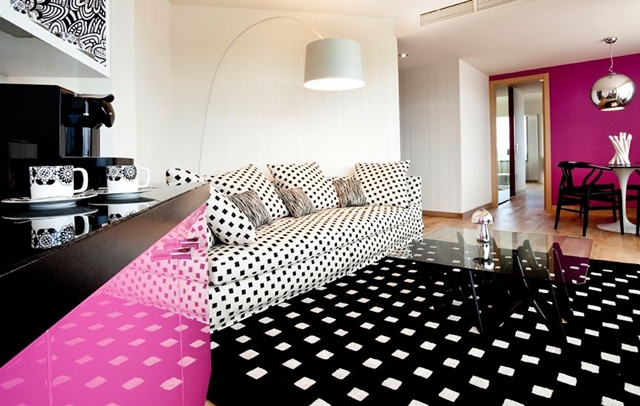 Edinburgh's top luxury and boutique hotels are only recently making a name for themselves in the Scottish capital, where in the past the best choices were often cozy B&Bs, with just a few rooms. But with Edinburgh attracting visitors from all over the world, especially for its annual Fringe Festival, the world's largest arts festival, it's a good thing that some sleek and hip new hotels have opened, providing new choices in addition to grand dames such as the Balmoral. While we miss the traditional Scottish breakfast that is included at B&Bs, we love the more plush, comfortable beds, spas, some with pools, and incredible views of Edinburgh Castle from these top Edinburgh hotels:
If you know Missoni from the fashion and design world, you know what to expect with Hotel Missoni Edinburgh. If you aren't familiar with Missoni, get ready for an ultra modern riot of color and geometric shapes and Euro chic minimalism, combined with welcoming staff. We love the great central location at the end of the Royal Mile, in-room Nespresso machines, complimentary water and softdrinks in the minibar, complimentary WiFi, and two free pieces of laundry daily. Rooms aren't huge, but really, how much time are you spending there anyway? The beds are wonderfully comfortable, windows are soundproofed, and bathroom amenities (including funky robes) are top-notch. We do think the designers should create a bit more storage space though–the smaller rooms almost require you to travel light. The hotel's restaurant is overpriced for our tastes, but the hotel bar attracts Edinburgh's hip, young things with expertly crafted cocktails and Prosecco on tap.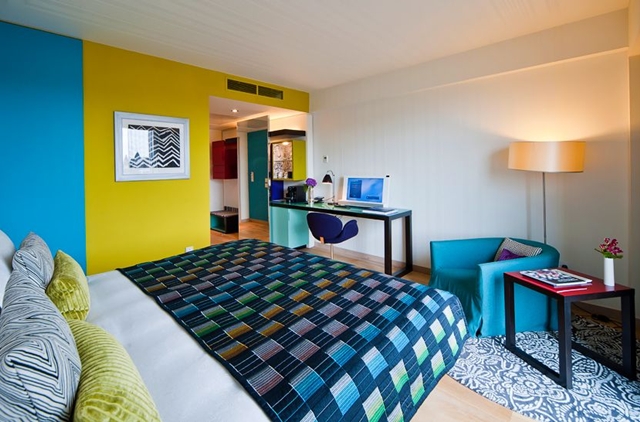 What if you want modern, but perhaps not as funky a design as Missoni? Pick Apex Waterloo Place. It's just a couple blocks from Waverly Station, which is convenient if you're arriving by train, and an easy walk to all the sights. All rooms have comfortable beds, Elemis bath amenities, complimentary WiFi and a 42 inch LCD TV, and Superior Rooms and higher also have CD/DVD Players, iPod docking station and bathrobes and slippers. It's worth trying for an upgrade to the top floor, with spectacular views of Edinburgh castle from floor to ceiling windows and skylights that bathe the room in natural light. After a busy day of meetings or sightseeing, unwind in the spa, with its two Elemis treatment rooms, pool, sauna and steam room. We've a feeling you won't need the fitness room, given all the walking you'll be doing around Edinburgh, but it's there for the fitness fanatics. While technically 4-star, this is our top value pick for Edinburgh–the only thing we don't care for here is the food, but there are plenty of other great places to eat in Edinburgh.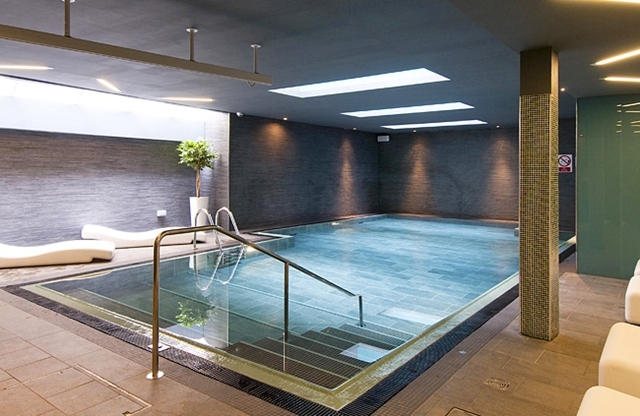 If you enjoy boutique hotels with history and a sense of place, opt for the Balmoral Hotel, a Rocco Forte property housed in an iconic building at No. 1 Princes Street, Edinburgh's high street with many shops and cafes. The Balmoral clocktower can be seen from most points in Edinburgh, quite handy if you need to orient yourself or find your way back from the Old Town's medieval streets! The 188 rooms and suites are each unique, but we advise when booking through TravelSort having us request one on a high floor with a view of Edinburgh Castle. Don't miss a massage in the Balmoral Spa, one of Edinburgh's best, along with relaxing in the sauna and a refreshing swim in the pool. And although it's a splurge, we highly recommend the tasting menu at the hotel's Michelin-starred Number One Restaurant for a romantic dinner.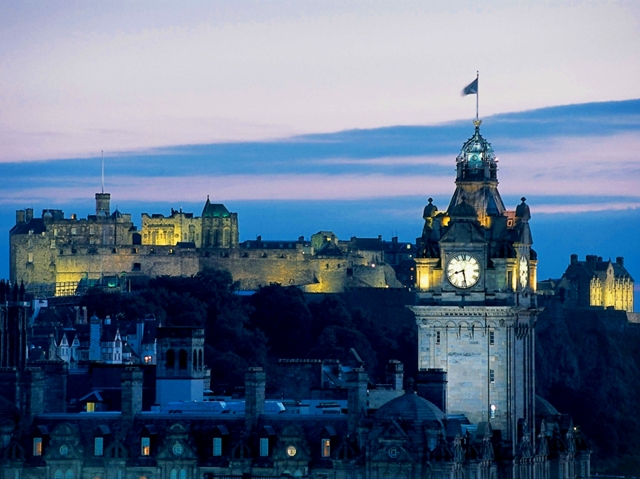 Getting to Edinburgh with miles or points
Since roundtrip coach tickets to Edinburgh can be over $1000 from the U.S., you can save significantly by using frequent flyer miles. Here are a few of our favorite options, and links to credit cards that enable you to earn the miles:
First Class on Lufthansa (Last Minute): 135,000 United Miles
Lufthansa's new First Class offers a fantastic experience. You'll need to be book this last minute, as Lufthansa no longer releases first class award space in advance. See How to Deal with No More Lufthansa Advance First Class Availability. You can earn the miles from either 2 credit card applications plus credit card spend, or from 3 credit card applications. Apply for the Ink Bold or Ink Plus plus either the United MileagePlus Explorer or the Sapphire Preferred, then either earn the additional United miles through spend or by, in about 3 months, applying for the third card (the United MileagePlus Explorer if you already applied for the Sapphire Preferred, or the Sapphire Preferred if you already applied for the MileagePlus Explorer).
A more direct, if less exciting, award would be to simply take a direct United flight, for example from Newark to Edinburgh.
Business Class on Aer Lingus Boston to Dublin: 50,000 British Airways Avios points + cheap flight to Edinburgh
Coach on Aer Lingus to Dublin: 25,000 British Airways Avios points + cheap flight to Edinburgh
Even if you missed getting the British Airways Visa, American Express is currently offering a 40% transfer bonus for AMEX Membership Rewards points to British Airways Avios
Related posts
Edinburgh Restaurants and Travel Guide: Where to Eat
Cozy Restaurants and Thriving Culture in Edinburgh
What are the most romantic special occasion restaurants in Edinburgh?
Check out and apply for the Best Travel Credit Cards.
If you enjoyed this, please follow TravelSort on Twitter or like us on Facebook to be alerted to new posts.
Become a Member to find your perfect luxury or boutique hotel at up to 50% off: TravelSort Hotels