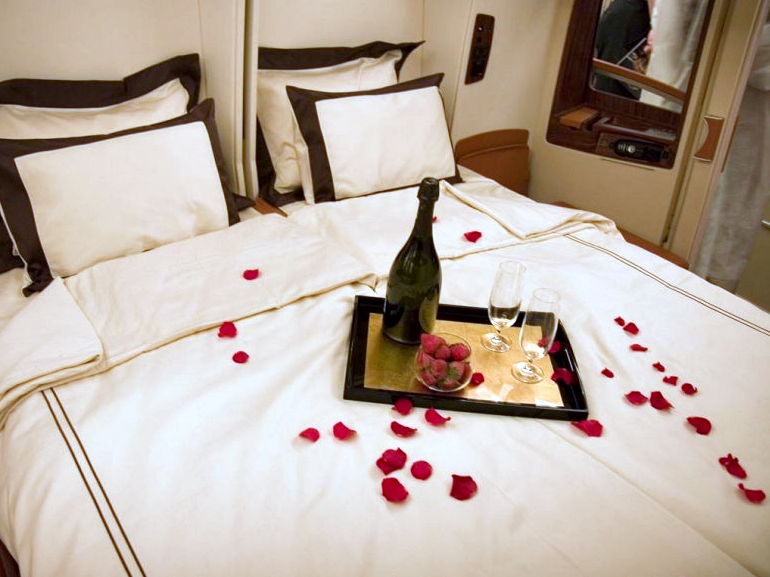 Which credit cards should you use to pay for your wedding, to earn miles for first class award travel to Europe? TravelSort reader Tony posted on the Best Travel Credit Cards page:
"My fiance and I are getting married at the end of May. We have been saving and were planning on paying cash until I realized the world of credit card bonuses. We expect our bill to be about $18,000 – can you tell me which cards you suggest?
Our goal is to take a cruise in Europe and we would love to fly first class to Europe…the kicker – the wedding venue charges 2.39% to use a credit card, so the bonus needs to be worth it. I have been doing math and it will still bring us out on top. For example Chase Sapphire 40,000 points for $4000 spent will cost us about $96, but I read the 40,000 points are worth about $500, so we still net about $400. So can you please tell me which cards would help us get overseas first class the best?"
First, congratulations to Tony and his fiancee on their upcoming wedding! And while it can be challenging budgeting for and paying for a wedding, it is a great opportunity to earn frequent flyer miles and points for future travel together as a couple.
Since Tony and his fiancee have first class to Europe as their goal, I'll first cover the airlines that I view as having the best first class cabins on flights to Europe, then the miles and points and credit cards that would enable them to get there.
Airlines with the Best First Class Award Flights to Europe
Note that below, I'm only considering the airlines where it's possible to book first class using frequent flyer miles and points. This excludes products such as SWISS First Class, which you must be a top tier Miles & More elite (Hon Circle or Senator) to book, as well as Air France La Premiere New First Class, which again you must be a top tier elite of Air France's Flying Blue program to book as an award.
Singapore Suites on the A380 or Singapore First Class
The best nonstop first class cabin to Europe from the U.S. hands down is Singapore Suites, JFK to Frankfurt. It's their tag flight, which continues on to Singapore, but a great way to begin or end a European trip, even if one wishes it were longer and could be boarded from SFO or LAX.
So far, I find that Singapore Suites offers the most comfortable first class bed, thanks to being made as a bed (not just a reclined seat) and thick memory foam mattress. I also love the service for its warmth and proactiveness, which is neither snobby nor too reticient. There are also plenty of choices via Singapore's Book the Cook menu, and while I don't view Singapore's food as the best first class fare, or for that matter the lounges or ground service, the comfortable bed, suite privacy and service mean that whenever possible, I'd choose to fly it over other options to and from Europe.
If Houston is a more convenient airport to you, however, consider the Singapore First Class Houston IAH to Moscow DME flight. It also comes in handy when there isn't Suites award space for two on the JFK-FRA route. Just ensure that your onward flight is also from Moscow DME, since if you need to transfer to another Moscow airport (which I don't recommend, given the hassle) you'll need a Russian Visa.
Lufthansa First Class is an especially good choice if you'll be connecting at Frankfurt and have time to use the dedicated Lufthansa First Class Terminal, although even the more modest Lufthansa First Class Lounge in Munich is very nice, with a la carte dining.
I consider Lufthansa First Class the second best first class product for nonstop flights from the U.S. to Europe, after Singapore Suites. These are open suites, not enclosed, so not as private, and the bed also isn't nearly as comfortable as on Singapore. Food can be quite good, if you enjoy "modern European" cuisine, though sometimes one just wishes they would serve simpler dishes. It also helps service quality if you happen to be a German businessman (see my husband's review of his experience in Lufthansa old first class).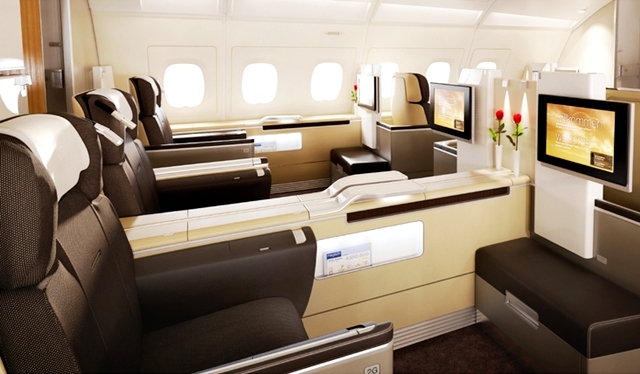 American Airlines First Class
If you can find award availability in AA New First Class on the 777-300ER, with 8 open suites, I'd rank this above British Airways New First Class; otherwise, in AA old first class, below.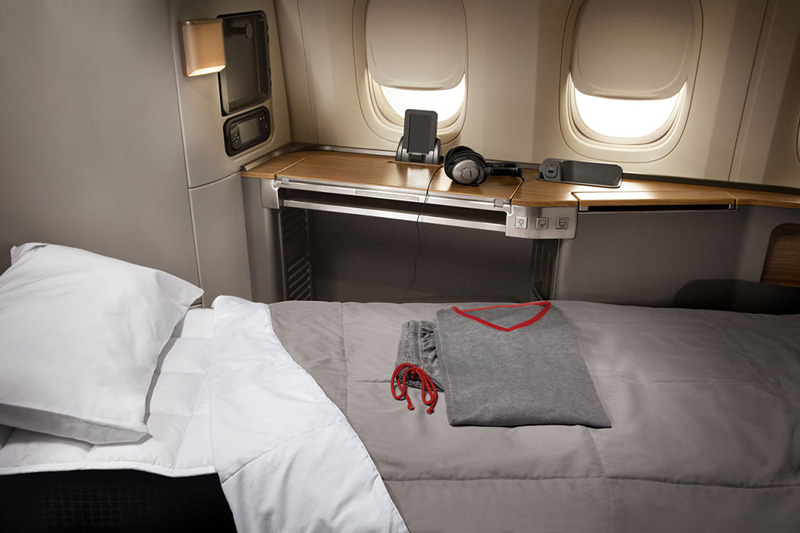 British Airways First Class used to be one of the most reliable ways of getting a couple or even a family to Europe in first class, thanks to the many British Airways flights from various U.S. cities and the large first class cabin, but that has changed. On many routes, even months in advance, you'll only find 1 first class award seat.
Couple that with the fact that British Airways First Class is not as nice a product as Lufthansa First Class, let alone Singapore Suites, plus the New British Airways Avios Devaluation, and this BA First Class is a less attractive option unless you already have, say, lots of Avios points and a companion voucher to burn before the devaluation.
If you do fly British Airways First Class, I definitely recommend a window seat further forward. You'll probably want to sleep on the flight and eat a pre-flight supper in the lounge, where you're best off flying from JFK since it has the Concorde Lounge in JFK Terminal 7 with, at least during my visit, very good a la carte selections. I will say that, while everyone seems to poke fun at British food, a few things the UK and British Airways tend to do very well are cheese plates and desserts. And BA also tends to have a very good wine list. So if none of the main dishes are to your liking, order a glass of wine with cheese plate.
Credit Cards to Earn Miles and Points for First Class to Europe
Given the above first class options, which miles and points should Tony and his fiancee earn? Let's first price out these options from the U.S.:
Singapore Suites NYC JFK to Frankfurt FRA: 57,375 KrisFlyer miles (Saver award booked online) + ~$200-$300 in taxes/fees each way, depending on which direction you're flying
Lufthansa First Class between the U.S. and Europe: 85,000 Miles & More miles + ~$270 – ~$430 in taxes/fees each way, depending on which direction you're flying. If booking last minute, it is possible to use 62,500 Aeroplan miles each way (or United miles, although the premium in miles for most is not worth it, even with no fuel surcharges).
American Airlines First Class from the U.S. to LHR: 62,500 AAdvantage miles + minimal taxes each way, e.g. $5.60 on a JFK-LHR award flight
British Airways First Class NYC JFK to LHR: Currently 60,000 Avios + ~$550 in taxes/fees each way, but will increase to 68,000 off-peak / 80,000 peak each way as of April 28, 2015. British Airways has a distance based award chart, so West Coast cities such as San Francisco SFO and Los Angeles LAX are more and will increase to 85,000 off-peak / 100,000 peak each way after the new Avios devaluation.
Naturally, all of these products are highly in demand and it can be very tough to find two first class award seats, even when the award calendars open. And since Europe isn't as long a flight, I'd also recommend being flexible and considering business class in case a first class award isn't available.
Also note that Lufthansa First Class is pretty much ruled out, unless Tony or his fiancee already have Miles & More miles or plenty of SPG Starpoints that they can transfer to Miles & More. The current Miles & More credit card signup bonus is only 20K, so not worth apply for at the moment.
My credit card recommendations are:
Any 75,000 – 150,00 AMEX Membership Rewards points targeted offer (transfers to Singapore KrisFlyer, British Airways Avios, Aeroplan)
50K Citi AAdvantage Platinum Select Card if eligible and if plan to book Europe travel within the next 6 months
50K Citi AAdvantage Business Card if eligible
50K Ink Plus (transfers to Singapore KrisFlyer, British Airways Avios, United)
45K Sapphire Preferred (40K bonus + 5K for adding authorized user; transfers to Singapore KrisFlyer, British Airways Avios, United)
50K British Airways Visa only if will be able to redeem Avios awards during an off-peak travel time, given the upcoming devaluation
Bottom Line:
As the economy has improved, first class award seats have gotten harder to find, especially for two people flying to Europe. It's gotten very tough to find Saver award space in Singapore Suites even for 1 person, and Lufthansa First Class is only available with hard to come by Miles & More miles. That said, it is sometimes possible to find two Singapore First Class award seats on the Houston to Moscow route, and Ultimate Rewards points, AMEX Membership Rewards points, SPG points and Citi Thank You points can be transferred to Singapore KrisFlyer.
For award redemptions within the next several months, ahead of a potential AAdvantage devaluation, I like AAdvantage miles for space in AA's New First Class JFK-LHR and LAX-LHR, although it again is very hard to find space for two, it's more likely to find it for AA's old first class. Another possibility, although not first class, is airberlin business class. Alternatively, bit the bullet on the surcharges and fly British Airways with AAdvantage miles, which will be the cheaper way to fly BA First Class after the devaluation.
Whatever Tony and his fiancee decide on, assuming they both have strong credit scores, no debt, can manage several credit cards without issue and aren't looking to take out a mortgage or other major loan within the next year, I recommend that they each apply for 2-3 credit cards and seek to use a few of these cards to pay for their wedding expenses if possible, since $18,000 can meet multiple minimum spend requirements.
Related Posts
Best First Class Airline Seats for Couples
Tips for Booking Lufthansa First Class Awards with Miles and Points
Top 20 Luxury Honeymoon Destinations
Four Seasons Preferred Partner Benefits
Need Award Booking Help? Our fee is as low as $75 per ticket if you book your hotel through us.
If you enjoyed this, join 150,000+ readers: please follow TravelSort on Twitter or like us on Facebook to be alerted to new posts.
Become a TravelSort Client and Book 5-Star Hotels with Virtuoso or Four Seasons Preferred Partner Amenities!