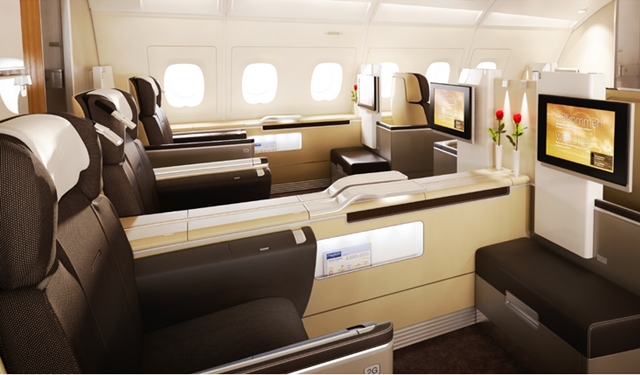 What are the Best Credit Cards for Award Flights to Germany? A TravelSort reader writes:
"I travel 2-3 times a year to Hamburg, Germany. I would like to use miles and points to pay for flights. I live in NYC, mainly used United, have a MileagePlus account, and have had the United MileagePlus Explore card for just over a year. I also have the AMEX Premier Gold Rewards card, but don't use it as much any more due to the newer United Card. I spend about $2,000 per month…I recently got married and we want to get a credit card together. I wanted to know if you had any suggestion how to maximize the value when doing this?
I'm not tied to United, but have used them as they offer a direct flight to Hamburg from NYC (EWR) which I sometimes take if available with miles. For cards I was looking at the Chase Sapphire Preferred Card, Citi Platinum Select AAdvantage MasterCard, US Ariways Premier Wold MasterCard, Miles & More® Premier World MasterCard. I'm a bit confused to how I can get the most value in terms of miles to for flights to Germany? Any suggestions? Many thanks in advance for your help!"
Married = 2X Credit Card Signup Bonuses
First off, congratulations to this reader on his recent marriage! While I'm not sure whether both he and his new wife travel to Germany together on all trips or some of the trips are solo business trips, one thing is clear: both he and his wife should apply for credit cards, assuming both of them have high credit scores, no high interest debt, pay off their credit card bills in full each month and have no immediate plans for a mortgage or other major loan.
That way both of them can earn new credit card signup bonuses of frequent flyer miles and points toward future business and leisure travel.
Authorized Users Can Still Apply for a Credit Card and Earn Their Own Signup Bonus
I've written on this before, but it bears repeating, since I still get questions about it: you can be an authorized user on a spouse's or partner's credit card, yet still apply for and earn a signup bonus when you apply for the credit card the first time yourself, as a primary cardholder.
So, for example, if you were an authorized user of your spouse's Sapphire Preferred card in order to help him or her meet minimum spend for the signup bonus, you can still apply for the card in your name and earn the signup bonus, assuming you haven't received a signup bonus for that card within the past 24 months.
Best Nonstop Award Flights to Germany from NYC and the Credit Cards to Use for Them
Let me step back from the reader's specific situation and rank what I consider the best award flights to Germany in general, since Hamburg is a pretty specific destination. And even if your final destination is elsewhere in Europe, the good news is that many of these destinations are well connected via short intra-European flights.
1. Singapore Suites on the A380 or Singapore Business Class JFK to Frankfurt with KrisFlyer Miles
Singapore Suites may seem overkill for this relatively short trans-Atlantic flight, which is just 7 hours 35 minutes from NYC to Frankfurt, but it's a godsend on flights when you're already sleep deprived and really need to sleep before a productive working day.
And of course if it's a leisure flight with one's spouse or partner, then I recommend splurging and booking it on the return, from Frankfurt, since it's a longer daytime flight (almost 9 hours) and you'll get to enjoy Singapore's fantastic service even more.
Earning the Miles: You'll need 57,375 KrisFlyer miles + taxes/fuel surcharges each way when booking online via your KrisFlyer account. Transfer Ultimate Rewards points, AMEX Membership Rewards or Citi ThankYou points to Singapore KrisFlyer, which generally takes 1 Singapore business day (although allow up to 48 hours) or you can do a prospective transfer from SPG points to KrisFlyer in order to get a 25% bonus (see although this will take longer–see SPG Airline Partners: Transfer Starwood Points to Miles)
2. Lufthansa First Class NYC to Frankfurt or Munich with Miles & More Miles
I've been less impressed with Lufthansa First Class than some, but if transferring at Frankfurt from an arriving Lufthansa First Class flight or departing from Frankfurt on Lufthansa First Class, it does give you access to the dedicated Lufthansa First Class Terminal, the best airline lounge in Frankfurt.
Earning the Miles: You'll need to use Lufthansa Miles & More miles if you want to book Lufthansa First Class in advance: it's 85,000 miles, and frankly I don't think the premium is worth it, especially since I consider Singapore Suites a far superior product, if it's available. But if you're originating on the West Coast can manage to find one of the scarcer SFO or LAX to Frankfurt first class awards, then 85,000 miles is worth it for that nonstop. You can transfer SPG points to Lufthansa Miles & More.
3. airberlin Business Class JFK to Frankfurt or Dusseldorf with Avios, Dividend Miles or AAdvantage Miles
airberlin is a low cost airline but its business class offers flat bed seats with direct aisle access, and it's a smaller business class than, say, Delta's, making for less competition for the two business class bathrooms. Just be aware that the seats in bed mode are on the shorter side, so if you're tall, you may prefer another airline option.
Earning the Miles: airberlin business class is 40,000 miles each way booked with British Airways Avios, or 50,000 miles each way with Dividend Miles or AAdvantage miles.
4. Delta Business Class JFK to Frankfurt with SkyMiles or Flying Blue Miles
Delta flies nonstop JFK to Frankfurt, departing JFK 8:38pm and arriving Frankfurt 9:50am. It flies a 767-300 on this route with full flat bed seats.
Earning the Miles: The problem with Delta is that saver level awards can be hard to come by, and until 2015, which fortunately is just around the corner, only roundtrip awards can be booked. The lowest I've seen for the roundtrip is 125,000 miles, but the more common level is 225,000 miles–ouch!
Earning the Miles: Delta miles pretty much need to be earned either by flying or via an AMEX Delta SkyMiles credit card, or by transferring AMEX Membership Rewards points or SPG Starpoints to Delta.
5. United Business Class EWR to Hamburg with United Miles
This is the nonstop the reader prefers to take, since his destination is Hamburg. It's not terribly convenient if your destination isn't Hamburg, however, or unless you're close to Newark Airport, which in general I hate flying out of. It does offer United BusinessFirst with flatbed seats, although as noted below, business award availability on this nonstop route is very scarce.
Earning the Miles: United miles can be earned via any of the Chase United MileagePlus cards or by transferring Ultimate Rewards points from the Sapphire Preferred or Ink Plus cards to United.
Hamburg: Limited Saver Award Availability on United Nonstop
For NYC to Hamburg specifically, it's tough because the only nonstop from NYC, United flight 74 which departs Newark EWR at 5:35pm and arrives Hamburg HAM at 7:30am the next day, has limited saver award space, even for one person and even in economy. It's very much a business route, so there's a bit more availability in the summer, but still slim pickings.
If Economy and Connection Works, Use Avios or Dividend Miles for airberlin Awards Connecting in Dusseldorf
Because of this, while it makes sense to continue to earn United miles and Ultimate Rewards points that can transfer to United in case the nonstop is available, it's also a good idea to diversify miles and earn other miles and points. If this reader is fine with an economy class award, airberlin economy awards could be a great alternative. Note that the best bet is an airberlin flight to Dusseldorf, where nonstop flights are available to Hamburg, since there are no nonstop flights from Berlin TXL.
30K Roundtrip: Dividend Miles Offpeak Economy Awards to Europe between January 15 and February 28, 2015 are 35,000 miles, but you get a further 5000 miles discount if you have the US Airways® Premier World MasterCard®, which is currently offering a 50K bonus signup (see 50K US Airways MasterCard Signup Bonus Offer)
36K Roundtrip: AAdvantage Miles Offpeak Economy Awards to Europe between October 15 and May 15 are 40,000 miles roundtrip (20,000 miles each way) but if you use a Citi AAdvantage Platinum Select card you earn 10% of your award miles back as a rebate (up to 10,000 miles per calendar year), so on a 40K award booking you'd get 4000 miles back.
40K Roundtrip: If you book a straight AAdvantage award with no mileage rebate during the offpeak travel dates above or an award with British Airways Avios at any time, you'll use 40K miles.
Which credit cards do you use most for award flights to Germany?
Related Posts
50K US Airways MasterCard Signup Bonus Offer
Which Travel Credit Cards for Family Award Travel to Europe?
Reader Question: Lufthansa First Class or Singapore Suites to Europe?
Need Award Booking Help? Our fee is as low as $75 per ticket if you book your hotel through us.
If you enjoyed this, join 150,000+ readers: please follow TravelSort on Twitter or like us on Facebook to be alerted to new posts.
Become a TravelSort Client and Book Your Hotel with Virtuoso or Four Seasons Preferred VIP Amenities!
Disclaimer: Note that some cards in this post offer credit to me if you're approved using my links. The opinions, analyses, and evaluations are mine. This content is not provided or commissioned by Chase, Barclays, American Express, Citibank, US Bank, Bank of America, or any other company. They have not reviewed, approved or endorsed any of my articles.