What are the best castle hotels in Scotland? TravelSort reader Michelle writes "My husband and I are starting to plan an anniversary trip to Scotland next year. We would love to stay in one (or maybe a couple) of the many Scottish castle hotels. Which ones would you recommend?"
Scotland is beautiful, and indeed a great choice if you want to celebrate a special occasion in a castle. While there are, as Michelle mentioned, many lovely castle hotels in Scotland, these would be my picks:
1. Balfour Castle, Orkney Islands
Balfour Castle has the distinction of being the most northerly castle hotel in the world. It was built in 1847 by the Balfour family and continued to be a family estate home for generations, until being sold to new owners, restored starting in 2009, and reopened as a luxury hotel. Enjoy Victorian accented rooms, some with canopy or four poster beds, and discover the castle's secret passageway.
The Orkney Islands offer superb trout fishing, and Shapinsay is no exception–try your hand at catching wild trout. If fishing isn't your cup of tea, there's also tennis, seal watching, croquet, cooking lessons, and even wreck diving.
Getting there: Flights from Edinburgh, Inverness, Aberdeen and Glasgow to the airport outside Kirkwall, a few miles to the waterfront, then 20 minute ferry to Shapinsay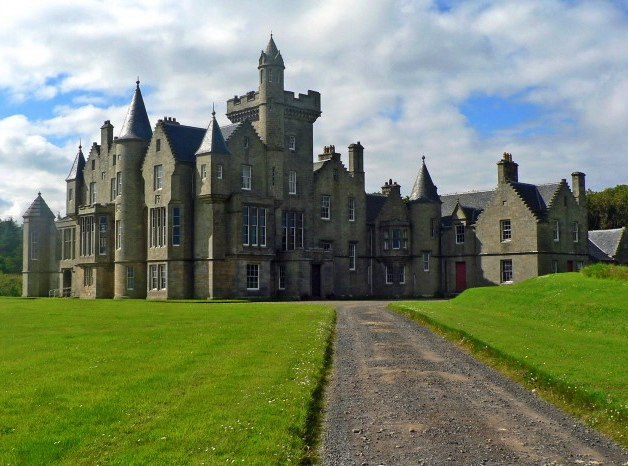 2. Ackergill Tower, Scottish Highlands
Originally built in 1476 by the Keith clan, Ackergill Tower is in the remote Scottish highlands in Wick, with dramatic sea views. There are just 17 rooms in the Tower itself, each one named and uniquely appointed with period pieces and mementos from some of the Tower's past inhabitants.
Roam the estate and try some of the many activities, from archery and horseback riding to fishing and falconry. Dining here is a treat, especially the house smoked Scottish Salmon, wild game dishes, and the afternoon tea, with some of the best scones and homemade jam you're likely to ever taste.
Getting there: The hotel is 5 minutes away from Wick Airport, with flights from Edinburgh and Aberdeen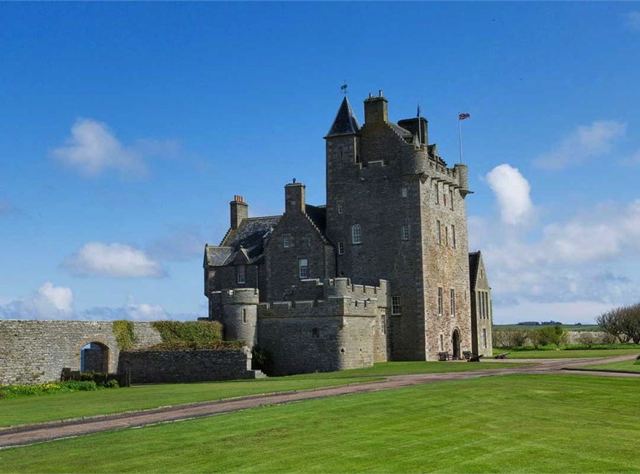 3. Glengorm Castle, Isle of Mull
For gorgeous views, look no further than Glengorm Castle, on the Isle of Mull, off the West Coast of Scotland. Enjoy stunning views over the sound, a cosy fireplace in the main hall, and even complimentary whisky in the library. Do note that this is a bed & breakfast and family-run, so while lovely, it's not as luxurious as the above properties and you will need to drive to a nearby town for meals apart from breakfast.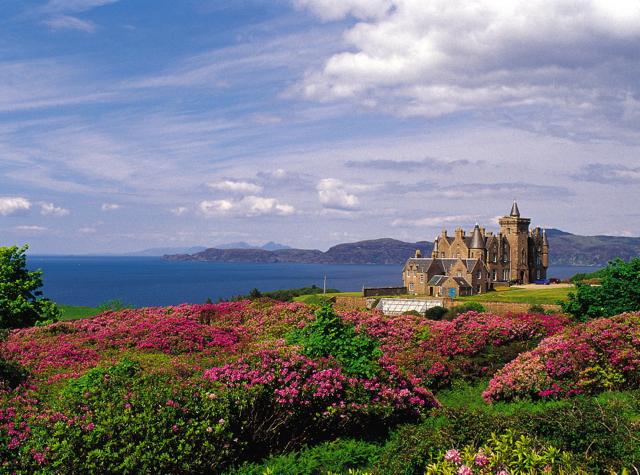 4. Dalhousie Castle, Midlothian
I remember Dalhousie Castle from when I lived in Edinburgh for a year, and our family attended a traditional Scottish medieval feast here in the atmospheric Dungeon Restaurant. Even if there isn't a medieval dinner during your visit, the Dungeon is perfect for an anniversary dinner celebration, with its tasting menu. The castle is steeped in history, having been built over 800 years ago by the Ramsays of Dalhousie, a noble Scottish family. The castle's guests have included King Edward I, who stayed there on his way to meet Sir William Wallace at the Battle of Falkirk, Sir Alexander Ramsay, who withstood a 6 month siege by English forces, and Oliver Cromwell, who stayed there when launching his invasion of Scotland.
If you stay here, aim to stay in one of the 17 historically themed rooms, which are in the castle itself and individually decorated, rather than in one of the nondescript "Castle" rooms. A Scottish breakfast is included in the rate and very good. Try the Spa, which offers the first Hydro Pool in Scotland, the Roman-style Laconium sauna, the Ottoman Turkish hammam, and the tropical rain and cold fog showers. Don't miss Dalhousie Castle Falconry, one of the better falconry experiences available at any castle hotel, where you can try flying one of the Harris' Hawks, beautiful owls, eagle, or other birds of prey.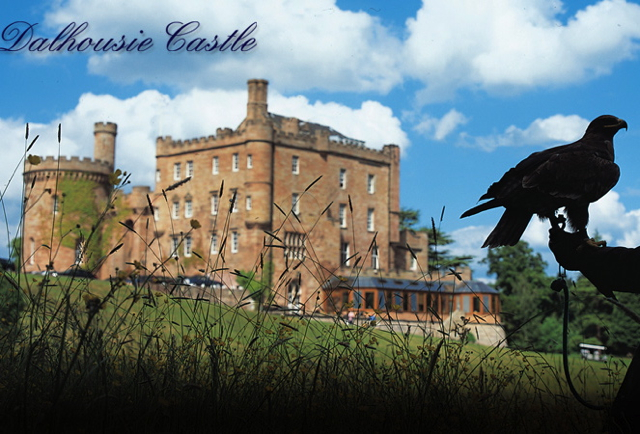 What do you consider the best castle hotels in Scotland?
Related Posts
Dalhousie Castle Hotel Review, Scotland
Adventure Travel Guide to the West Coast of Scotland
Cosy Restaurants and Thriving Culture in Edinburgh, Scotland
Need Award Booking Help? Our fee is as low as $75 per ticket if you book your hotel through us.
If you enjoyed this, please follow TravelSort on Twitter or like us on Facebook to be alerted to new posts.
Become a TravelSort Client and Book 5-Star Hotels with Virtuoso or Four Seasons Preferred Partner Amenities!