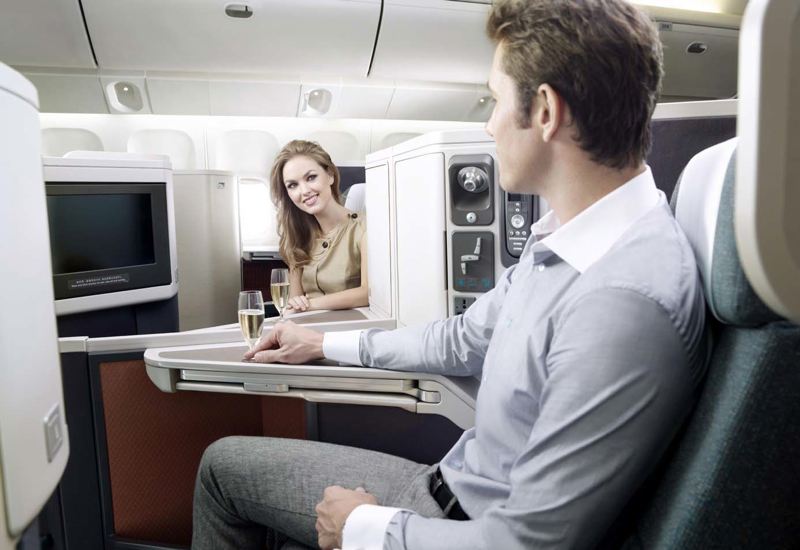 What are the Best Business Class Airline Seats for Couples? I can hear some readers say "easy–one with no crying babies or kids!" but, since that's out of your control, and previously I've only written on the Best First Class Airline Seats for Couples, I thought I'd tackle great business class seats for couples or friends traveling together.
The problem with business class, at least for couples, is that most business class seats are designed to be as private as possible, since the target business class customer is traveling alone and mainly wants to sleep, rest, work and dine privately, with as little interaction with fellow passengers as possible.
Some couples, particularly on night flights, also just want to get a good night's sleep, so it's not that important for them to have seats where they can easily talk to each other. I also have clients who both love window seats, and actually prefer to sit in seats one behind the other, so that they can both have a window view as well as direct aisle access.
That said, there are still a number of business class seats that can work well for couples who do want to sit together and be able to easily have a conversation. Here are what I consider the best airline seats for couples, taking into account these factors:
Overall seat and bed comfort
Ability to talk with each other
"Soft product": service and food quality
1. Singapore Airlines Business Class on the 777-300ER: Middle Seats
Most business class seats are quite narrow, sometimes to the point of feeling claustrophobic, so I give extra points to Singapore Airlines for making the widest business class seat in the sky, at 30 inches across. The middle seats are best for couples, unless you both want window seats and don't mind sitting one behind the other. Singapore Airlines' New Business Class, with some relatively small adjustments in terms of seat position and design, is being rolled out across its entire 777-300ER fleet.
2. JAL Sky Suite on the 777-300ER and 787: Window and Aisle Pair of Seats
JAL's Sky Suite is very private, and the window is by far the best choice if traveling alone, since the aisle seat tends to feel more exposed. The seats get great marks in terms of sleeping, and Japan Airlines tends to have excellent food and service. While these aren't perhaps the ideal seats for couples in terms of talking, there is a retractable privacy screen. I also like the fact that these seats are 25.5 inches in width, which is wider than most other business class seats, apart from Singapore Airlines business class.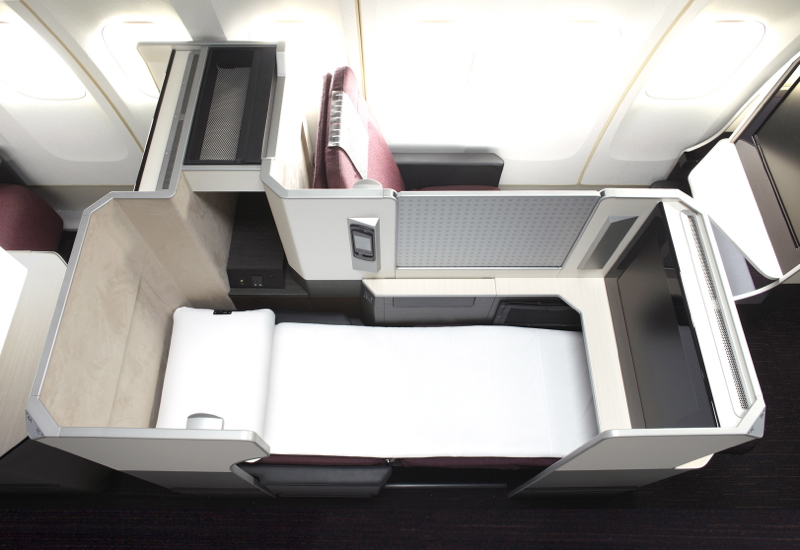 3. Asiana Quadra Smartium Business Class on the 777-200ER: 5D/5G or 7D/7G
I flew in a Asiana First Class Suite earlier this year and haven't yet flown Asiana Quadra Smartium Business Class, but have had good reports of them from clients. Asiana offers excellent food, both Korean and Western, and very good service. I'd recommend the "honeymoon" middle seats that are slightly angled towards each other, 5D/5G or 7D/7G.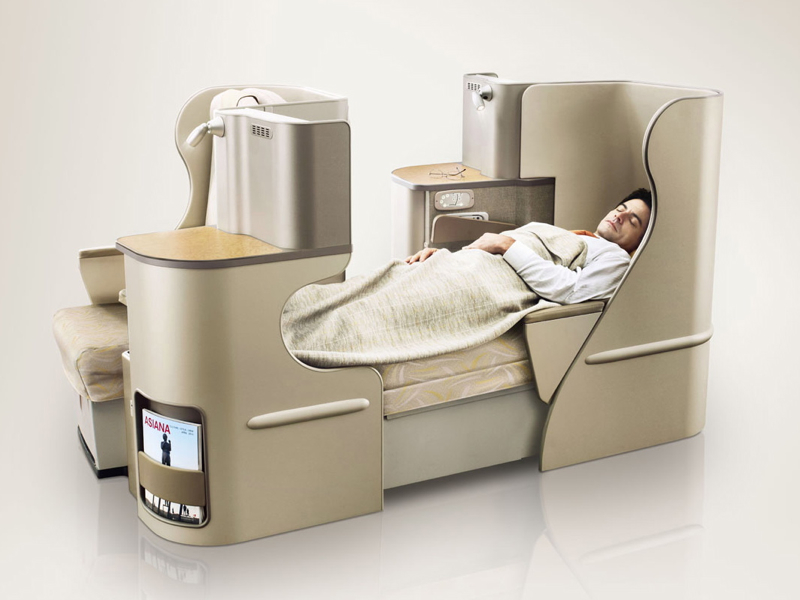 4. SWISS Business Class: Staggered Seating with Window Option
I've had good experiences in SWISS Business Class, although I didn't find the bed as comfortable as, say, Cathay Pacific Business Class. I do like the quieter "mini cabin" of rows 4 and 5, between First Class and the main Business Class cabin, so I'd try for seats there, if possible. If one of you likes having a window seat, choose one of the paired seats by a window, such as 5A/5B, 7A/7B or 11A/11B. Avoid 9A/9B, since 9A lacks a window.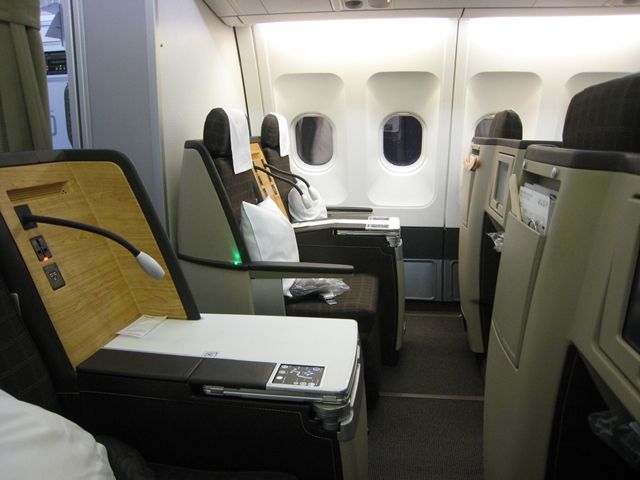 5. Alitalia Magnifica Business Class on the A330-200: 1E/1G, 3E/3G, 5E/5G
Alitalia's Magnifica Business Class tends to get good reviews from couples, for its "honeymoon seats" in 1E/1G, 3E/3G, and 5E/5G, as well as its very good food and wine, for a business class product. It's a great use of Delta SkyMiles, if you can find award space, given how little SkyMiles are worth.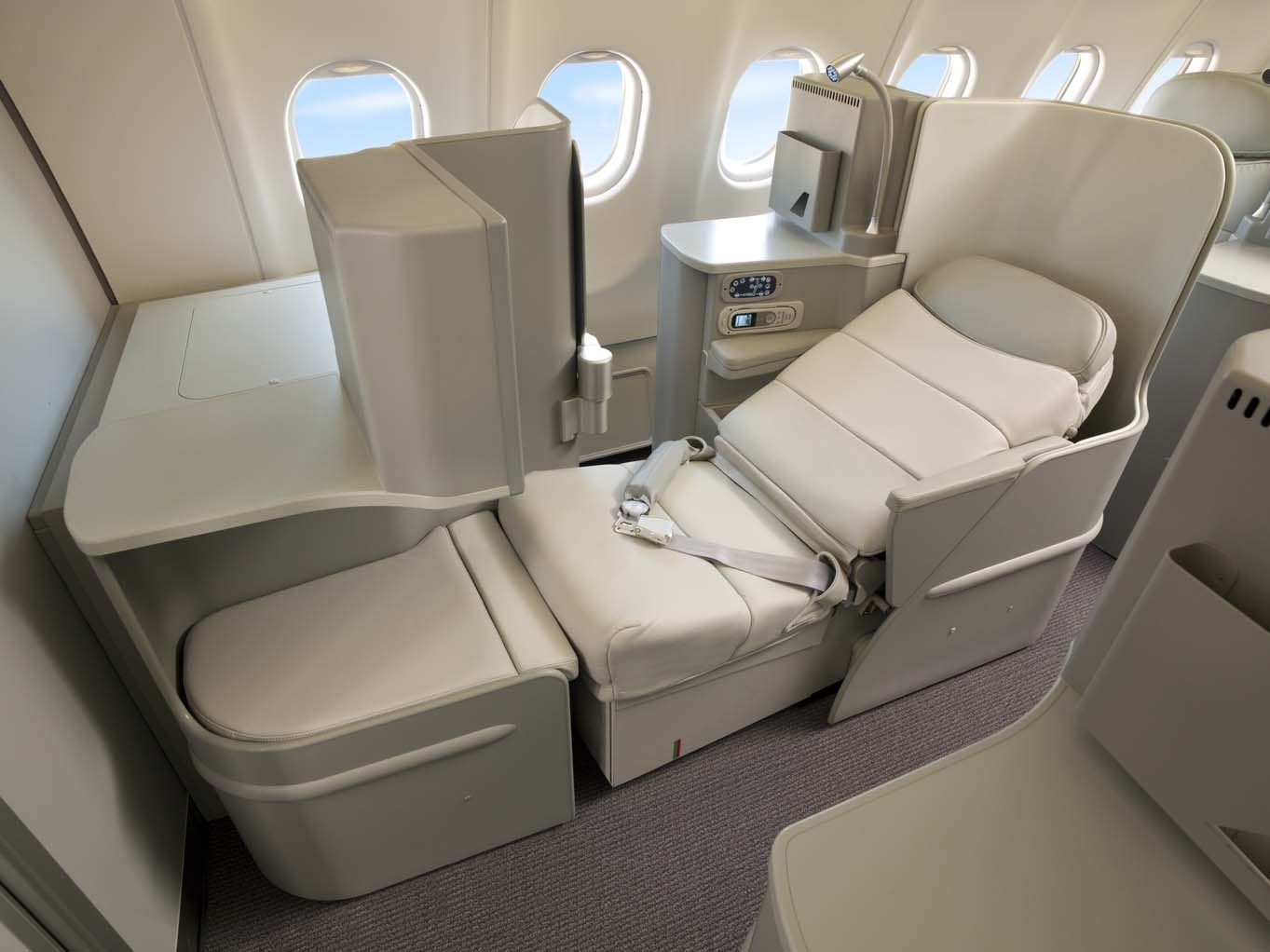 6. Lufthansa New Business Class
There's been a lot of criticism of Lufthansa's new business class from business travellers because ALL business class seats are paired and angled toward each other, which is frankly unusual in new business class products these days. The footwell is rather small as well, leading to the critique that you could end up playing footsie with your neighbor. But for couples, this configuration could work out well, especially if one of you really wants a window seat. While I haven't flown Lufthansa's New Business Class, I liked but didn't find particularly memorable Lufthansa New First Class, so I rank this lower than some other business class options, particularly if you both do want direct aisle access.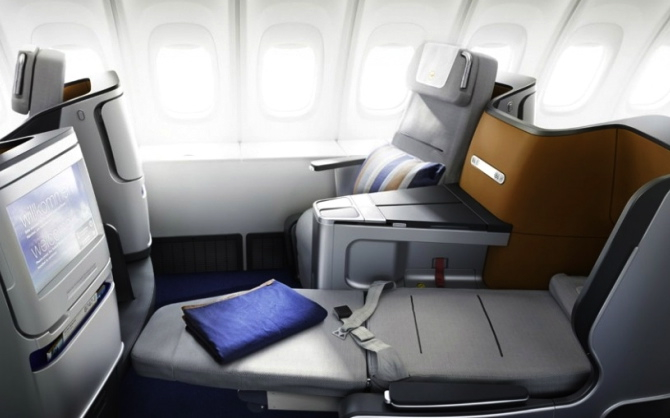 7. Cathay Pacific Business Class
Cathay Pacific Business Class is in reverse herringbone configuration, which gives each seat direct aisle access and has you facing away from the aisle. Couples' seats are in the middle, although these seats are so private that even when you're sitting upright you'll need to lean forward a bit to hold a conversation. So from that perspective, these are not as convenient as other products above. Still, I've found Cathay Pacific business class the most comfortable seat for sleeping, among products I've tried, so I do rank the seat above several others that are more conducive to talking with a partner.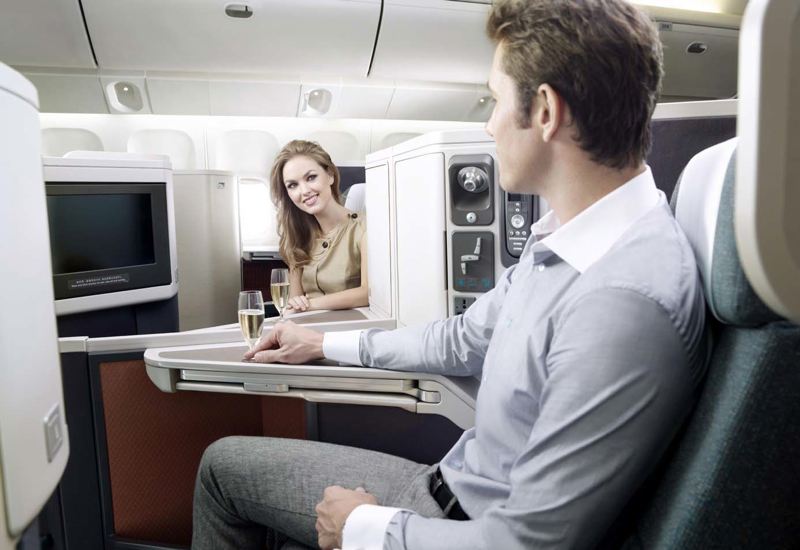 8. American Airlines New Business Class on the 777-300ER
AA's new business class on the 777-300ER is also in a reverse herringbone configuration, similar to Cathay Pacific, so this is a much more private business class seat than some couples will want, in order to hold a conversation. Nevertheless, this type of seat is more comfortable than most of the above seats, apart from the similar Cathay Pacific seat and Singapore's business class seat, so I've ranked it above some other products where it's easier to converse with your seat mate. Of course, AA's service is generally not going to win many plaudits, and don't look for gourmet catering–AA's business class is all about the seat.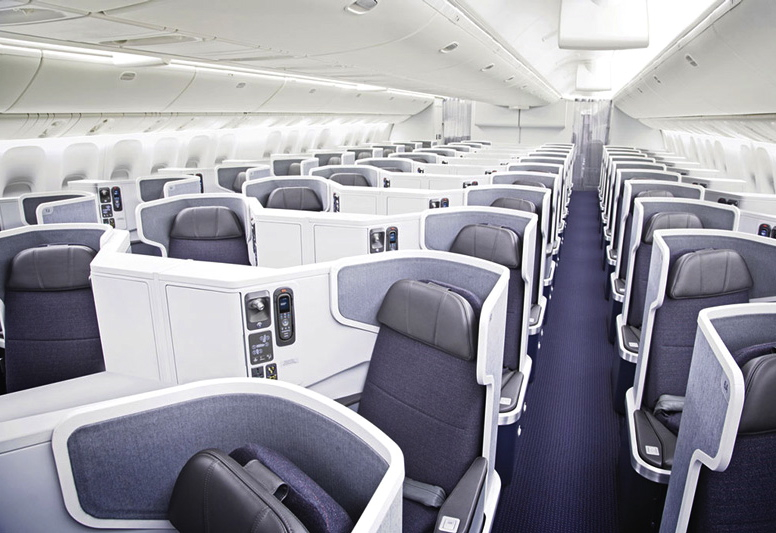 9. Iberia New Business Class on the A330: 1E/1G, 3E/3G, 5E/5G, 7E/7G
Iberia's new business class on the A330, which I flew earlier this year, looks nicer of course as a cabin than its old business class, and was good in terms of allowing me to read to the munchkin, help him get comfortable, etc. There were some service snafus, however, and I found the IFE touchscreen controls very frustrating to use, however, so while I expect most readers will want the newer cabin, I actually preferred Iberia's older business class for seat comfort and a workable IFE. Food was decent, but really, potato chips as an appetizer? Come on…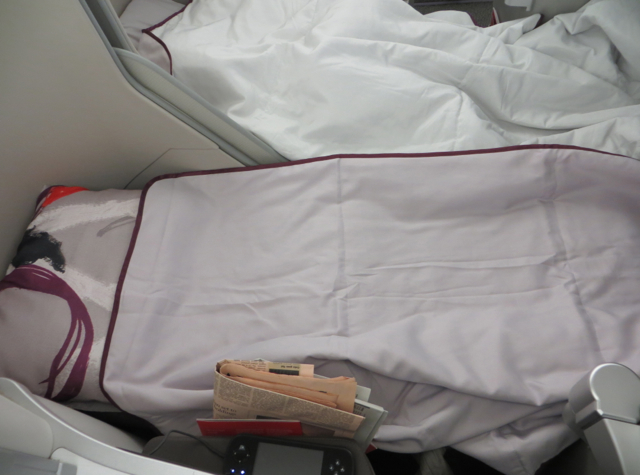 10. Airberlin New Business Class: 3E/3F
Airberlin's new business class is now on all its A330-200s. It's 20 inches in width, which is less than the typical 21 inches, and is only 71 inches in length, so I've marked this down since many men (and some women) are 6 feet tall or more, and they won't be able to stretch out in this bed. Still, it can be a good way of getting to Europe with AAdvantage miles or Avios, without paying fuel surcharges. For couples, I recommend seats 3E/3F since 1E/1F and 5E/5F could be troubled by galley noise. Also see How to Select Air Berlin Business Class Seats Online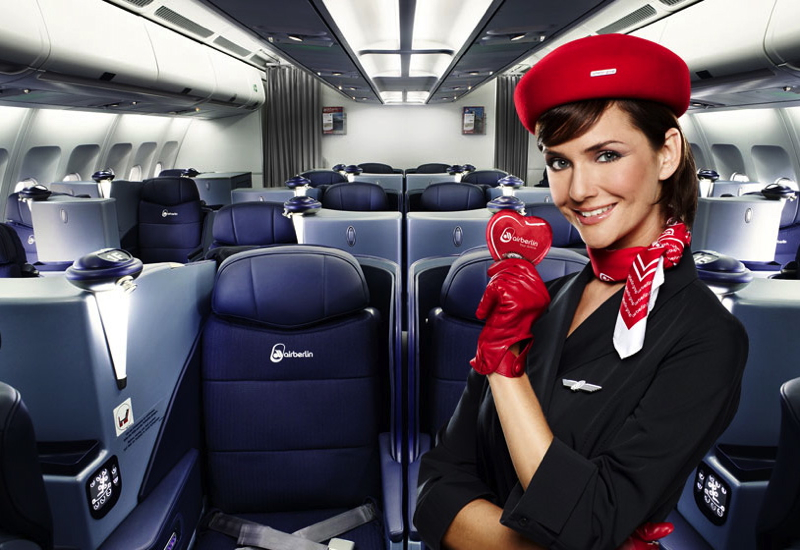 What do you think are the best business class airline seats for couples?
Related Posts
Top 20 Luxury Honeymoon Destinations
Best First Class Airline Seats for Couples
Cathay Pacific or Singapore Airlines First Class: Which is Better for Couples?
Luxury Travel and Resorts with No Kids
Need Award Booking Help? Our fee is as low as $75 per ticket if you book your hotel through us.
If you enjoyed this, join 200,000+ readers: please follow TravelSort on Twitter or like us on Facebook to be alerted to new posts.
Become a TravelSort Client and Book Your Hotel with Virtuoso or Four Seasons Preferred VIP Amenities!