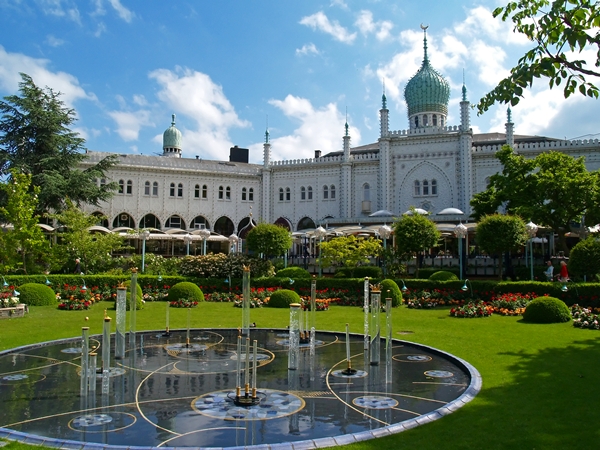 Why Go

It's no wonder that the people of Denmark are said to be the world's happiest bunch. While the taxes are high, the crime rates stay low and the people strive to be active, family-oriented and healthy. My first visit to Copenhagen left me amazed by the rows and rows of bikes lining the streets, the quaint yet contemporary shops and the friendly city inhabitants. Of my travels throughout Europe, I unquestionably consider Copenhagen to be one of the most beautiful and certainly the most livable.
Insider Tips
A few weeks before your trip, look into ordering the Copenhagen Card. For just $45/229 DKK (Danish kroner) for the 24-hour pass or $90/459 DKK for 72 hours, this card gives you free access to over 60 museums, free train and metro service and discounts on various restaurants and shops. You can either order the card in advance or purchase it in hotels or tourist information offices throughout the city.
State museums offer free entry all week, so be sure to check them out! Some of the most popular are the National Museum, the National Gallery and the Open Air Museum.
Be adventurous and sample the local cuisine – open-faced sandwiches, called smørrebrød are a definite must, as well as local beers, Tuborg or Carlsberg. Because of its proximity to the water, this region is known for its seafood as well.
While you probably won't meet any locals, an open-air bus or canal tour is a great way to get a sense of the city. Canal tours are a more unique alternative. The best one leaves from the Nyhavn area to Gammel Strand – a 60-minute ride where you'll be able to view attractions like the famous Little Mermaid statue, the Opera, the National Museum and the old fishermen's village. Tours depart every half hour and are just 60 DKK ($12) for adults and 40 DKK ($8) for kids 3-11 years old.
Check out the Visit Copenhagen tourism site before you arrive – it allows you to sign up for newsletters to be notified of the events happening when you'll be in town. Don't miss out on anything!
Copenhagen is known for having mild temperatures year-round but their tourist season is from April to October. May and June are good times to visit but the warmest temperatures come in July and August. While the city is inviting at any time, colder months bring fewer daylight hours, so plan ahead which attractions you'll want to see since some close during this time period.
Where to stay

I'm always trying to cut down on cab fares when traveling and the Radisson Blu Royal Copenhagen hotel is located within easy walking distance (even with rolling suitcases) from the main railway station in Copenhagen. Just a 20-minute metro ride from the international airport to the Vesterport stop, this hotel offers a central location with a friendly multi-lingual staff. Our hotel room overlooked the famed Tivoli Gardens, and while on a busy street, we weren't able to hear the noisy cars until we opened the windows. Scandinavians are known for their firm and comfortable mattresses and the Radisson proved just that – the beds were divine. I'm not one to normally stay in 5-star hotels (more likely to be in a hostel) but since I was traveling with three friends and we were able to fit four people in one room, this was a good luxury-on-a-budget choice. A pullout bed was comfortable and outfitted with soft comforters and two spotless bathrooms with heated marble floors were an added plus. Once arriving in the city, additional transportation wasn't needed since we were walking distance from the main attractions.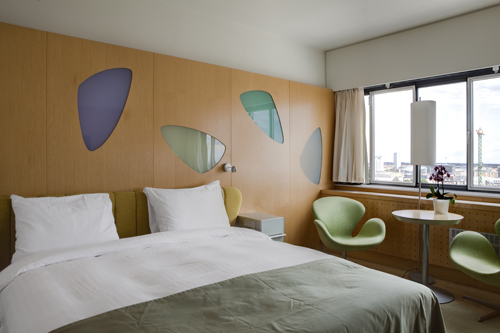 If you're not traveling with friends whom you can split the cost of a hotel room with, a good hostel bet is Danhostel Copenhagen Downtown. A friend recommended this hostel to me and I have referred it to others as well. It's a fairly new hostel that opened in the summer of 2008 and, as with the Radisson, is within walking distance of Tivoli and the Central Station. The rooms were nice, cleaner than some of the hostels I've stayed in before, and it offers a nice communal area and bar for both tourists and locals to meet.
Downsides were that you had to rent the bed sheets for 60 DKK ($12) and it would have been nice to have that included. However, they do offer breakfasts and you get wireless Internet not only in the common areas but also in your room. We met a lot of great people staying here, as it's a huge place with over 1,000 rooms for international travelers.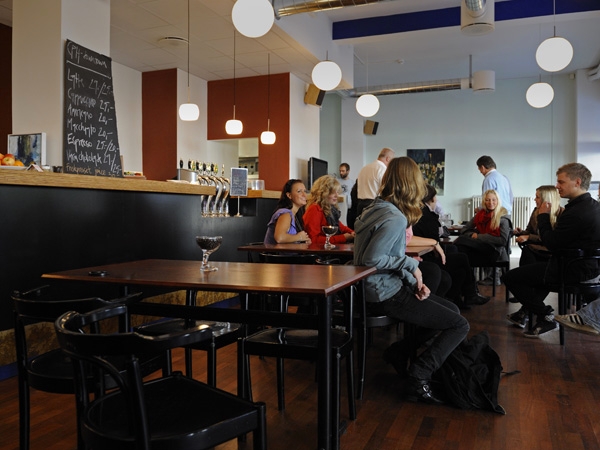 What to eat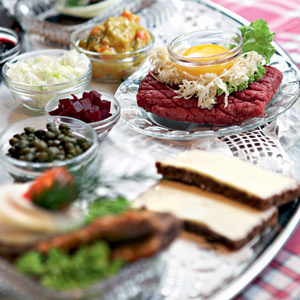 Sampling the local cuisine in Copenhagen was an extremely important part of my trip. I had read about Smörgås, the unique open-faced sandwiches of the region and had to try them. Grøften, one of the restaurants near the entrance inside Tivoli Gardens, dates back to the 1870s and is known for serving quality food in a traditional setting. Indoor and outdoor seating was available and the staff was friendly and inviting.
When ordering the sandwiches, your choices are circled on menu cards. Thin slices of grainy rye bread (according to our waiter, rye was the only way to go) were slathered with creamy butter and layered with cold sliced meats, like roast beef, pork and beef carpaccio. Fresh tomatoes and cucumbers garnished the tops, as well as crispy fried onions, capers or even egg yolks. Our table ordered a few sandwiches to share, which came out on a large platter (reminiscent of ordering a pie at a New York pizza joint) and baby shrimp drizzled with lemon were placed in the center.
Our waiter also urged us to try Lobscouse, the house specialty – meat cooked down into a stew with stock, vegetables and potatoes creating a sort of hash. The food was not only delicious but fun to eat as well.
When visiting Denmark, if you don't try the pastries, you'll miss half of the experience. They beckon to you from the glistening windows – fresh out of the oven and glazed with sweet honey. I tried two types, one filled with poppy seeds and the other with sesame seeds. There are a ton of places to get this type of food in the city, but Sankt Peders Bageri (Sankt Peders Stræde 29, tel. +45 3311 1129) has it down pat – great packaging, chandelier lighting and a whole lot of treats, from buttery kringle to kanel snegl (cinnamon rolls) to fruit tarts to the aforementioned honey glazed pastries–perfect for a first-timer. Oh, and try the chocolate milk (Matilda is the brand) when you're there too. Denmark is known for it.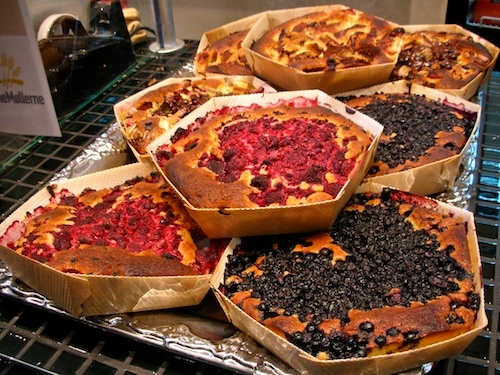 What to do

Tivoli Gardens, being the oldest amusement park in the world and one of the top three attractions of Scandinavia, might seem like a tourist trap. But it isn't. Sure you're going to pay an entrance fee but it's an experience you won't get anywhere else. It's no Disney World (but what is?) but it set the stage for amusement parks everywhere when it opened in the 1800s. You won't get too many death-defying rollercoaster rides but thrill seekers will find excitement in the more modern upside-down coaster and the sitting swings that seem to fly you over the entire city. You'll see them from outside the park and it's an awesome way to check out what Copenhagen has to offer from a different vantage point.
Try to visit in the late afternoon/early evening – the park really comes alive with lights, concerts and events and it's a great place to grab dinner or people watch.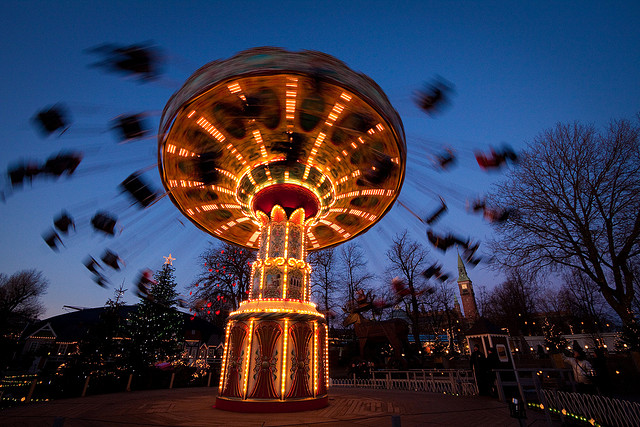 In the borough of Christianshavn (over the river) is the commune of Christiania, a free-loving, drug-using group of 850 inhabitants spread out over 85 acres of land. While Christianshavn is one of the more quaint and trendy parts of the city, Christiania is much different. You'll know it when you see it – layers and layers of graffiti line the walls, deadbeats sit in your path and you immediately feel out of place. It's surprising that Christiania is one of the top tourist attractions of Copenhagen but once you experience it, you'll understand why. It was completely unlike anything I've ever seen.
If you decide to take a walk through the village, take caution – the inhabitants will get angry if you snap pictures of any people. You can take photos but be careful: while they appreciate the tourism since it brings their village money, they are also very protective.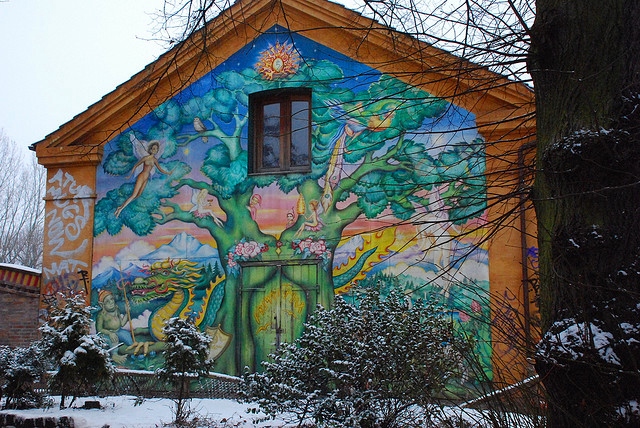 One of the most photographed sections of the city, Nyhavn (New Harbor) is a colorful and picturesque area surrounded by canals. Along with bright tones and crowds of people, you'll notice old ships on the waterfront and plenty of bars and restaurants. While I wouldn't recommend eating here unless you want to spend an extravagant amount, I would say to either purchase a beer or bring your own to the harbor to people watch. Don't worry, you'll see plenty of locals doing just that, and it's completely legal.
In summer months, the canal tours are very popular and so are the ice cream shops. Plan on spending $5-7 on a cone but they are well worth it and refreshing on a hot summer day.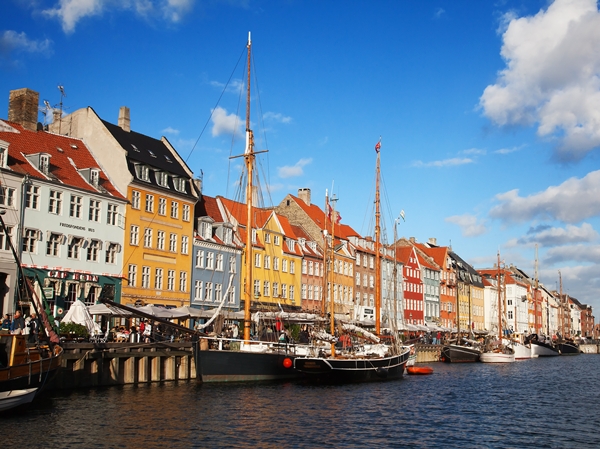 The Strøget, lined with shops and restaurants and broken up by small gathering squares, was closed off to cars and buses in the 1960s. It's certainly the place to shop, if you're looking for that, but even if you aren't, it is a place to "see and be seen". Take a stroll down Strøget starting with the City Hall and ending up at Nyhavn. It's fun to get off-course and look down the many winding alleyways and peek into the churches. My favorite thing to do was to dip into the department stores to check out the Danish design. Sure, we see it at places such as IKEA but the stores in Copenhagen are truly extraordinary.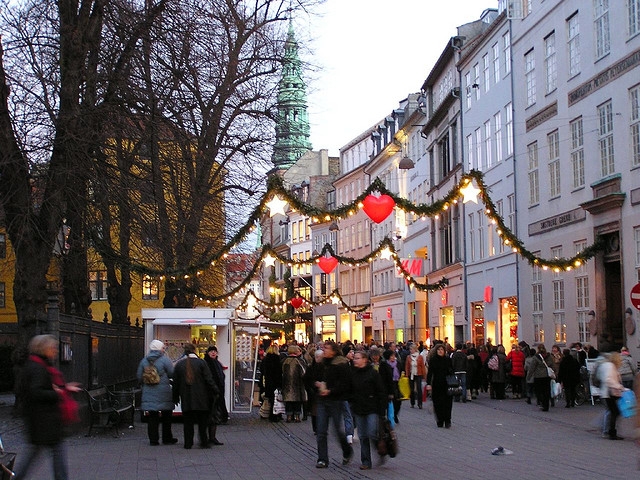 The markets throughout Copenhagen are also amazing – I found some great trinkets and viewed some impressive antiques. While the Gentofte market right near the art museum in Gammel Strand is quite small, I loved its location, right on the canal overlooking the water. It takes place outdoors on Fridays and Saturdays in the summer but you can find more information in tourist information centers. There are plenty of different flea markets to find some really great treasures to bring home with you.
You have a few choices on how you want to see the city of Copenhagen – walking, canal tours, open-air buses or biking. My advice is to do as the locals do and see the city on a bike. Free bike rentals are available throughout Copenhagen – there are over 100 to choose from. When you find one, just pop in a DKK 20 coin in (just over $3 USD) and you'll get it back when you return the bike! This is open to tourists and locals from the middle of April to November.
If juggling a bike and a map isn't your cup of tea, let Mike Sommerville do the work for you. Mike gives Bike Copenhagen with Mike tours daily at 10:30am departing from Copenhagen Bikes right near Tivoli Gardens next to the main railway station. You can rent bikes from the bike store for 85 DKK ($17) for 24 hours. Check out his website – he has a few different tours that take place rain or shine. I recommend the city tour to familiarize yourself upon arrival. Mike's friendly demeanor and excellent sense of the city really brought it to life for us.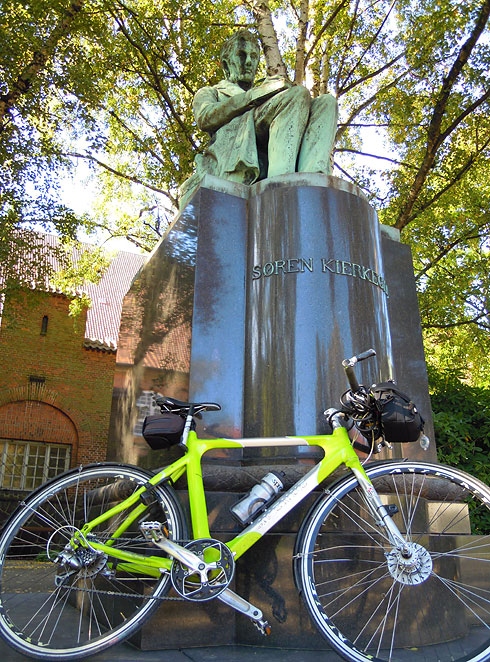 Need Award Booking Help? Our fee is as low as $75 per ticket if you book your hotel through us.
If you enjoyed this, join 100,000+ readers: please follow TravelSort on Twitter or like us on Facebook to be alerted to new posts.
Become a TravelSort Client and Book 5-Star Hotels with Virtuoso or Four Seasons Preferred Partner Amenities!
Photos: jack_g, Stig Nygaard, denmarkdotdk