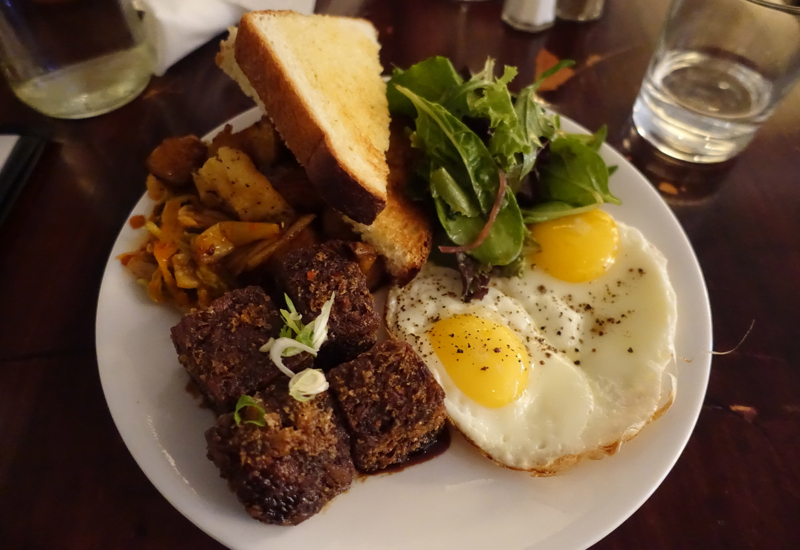 This Beast Toronto Restaurant Review is part of a new trip report covering Toronto luxury hotels and dining. My family loves a hearty weekend brunch, so after arriving in Toronto on our TAM Airlines Business Class flight and quickly checking into our hotel, we made a beeline for Beast Restaurant with the aim of getting there before 3pm, the end of brunch service.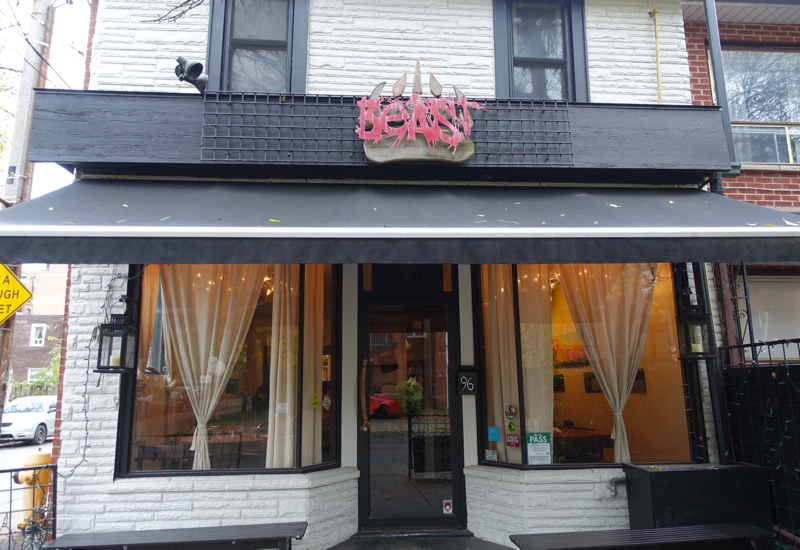 Getting to Beast Restaurant in Toronto and Hours
Beast Restaurant is located at 96 Tecumseth Street in Toronto. If staying downtown near King Street, the 504 streetcar runs along King Street and the closest stop is the King Street West at Tecumseth Street stop. It's just a 1-2 minute walk from the stop up Tecumseth Street to Beast Restaurant, which will be on your left.
We visited for brunch, which is served Fridays, Saturdays and Sundays 10am-3pm, as well as holiday Mondays. No reservations are taken for brunch, and since the restaurant is small, I recommend getting there early, before 10am, or late, around 2:20pm, as we did. While we still had to wait, our wait was about 15 minutes.
Beast does take reservations for dinner, which is served Tuesday-Thursday 5-10pm, and Friday and Saturday 5-11pm.
The Scene
Beast reminded me of places on the Lower East side in NYC–a bit dark and cramped, but worth coming to for the food. During our visit, there were several couples, as well as a group of three friends to our right. Not surprisingly, my son was the only kid in the place. Though actually this was emblematic of downtown Toronto–virtually no kids to be seen, anywhere.
Beast Brunch Menu and Food
After being seated we were brought the brunch menu, which I'd also had a chance to look at on the restaurant's Web site. I asked our server for her recommendations, given all the great choices. I was sad that the doughnuts were already sold out by the time we dined, but at such a popular place, it's not surprising. And those maple bacon donuts recalled Traif Restaurant in Brooklyn, back when it used to serve brunch. Yet another reason to get there early, if possible.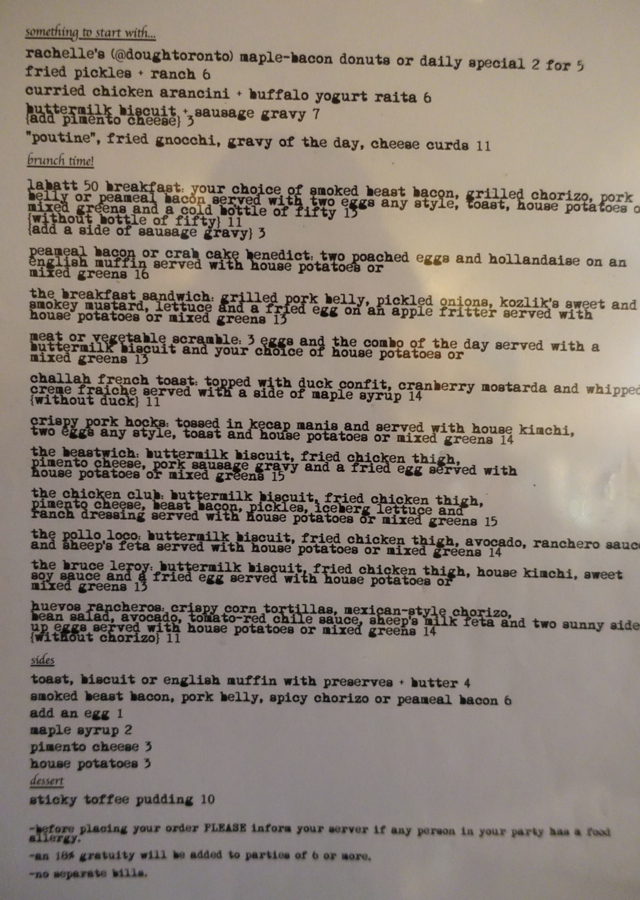 We started off with a glass of fresh squeezed orange juice, which my son had most of, since he was famished, not having cared for the TAM Airlines sandwiches on our flight. Good juice, but I can easily get as good or better fresh squeezed orange juice in NYC, let alone the best fresh squeezed orange juice ever at Amanjena and Four Seasons Marrakech in Morocco.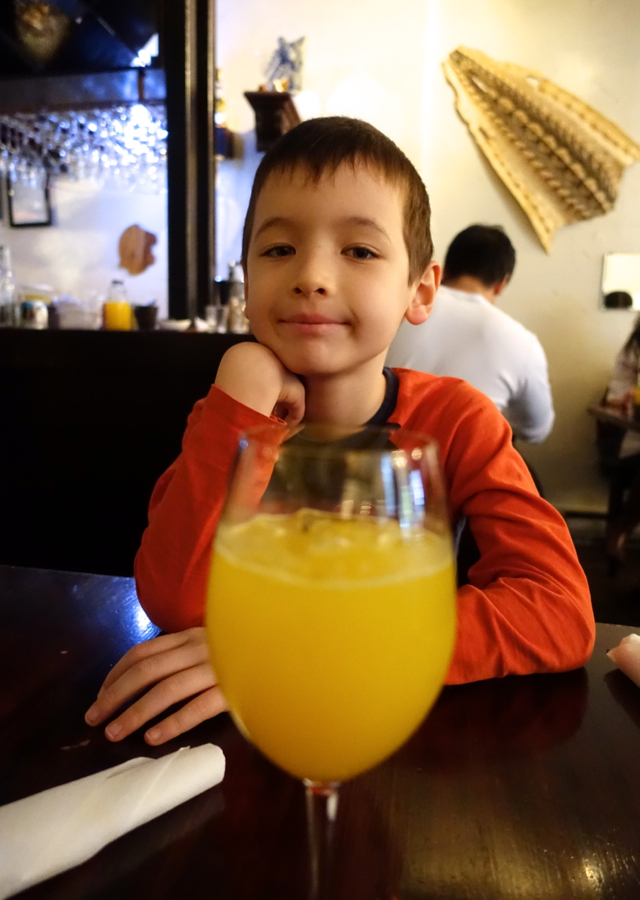 The Beastwich was indeed fantastic: crispy fried chicken, fresh biscuits, fried egg, pork sausage gravy and potatoes. Come hungry for this one, although if you want to lighten it slightly, you could always get it with salad instead of the potatoes.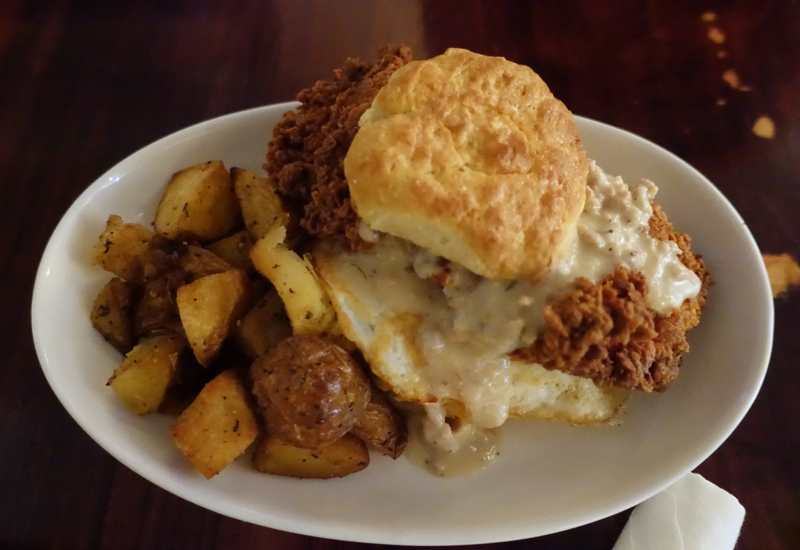 Meanwhile, I loved my dish, the Crispy Pork Hocks dressed with kecap manis (sweet and thick Indonesian soy sauce) served with kimchi, two eggs, and half potatoes, half salad as I'd requested. While not everyone is up for kimchi for brunch, I thought it was an inspired combination to pair the heat and acidity of the kimchi with those crispy, succulent pork hocks.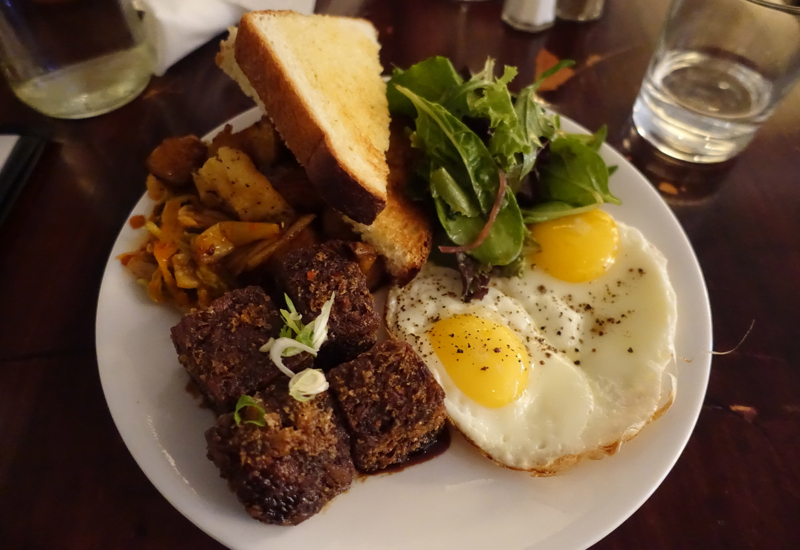 While needless to say we had more than enough to heat between those two dishes (in fact, we brought some of The Beastwich with us for my son to finish later) I couldn't resist taking out an order of the Sticky Toffee Pudding. It's a dessert that isn't seen all that often outside of the UK or British style gastropubs, and is one of my favorite comfort food desserts. The Beast wisely packaged the toffee sauce separately. And while my photo doesn't look like much in its disassembled state, once the toffee sauce was poured over, this was a delicious, and one of the better versions I've had. It's on the small side, but with the richness of the sauce (and the meal prior to it) you should probably share it with someone, even if you don't want to. Your arteries will have had enough of a workout.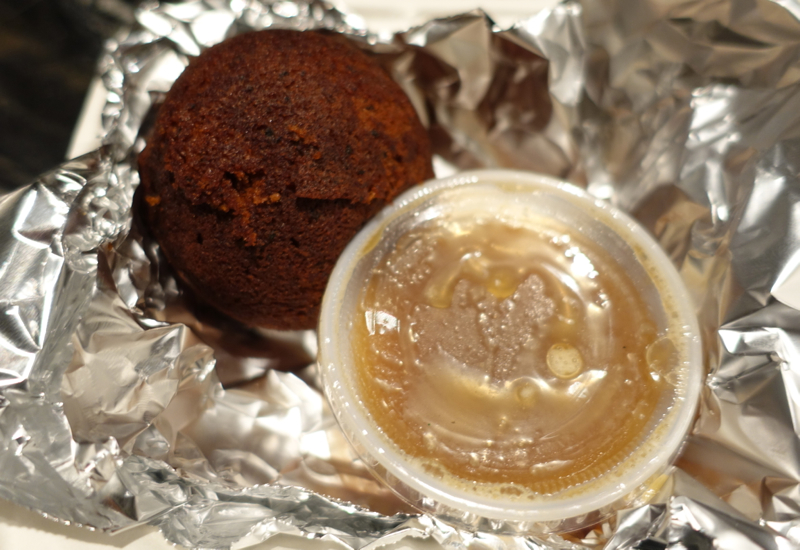 The Verdict
I've heard some mixed reviews of Beast Restaurant for dinner, when small plates are offered and the meal can get quite pricey. But brunch is excellent value and highly recommended, based on our experience. Service was excellent, though as we were dining at the tail end of brunch, the restaurant wasn't as busy as it is during peak brunch dining times. Just try to go as a couple or small group and to get there early, to avoid a wait.
If you've dined at the Beast Restaurant in Toronto, what was your experience?
Related Posts
Review: TAM Airlines New Business Class 767-300ER Between NYC JFK and Toronto
Art, Film, and Edgy Underground: Cool Toronto
Michelin Star Restaurant Reviews
Need Award Booking Help? Our fee is as low as $75 per ticket if you book your hotel through us.
If you enjoyed this, join 200,000+ readers: please follow TravelSort on Twitter or like us on Facebook to be alerted to new posts.
Become a TravelSort Client and Book Your Hotel with Virtuoso or Four Seasons Preferred VIP Amenities!