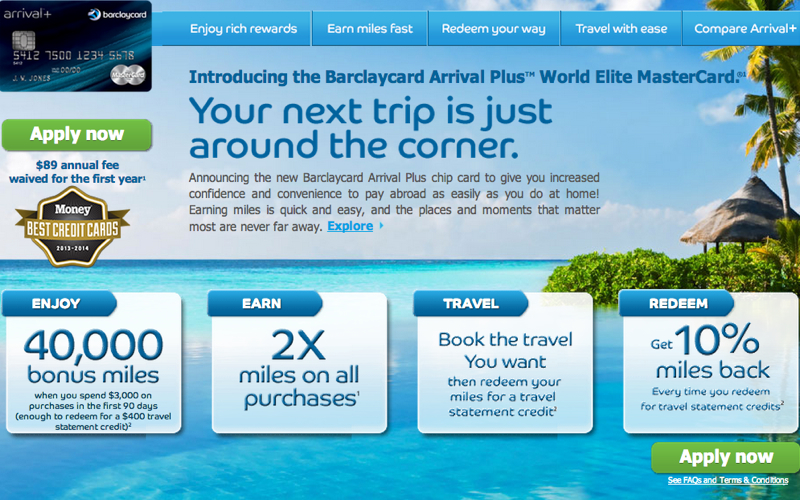 Update: The Barclaycard Arrival Plus no longer gives 10% of your "miles" back, so I no longer recommend this card. You'd do better with one of the cards I mention on my Best Travel Credit Cards page.
—-Original Post—-
The Barclaycard Arrival Plus™ World Elite MasterCard® offers 40,000 miles as a signup bonus after $3000 spend. You can redeem those 46,000 miles (40K bonus + 6K from $3000 spend) for $460 in travel statement credits, and earn back 4600 miles ($46) as a 10% miles rebate. The card isn't new, but, if you've already gotten most of the usual suspects in terms of travel rewards credit cards–is it worth getting? Let's cover the Barclaycard Arrival Card basics, then get into the analysis:
40,000 bonus miles after spending $3000 within 90 days
Earn 2X miles on ALL purchases 
Redeem for travel and get 5% of your miles back (effectively, 1.11% cash back when redeemed for travel; the previous version of the card rebated 10% of your miles and was a much better deal)
No fee the first year, thereafter $89 annual fee
No foreign transaction fees
Pros
Better Signup Bonus: At 40,000 "miles" or over $400 if redeemed towards travel, the Barclaycard Arrival Card offers a better signup bonus than most cash back cards. The Chase Freedom and Capital One Venture only have a 10,000 point signup bonus, for example.
Annual Fee Waived First Year: The $89 annual fee is waived the first year, so assuming you redeem your points for travel sometime within the first year, you should get at least $440 in value.
No Foreign Transaction Fee: This is similar to the Capital One Venture card and the fee-paying Chase rewards cards, but is still worth mentioning, since it can be very handy when redeeming for foreign travel.
Complimentary Transunion FICO: Barclaycard Arrival card holders have complimentary access to their actual Transunion FICO credit score. It's important to monitor what your actual FICO scores, not fake "FAKO" credit scores, so that you can see what banks and other lending institutions see is your credit score. Also see Credit Score: FICO or FAKO?
Barclaycard as Issuer: If you're applying for several credit cards at once, you ideally want to apply for cards from several different issuers, and not for all 5 credit cards from the same bank. This also helps to spread your credit inquiries around: Barclaycard typically pulls from Transunion, so it's a good choice if you've had a lot of Experian inquiries from applying for a bunch of Chase cards. Capital One is awful in that they pull from all 3 credit bureaus.
Cons
Only 5% Miles Rebate When Redeemed for Travel: The prior version of the card rebated 10% of miles, yielding a 2.2% return when redeemed for travel. Now it's just 1.1 %, so in my view, not worth it.
Use for Otherwise Non-bonused Spend: This card is mainly about the bonus, and for spend that is not otherwise bonused. Chances are you already have some other valuable travel rewards credit cards that you leverage for their bonus category spend, such as the Ink Bold or Ink Plus for 5X categories (Internet, phone, office supply purchases including gift cards); AMEX Premier Rewards Gold for 3X on airfare; Chase Freedom for rotating 5X categories; etc. The Barclaycard Arrival Card could be used for otherwise non-bonused spend, including international non-bonused spend, since it doesn't carry a foreign transaction fee.
Very Specific Uses for Travel Redemptions: If you're already getting 3X on airfare with the AMEX Premier Rewards Gold and an effective 2.14X on all travel spend with the Sapphire Preferred, where does the Barclaycard Arrival Card fit in? I'd recommend using it for award ticket taxes and fees and for smaller international travel purchases, such as cheap intra-Europe or intra-Asia flights that you wouldn't put on the AMEX PRG card due to the foreign exchange fee. That said, you could use Barclaycard Arrival miles for a cheap flight to Hawaii thanks to being able to rebate over $400 from the signup bonus!
Could Be Approved for the Platinum Version Instead: Barclaycard is a bit notorious for reserving the right to approve you for a lower version of a given card. Fortunately, in this case it appears you'll still get the same 40,000 miles bonus, which is probably what you most want anyway. So this isn't actually much of a con.
Barlaycard Arrival Plus World Elite MasterCard FAQ
How Hard Is It To Get Approved for the Barclaycard Arrival Plus?
In general with Barclaycard, you want to ensure you haven't recently opened a lot of new credit cards (not just Barclaycard credit cards, but new credit cards in general) or had too many recent credit inquiries. Barclaycard also wants to see you using its cards, so be wary of applying if you have another Barclaycard credit card that you've scarcely used after earning the sign-up bonus.
What Are Qualifying Travel Expenses?
Barclaycard defines travel purchases as "Airlines, Travel Agencies & Tour Operators, Hotels, Motels & Resorts, Cruise Lines, Passenger Railways and Car Rental Agencies as defined by the merchant category code. Purchases that…use incorrect MasterCard merchant category codes will not qualify. Barclaycard is not responsible for incorrectly coded purchases."
Since TravelSort is a travel agency, TravelSort Clients are able to rebate expenses such as TravelSor'ts Award Booking Service if they have a Barclaycard Arrival Plus World Elite MasterCard.
How Do I Redeem Miles for a Travel Purchase?
Make sure you redeem your miles for a travel purchase that was made within the last 90 days. Go to the "Manage Rewards" section of your account to redeem miles.
How Soon Does the 10% Miles Rebate Post to My Account?
The 10% travel redemption bonus miles will post within 1-2 weeks after the travel redemption is processed per the terms and conditions, and users report seeing them on the next month's statement.
Are the Barclaycard Arrival Card Miles I Earn Transferable to Airline or Travel Partners?
No–these are Barclaycard Arrival Card "miles" and should really be thought of as points that you can use to rebate previously incurred travel expenses. Just taking the 40,000 mile bonus after the $3000 minimum spend, you could use the 46,000 miles earned to get a statement credit against a $460 travel expense (40,000 bonus miles plus 6000 miles from minimum spend). Once you did that, you'd get 4600 miles back in your account (10% of the 46,000) which in turn could be used against a $46 travel expense.
Can I Redeem the Barclaycard Arrival Card Miles for Non-Travel Expenses?
While you can, it's not worth it, since you'll get less than half the value: basically half a cent per mile, and no 10% rebate on miles redeemed.
The Verdict: For a cash back card, the 40,000 Barclaycard Arrival Plus™ is a good bet for its bonus alone, as long as you have some travel expenses (and who doesn't?) you can use the signup bonus value towards. And in light of the spate of recent devaluations, including the United Award Chart Devaluation, Hyatt Devaluation, Delta Devaluation, AA Elimination of Explorer Awards and Stopovers (with no notice!) the Barclaycard Arrival is an important complementary card to your frequent flyer mile and loyalty points cards. It's especially good for any spend that is not going to meet minimum spend for a new credit card, and doesn't earn you a category bonus.
If you have the Barclaycard Arrival Plus World Elite MasterCard, what's been your experience with the card?
Related Posts
Barclaycard Arrival Card: Top 10 Tips
Can You Get the Signup Bonus Again for Barclaycard Credit Cards?
Barclaycard Arrival Travel Community: Earn Miles to Redeem for Travel
How to Redeem Barclaycard Arrival Miles
Need Award Booking Help? Our fee is as low as $75 per ticket if you book your hotel through us.
If you enjoyed this, join 200,000+ readers: please follow TravelSort on Twitter or  like us on Facebook to be alerted to new posts. 
Become a TravelSort Client and Book 5-Star Hotels with Virtuoso or Four Seasons Preferred Partner Amenities!
Editorial Disclosure: The editorial content on this site is not provided by the companies whose products are featured. Any opinions, analyses, reviews or evaluations provided here are those of the author's alone, and have not been reviewed, approved or otherwise endorsed by the Advertiser.