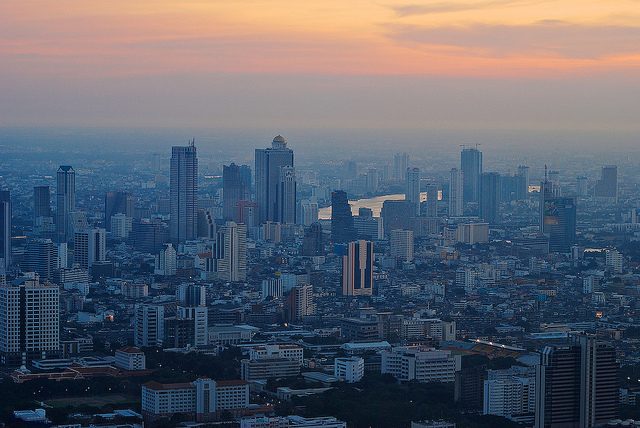 Why Go
A wonderful city that most tourists use as a starting point for exploring Southeast Asia, Bangkok is worth days of exploration in its own right. It's easy to get to, cheap to stay in, and packed with the kind of staggering beauty and interesting history designed to appeal to all types of travelers. Join the frenetic pace of life in markets and tourist areas or try to explore the city's hundreds of ornate Wats (temples) and shrines, which are so numerous that no tour book or map could possibly have them all listed. And besides delights for one's eyes, Bangkok is also packed with treats for the taste buds. The city is a great stop for those who want to experience real Thai food—you can even take cooking classes while there. Budget travelers will be thrilled with their dining and lodging options, as Bangkok is one of those destinations that can be experienced to its fullest at all levels of spending.
For travelers of all stripes, there is no lack of excitement in the capital of Thailand. Whether you're seeking rich culture, vibrant art, great shopping or delectable Thai delicacies, you'll find it here in droves, and a single trip to Bangkok will have visitors clamoring for a return ticket sometime soon.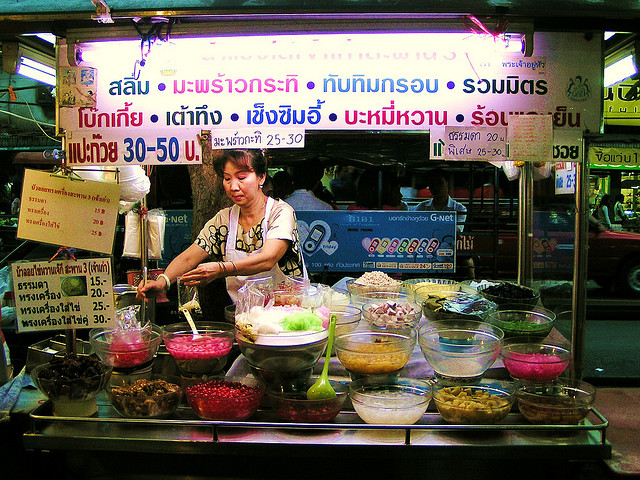 Insider Tips
Use the official taxi stand at the airport, and avoid anyone inside that offers a ride. The official taxis will use the meter and charge you for all the tolls on the way into the city, meaning no surprise fees or hugely inflated prices at the end of the ride.
A great place to see a traditional Thai dance performance is the Erawan Shrine in Bangkok. Worshippers at the shrine usually hire traditional dancers as a part of their prayers and offerings. Visiting the Erawan Shrine is a great way to see the traditional dance for free. If you want to take part in the prayer, you can also hire one of the dancers as part of your offering.

Aside from the shrine, you can also see traditional Thai dance at one of Bangkok's dinner shows which you can book online or through a Thai tour operator. Though the performance isn't free, watching the performance while enjoying a delicious Thai dinner is a pleasurable experience. One good place for this is Sala Rim Naam at the Mandarin Oriental Bangkok.
Always carry small change in Baht for taxis. Drivers will claim that they do not have change to give you, but will usually give you some of it if you are stubborn and refuse to leave the cab. Always insist that the driver uses the meter—many will kick you out of the taxi, but it's easy to find more. I was once told it would cost 200 Baht for a ride, but when I got a taxi that used the meter it was only 50 Baht. It's not much money in absolute terms, but it is the principle of getting what's fair.
Everyone has to take a tuk-tuk ride at least once. If you're not an adventurous traveler, make it a short and cheap trip. If you're more adventurous, you can make deals for a tuk-tuk to take you around all day. They will try to make you stop at certain shops and buy things, but you shouldn't buy anything. If you have time to spare on your trip through Bangkok, go along with the sales pitches and you'll see your sights without having to pay the driver much money—you'll spend an hour getting hassled to buy something at a jewelry store, but you will also go to the main tourist attractions.
Choose your street food wisely—look at how the vendors handle the food. If the vendor touches your food with dirty hands, don't accept it. There is a fruit shake vendor near Khao San Road who always has a long line in the mornings because he offers a great deal and wears gloves when handling the fruit. He's also very friendly and talkative.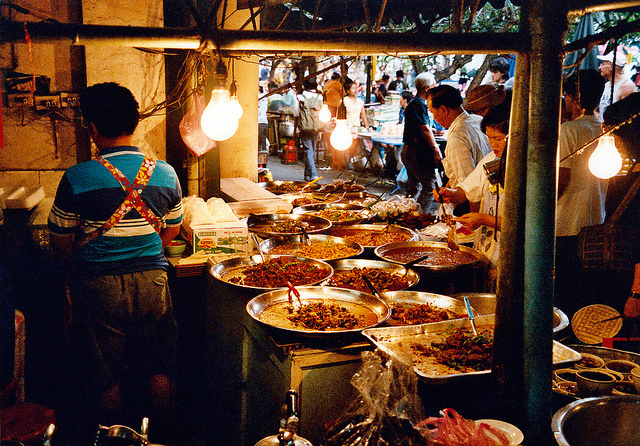 Many of the Buddhist monks speak English and are very willing to talk with tourists. If you have any questions about the Wat you're visiting, don't be afraid to ask.
Whenever you get near the main tourist attractions, such as the Grand Palace or Wat Pho, someone will tell you that it closed that day (probably for the King or Queen's birthday). This is always a lie. Ignore these people and enjoy the attractions.
The street markets, especially around Khao San Road, are great places to bargain for souvenirs. The majority of the vendors will sell the same things, so take your time to shop around for the best price. If you plan to take a trip to other parts of Thailand, you will probably find the same souvenirs for less outside of Bangkok.
There is no shortage of travel agents in Bangkok, but finding a reputable agent can be difficult unless you're staying in the better hotels. Charlie Travel on Chakrabongse Road, near Khao San Road, is recommended by many visitors. They booked train tickets to and from Chiang Mai and also helped plan a beach trip for me, even though I didn't book a hotel or any other service with them.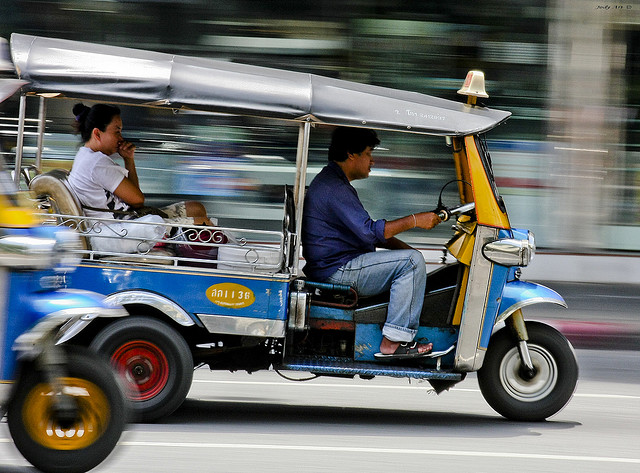 Where to Stay
The entire area of Khao San Road is backpacker heaven. I would avoid staying on Khao San Road, though, because it is noisy throughout the day and late into the night. But, there are many side streets that have hostels and hotels that are quieter and less expensive. Unless you arrive late at night or during a major holiday, there is no need to have a reservation. It is best to walk around and see the rooms before booking it for the night. Unless you plan on partying nonstop in Bangkok, I would avoid any hostel or guesthouse that has a bar at the front desk; these hostels and guesthouses will most likely have a quiet span only from 4 a.m. to 8 a.m. On Phra Athit Road, there are a few more guesthouses that are far quieter than anything closer to Khao San Road. Again, these places are hit or miss on cleanliness and service, so check them out before booking a room.
For a comfortable, clean, and delightfully quiet guesthouse, Borarn House is one of the best bets out there for travelers willing to spend a bit more for comfort and peace. With 24 rooms, each sporting a private bathroom, and small touches that evoke the feeling of home, including a pantry for guest use.
Another excellent bet that will still appeal to travelers on a budget, as well as those with a bit more to spend, is Samsen 5 Lodge, located right in the heart of Old Bangkok. A beautiful old building that's just a short walk from many of the most exciting sights of the city center, the lodge combines the best of international amenities with local style and flair. Air-conditioning, fully functional Wi-Fi, and private bathrooms are just a few reasons that set this lodge apart from some of the less expensive but less comfortable options in the same area. It's the perfect place to unwind after a day of sightseeing, and a safe location for solo travelers who are exploring the city on their own.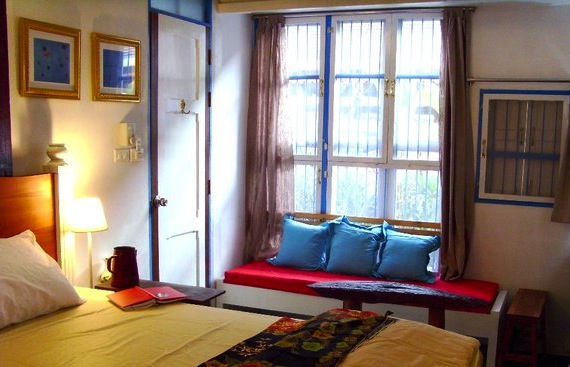 What to Eat
Tongue Thai (18-20 Soi 38, Th Charoen Krung Riverside) is a quaint restaurant nestled in one of the side streets near the Mandarin Oriental Hotel. For local food it is rather pricey, but the restaurant is quiet and very clean with friendly service. This is a great spot for a leisurely meal with family or friends, or even for a romantic night out. The jungle curry tasted great, but it wasn't as spicy as the staff seemed to think—they were shocked when I ordered it and warned me that it was very spicy.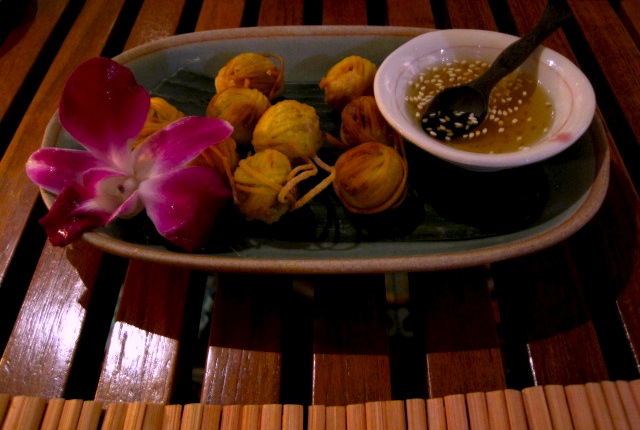 Anywhere you find a street market, you will find street food. In some cases, the food vendors won't be around until late, when the night markets open—there are fewer food vendors around Khao San Road before 7 pm. These are the best places to find great deals on local favorites such as pad thai and spring rolls. There are also usually fresh fruit vendors around for a refreshing snack of watermelon, pineapple and mangoes—don't be afraid to try the local fruits; rose apples were my favorite choice. In areas with more foreign tourists, the street food is more likely to be safe to eat, but you should still choose your vendors carefully. If you're worried about getting sick, avoid street food. If you're a little more adventurous, take a supply of charcoal tablets and Pepto-Bismol just in case.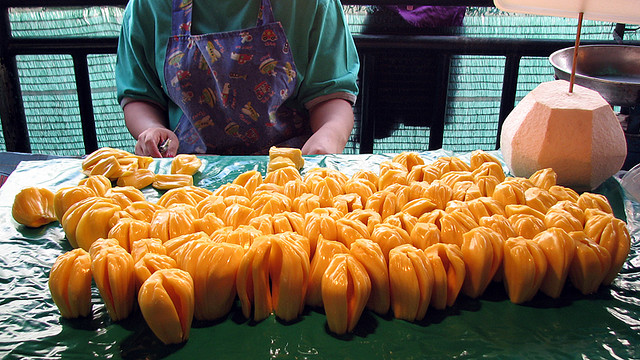 What to See
The three most important tourist destinations in Bangkok are the Grand Palace, Wat Pho and Wat Arun, and they're all near each other. It's best to walk through all of them in one day, starting with Wat Pho (Temple of the Reclining Buddha) and ending at Wat Arun (Temple of Dawn). Travelers should dress appropriately, as these are sacred to Thai people. Be prepared to remove your shoes whenever you go inside a building, even though it can get annoying as you walk in and out of buildings around the Grand Palace. You should start this tour early and take your time so you can catch the sunset from Wat Arun.
Wat Pho is one of the oldest and largest temples in Bangkok and houses an enormous reclining Buddha that measures 46 meters long and fifteen meters high. The Buddha's feet are inlaid with mother-of-pearl depictions of Buddha.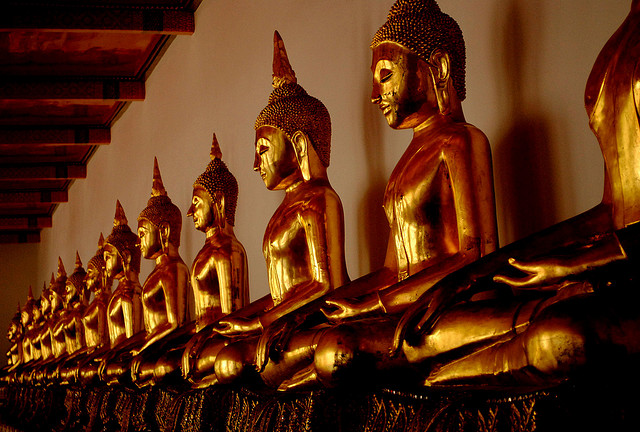 The Grand Palace has been the residence of Thai kings and queens since the 18th century, but is no longer the residence of King Rama IX and Queen Sirikit Kitiyakara, who live in Chitralada Palace. It is home to Wat Phra Keao (Emerald Buddha Temple) and some of the most amazing architecture and historical Thai artistry. The space for the palace and temple is enormous, and it will take the average visitor a significant amount of time to wander through. It is also mostly outdoors, so prepare accordingly with sunscreen and water.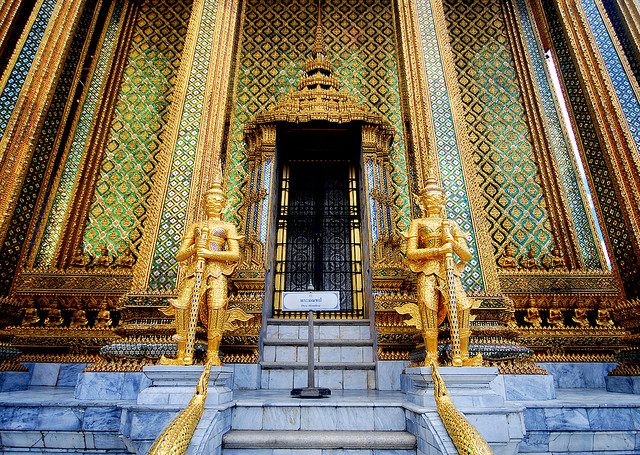 From the Grand Palace, you can catch a river taxi for less than 50 cents across to the Khmer-style Wat Arun. Very few taxis and tuk-tuks will drive across the river to take you here. This is generally the least crowded of the three sites and it is entirely outdoors. From the top of Wat Arun, you can take some magnificent photos of the Grand Palace with the Chao Phraya River in the foreground.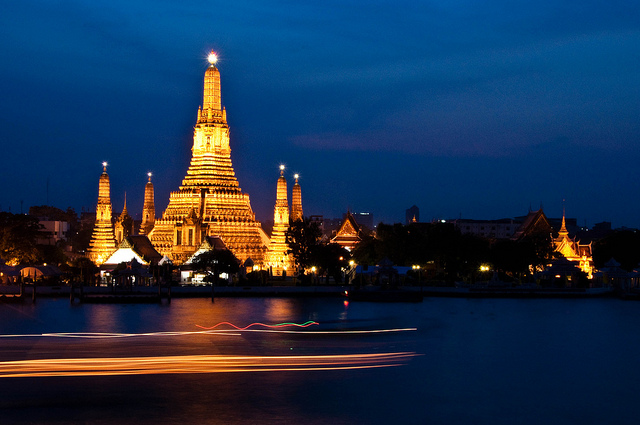 Jim Thompson was an American architect who moved to Thailand after World War II and founded the Jim Thompson Thai Silk Company. After his disappearance in Malaysia in 1967, his house became the Jim Thompson House Museum. Most of the soak is the same as it was when Thompson designed it, and inside travelers will find many artifacts from across Asia that he purchased. The Thai-style architecture is beautiful, as is the immaculately maintained landscaping. The tour provides insights into Thompson's life and the history of Asia, and takes about an hour to complete. Open 9am-5pm, admission 100 Baht.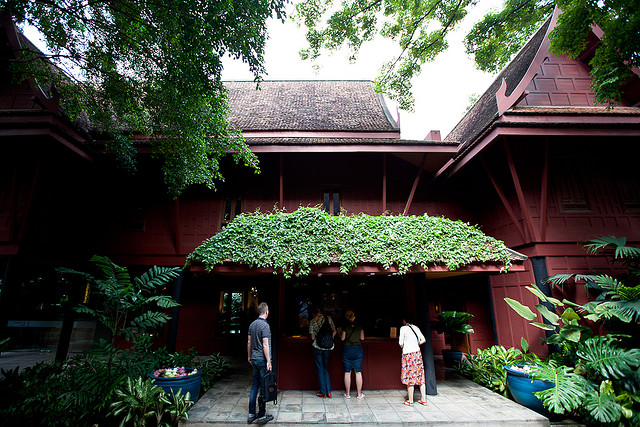 The Vinmanmek Royal Mansion is the largest golden teak mansion in the world. It's located in Dusit Park near the Ananda Samakhom Throne Hall and Dusit Zoo. All visitors must take a first-come-first-served tour through Vinmanmek and photography is not allowed. This mansion is still in use by the royal family and visitors, so sections of it may not be open to the public. Because taxi and tuk-tuk drivers, as well as many others, want to sell you tours and products and may incorrectly tell you that Vinmanmek is closed, it is best to go directly to Vinmanmek—it is only supposed to be closed during public holidays. On the grounds nearby is the Royal Coach Museum, which houses numerous carriages and cars used by the royal family, including a tuk-tuk. The area is very pleasant to explore, even if the mansion and Throne Hall are closed. If you have enough energy when you're finished touring Vinmanmek and the Throne Hall, the Marble Temple is only a 10-minute walk away and is also a sight well worth seeing.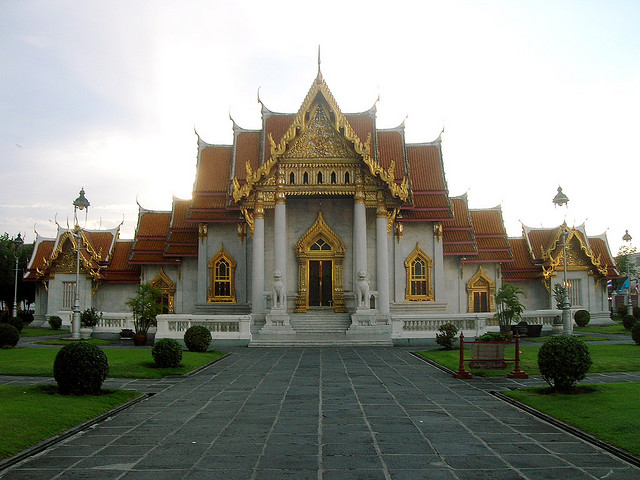 Need Award Booking Help? Our fee is as low as $75 per ticket if you book your hotel through us.
If you enjoyed this, join 100,000+ readers: please follow TravelSort on Twitter or  like us on Facebook to be alerted to new posts. 
Become a TravelSort Client and Book 5-Star Hotels with Virtuoso or Four Seasons Preferred Partner Amenities! 
Photo Credit: O city city, mauve55, Jody Art, tk-link, Paul Ancheta, oskidor, Earth-bound misfit, Michael McDonough, Mark Fischer, Nomad YC, Marco Ferraro