The mention of Baan Korean Restaurant for Restaurant Week dinner prompted skepticism from a Korean friend, who noted that she found it overpriced compared to other Korean fusion restaurants in NYC. I kept our reservation anyway, and tonight found my family there for an early dinner, after an afternoon at one of the largest playgrounds in Central Park. Needless to say, we were all famished, especially the munchkin, who of course had done the most running around.
Baan's main entrance is not on the street, but set back slightly just off a courtyard area on 50th Street, between 8th and 9th Avenues. We were welcomed by the hostess, who led us to a table in the spacious main dining area. We asked if we could instead be seated at one of the tables by the window with partial booth seating, and she obliged. Our server came over immediately with both regular menus and Restaurant Week menus, which we perused. Since I had already looked at the menu online when writing my prior post, NYC Restaurant Week Summer 2012: Where to Go I immediately noticed that the dessert section wasn't the same. It only offered a choice between ice cream/sorbet and something called Soju Banana Sabayon, described as "silky soju & banana infused whipped custard with mixed berries & sweet sesame dipping tuile," but there was no mention of the Asian Pear Crumble or Hot Chocolate Cake that were on the Baan Restaurant Week Menu on the Web site: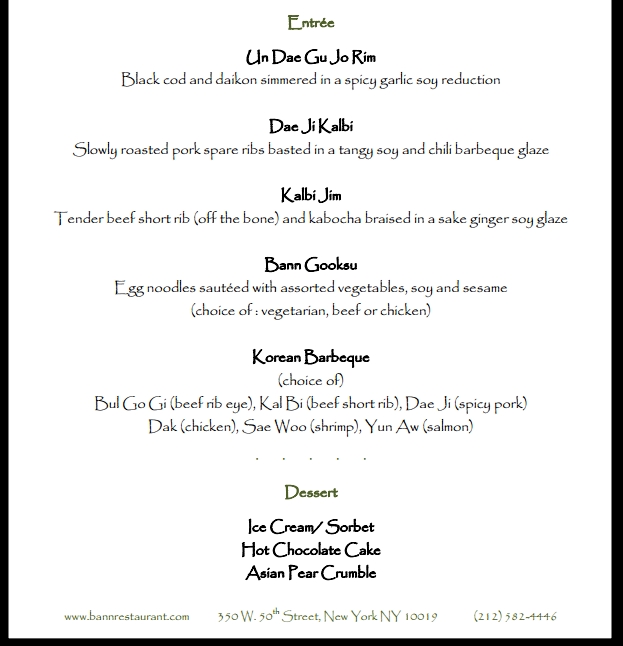 So when our server came over, I noted that I had made our reservation in part based on the desserts on the Restaurant Week Menu listed on the Baan Web site. Our server at first said that the menu is subject to change, but since I was pretty disappointed with this change, he agreed to check, and later came back and said it would be fine for us to order the Asian Pear Crumble for our Restaurant Week menu, "just this time." We then went ahead and placed our orders, including some shrimp dumplings for the munchkin, in case some of our dishes were too spicy for him.
The dining room itself is modern Asian–definitely a step up from most Koreatown restaurants, but muted and not over the top as, say, Tao is.
Our appetizers were quite quick to come out. My husband had ordered Dak Nal Ke Ti Kim, spicy honey chili glazed crispy chicken wings, and he enjoyed the spicy sweet skin while giving some of the meat to the munchkin, who ate up each morsel almost as soon as it was put in front of him.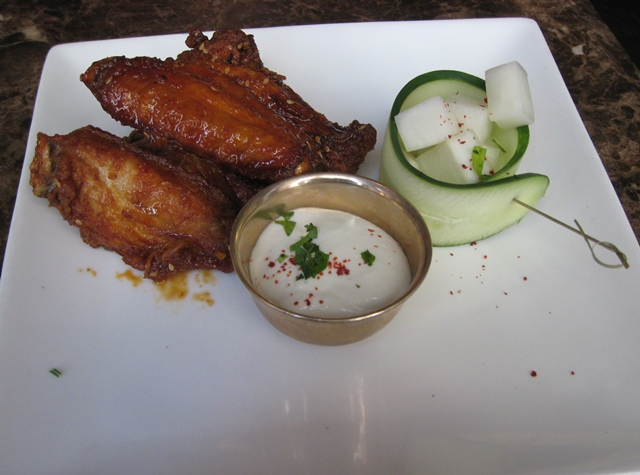 My Bo Ssam Bun, roast pork belly and spicy pickled daikon with soy reduction on steamed flour buns, was not so sharable with the munchkin since it had plenty of kick to it, so I shared it with my husband instead. I loved the crunch of the pickled daikon, which contrasted nicely with the richness of the pork belly. I did think some of the meat was a bit too fatty even for pork belly, but overall it was great, and I'd still recommend this appetizer if you want something rich and Korean; otherwise the ahi tuna sashimi, which isn't Korean at all but did look spectacular, presented on an enormous ice pedestal at other tables.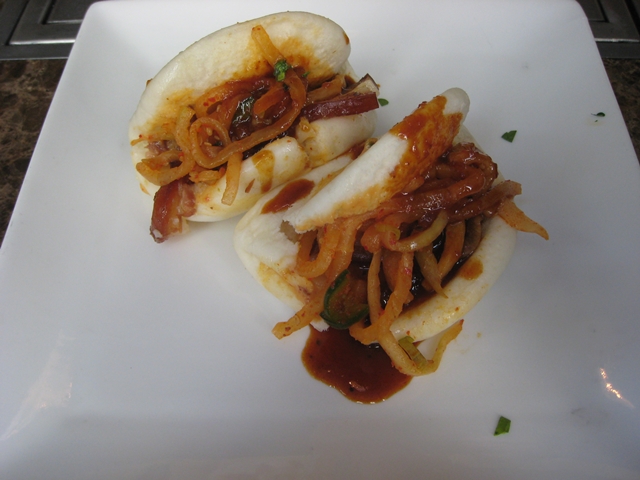 Before bringing the entrees, we were brough generous portions of salad with a spicy dressing, and some simple ban chan: pickled daikon, kim chi, and broccoli. Baan is definitely not the place to go if you want a ton of ban chan–go to a more traditional Korean place for that–but the kim chi was good and the complimentary salad was a welcome vegetable given that our other dishes were quite meaty.
For entree, my husband ordered Kalbi Jim, tender boneless short rib and kabocha braised in a sake ginger soy glaze. My husband and the munchkin both loved this dish, although I had hoped the kabocha (Japanese pumpkin) would be sweeter and more tender.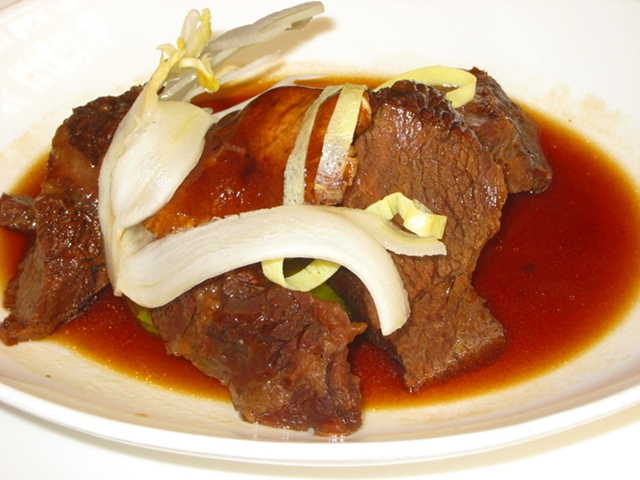 I was very happy with the Un Dae Gu Jo Rim (black cod and daikon simmered in a spicy garlic soy reduction) that I ordered. The garlic soy perfect for the black cod and daikon, and so flavorful that I spooned it generously over the rice. It was also a generous portion, seemingly the full portion one would get ordering it a la carte for $28.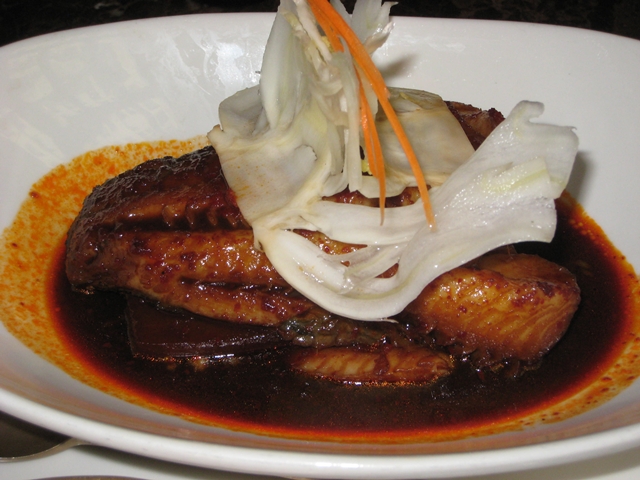 It took awhile for our table to be cleared and for dessert to arrive, which our server mentioned was due to the fact that the pear crumble is baked to order. While I'm not sure if that's true or if he just put in our dessert order a bit late, it finally did arrive. It was exactly what we wanted after our dinner–a fruit dessert, and served with some refreshing Asian pear sorbet on the side. Since I often make fruit cobblers, I wouldn't say it was amazing relative to fruit desserts at my favorite bakeries in NYC, but it was excellent for an Asian restaurant. It's really a shame they've changed the dessert portion of the Restaurant Week menu, since on the regular menu this dessert, the chocolate cake, the soju banana sabayon and other desserts are $8 (except ice cream/sorbet which is $7), so why not allow people to choose the original desserts written up on the Restaurant Week menu, which is still on the Web site?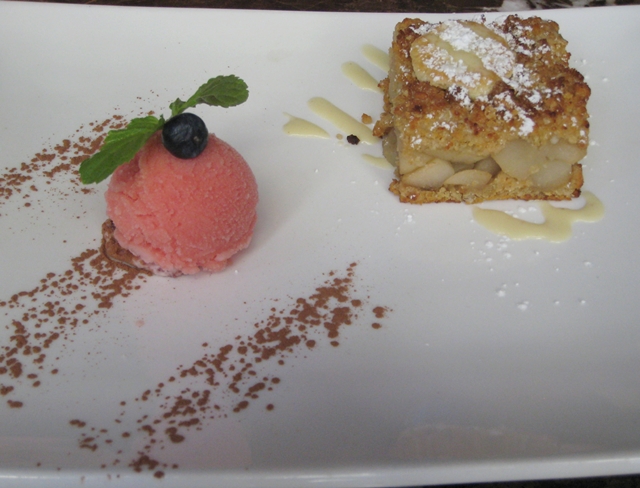 The Verdict: While Baan does serve a Restaurant Week lunch menu, the lunch entrees don't include the dishes we ordered, such as Kalbi Jim and Black Cod, which I'd say are the main reason to go, so I'd suggest going for dinner. And though the regular menu is certainly pricey when comparing it to hole in the wall Koreatown haunts, for the setting and service level I'd say that the generous portion sizes make it fairly reasonable for NYC. We paid $92 + tax and tip for our two Restaurant week menus ($35 each for three courses), $10 for shrimp dumplings and $12 for 2 beers. Naturally I paid with my Chase Freedom, which earns us 5X points on ALL dining July-September 2012. I love combining 5X points with NYC Restaurant Week! I'd go back again for the Black cod dish alone, even without Restaurant Week. And while I try to avoid dining anywhere in the theater district due to normally abysmal food quality, Baan is actually a good bet if you're in that area.
Apply: Chase Freedom Card gets 5X on all dining July-September 2012
Related Posts
NYC Restaurant Week Winter 2014: Where to Go
Momofuku Noodle Bar, NYC Restaurant Review
Khe-Yo NYC Restaurant Review: Laotian in Tribeca
Where to Eat in NYC: The Best New York Restaurants Right Now
Need Award Booking Help? Our fee is as low as $75 per ticket if you book your hotel through us.
If you enjoyed this, join 90,000+ readers: please follow TravelSort on Twitter or like us on Facebook to be alerted to new posts.
Become a TravelSort Client and Book Your Hotel with Virtuoso or Four Seasons Preferred VIP Amenities!