We've mentioned
AwardWallet
before, in Ben's post
My Top Flight and Points Management Tools
, but it was only recently that I finally got around to signing up myself. While I have a pretty good memory of all my points balances, and they're not in as much flux as very frequent fliers, it is great to have everything in one place.
So why did it take this long? To be honest, it was two things: priorities/time (there are a ton of other things on my to do list) and also concern over passwords, which as it turned out the site has an easy solution for, as I'll cover below.
Signup
Signup is simple and straightforward: you create a user name, provide your first and last names, email and password. You're emailed an activation link, which you click on to activate your account.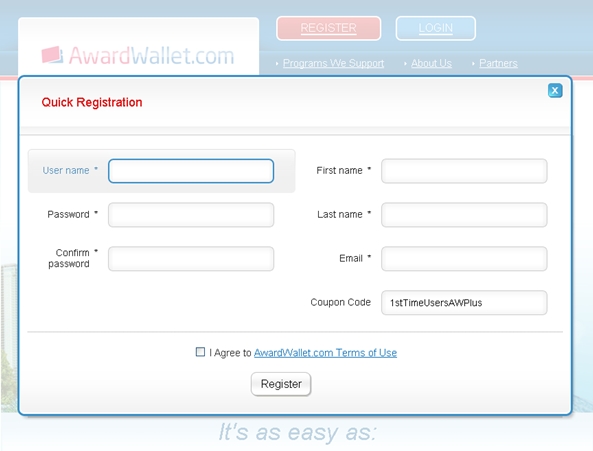 Adding Frequent Flyer and Loyalty Programs
It was similarly easy to add frequent flyer and loyalty programs, although initially I needlessly scrolled through the programs when in fact they have a handy autocomplete at the top–just start typing the name of the airline frequent flier program or loyalty program and it will appear: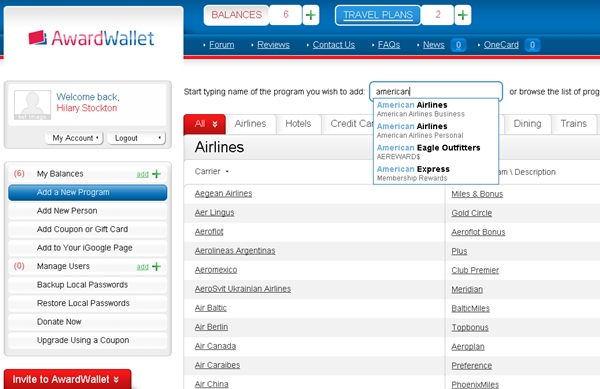 If you try to add American Airlines AAdvantage, however, you'll notice that you need to install an extension. This of course is not a flaw with AwardWallet; rather it's simply American Airlines not allowing AwardWallet to access AAdvantage program information or store member account info and passwords on AwardWallet's servers. So the browser plug-in is AwardWallet's workaround to that.
One thing I do think AwardWallet could improve is to stay on the page informing you of this, and ask you if you want to install the browser extension or not. I was confused and a bit irked the first time, since I didn't have a chance to read the notice before it automatically took me to the plug-in download page, when in fact I didn't want to deal with installing the plug-in at that time.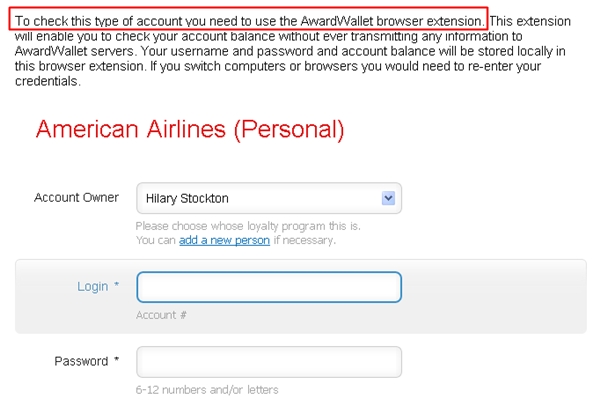 Once you've added your frequent flyer and loyalty program info, you'll have a nice one screen summary of all your balances (ok, so I've covered mine here, but you can see what it would look like from the column headings):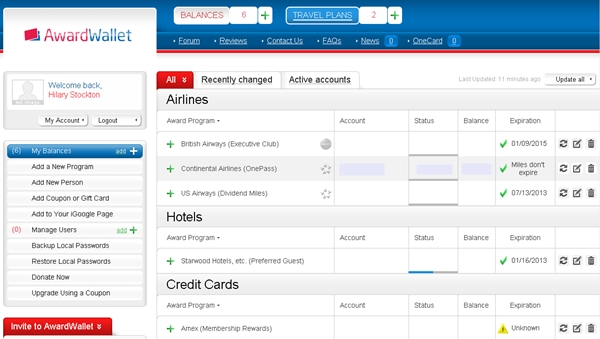 Although I haven't done this yet, you can also pull in data for family members, which is handy if you're managing a bunch of family member frequent flyer and loyalty accounts.
AwardWallet vs. AwardWallet Plus
This was something that I spent quite some time looking for, even though it's only the second question in the AwardWallet.com Website subheading in the FAQ. Call me blind, but it would be good to somehow make this more prominent. When you sign up, you automatically get enrolled in the AwardWallet Plus version for 6 months, and then you'll be prompted whether you want to continue (which you can do by donating an amount you choose) or you'll be downgraded to a regular AwardWallet account.
For me and for many others, the regular account would be perfectly fine–I don't have a ton of accounts I need to get expiration alerts for (you're limited to 3 with the regular account) nor do I need to download my balances to excel or see historical activity. But even if you do need these features, it's awfully nice of the AwardWallet team to leave it up to the user how much they want to donate.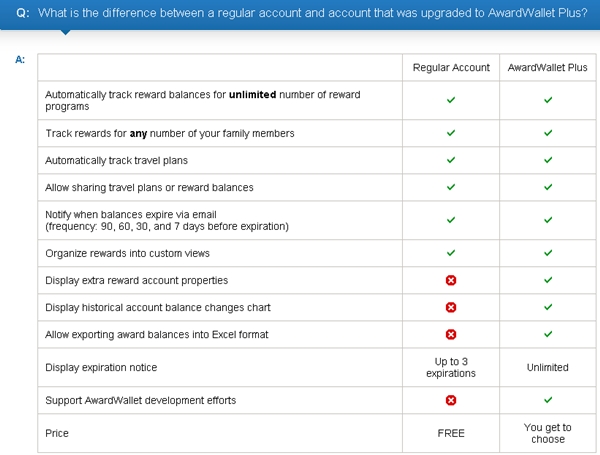 Password Security
As I mentioned above, I was a bit leery of having my frequent flyer passwords stored elsewhere, given the seeming frequency with which even large companies have their user account databases hacked. Fortunately, there's an option to store your passwords locally. This is what happens when you use the extensio n for the American AAdvantage program also. Just click on "My Account" on the left and where it says "by default" select "Store passwords locally" from the dropdown.
Travel Itineraries
AwardWallet also pulls in your travel itineraries; it's not actually just your own, since I noticed it pulled in my husband's itinerary, but handy if you're not already using, say, Tripit for that.
Bottom Line
AwardWallet is handy for keeping all your miles and points in one place, even if you only have a few accounts. I can understand why it's vital for those who have, say, 15 or more loyalty accounts and/or are managing accounts for family members. And I'm glad to have the option to store passwords locally, as that's an important feature for me. As a free miles and points tool, it's a no-brainer.
Related Posts