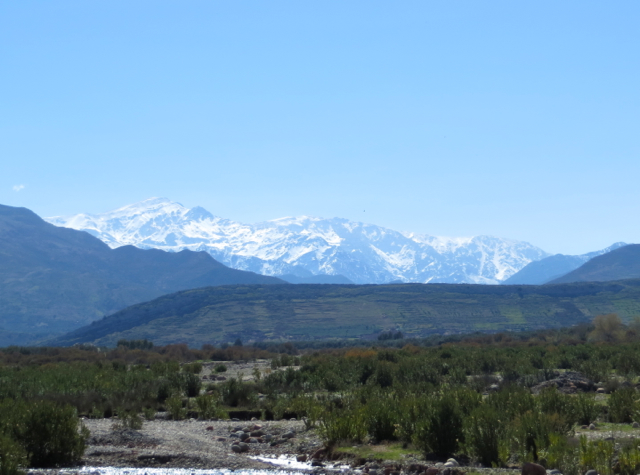 This Atlas Mountains Berber Village Experience Review is part of a trip report including Iberia Business Class, plus reviews of luxury hotels and dining in Marrakech, Morocco. For the prior posts, please see:
British Airways Galleries Lounge at JFK Terminal 7 Review
Iberia New Business Class A330-300 Review
Solano at Four Seasons Marrakech Restaurant Review
Our Marrakech trip was short, with much of it devoted to site inspections at the Four Seasons Marrakech and Amanjena for TravelSort Clients, but we knew we wanted to visit a Berber Village and see the Atlas Mountains closer up. Amanjena (review coming soon) had the perfect trip: A visit to the home of a Berber family in a small Berber village outside L'Arbaa Tighdouine.
We were picked up promptly at 10am in a comfortable black Amanjena BMW SUV, which drove us south for about an hour. We did make one stop, since the munchkin unfortunately gets a bit carsick, and the stop even had a small playground for him to run around in–a nice option if you have kids along.
As we got closer to L'Arbaa Tighdouine, some of the views of the Atlas Mountains were stunning. We'd of course seen them in the distance from Marrakech, but I do recommend you take the time to get closer to them, even if you're not up for a strenous trek. You don't often see cactus and snow in the same photograph:
It was Wednesday, which is L'Arbaa Tighdouine's Berber Market day, so after very briefly meeting our host for lunch and unloading some Amanjena provisions for him to take up to the house, using his donkey, we continued on to L'Arbaa Tighdouine to explore the market.
Believe me when I say we were literally the only non-Moroccans there. If you've decided that the Medina or souks in Marrakech are too touristy for you, this is the exact opposite, and wholly authentic. A few looked at us curiously, and it was interesting to me how few women there were. Our guide explained that in general men did the buying and selling at these weekly markets, while women stayed home.
The market wasn't just for foodstuffs–there were a number of stalls selling clothes and shoes, both new and secondhand, as well as other household goods. I was wearing ballet flats, but I really should have worn sneakers or hiking boots as it was quite muddy.
Naturally there were vendors selling the Moroccan mint and herbs used to prepare Moroccan tea: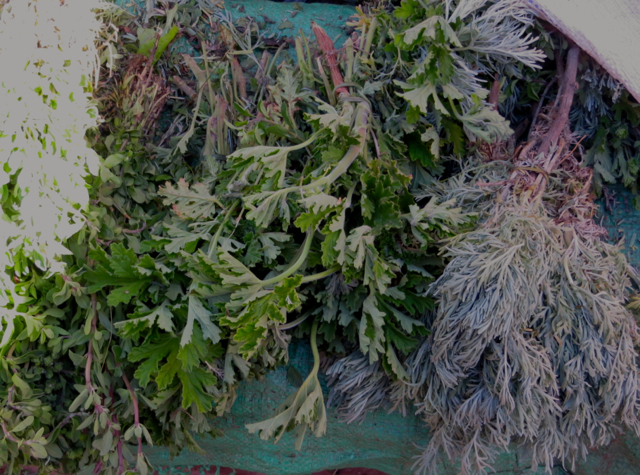 Spices, grains and nuts: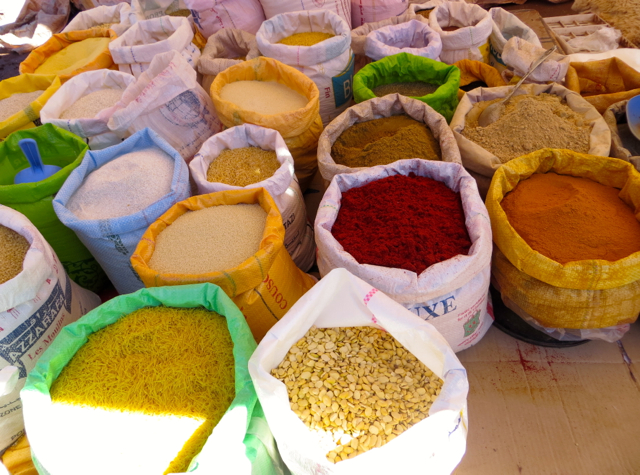 And food vendors, including this one preparing traditional Moroccan tagines in clay pots: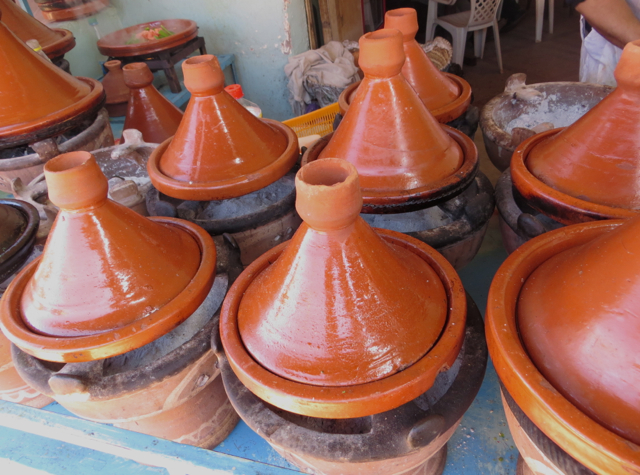 Afterwards, we drove the short distance back to where we'd initially met our host, and he was there again to greet us with his donkey. I had to speak with him via our guide, since our host spoke Berber and Arabic, but no French or English.
He asked if the munchkin wanted to try sitting on his donkey, and the munchkin had fun being taller than I am for awhile. The donkey patiently and uncomplainingly endured the extra weight, and later I saw our host himself sit on the donkey for part of our short trek up the mountain.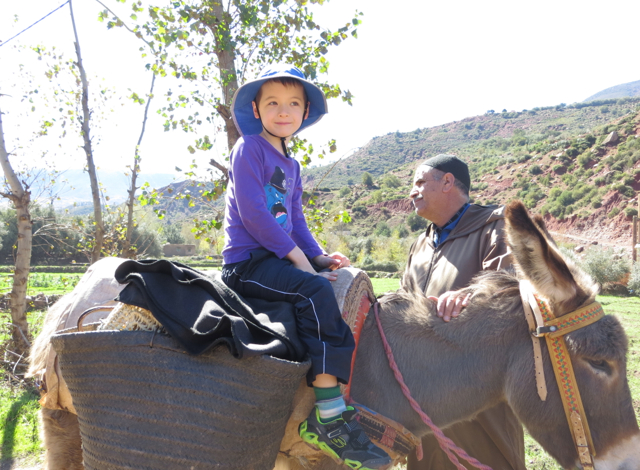 The air was wonderfully fresh and quite cool–it was great that our Amanjena guides had brought a traditional Morocan wool cloak, which they wrapped the munchkin in when it got a bit too chilly for him. On our way up the mountain we crossed over a river.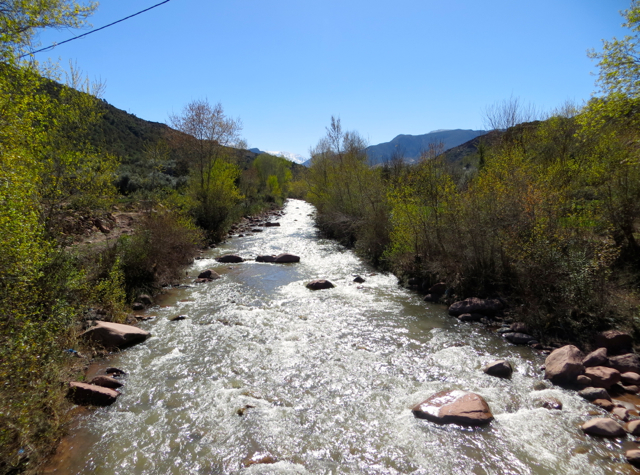 On our way up we passed by an older woman with a cute little lamb following behind her, jumping around playfully. It was going too fast for me to get a photo, unfortunately!
We finally arrived at our host's home, one of several perched high on the mountain. Our Aman guides offered us glasses of Aman berry smoothie, which, while not authentic, was delicious. We met our host's wife, who was tending the hearth where the homemade Moroccan bread was baked: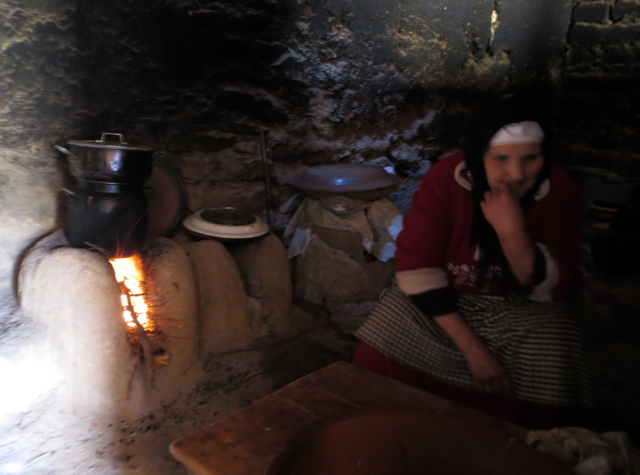 And enjoyed the view of the valley and mountain. We learned that our host's children attended the local school there, and even the 6 year old walked there and back by himself (a fact that astonished the munchkin, given that we don't let him wander NYC by himself yet).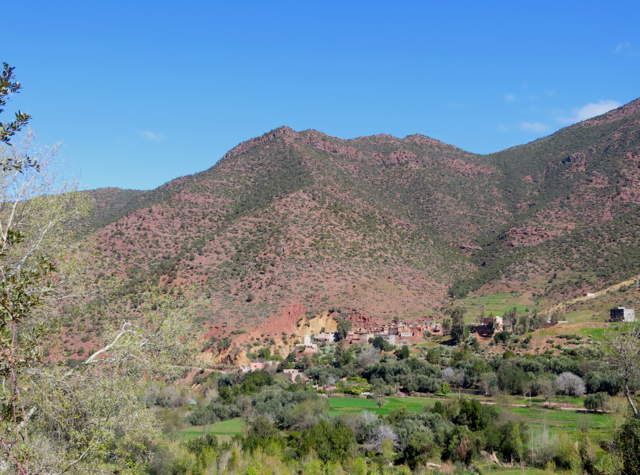 We took our shoes off before entering the room where we'd have our lunch, which was light-filled and already provisioned with things needed for Moroccan tea.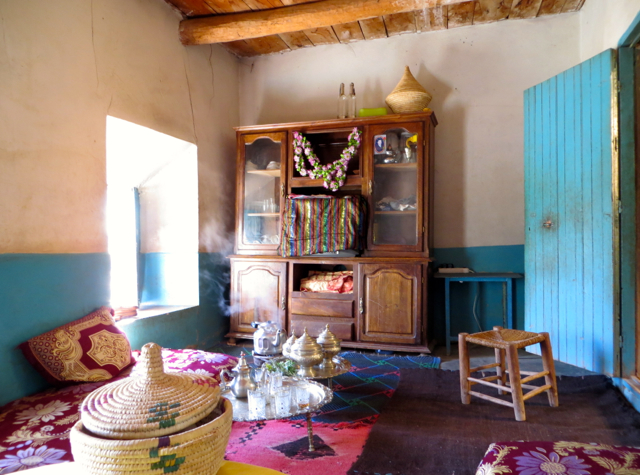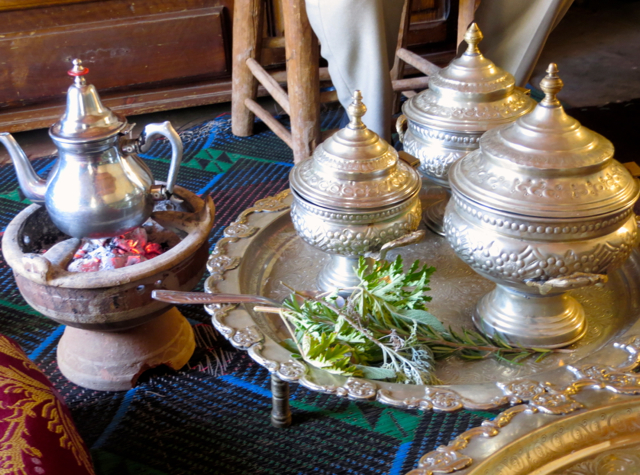 Our host jokingly pretended to play an "instrument" which turned out to be a beautiful antique bellows, to make the fire hotter. The munchkin of course was curious to see it in action: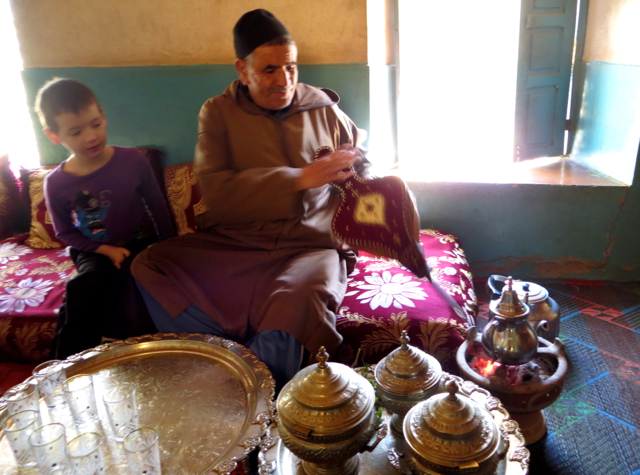 Then it was time to pour tea. Moroccans have tea multiple times a day, and we were served Moroccan tea both before and after our meal: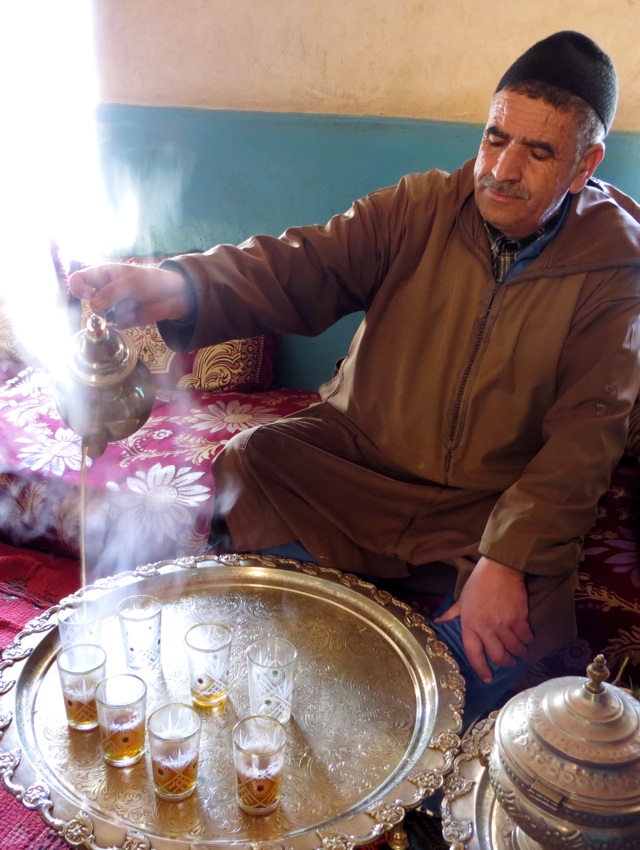 Before long, lunch was served. A fragrant platter of freshly cooked coucous and chicken, along with a beef tagine surrounded by seasonal vegetables were the center pieces, with home baked Moroccan bread served alongside.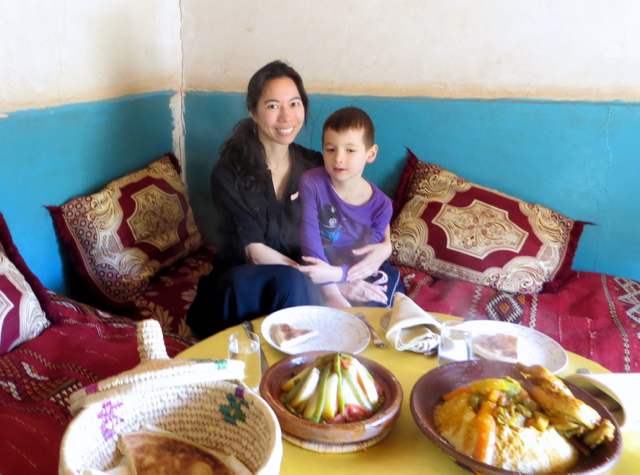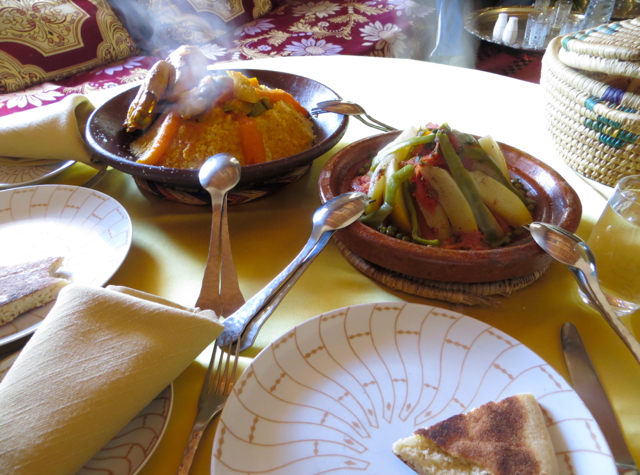 Normally you are left on your own to savor the lunch, but given the enormous amount of food and that it was just two of us, I insisted that we eat family style, with our Aman guides and our host.
The bread was so tasty that was the main thing the munchkin wanted to eat, but once he tasted the saffron chicken, that proved popular as well. As for me I enjoyed all of it, and am almost sold on adding a tagine clay pot to my kitchen as well as learning how to cook couscous properly, to be as light and delicately spiced as what we enjoyed.
I was told that traditionally women are responsible for making the couscous, as it can be tricky to achieve the perfect consistency, and men prepare the tagine.
Afterwards, we were lucky enough to get to the meet the youngest member of the family, a 6 year old boy the same age as the munchkin. Again, we had to speak via our guide, since he only spoke Berber and was just starting to learn Arabic at school. Both he and the munchkin were understandably shy, but the munchkin was still very happy to see someone his own age.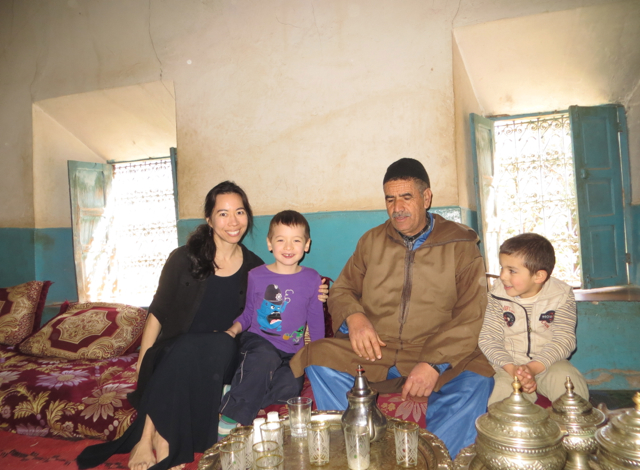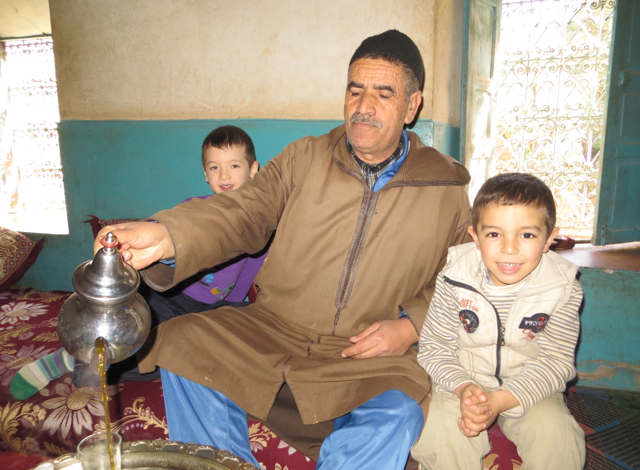 They offered each other cookies, from dessert, while I enjoyed fresh orange slices with dried dates:
The Verdict
Very worthwhile–I highly recommend this Atlas Mountain and Berber Village Experience in L'Arbaa Tighdouine when staying at Amanjena. The Atlas Mountain scenery was spectacular, and it's not every day you get to experience Berber hospitality in a place that families have lived for hundreds of years. And given the one hour drive, we were very happy to be in a comfortable Amanjena vehicle for the trip. The only thing that I would have liked was for there to already be water bottles in the vehicle, although we did stop for a couple on the drive back.
Disclosure: My family and I paid for this Atlas Mountains Berber Village Experience, but were guests and enjoyed a complimentary stay and breakfast at Amanjena, however the views expressed in this post are my own.
Related Posts
Top Hotels in Madrid, Barcelona, Lisbon, Istanbul and Marrakech
Need Award Booking Help? Our fee is as low as $75 per ticket if you book your hotel through us.
If you enjoyed this, join 90,000+ readers: please follow TravelSort on Twitter or like us on Facebook to be alerted to new posts.
Become a TravelSort Client and Book 5-Star Hotels with Virtuoso or Four Seasons Preferred Partner Amenities!