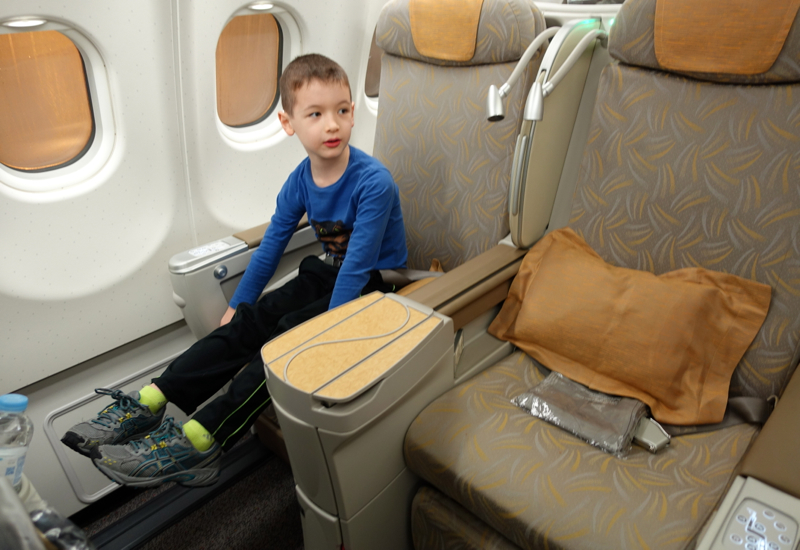 This review of Asiana Business Class on the A330 is based on our flight from Seoul to Bangkok, an early evening flight that departed Seoul ICN 6:20pm and arrived in Bangkok a bit after 10pm. For prior posts in this trip report, please see:
SWISS Lounge JFK Terminal 4 Review
Review: Asiana First Class Suite NYC JFK to Seoul ICN
Review: Cornerstone Restaurant, Park Hyatt Seoul
Lounge Review: Asiana Business Class Lounge Seoul Incheon
After leaving the Asiana Business Class Lounge, I soon arrived at the gate for our departing Asiana Business Class flight. At the counter, I alerted the agents that my husband and son were on an arriving Asiana flight from JFK, and asked if they could ensure they made this flight, which the agents said wouldn't be a problem, even with the 50 minute connection time.
Well, the incoming flight was a bit delayed in parking, so even though my husband and son were among the first off the plane thanks to flying first class, it was departure time by the time I finally caught sight of them running towards our gate. Fortunately they weren't the only ones or even the last ones on board (I'd feel pretty terrible if the whole plane was waiting just for them), but I was grateful to Asiana staff that they were protected on and made this flight.
Asiana Business Class Seat Selection on the A330
Asiana's two-cabin A330 has 5 rows of business class angled flat seats in a 2-2-2 configuration. I recommend avoiding both the first row, row 1, and the last row, row 5, due to light and noise disturbance from the galleys and lavatories. That leaves rows 2-4, and most folks will probably want a pair of window/aisle seats, such as 2A/2C or 2H/2K.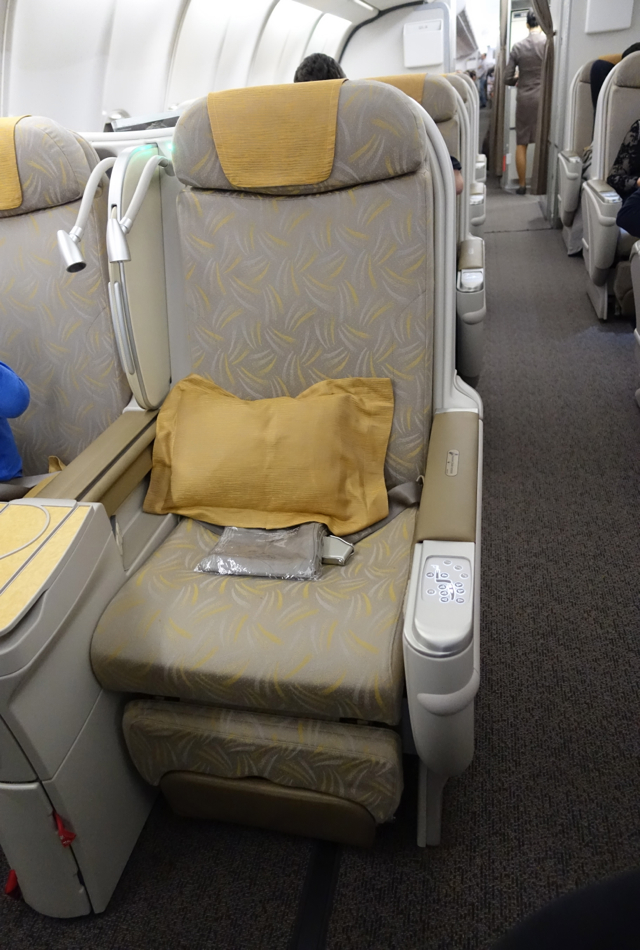 If you're traveling solo, you can either take a window for privacy if you don't anticipate needing to get up (which is awkward without disturbing your neighbor, if s/he has fully reclined the seat) or will want an aisle, so that you can easily get up without having to climb over anyone.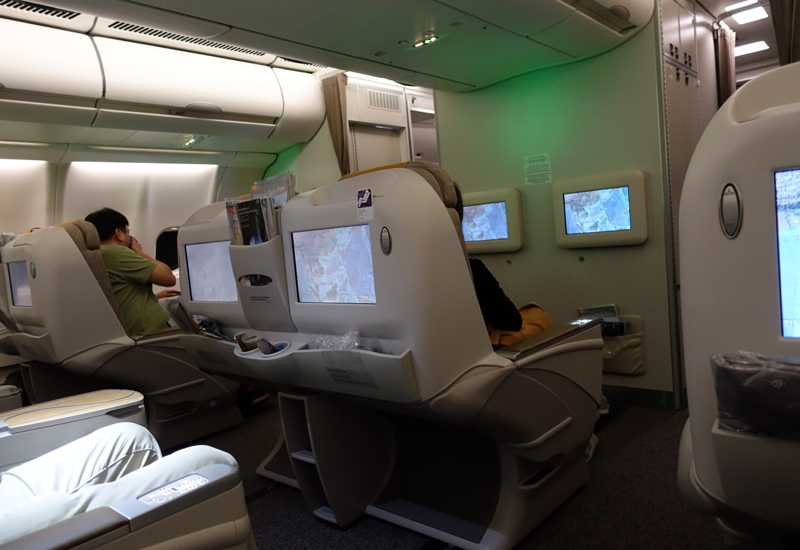 Asiana Business Class Seat on the A330
Personally, I hate angled flat seats on night flights, hence my poor review of this hard product (see my prior Review of Asiana Business Class on the A330) last time on the red eye Bangkok to Seoul flight. On a day time flight, if you're well rested, it doesn't matter as much. Asiana's business class seat was fine width-wise, at 26 inches, with plenty of leg room, and reclined to 168 degrees, but wouldn't be comfortable for sleeping unless you were very tired or can sleep anywhere.
Seat controls are on the seat armrests, and intuitive:
A pillow and thin grey blanket were provided, as well as an eye mask, ear plugs, and grey slippers, but no amenity kit: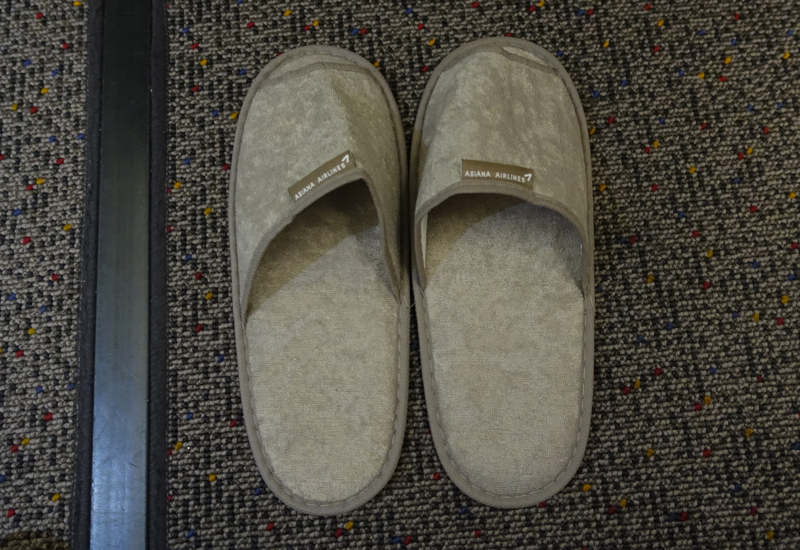 Asiana Business Class Menu and Food
Prior to departure, we were offered a pre-flight drink–my son chose orange juice, and I chose water.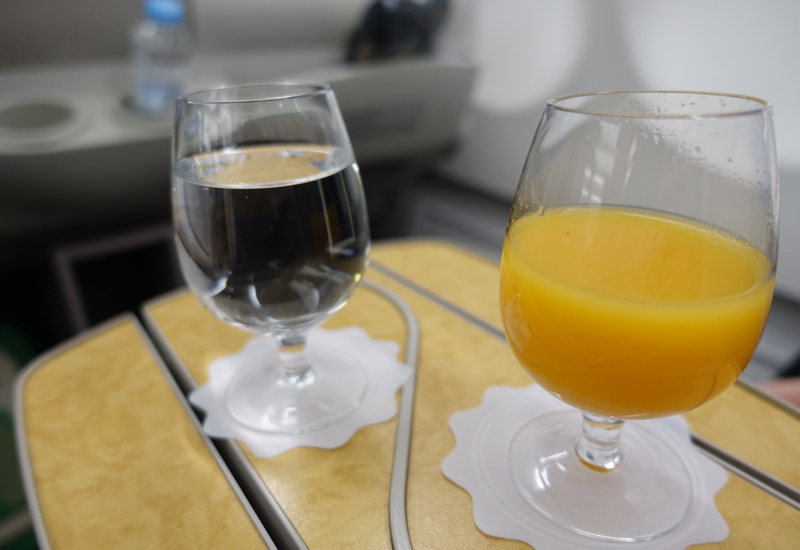 We were also offered hot towels, which were especially good for my son and husband, who had come straight off their long haul Asiana flight from JFK to this one.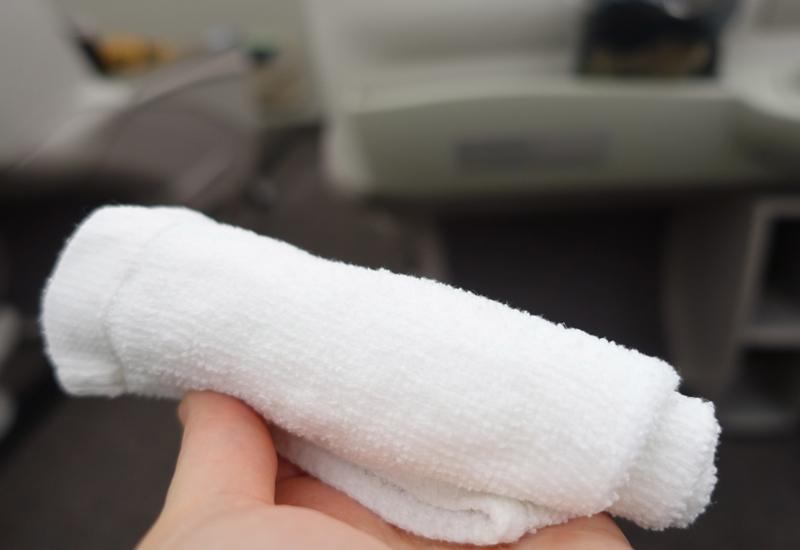 The dinner menus featured both a Korean menu and a Western menu. Since I'd already enjoyed bi bim bap on my Asiana flight the day before, I was happy to see a different option, Ssambap, with Bulgogi beef.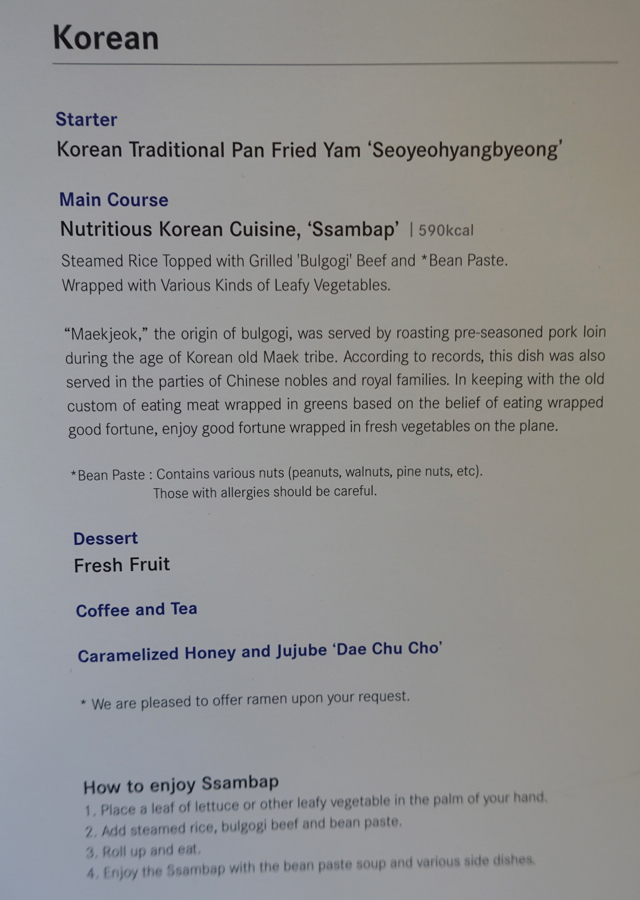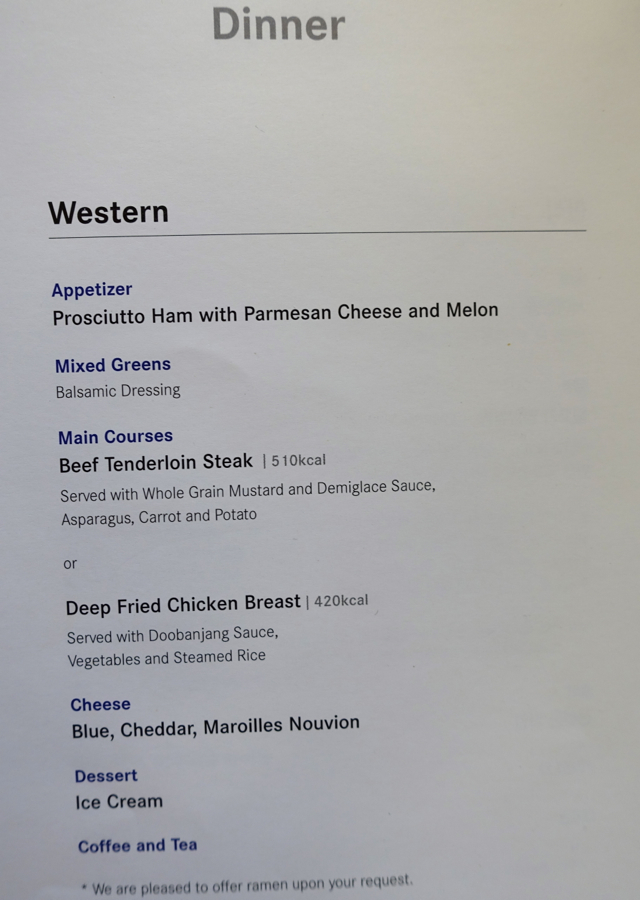 The Korean meal started off with traditional pan fried yam "Seoyeohyangbyeong"–how's that for a mouthful? I liked the glutinous rice used, but overall didn't find the taste to be that memorable.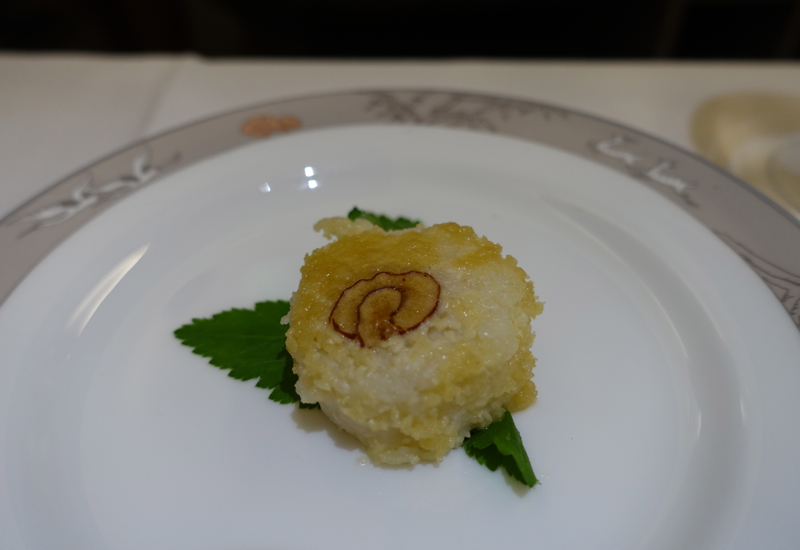 Although it may not look like much from the photo, the Ssambap was one of the more delicious business class meals I've eaten. The Bulgogi was tender and delicious, and as soon as I let my son try some, he couldn't get enough of it. While he just wanted to eat it plain, it was especially delicious when eaten as intended, as Ssambap, with leafy greens as the base, then steamed rice, bulgogi beef and bean paste all rolled up in the greens. The bean paste in particular was incredibly flavorful, from a combination of miso, peanuts, walnuts and pinenuts.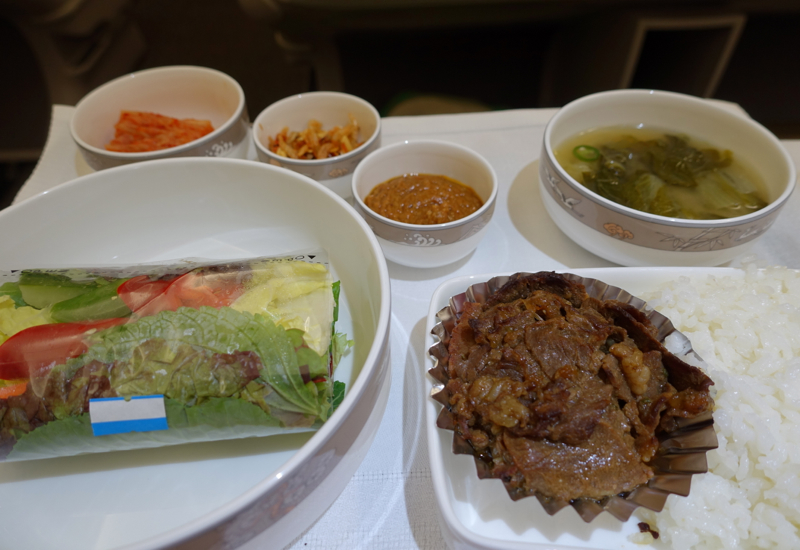 Meanwhile, my son deemed his deep fried chicken in Doobanjang Sauce "too spicy" so I ended up eating most of that. It wasn't nearly as good as the Ssambap, although it was slightly spicier than normal airline chicken dishes.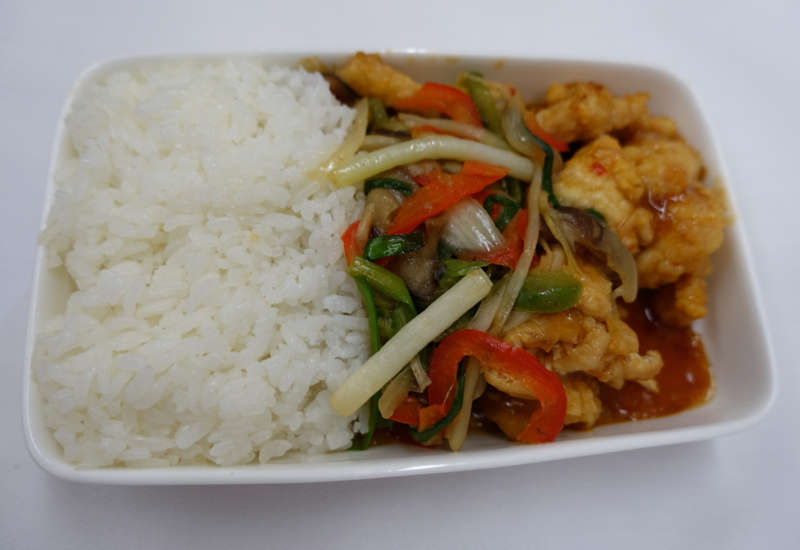 While not impressed with the chicken on Asiana's Western menu (perhaps the beef tenderloin steak was better, although we didn't try it) the Western menu did have a good cheese plate of blue cheese, cheddar and Maroilles Nouvion–the latter something I've never seen before on an airline cheese plate. I loved it, although my son stuck with the cheddar.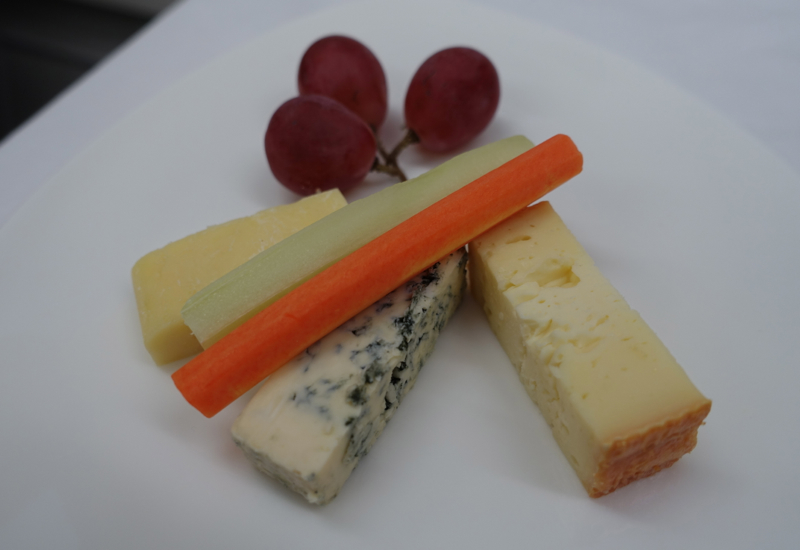 The Western menu also offered Haagen Dazs Vanilla Ice Cream, which my son happily ate all of. I'm not surprised that only one flavor, vanilla, is offered, although I do think it would be better if Haagen Dazs' vanilla bean ice cream was offered in that small size used on flights and in airline lounges–the vanilla bean version is simply better.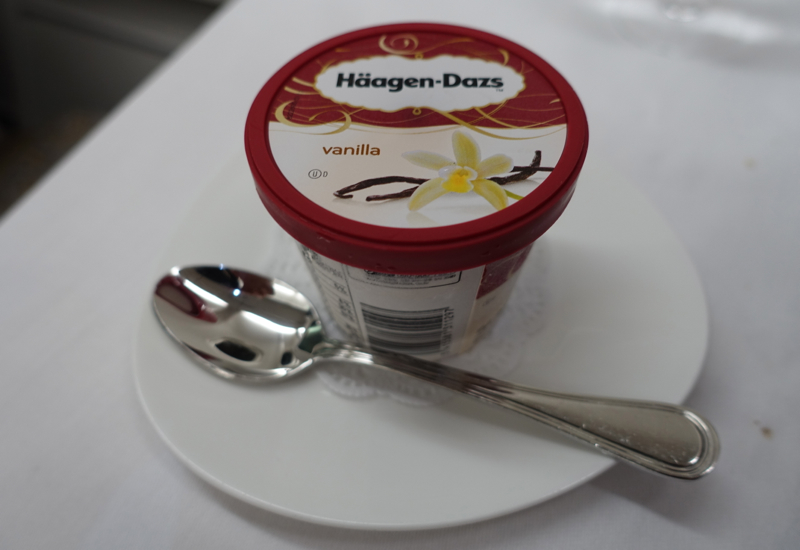 The Korean dessert was Caramelized Honey and Jujube, which was fine as far as Asian desserts go, although if I'd been hungrier I might have requested vanilla ice cream instead.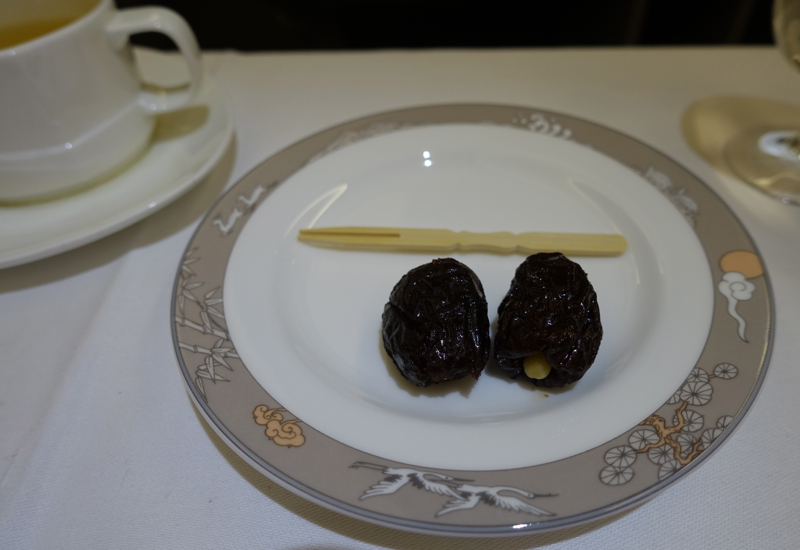 The Verdict
As 5-6 hour intra-Asia flights go, Asiana Business Class on the A330 was very good. Many of these intra-Asia business class flights only offer angled flat seats, so the hard product is typical for the region. And food, at least if you choose the Korean option (perhaps with a request for the Western cheese plate and/or dessert) is, in my view, better than most other carriers except for Singapore Airlines, where it's hard to beat "Book the Cook."
Service on board was also very good, although what really mattered for us was that they waited for my husband, son, and a couple other connecting passengers–excellent protection, and thank goodness they were on an incoming Asiana flight.
If you've flown Asiana Business Class on the A330, what was your experience?
Related Posts
Review: Asiana Business Class A330
Review: Asiana First Class Suite NYC JFK to Seoul ICN
Asiana First Class Suite Review
Asiana First Class Lounge, Seoul Review
Need Award Booking Help? Our fee is as low as $75 per ticket if you book your hotel through us.
If you enjoyed this, join 150,000+ readers: please follow TravelSort on Twitter or  like us on Facebook to be alerted to new posts. 
Become a TravelSort Client and Book 5-Star Hotels with Virtuoso or Four Seasons Preferred Partner Amenities!