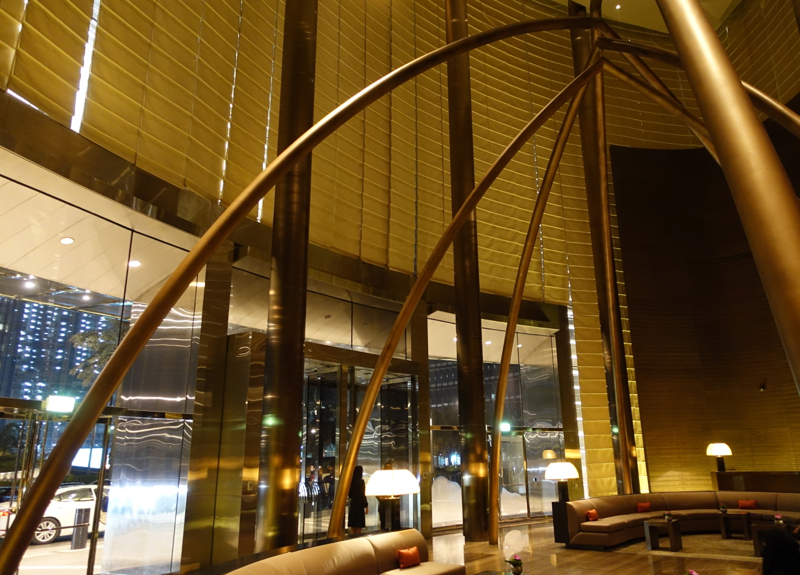 These Armani Hotel Dubai photos and Virtuoso client review is part of a round the world trip report including first class and business class flights, luxury hotel stays in London and Asia, and restaurant reviews.
For the prior posts, please see:
Review: British Airways Concorde Room Lounge NYC JFK Terminal 7
Review: British Airways Business Class on the 747-400 JFK-LHR
Best Seats in British Airways New First Class 747-400
Review: British Airways Arrivals Lounge in LHR and Heathrow Express to London
Launceston Place London Restaurant Review
London Tips: British Museum with Kids
Review: Rivea at Bulgari London Hotel
Review: British Airways First Class Lounge London Heathrow Terminal 3
Qantas First Class A380 Review London to Dubai
Review: Atmosphere Lounge at the Burj Khalifa Dubai
We visited but did not stay at the Armani Hotel Dubai, which is located on the bottom 8 floors of the Burj Khalifa. I was interested in viewing a couple of the rooms, since clients have enjoyed staying here. A recent client's feedback:
"Armani Dubai was absolutely fantastic. Very generous with a large suite upgrade, free minibar, free San Pellegrino + Aqua Panna by the pool, complimentary 7 course dinner in the fine-dining restaurant (Armani / Ristorante), complimentary Bentley car transfer to our next hotel etc…Much above expectations and worth the extra cost."
Here are the Virtuoso benefits TravelSort clients receive:
Upgrade on arrival, subject to availability

Complimentary Buffet breakfast daily for up to two in-room guests

A complimentary lunch or dinner for up to two people per room once during stay, excluding alcohol, taxes and gratuities

Early check-in/late check-out, subject to availability
On our way to the Atmosphere Lounge, we passed through the Armani Hotel Dubai Lobby, which in keeping with this design hotel was minimalist, although fortunately it wasn't style over function–the seating was comfortable, and we had occasion to occupy it for some time after our visit to the Dubai Fountain due to the heavy traffic that delayed our driver.
Although the Armani Dubai was quite full at the time of our visit, one of the associates was happy to show me a couple of the room types that were available and not currently occupied by guests or being prepared for new guests. The first was an Armani Classic Room, which is one category above the entry level Armani Deluxe Room. The Armani Classic Room is a spacious 753 square feet (70 sq. meters), and even though it's one of the two room categories and not a suite, it offers a separate living room area and bedroom.
You enter into the living room area, with a sofa, armchairs, and minibar (complimentary), including Nespresso machine: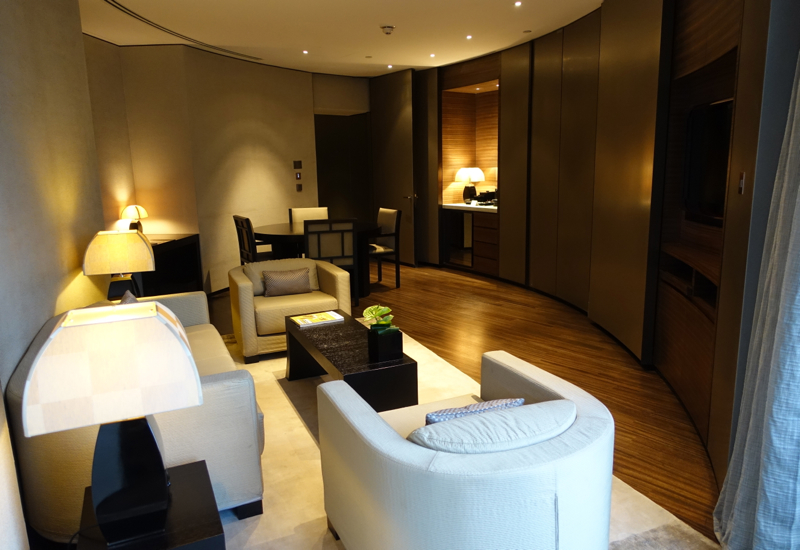 The bedroom, with King bed, lies on the other side of the curved wall: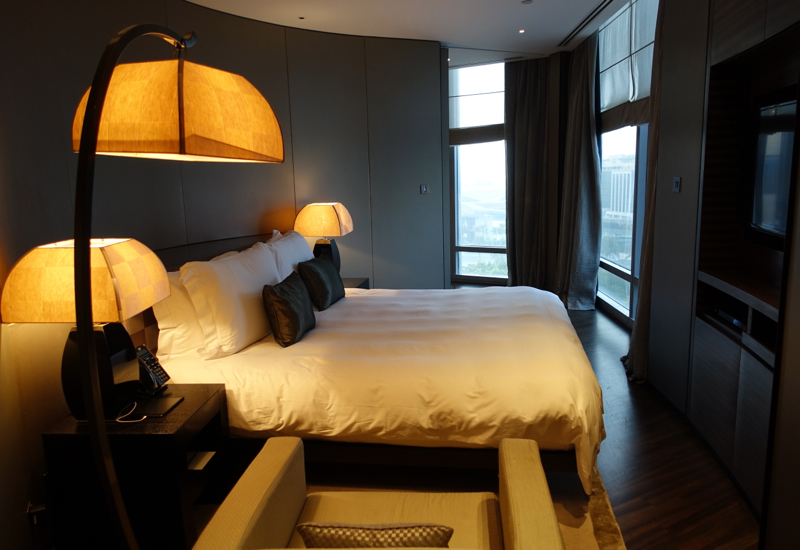 The bathroom offers dual vanities, separate glass enclosed shower and soaking bathtub, and Armani bath products.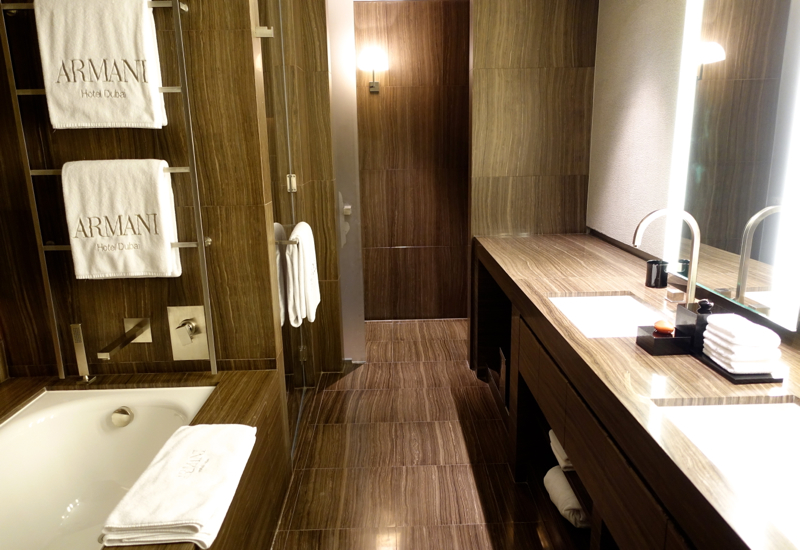 Since the Armani Hotel Dubai is on the lower floors of the Burj Khalifa, most of the views aren't that special, apart from those of the Fountain View Suites (photo later). Here's the view from the Armani Classic Room that I viewed: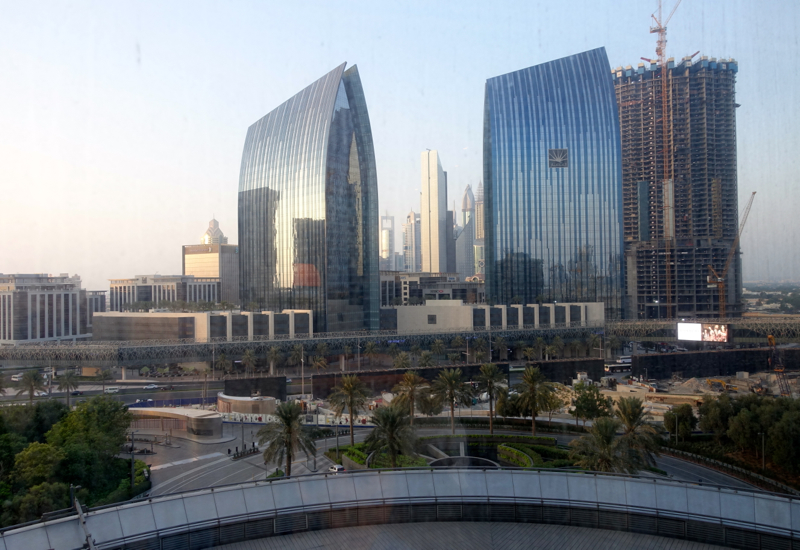 Next, we visited an Armani Premier Suite, which is 1022 square feet (95 square meters), with an even more spacious living room, bedroom and bathroom: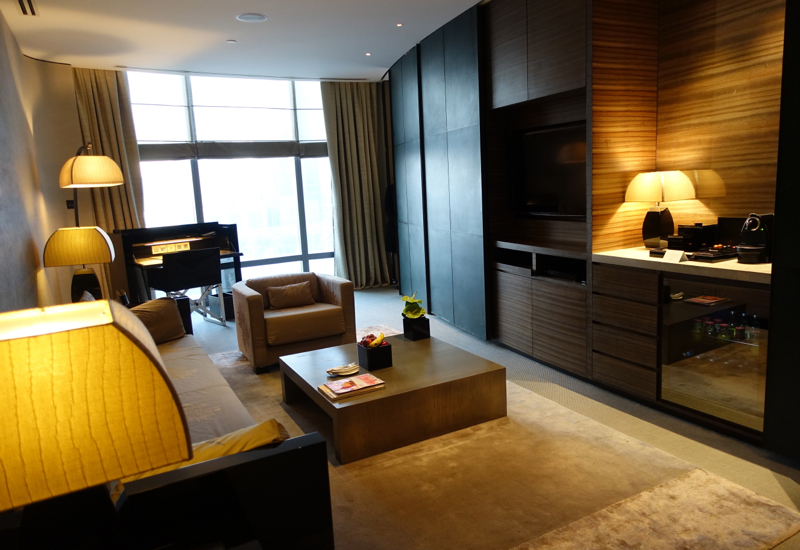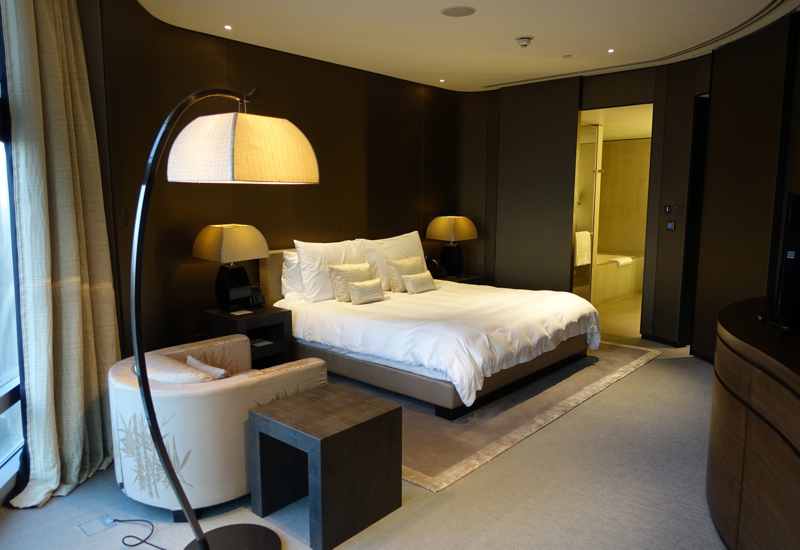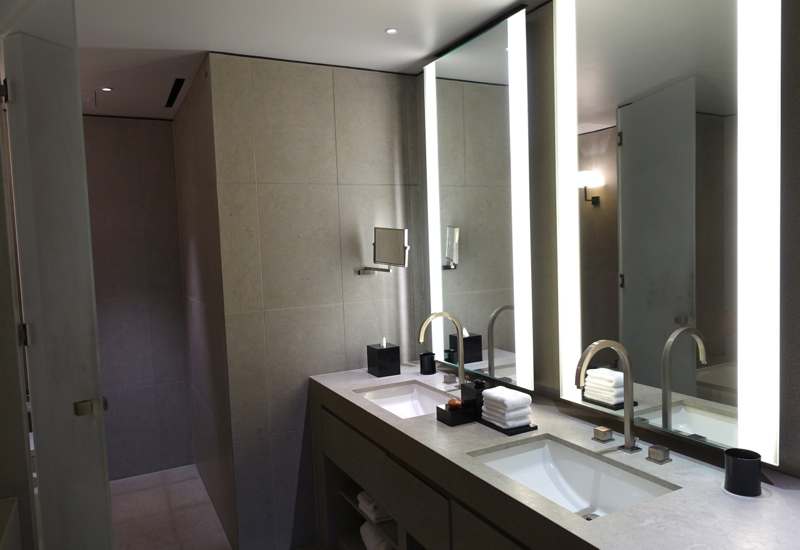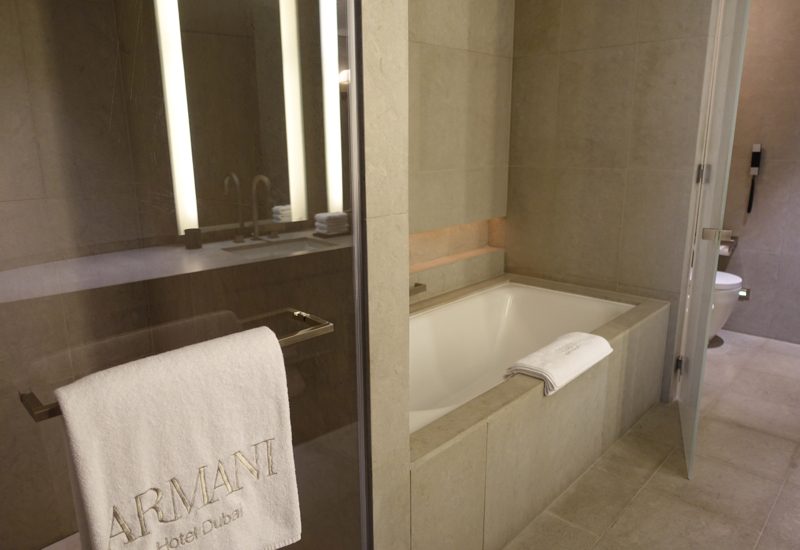 For romantics and those who enjoy a great view, I'd recommend the Fountain Suite, with its mesmerizing view of The Dubai Fountain. I didn't get a chance to see this suite (they were all occupied or being prepared) but here's the Armani Hotel Dubai's photo: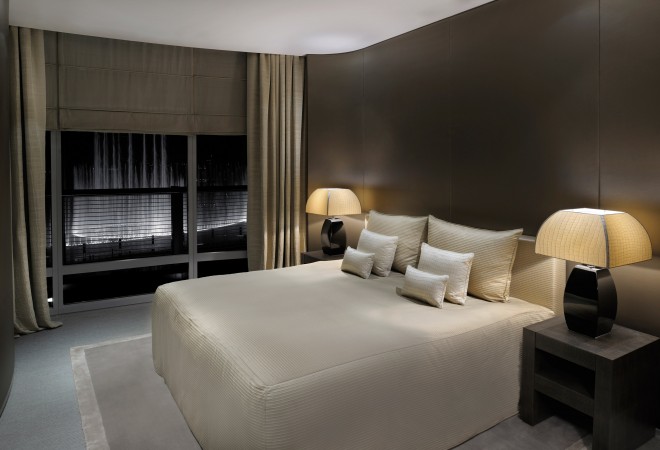 I'm not sure why the Armani Dubai doesn't highlight its outdoor pool more, given the great view of the Burj Khalifa from it and the stellar poolside service my clients experienced. Here are a couple photos: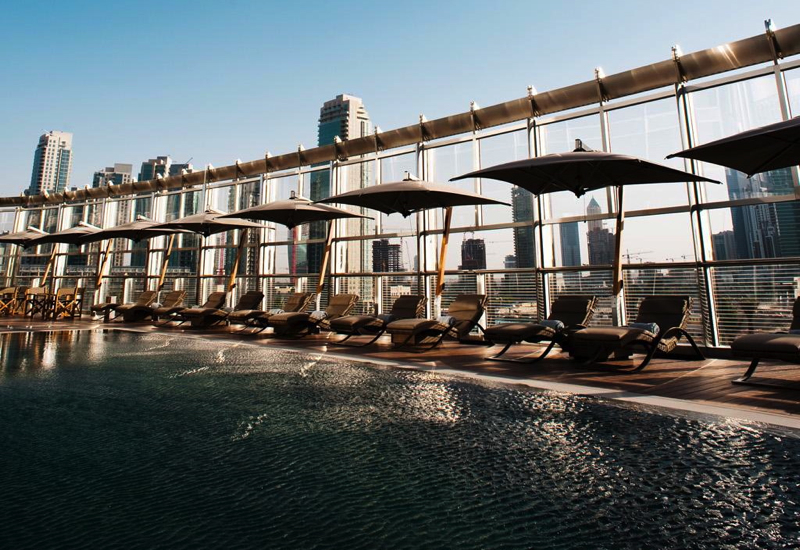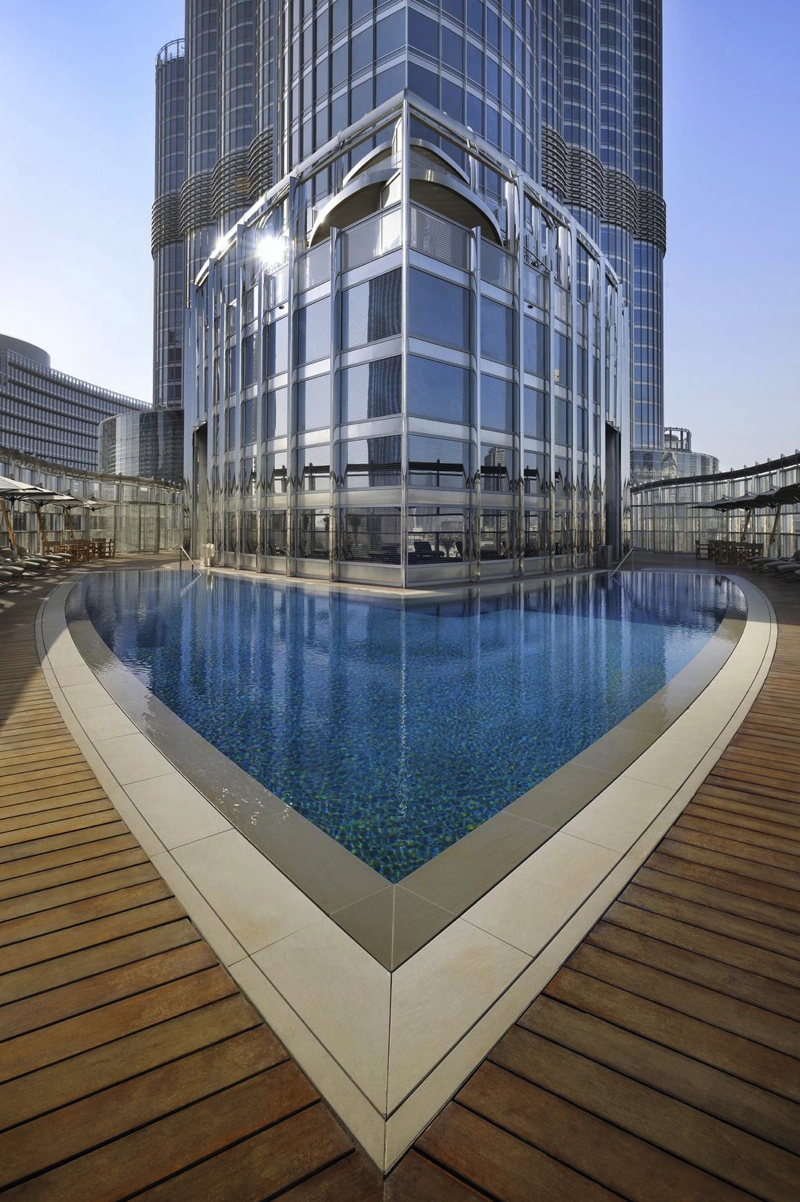 Bottom Line: I liked several aspects of the Armani Hotel Dubai:
Location: Great central location, especially if you're interested in visiting the observation deck or Atmosphere Lounge in the Burj Khalifa, the Dubai Fountain, and the adjacent Dubai Mall. Don't underestimate Dubai traffic, which can be horrendous.
Polished Service: Even though I didn't stay there, I immediately noticed how much more polished the service from reception was compared to the Park Hyatt Dubai, and apparently my clients noticed this as well, as they stayed at both hotels.
Spacious Rooms and Suites: I loved that even the Armani Classic Room was well over 700 square feet, with a separate living room space. Even though the sleek, design look might suggest more of a couple's stay than a family stay, I'd prefer to stay here on a family stay, booking the Armani Classic Room, so that my son would have his own separate space when sleeping (plus there's the chance to be upgraded to an Armani Premiere Suite with a Virtuoso upgrade, as my clients were).
Bentley House Car Service: If you're going to be spending any time in Dubai traffic, you may as well do so in style 🙂