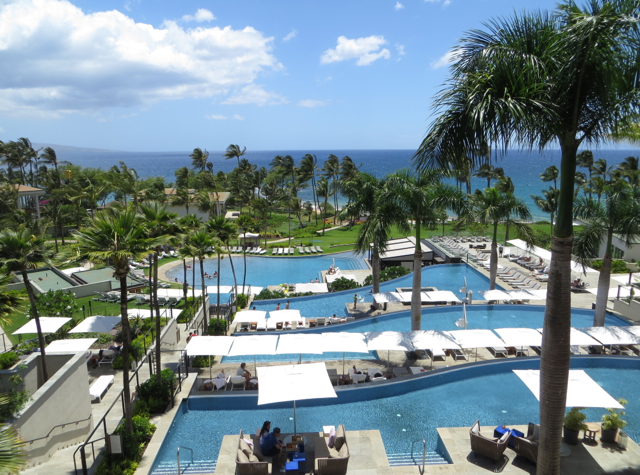 .
This Andaz Maui at Wailea review is from a recent Maui and Hawaii trip. I was interested to see this relatively new resort (opened last year in September, 2013), which is also a Virtuoso member, and in fact one of only two Andaz properties that are Virtuoso members.
For the previous Hawaii-related posts in this trip report, please see:
Alaska Airlines First Class Review
Alaska Airlines Board Room Seattle Lounge Review
Alaska Airlines First Class to Hawaii
Hyatt Place Waikiki Beach Review
TravelSort Clients may book the Andaz Maui at Wailea with Hyatt Prive benefits (paid stays only). It's fantastic that for Hyatt Prive stays, the upgrade is at time of booking (except for high demand periods).
Upgrade at time of booking, room to room or suite to suite (except for high demand periods; excludes specialty suites)
VIP amenities upon arrival with local drinks and cakes
Daily full breakfast for two, served at Ka'ana Kitchen
$100 resort credit once during stay
Early check-in / late check-out, based on availability
Andaz Maui at Wailea Location, Lobby and Check-In
As we got into our rental car at Maui's Kahului (OGG) airport, the munchkin asked me doubtfully "Mommy, are you sure you know how to drive?" I had to laugh–it's not as if he's ever seen me driving around NYC, where we live. And for many of our international vacations we haven't rented a car. Fortunately, the drive from the airport to Wailea is under half an hour, and the Andaz Maui at Wailea was pretty easy to find, at 3550 Wailea Alanui Drive.
There's no option to self-park, it's valet parking only for $30 per night plus tips, and I did find the valet service rather frustratingly slow even when I called down in advance, although the valets were friendly.
The Andaz lobby is airy, high ceilinged and beautiful, with great views of the tiered infinity pools and the ocean beyond.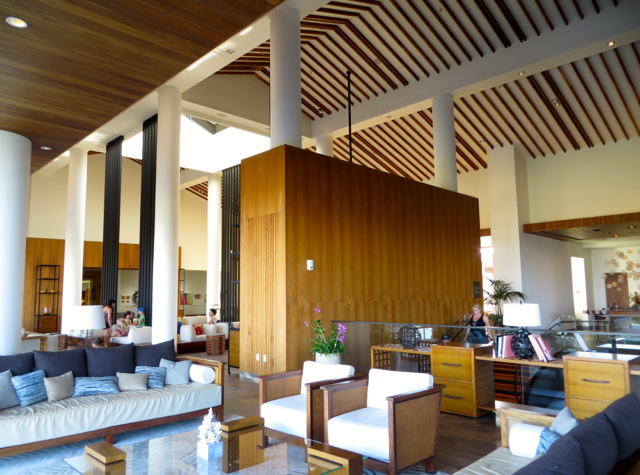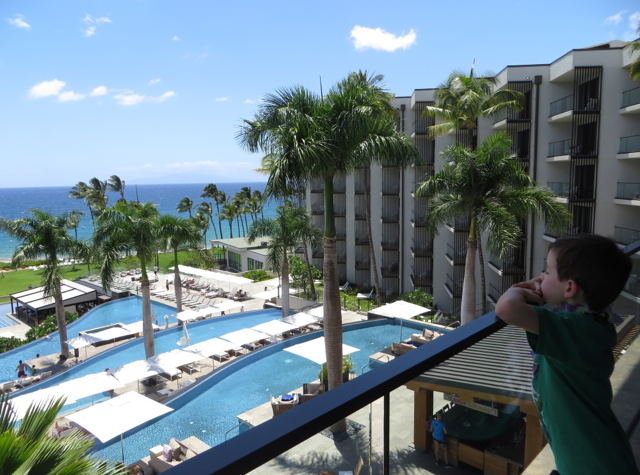 We enjoyed a friendly welcome, including welcome drinks and a cool towel, which is always welcome in the tropical heat.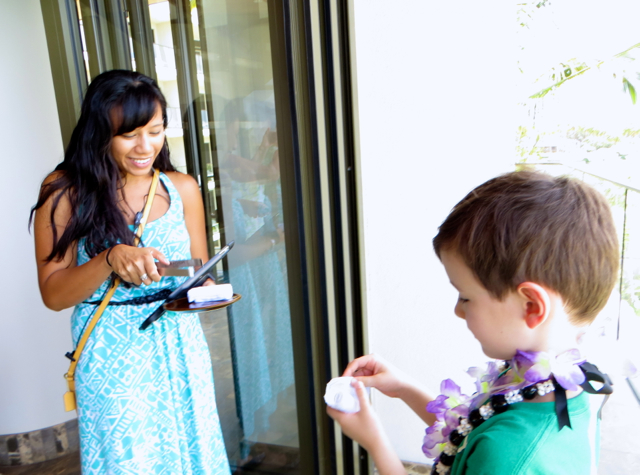 While I had originally booked a standard Garden View Room for us, the Andaz had arranged a complimentary upgrade to an Ocean View Room, which was a nice touch. I expressed interest in paying for an upgrade to a Suite, and the associate who had checked us in was kind enough to show us both the Ocean View Room and the Suite. Standard rooms at the Andaz Maui at Wailea are very small, at only 376 square feet, vs. 600 square feet for standard rooms at the Four Seasons Maui at Wailea. Andaz Suites are more reasonably sized, at 800 square feet, so I chose to pay for an upgrade to a suite.
Andaz Maui at Wailea Suite
Our Suite entrance was into a short hallway that opened into the living room, with a sofa, armchair, large flat screen TV, and dining area. The dining table could easily seat 6, in case you wanted to entertain some visiting friends.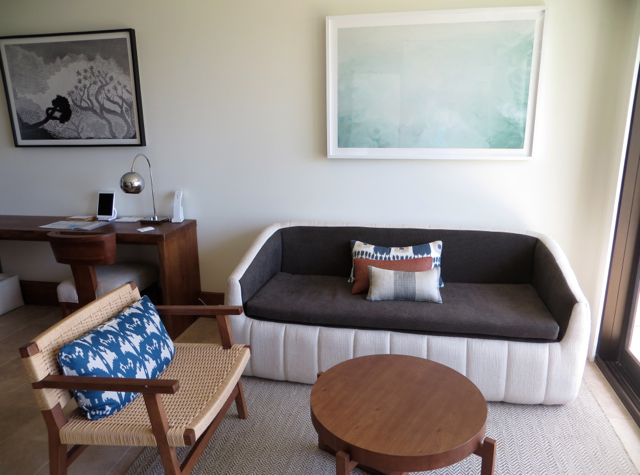 Just off of the hallway by the entrance was a half bathroom, which was convenient as the munchkin could use it if needed during the night, without coming through our bedroom to the main bathroom.
Behind the dining table was a massive bar area, with a minibar fridge that came with a few complimentary drinks, and a small basket of snacks, such as KIND fruit and nut bars and some chips. There was also inexplicably some English breakfast tea in the snack basket, even though the tea kettle / coffee maker was on a separate shelf in the bedroom, along with some instant Starbucks Via coffee.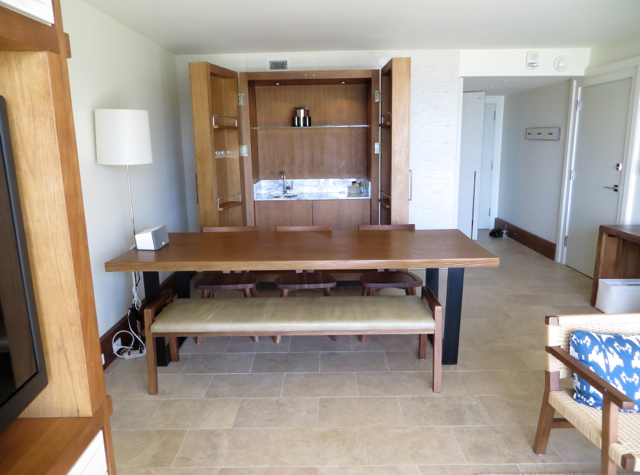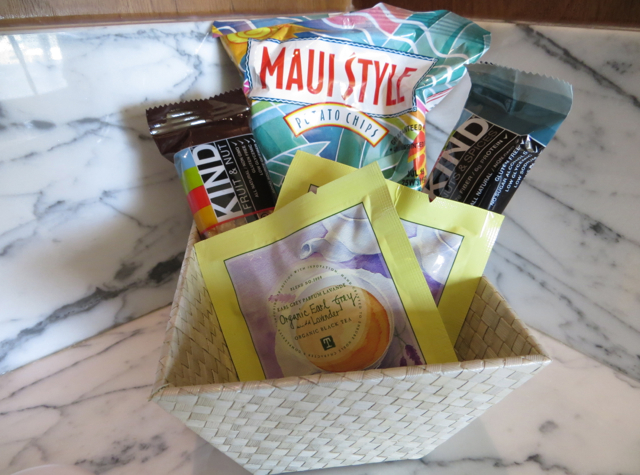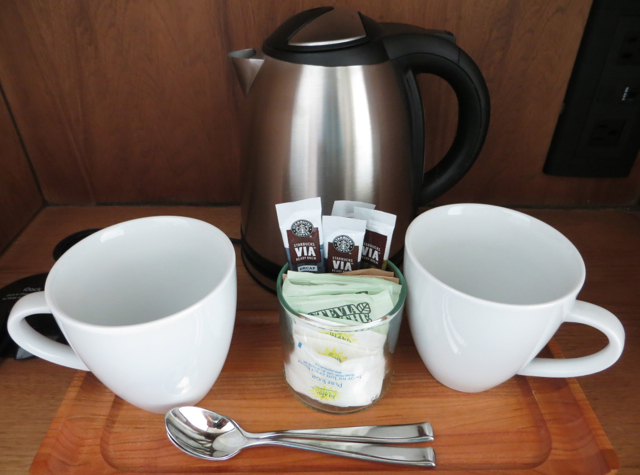 The bedroom was separated from the living room by a sliding wooden door, and featured a King bed and lounge chair, along with another large flat screen TV.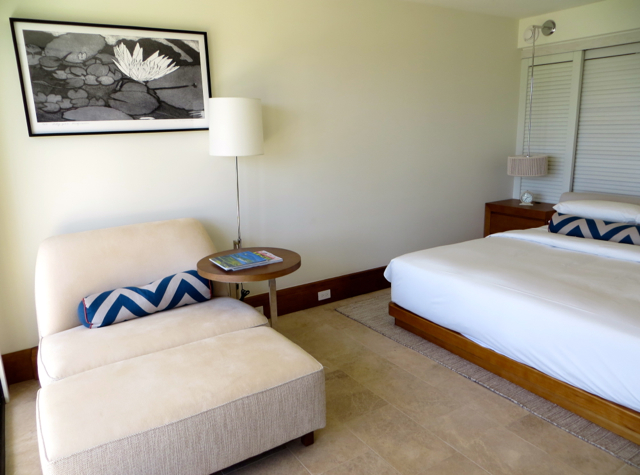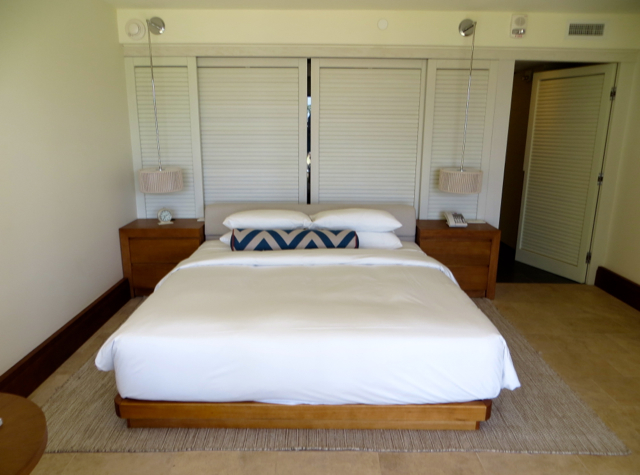 Our Suite was on the second floor, but still had a decent view of the ocean from the balconies in front of both the living room and bedroom. The chairs were more style over function, however, and not that comfortable.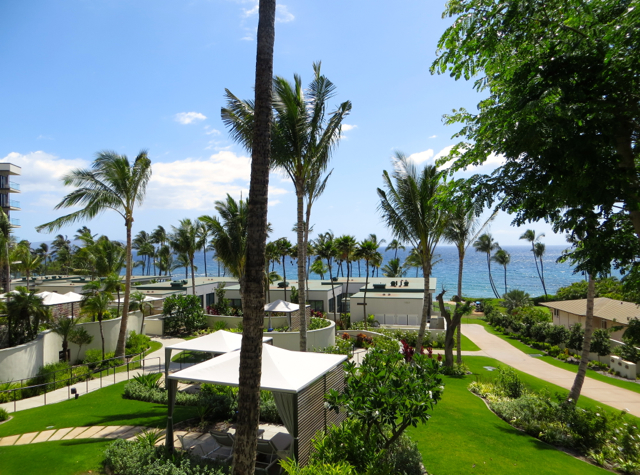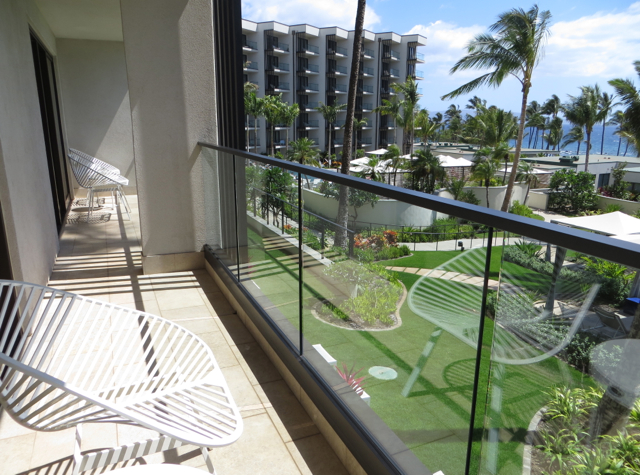 The bathroom had dual vanities with again a more style over function design: flat and rectangular, which are hard for washing out bathing suits and such–best to use the bathtub (although as far as I could tell, only suites feature soaking tubs, so if you're in a room, there are only showers).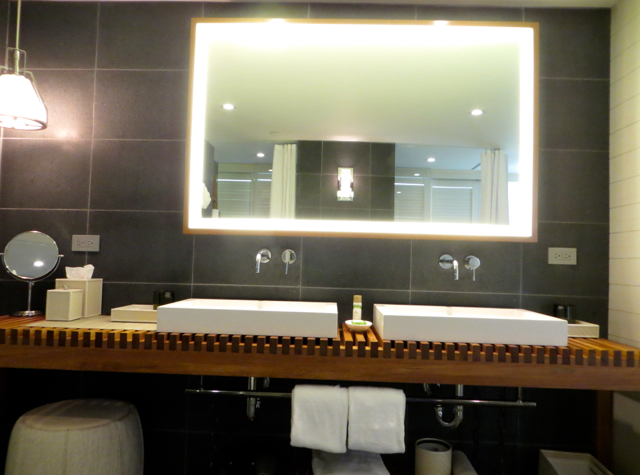 The rain shower was large enough to fit an entire family, so plenty spacious, but I disliked the cheap and flimsy shower curtains which were spectacularly ineffectual at actually keeping water inside the shower–water got all over the floor whenever someone took a shower.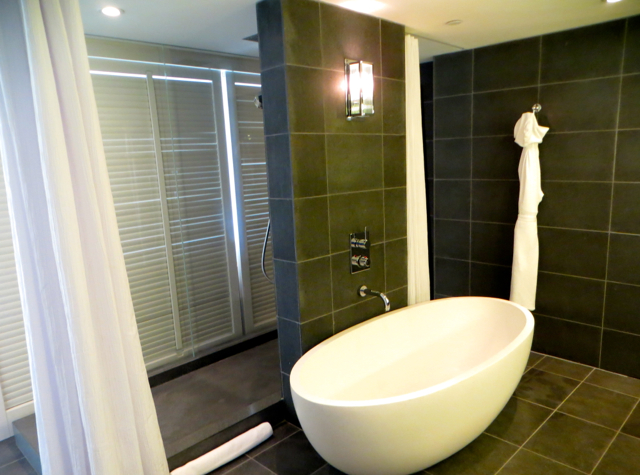 The Malie bath products were a nice effort to use a local Hawaiian company's organic products, though frankly, being from Hawaii, I didn't think the Koke'e amenities that are supposed to smell like maile actually smelled like maile, which is a traditional Hawaiian vine used to make the distinctive maile leaf leis worn by men at weddings. Real maile has an incredible scent, and is expensive for good reason. These bath products smelled quite nice, but not like maile, nor could I find maile in the ingredient list.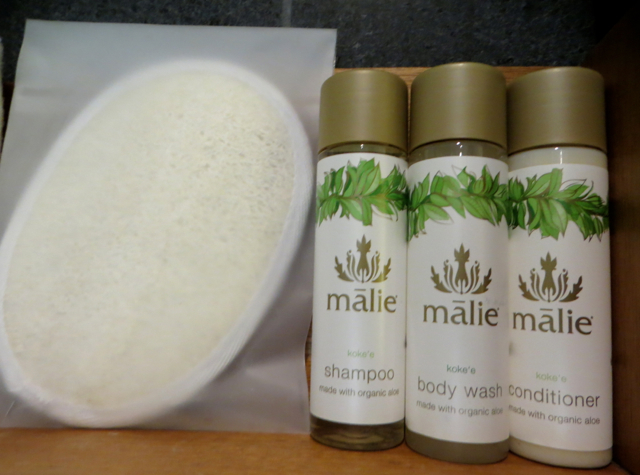 In case anyone is a toilet snob, they'll be happy to know that there's a Toto toilet with all the bells and whistles: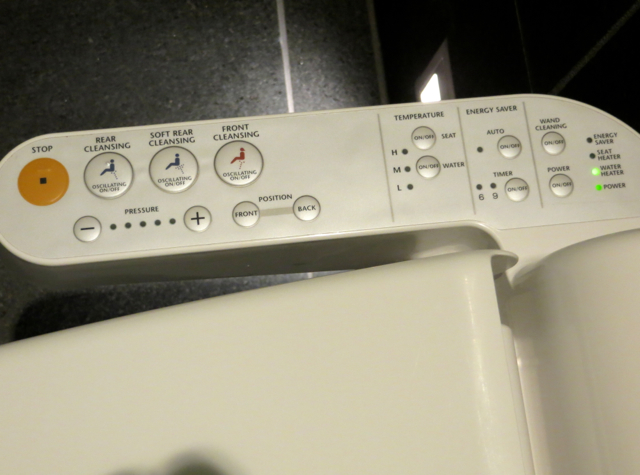 Andaz Maui at Wailea Swimming Pools and Beach
The Andaz Maui at Wailea was formerly the Renaissance Wailea Beach Resort Maui, but you'd never know it since pretty much everything, including the pools, have been entirely redone. There are three tiered infinity pools, the largest of which also features a hot tub. While you probably don't want to bring really young kids to these, as they're quite deep throughout, if your child can swim, there's nothing preventing them from enjoying some time here. The munchkin liked swimming around a bit, while I took in the view from one of the pool chairs under an umbrella.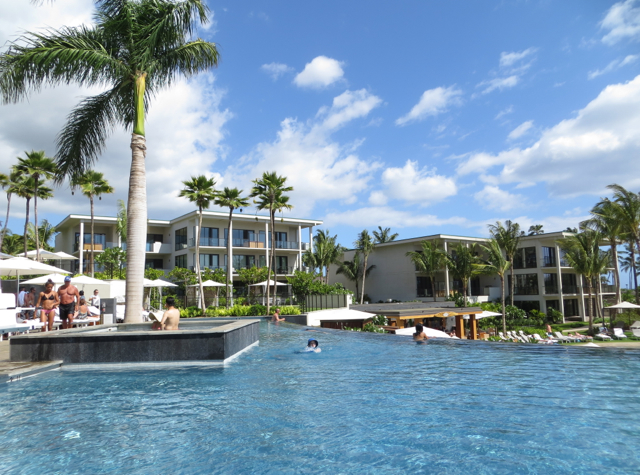 For younger kids, the more family-oriented pool is the zero entry pool by the lawn, closest to the beach. There aren't a lot of chairs in the shade here, so I'd be sure to keep your kids and you well protected with sun protective swimsuits and sunhats, even in the water. Hawaii is about the same latitude as Mexico City, so it's easy to get burned if you're not religious about sun protection.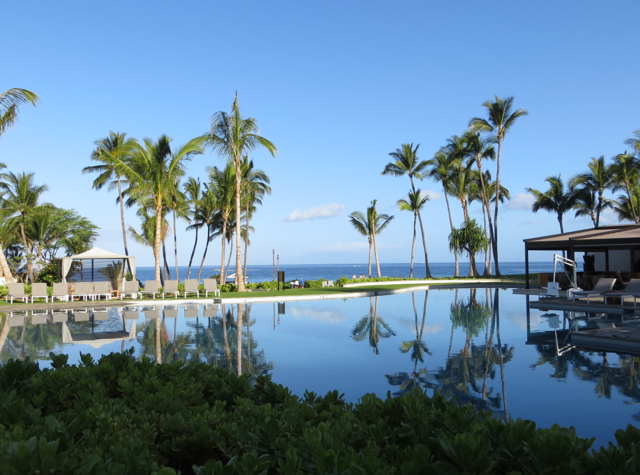 There's also a serenity pool near the spa, which I barely saw guests using during our stay–perhaps because the views from the infinity pool and the zero entry pool are better.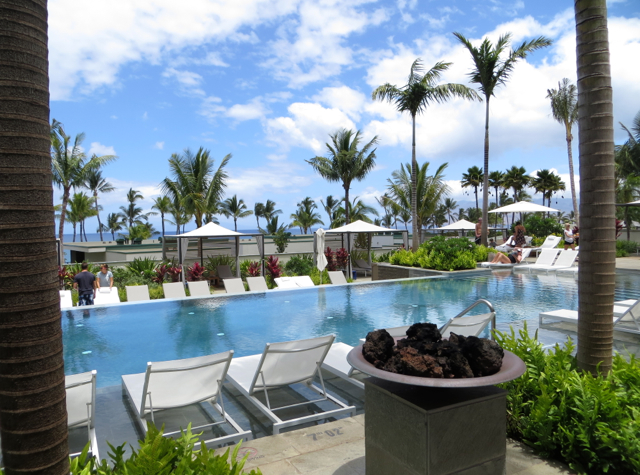 Wailea's beaches are lovely, golden sand beaches, which is why most Maui resorts are built on or near them. I managed an early morning shot before our outrigger canoe paddling and before it got more crowded.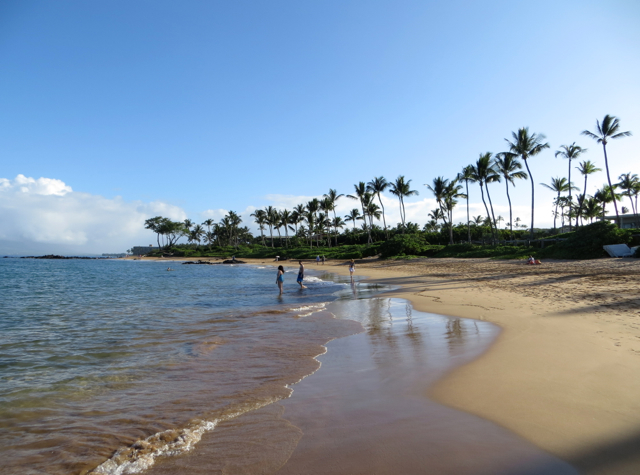 If you're not the type who likes to lie on the beach, there are plenty of water sports. A nice complimentary activity offered by the resort on a first come, first served sign up basis when you arrive is the Outrigger Canoe Paddling. Here's the crew before us, who paddled from 7am-7:30am: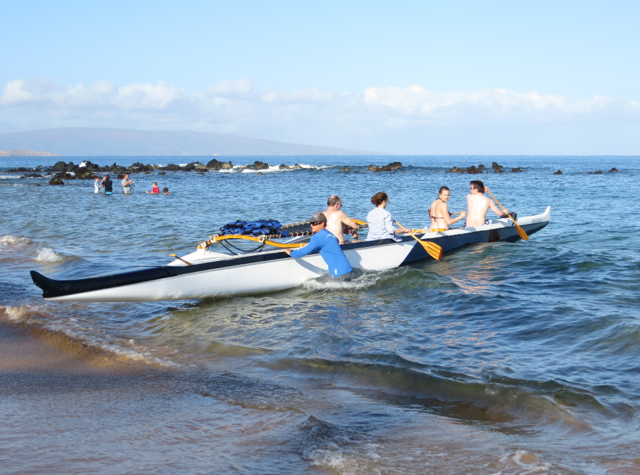 And here's our boat, with the munchkin getting a free ride on the trampoline-like part between the canoe and the outrigger. We even saw a Honu (turtle) while paddling, which was a nice treat.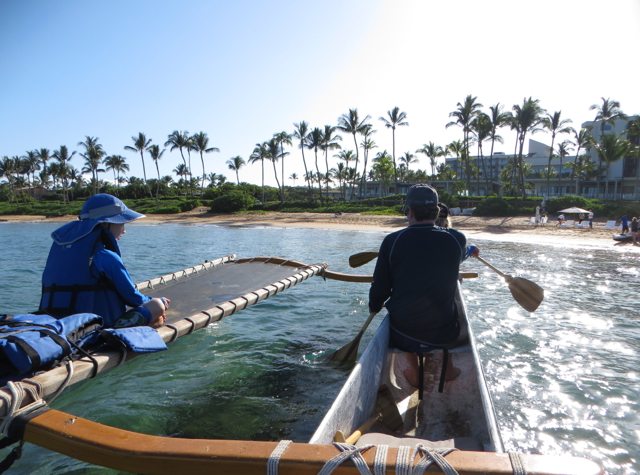 Hub 808 Kids' Club at Andaz Maui at Wailea
It's interesting that the Andaz Maui at Wailea even has a Kids' Club, called Hub 808, since overall I'd say the resort is better suited to couples than to families: small standard rooms with no bathtub, the large footprint of the infinity pools, which could actually be quite hazardous to young children if they don't know how to swim, the overall vibe.
But it's great that Hub 808 exists if you did bring along the kids. It's tucked away on the left as you come to the main infinity pool with hot tub, and as usual there's a form to fill out, even if your kid is just staying about an hour, as the munchkin was. The kids were having fun with some indoor games and a "fort" when I dropped off the munchkin.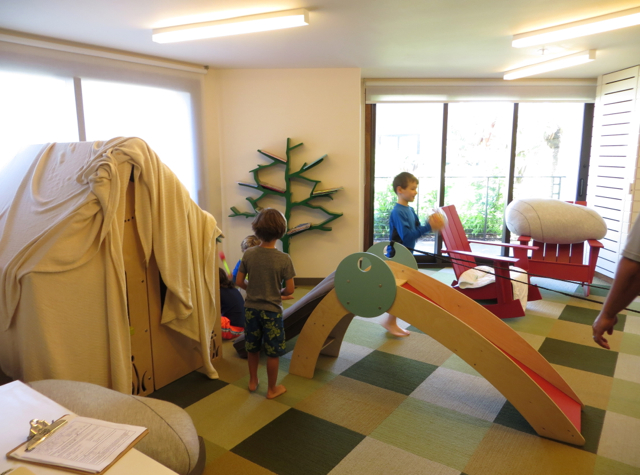 A bit later, I saw all of the kids head down to the lawn area and play games such as Duck Duck Goose and Capture the Flag. Again, make sure your kid has sun protection for outdoor play. Hub 808 is complimentary for kids 5-12 and is from 9am to 3pm. Naturally lunch is additional, so you will be charged for your child's lunch order.
Other Activities at the Andaz Maui at Wailea
While we were there only briefly, the resort offers other guest activities, in addition to the outrigger canoe paddling that we participated in, such as lei making, ukelele lessons and a garden tour, which are complimentary. Sunrise and sunset yoga sessions are $25 per person.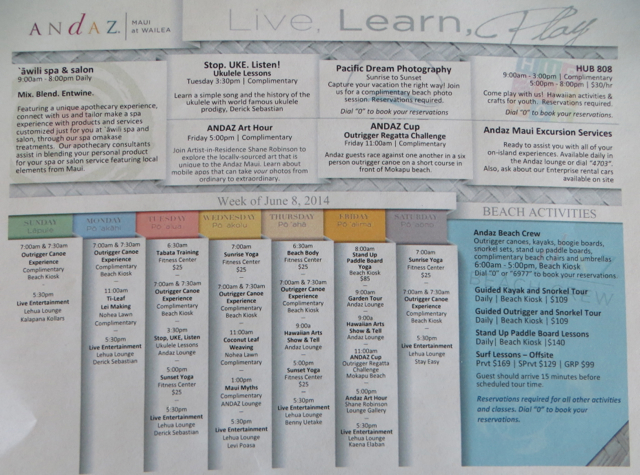 Andaz Maui at Wailea Ka'ana Kitchen and Food
I'll cover the Andaz Maui at Wailea food and dining in a future post.
The Verdict
Andaz Maui at Wailea did a great job with its overall construction, particularly the lobby, pools and suites, including high end touches such as the Toto toilets. Staff is very friendly, which we appreciated. I was much less impressed with its standard rooms, which I view as too small, and with certain attention to details, such as the flimsy shower curtains, when glass is really called for to keep water in the shower.
Service, in my view, is not up to the standards of the Four Seasons Maui at Wailea. In addition to the slow valet parking, there was a snafu with the outrigger canoe paddling reservation I had made that took awhile to get resolved, and I had to call three times to get the bedding we needed to make up the sofa into a bed for the munchkin to go to a sleep. That simply isn't acceptable at a luxury property.
If you've been to the Andaz Maui at Wailea, what was your experience?
Related Posts
Park Hyatt Maldives Water Villa Confirmed Virtuoso Double Upgrade at Time of Booking
Hyatt Award Chart Devaluation: New Category 7 for 30K Points, Pricier Awards
Hyatt Place Waikiki Beach Review
Best Frequent Flyer Miles for Hawaii Award Tickets
Disclosure: I paid for my own stay, using a standard award night booked with Hyatt Gold Passport points, plus a paid upgrade to a suite.
Need Award Booking Help? Our fee is as low as $75 per ticket if you book your hotel or cruise through us.
If you enjoyed this, join 150,000+ readers: please follow TravelSort on Twitter or  like us on Facebook to be alerted to new posts. 
Become a TravelSort Client and Book 5-Star Hotels with Virtuoso or Four Seasons Preferred Partner Amenities!