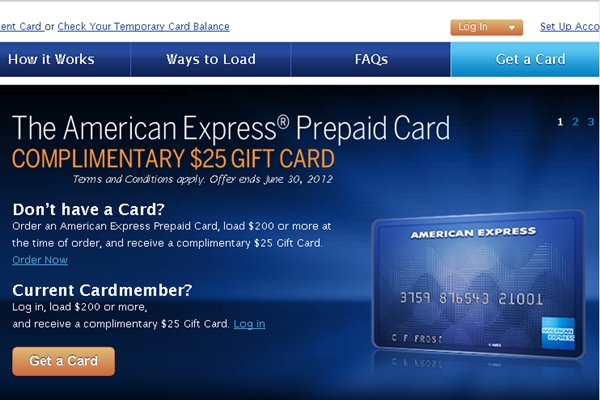 AMEX is offering a free $25 AMEX Gift Card if:
You get a prepaid AMEX card and load it with $200 at the time you sign up for it 6/1/12-6/30/12, or
You already had a prepaid AMEX card as of 5/31/12 and you load it with $200 6/1/12-6/30/12
While the $25 is nice, the key other benefit to getting the AMEX prepaid card is that, if you have the Ink Bold and can buy reloads from an Office Depot, with the AMEX prepaid card you're getting 5X everywhere. (Ok, we rounded up–to be precise, 4.6X if you value Ultimate Rewards points at 2 cents each). This is actually the best current deal, since with the Visa gift cards you're getting an effective 4.5X, see our chart:

Other AMEX Prepaid Card Benefits:
Load up to $2500 per month: that allows you to make larger purchases using the card, without having to use multiple gift cards. If you load $1000/month using the Ink Bold to buy reload cards at Office Depot, that would be 5000 Ultimate Rewards points per month, and 60,000 points per year
Use it anywhere AMEX is accepted
No foreign transaction fees
No credit pull when getting the card
No fees (except the $3.95 per $500 reload fee)
1 free ATM withdrawal per month (subsequent withdrawals are $2 each; note that the ATM provider may also charge an ATM fee)
Purchase protection: covers theft or accidental damage of eligible purchases made with the AMEX prepaid card from 90 days from date of purchase. Limited to $1000 per occurrence and up to $50,000 per Card User account per caldnear year. To file a claim call Customer Service at 866-207-7970
What to Know about the AMEX Prepaid Card:
Cannot be used for car rental reservations or casinos
Maximum ATM withdrawal per day is $400
Only first monthly ATM withdrawal is free; subsequent withdrawals are $2 each
Foreign transactions are converted at "(a)

the highest official conversion rate published by a government agency, or (b) the highest interbank conversion rate identified by us from customary banking sources on the conversion date or the prior business day."
Free $25 AMEX Gift Card Offer Details
1 free $25 AMEX gift card per person
You can apply for 3 AMEX Prepaid Cards, as long as they're for 3 different people
Each person must be at least 13 years old
You'll need to have the date of birth, SSN, and funding source (bank account and R&T number) for each person
If you're getting a new AMEX Prepaid Card, you must fund the card with $200 at the time you sign up, using a checking or savings account
The AMEX application won't let you use the same funding source (i.e. a joint checking or savings account) if you try applying for yourself and a spouse back to back, due to needing to verify the account. You can either 1) Apply later for your spouse, after AMEX has verified the account; or 2) use a different bank account.
Now, this is a better deal if you already had an AMEX Prepaid Card as of 5/31/12 and can use an Ink Bold to buy a reload card at an Office Depot for 5x points. If you get a new prepaid card, you have to fund at the time of application using a checking or savings account, so you won't get 5x points on that, but you can switch your funding source later to use reload cards to get 5x on subsequent reloads. And given the slightly lower cost of reload cards ($3.95 for AMEX instead of $4.95 for Visa cards) the AMEX prepaid card is both a better deal for points earning and more convenient, since you can make larger purchases, get a free ATM withdrawal each month, have purchase protection, and incur no foreign transaction fees.
Here are some screenshots so you know what to expect if you're applying for a new AMEX Prepaid Card:
1. Review the Terms
Terms for new AMEX Prepaid Card Users: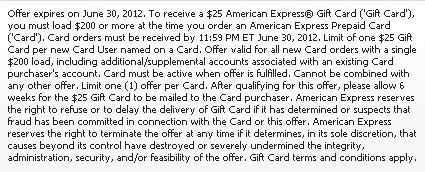 Terms for existing AMEX Prepaid Card Users:
2. New AMEX Prepaid Card Users: Fill in Address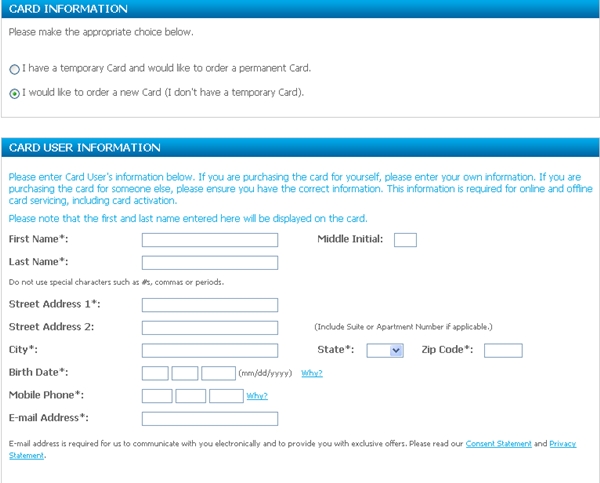 3. New AMEX Prepaid Cad Users: Load $200 on AMEX Prepaid Card from a Checking or Savings Account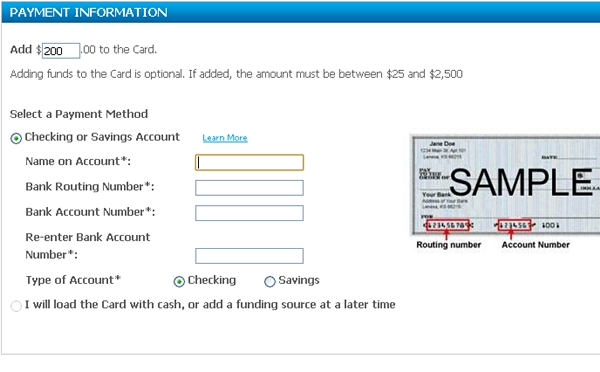 4. New AMEX Prepaid Card Users: Agree to Terms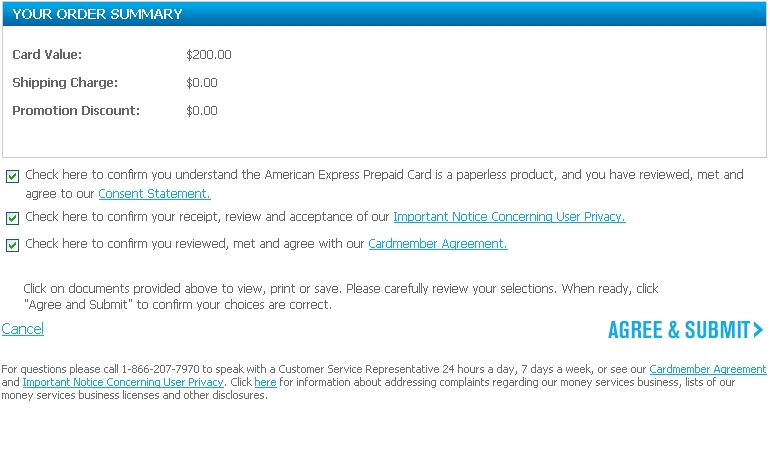 WARNINGS
1. Don't aim to withdraw all the cash you load on the AMEX Prepaid Card through ATM withdrawals. AMEX is known for rigorously monitoring usage of its cards and you'll likely either get selected for a financial review or have all your AMEX accounts closed. Use the Prepaid card for regular purchases and be sparing with your ATM withdrawals.
2. Likewise, don't get greedy with Chase either. If you only use your Ink Bold for $2500 or more in office supply store gift card purchases and for nothing else, know that Chase may shut you down. And trust me, you don't want to be on Chase's black list, any more than AMEX's, given the many great credit card bonuses they offer.
Related Posts and Resources