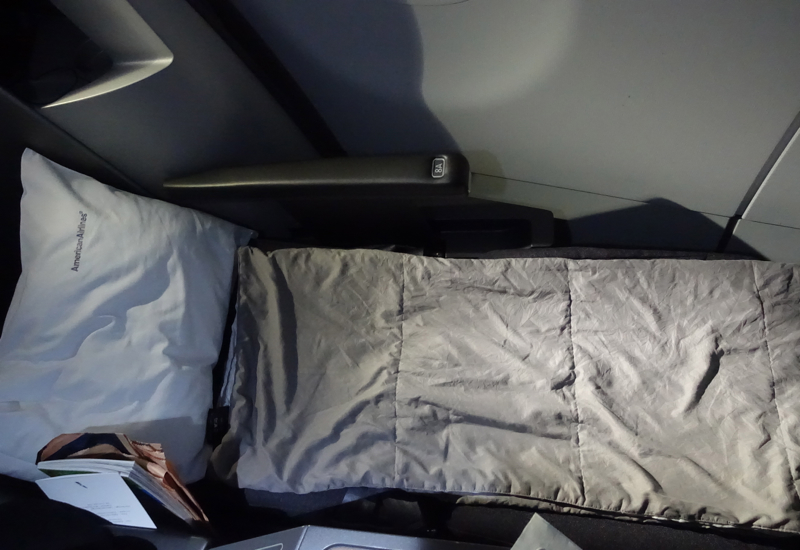 Our 2016 AMEX Platinum Airline Fee Credits have posted, which will give us $400 off American Airlines flights. My husband and I both have the AMEX Business Platinum card, so we each were reimbursed $200 for our American Airlines e-gift cards, giving us a total of $400 that we can use off AA flights. For example, we could take $400 off an American Business Class A321 transcon, which we recently flew to get to LAX before our trip to Bora Bora. Sample prices are $715, so that would make the flight $315, just a bit more than Economy.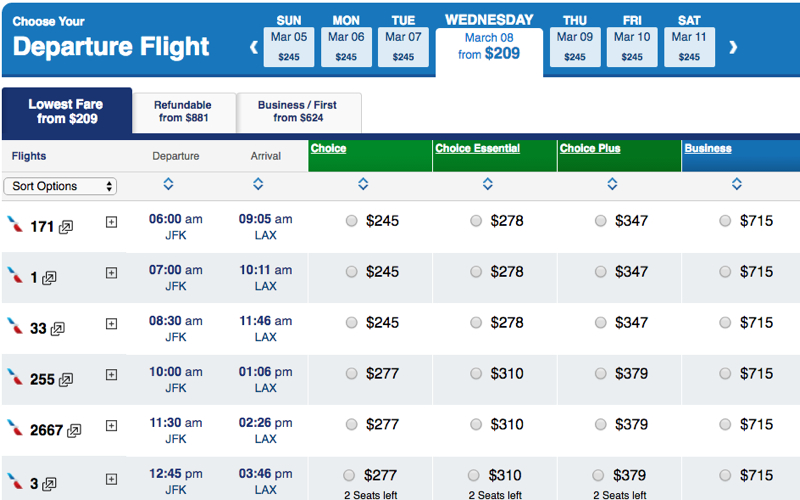 Now, it is true that the AMEX Platinum, 75K Mercedes Benz Platinum AMEX (see Best Travel Credit Cards) and AMEX Business Platinum $200 airline fee credit and the AMEX Premier Rewards Gold $100 airline fee credit is supposed to be for airline incidental fees, such as checked baggage fees, seat assignment fees, phone reservation fees, airline lounge day passes, and in-flight purchases that are processed by the airline (but not third party services such as GoGo WiFi–in any case, with you get Free Gogo WiFi Passes with the AMEX Business Platinum).
That said, it is still possible to buy American Airlines e-gift cards and be reimbursed for them, given our recent reimbursement experience. Just note that if for whatever reason you don't get reimbursed, it's not something you should or can complain to AMEX about, because the terms are very clear that the airline fee credit is for airline incidental fees, and not for tickets or gift cards. Also see Maximizing the AMEX Platinum Airline Fee Credit.
For anyone with a new AMEX Platinum or Business Platinum, here's the process:
1. Select American Airlines as Your Airline Before Buying Your AA Gift Cards
If you've recently gotten a new AMEX Platinum, AMEX Business Platinum, Mercedes-Benz Platinum AMEX or AMEX Premier Rewards Gold card, make sure to select your airline before making any airline purchases you'd like to be reimbursed. If you already have an existing AMEX card, you can only change your selection in January.
2. Make Sure You Buy AA Gift Cards in $100 or Less Increments
There have been Flyertalk reports that AA gift card amounts above $100 have not been reimbursed, so I only recommend buying gift cards in $100 or less. Go to the AA Gift Cards page, and select the virtual gift cards option.
3. Expect Your AMEX Airline Fee Reimbursement to Take 3-10 Days
Note that it often takes 4-5 days to be reimbursed by AMEX; sometimes 3 days and sometimes longer. Our most recent reimbursement took 3 days: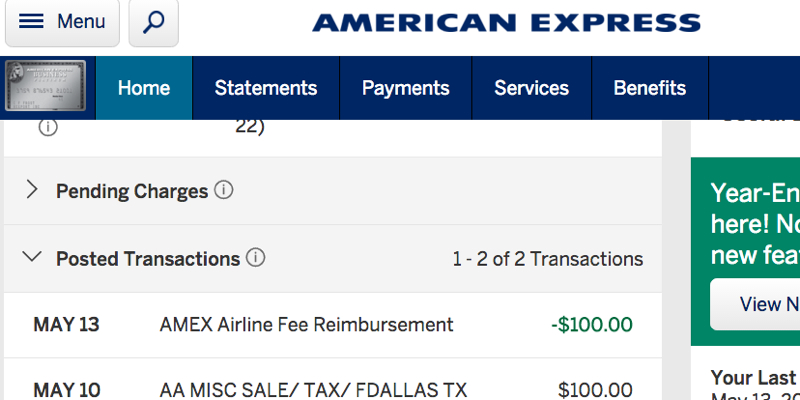 4. Wait 72 Hours After Buying the Gift Card for it to Be Activated
You can't use AA gift cards right away; they are only activated 72 hours after purchase.
5. You Can Use Multiple Gift Cards for a Single American Airlines Ticket
You'll need to enter your each gift card number and corresponding PIN one at a time. Make sure you don't attempt to add preferred seating to your ticket, otherwise AA.com won't give you gift cards as a payment option. You can always go back to your reservation later to add preferred seating.
Also keep in mind that you can only use American Airlines gift cards on flights that are operated by American, American Eagle and oneworld carriers that originate in the U.S., Puerto Rico and the U.S. Virgin Islands. They can't be used to pay AAdvantage award travel fees or for upgrades or Admirals Club memberships or day passes.
Have you gotten your $400 ($200 in 2015 and $200 in 2016) AMEX Platinum airline fee credits?
Related Posts
75K Mercedes Benz Platinum AMEX Bonus Offer for $3K Minimum Spend
Review: American Airlines A321 First Class JFK to LAX
Review: American A321 Business Class NYC to LAX
JetBlue Mint or American A321 Business Class: Which Is Better?
Need Award Booking Help? Our fee is as low as $75 per ticket if you book your hotel through us.
If you enjoyed this, join 200,000+ readers: please follow TravelSort on Twitter or like us on Facebook to be alerted to new posts.
Become a TravelSort Client and Book Your Hotel with Virtuoso or Four Seasons Preferred VIP Amenities!